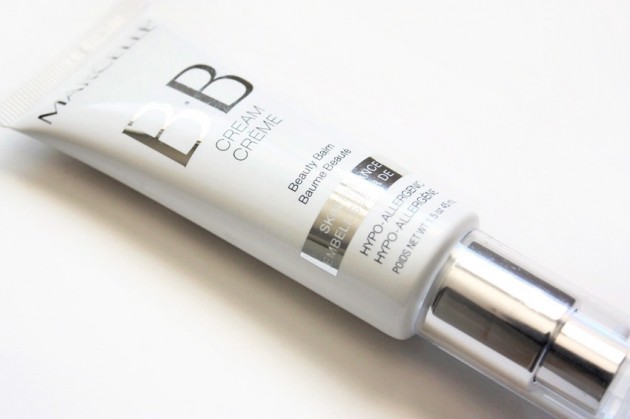 The product: Marcelle BB Cream in Light to Medium
What they say about it: Marcelle is marketing their BB Cream as a hypo-allergenic beauty balm/skin enhancer, calling it an 8 in 1 product. I couldn't quite suss out what those eight claims were, but I've numbered off my guesses – and will try to judge the product accordingly!
Your ultimate skin care enhancer for all ages and skin types, this multi-purpose skin care cream is more than a tinted moisturizer or simple make-up base. It perfects the skin to (1) reveal a more even epidermis and (2) well-hydrated, (3) flawless complexion, all in one. Use it (4) alone as a tinted moisturizer;  (5) over your moisturizer to unify your complexion and (6) reduce the appearance of blemishes, (7) apply as a make-up base under foundation for total coverage and (8) improved stay-on power. BB Cream is offered in two shades and is suitable for a wide variety of skintones thanks to its self-adjusting pigments that transform and adapt to skin tone.
Please note that because I am sensitive to silicones, I will be unable to judge the long term or long-wearing effects of this product – that is, claims 1 through 3, and 8. I can, however, speak toward all of the other claims, so keep reading for the review!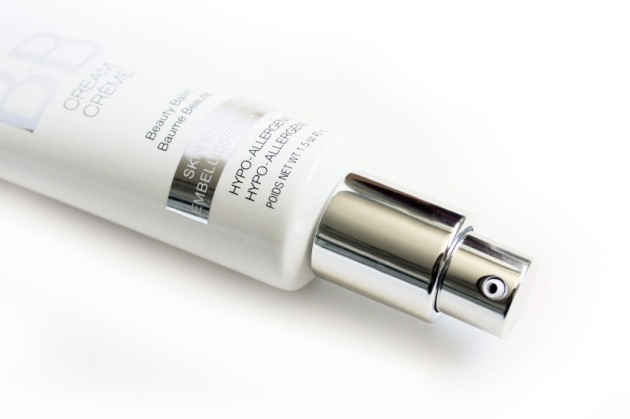 The shade: Somehow, Marcelle has managed to put just the right amount of pigment into their BB cream – more on par with a sheer foundation than a tinted moisturizer. It's enough to tone down my awful undereye circles, but not so much that only having two shade choices will be terribly limiting.
Light to Medium is darker than my own skintone, and yet, it's completely seamless: my face still matches my neck, but I'd feel completely comfortable wearing this and nothing else as a base product – as long as I'm not in the middle of breakout, that is! Check back tomorrow for shade comparison swatches.
Update: check out comparison swatches (MAC, 100% Pure, other Marcelle foundations) here!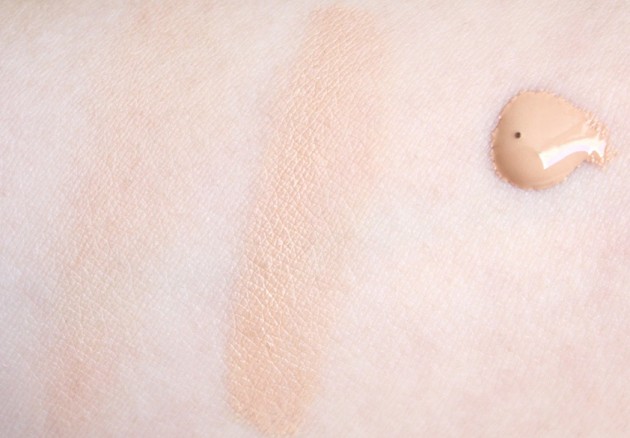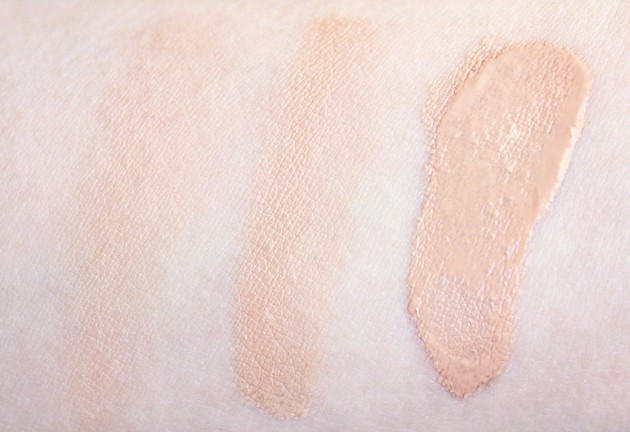 Marcelle BB Cream swatches – all Light to Medium, with differing amounts of blending.
The finish: Again, Marcelle has hit the nail right on the head with this one. Similarly to the amount of pigmentation, the finish is absolutely natural – just enough glow to give my skin an extra little boost, but not so much that it's obvious. (I've got a super-close-up flash photo of a swatch below; you can tell that there's a small amount of super-finely-milled mica that's literally imperceptible to the naked eye.)
I like to think of this as a natural plus finish – no one would ever guess that you were wearing a base product, and yet, the results are just that tiny bit more flawless.
Super-close-up swatches of Marcelle BB Cream in Light to Medium; indirect sunlight with additional flash.
The ingredients: Marcelle's BB Cream is paraben-free, perfume-free (though it is not scent-free), and hypoallergenic. For the full ingredient list, 
Aqua/Water/Eau, Cyclopentasiloxane, Octyldodecanol, Dimethicone, Glycerin, Dimethicone/Vinyl Dimethicone Crosspolymer, Cyclohexasiloxane, Isopropyl Myristate, Bis-Peg/Ppg-14/14 Dimethicone, Aluminum Starch Octenylsuccinate, Xylitylglucoside, Cetyl Peg/Ppg-10/1 Dimethicone, Polyglyceryl-4 Isostearate, Hexyl Laurate, Silica, Sodium Chloride, Isododecane, Acrylates/Dimethicone Copolymer, Dimethicone Crosspolymer, Anhydroxylitol, Xylitol, Tocopheryl Acetate, Lauroyl Lysine, Hydrolyzed Hyaluronic Acid, Triethoxycaprylylsilane, Aloe Barbadensis Leaf Juice, Camellia Oleifera Leaf Extract, Chamomilla Recutita (Matricaria) Flower/Leaf Extract, Disteardimonium Hectorite, Propylene Carbonate, Trihydroxystearin, Talc, Butylene Glycol, Propylene Glycol, Diazolidinyl Urea, Iodopropynyl Butylcarbamate, Sodium Benzoate, Potassium Sorbate, Phenoxyethanol, Titanium Dioxide, Mica, Iron Oxides
Odds and ends: So, that throwaway comment about this being perfume-free but not scent-free? I'm not sure what to say about it. I can't stand the slightly-sour scent of this, even after a good half hour of wear. But here's the thing: my scent-sensitive sister? Can't smell it at all.
My advice is that if you're not already convinced that you're crazy (that is, you're frequently annoyed by a faint sour scent when everyone else is convinced a product is scent-free), I wouldn't worry about it in relation to this BB cream, either.
Lastly, I want to give a quick shout-out to the brilliant packaging of this BB cream. Not only is it super-cute (white is underrated, you guys), but it's blissfully user-friendly. It's light, easy-to-use, and super sanitary. No trigger-finger pump, no bacterial contamination, and no need to worry about fingerprints or fragility!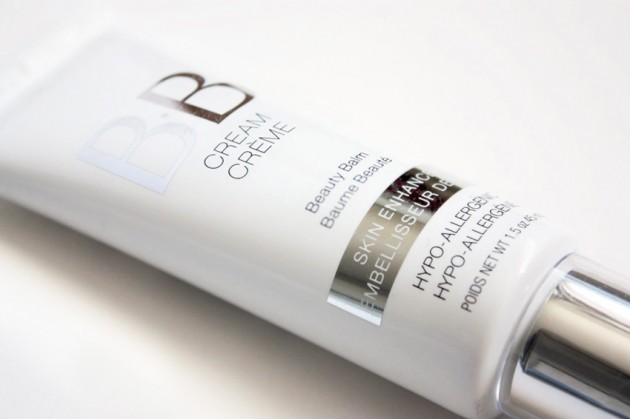 The verdict?
Marcelle's BB Cream retails for $22.95 CAD/45mL and is available in Light to Medium and Medium to Dark shades. I'm hesitant to give a verdict for this one, as I wasn't able to test it for long-term or all-day wear, but I love what I did get to test it for.
With more coverage than a tinted moisturizer, a completely seamless finish, and just the right amount of "glow," the Marcelle BB Cream is a fantastic introduction to BB Creams on the whole. I'm no expert, of course, but I'll say this: if the rest of the trend is anything like this one, I completely understand the craze!