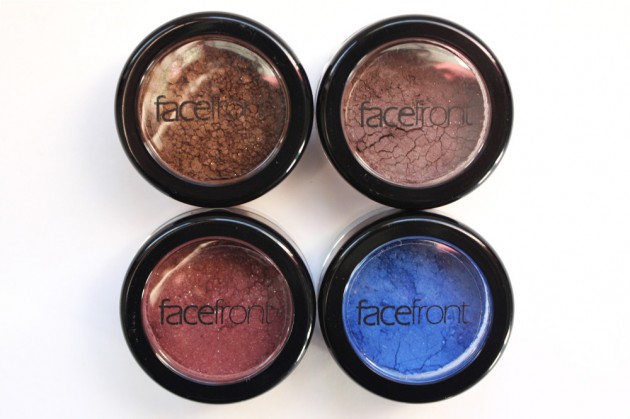 The product: FaceFront Tokyo Future Artistic Pigments
» Digital Dragon, Secret Samurai, Lost in Nishitama, and Shallow Depth.
I'm slowly amassing a frightful Artistic Pigment stash, and yet… I cannot find it in myself to care. (Does that make me a terrible minimalist? I'm pretty sure that makes me a terrible minimalist.)
Here's the thing, though. I have my qualms with some of the line's other products (their cream formulas come to mind — more on that next week), but their pigments? Damn. When it's straight-up colour, FaceFront never fails to impress. They just come up with these really vibrant, unexpected, actually unique shades, and I'm always just really stunned by how gorgeous they are. It's so refreshing to be surprised by a shade; to not already own a dupe of it in some way, shape, or form.
The details: Each Artistic Pigment retails for $10.50 USD and contains 5g of product. These multipurpose products are vegan-approved, made in the US, and paraben-, silicone-, & cruelty-free. The four Tokyo Future shades are all limited edition for Winter 2011.

See Shallow Depth in this violet and blue look and the full collection details here.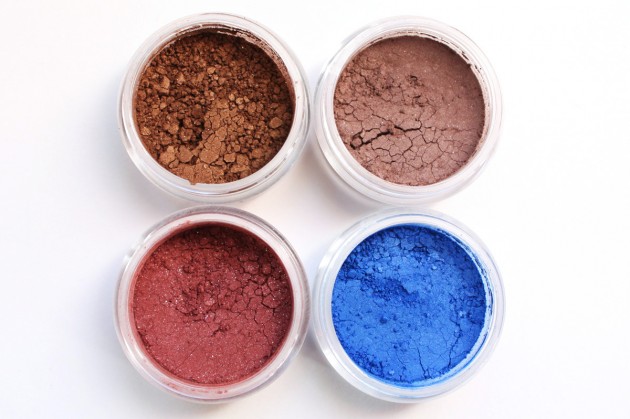 As an aside, I'd like to note the fact that I'm not a fan of Orientalism, and I don't believe in capitalizing upon other cultures. That said, I'm not going to launch into a tirade about it, and I don't think FaceFront has done anything specifically offensive in regard to this collection – I feel like it focuses more on the "future Tokyo" popularized in science fiction, rather than any given situation in the real world.
Anyhow, the point I was trying to make: feel free to discuss this in the comments, but please be respectful of your fellow commenters!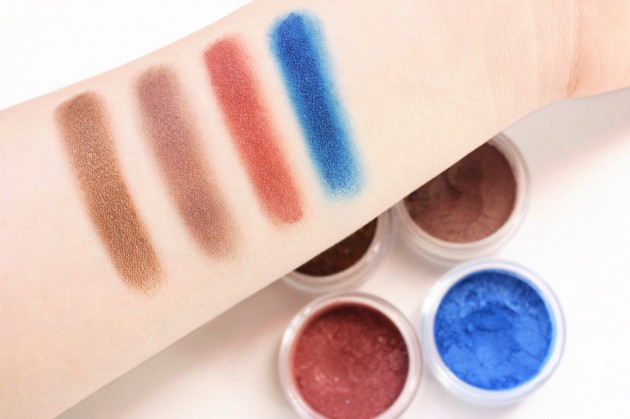 The shades
(Section alternately titled: Guys. Guys. I have so many feelings about Shallow Depth; I don't even know.)
FaceFront describes Digital Dragon (Ultra-Steel Finish) as a subtle metallic golden brown infused with bright, rustic bronze refleks; Secret Samurai (Steel Finish) as a highly complex and shimmery taupe with subtle red hue; Lost in Nishitama (Steel Finish) as a vivacious and shimmery cranberry with subtle reflecks of red and silver; and Shallow Depth (Semi-Matte) as a dark, true oceanic matte blue.
I would describe them as…
Digital Dragon: an intense metallic bronze that honestly ought to be the sleeper hit of this collection;
Secret Samurai: a soft taupe with red undertones (the foiled swatch, behind the cut, displays the colour best);
Lost in Nishitama: a burnt red with visible silver shimmer, which is insanely pretty, not to mention really unexpected; and finally,
Shallow Depth:the poor girl's NARS Outremer, though FaceFront's Semi-Mattes feature microshimmer, which I'm not sure Outremer does.
Comparison swatches later today! (Though I don't have the NARS; sorry, ladies.)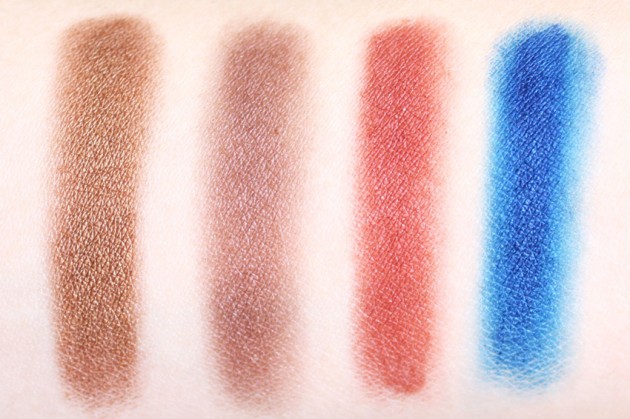 Swatched L-R: Digital Dragon, Secret Samurai, Lost in Nitshitama, Secret Samurai, Shallow Depth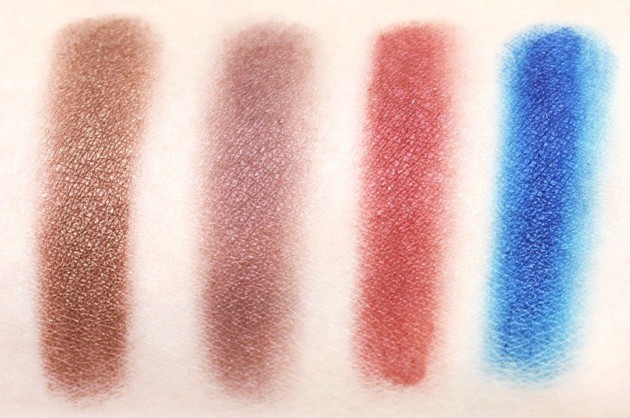 Swatches with flash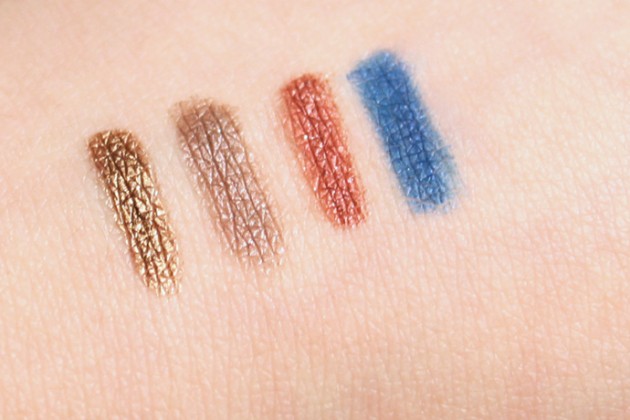 Foiled onto dry skin; taken with flash in incandescent lighting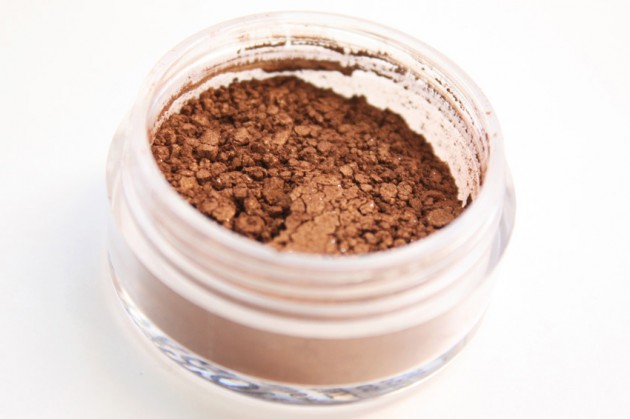 Digital Dragon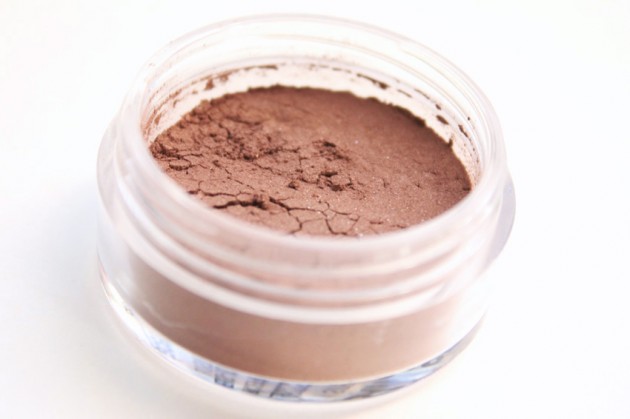 Secret Samurai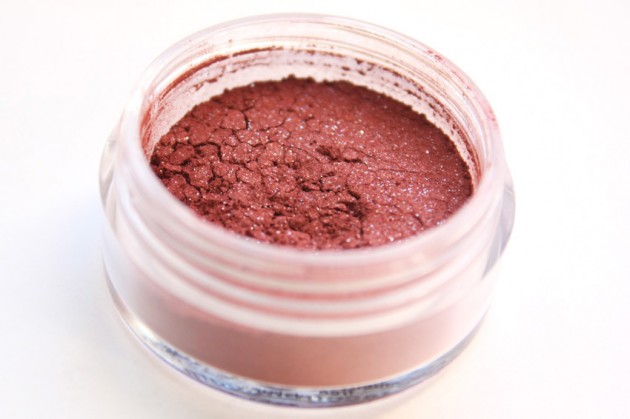 Lost in Nishitama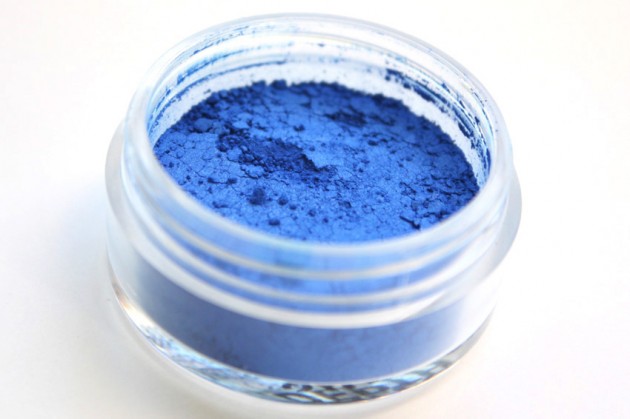 Shallow Depth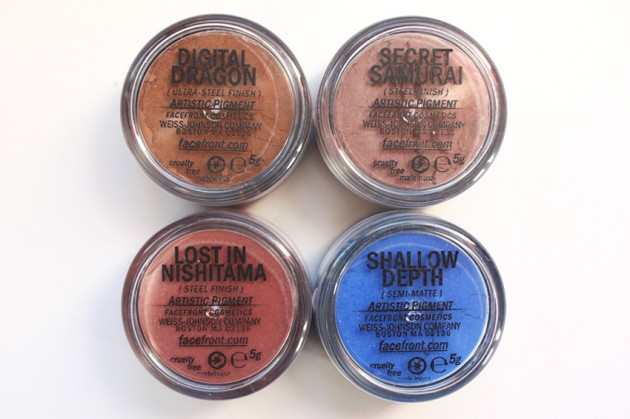 The ingredients
The paraben-free, silicone-free Artistic Pigment formula may contain…
Mica-77019, Titanium Dioxide-77891, Iron Oxides (77499, 77491), Silica,Tin Oxide-778161, Calcium Sodium Borosilicate, Calcium Aluminum Borosilicate.