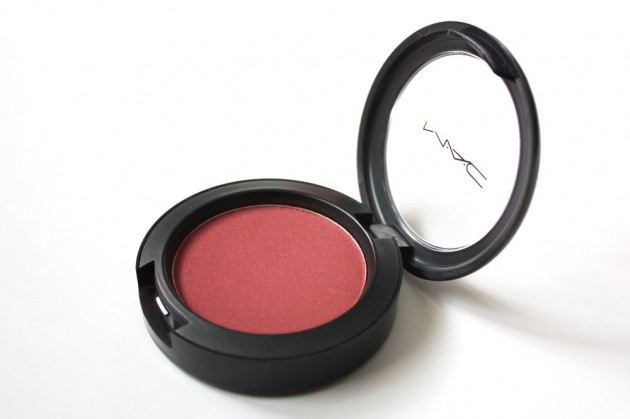 The product: MAC Powder Blush in Fever (Matte)
So, weird little confession coming up. When I'm toeing the line between "vaguely healthy" and "deliriously feverish," I actually look… healthy. Seriously, it's like, the only time I ever have a "healthy flush."
(A little less sickly and I'm just a weird interpretation of pale; a little more and I look like someone's got me on a stretching rack. Probably because my brain is being held captive on a stretching rack by the flu.)
Where was I going with this?
Oh, right. MAC Fever! And the fact that it's quite pretty.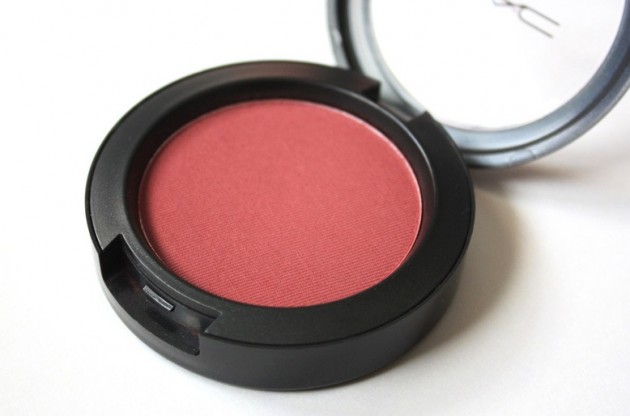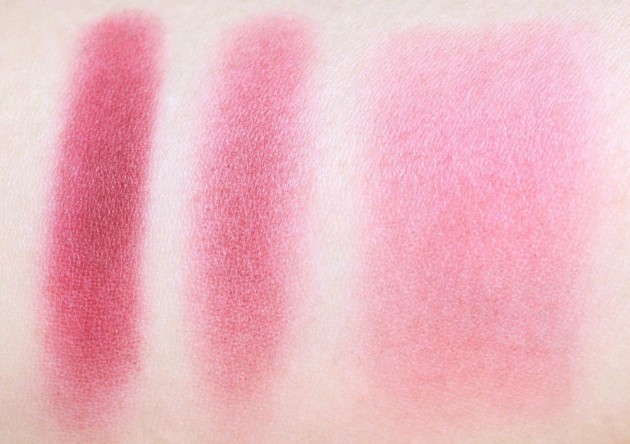 MAC Fever Powder Blush swatches
Consider it a strange personality quirk, but I'm really into wearing tiny amounts of really pigmented products, rather than normal amounts of medium-sheer ones. With blushes like Fever, it's just so easy to get that flushed-from-within glow, because you need so little that they wear like a stain – that is, you can't see evidence of blusher on your cheeks, no matter how up-close-and-personal you get, and they just last and last and last.
Fever is a really intense, matte raspberry red. MAC describes it as a reddish-burgundy, but I'd go more along the lines of… I don't know; a brownish raspberry. (Raspberry, oxidized!) It's honestly just – god, the pigmentation is ridiculous, and the shade! It's utterly perfect for that expanded-capillaries, blood-beneath-your-skin effect, and the amount of pigment (not to mention, the depth of colour) means it'll show up on pretty much everyone.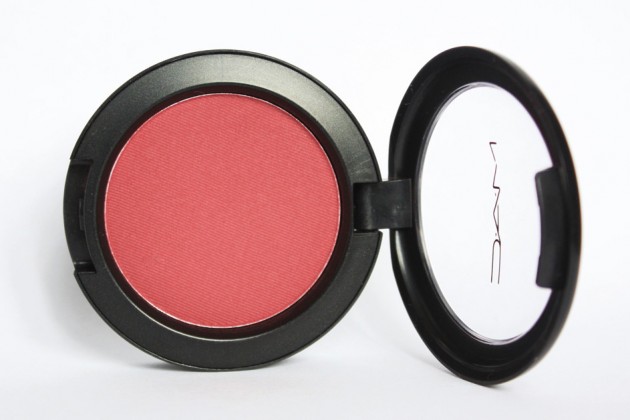 Just as an afterthought: I had originally turned to Frankly, Scarlett for that "flushed" look, but I like Fever quite a bit more. There's enough plum and brown in it to keep it pretty subd– actually, subdued is probably a bad choice of words, here, because it's really not. But Scarlett was brighter than I was looking for; it's a rather aggressively cheery red – spot-on for what it intended to be, no doubt, but I definitely prefer this one applied lightly for a natural cheek.
And I know; it's crazy to suggest that something this pigmented could turn out a natural cheek. But it can! And it's lovely!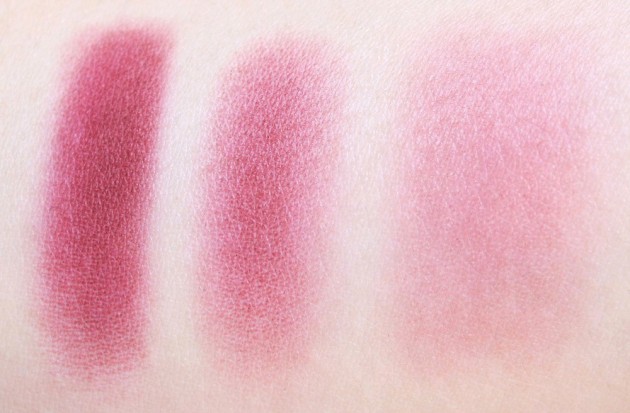 Had two sets of swatch photos for this review. Still… not really sure why.
But anyhow, here are some extra MAC Fever swatches!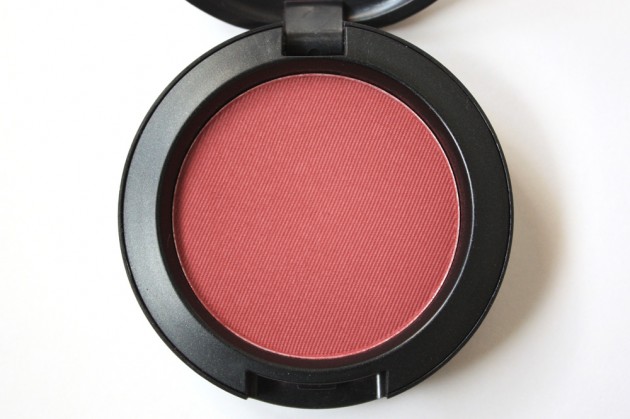 The verdict?
I love Fever. Yes, even as a super-pale makeup junkie, I love it. I love, love, love it, my dear readers! (Which is a fact that I am going to stop announcing now, because "love" is starting to look less and less like a word.)
Honestly, I don't know why this isn't more popular. The pigmentation is incredible, the tone is just spot-on, and if the versatility of the product isn't enough to sway you, then surely the wear time will! I cannot express enough how much you need to check this one out – okay, so perhaps it's not suited to someone who's new to blush, but come on. I know there are more blush junkies out there! I can feel you through your monitors and I am infecting you with MAC Fever lemmings!