I'm feeling like the colour of leaves in autumn. Like the 40's. Like Essie Very Structured. Like Joan Holloway. Like Slow Dancing Society's The Warm Familiar Sound of September.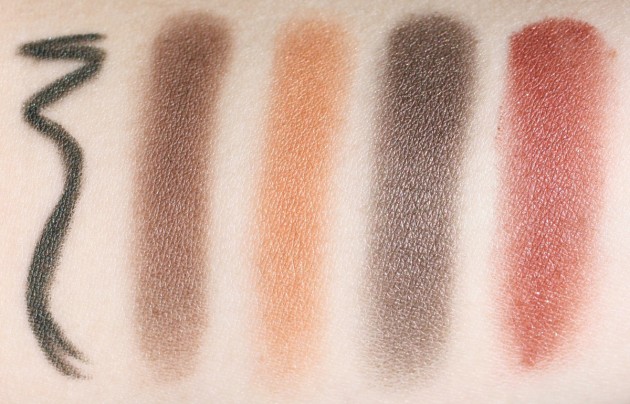 Eyes
Maybe it's something in the air, the light, the era – I don't know, but I'm head over heels for desaturated greens, burnt sienna, tan, and a mix of mink browns to balance everything out.
It's strange: I usually fall into a rut of brown and berry in the fall, but I'm just crazy for sienna this year. I mean, sienna; what absurdity! It looks terrible on me, which more or less explains why I couldn't stand it. Perhaps I'll have to find it in a handbag or pair of gloves, yeah?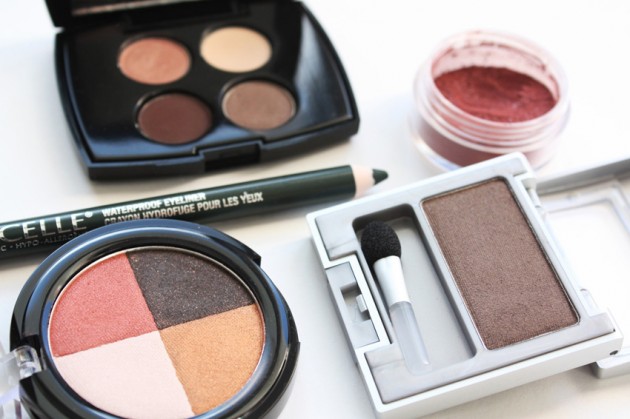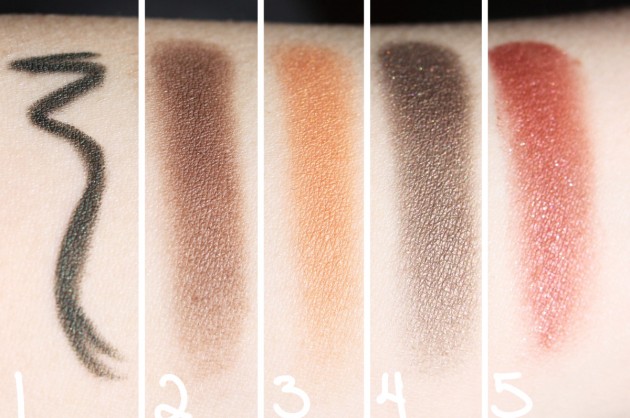 Swatches from left to right: 1. Marcelle Waterproof Eyeliner in Metal Green, 2. Lancome Colour Design Eye Shadow in Mochaccino, 3. Annabelle 4Show Eyeshadow quad in Tiger Eye, 4. Marcelle Wet & Dry Eyeshadow in Coco Chic, and 5. FaceFront Steel Finish Artistic Pigment in Lost in Nishitama.
Lips and Cheeks
Plum lips, of course. Perhaps with a mix of cranberry. And, strangely enough, burnt corals and bronzes on the cheeks – preferably matte. Tons of contouring; no colour whatsoever some days.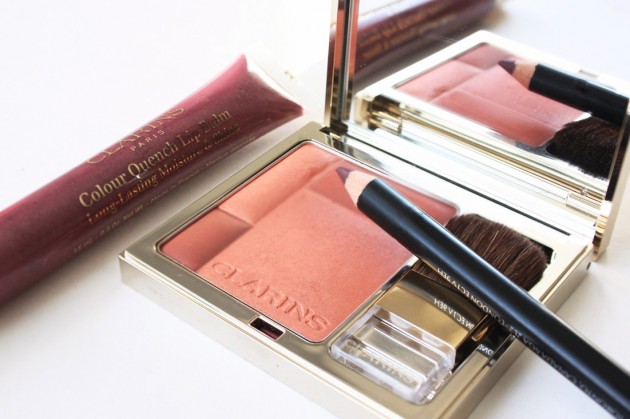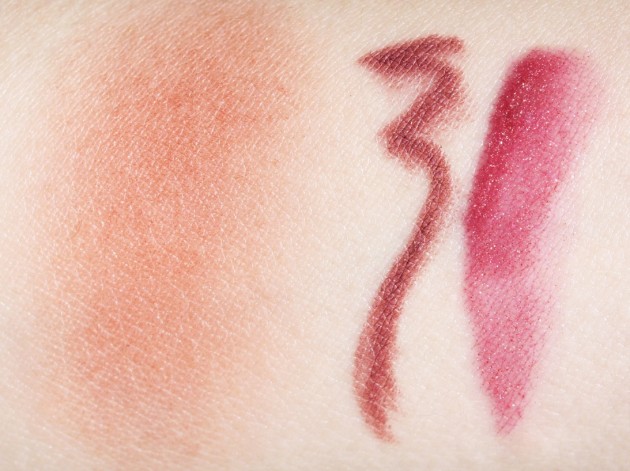 Swatched from left to right: Clarins Blush Prodige in Sunset Coral, MAC Lipliner in Plum, Clarins Colour Quench Lip Balm in 05 Delicious Plum.
More product photos and swatches…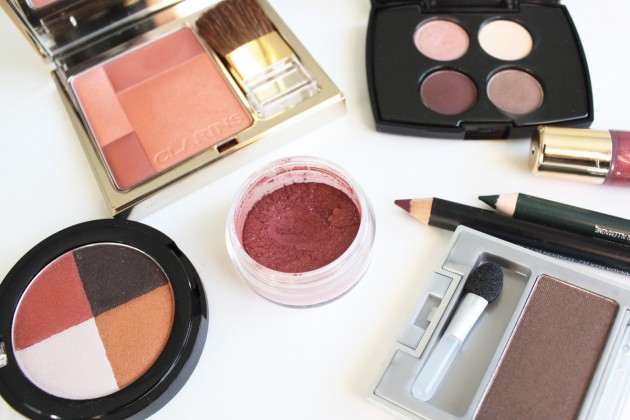 Fall 2011 colour inspiration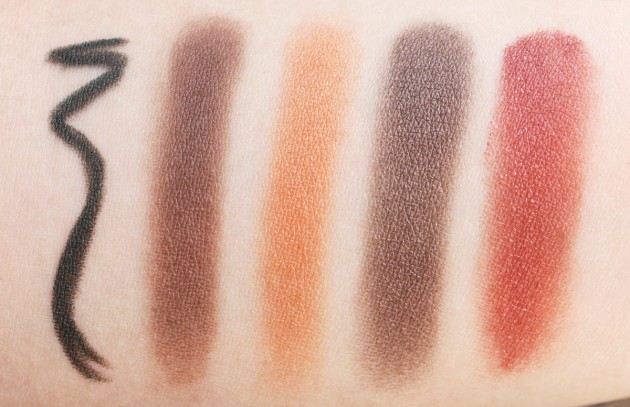 L-R: Metal Green (deep green), Mochaccino (warm matte brown), Tiger Eye (raw sienna), Coco Chic (minky brown), Lost in Nishitama (burnt sienna).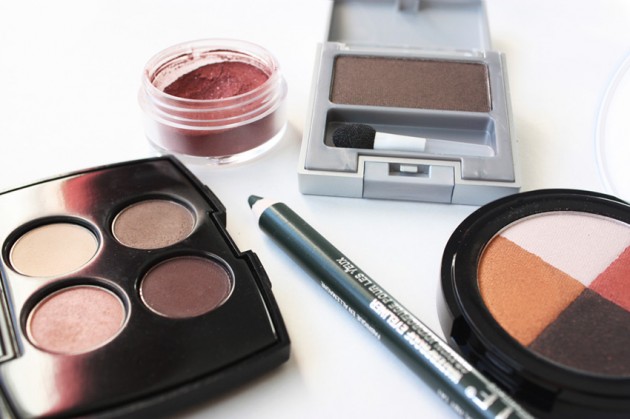 Fall 2011 colour inspiration – eyes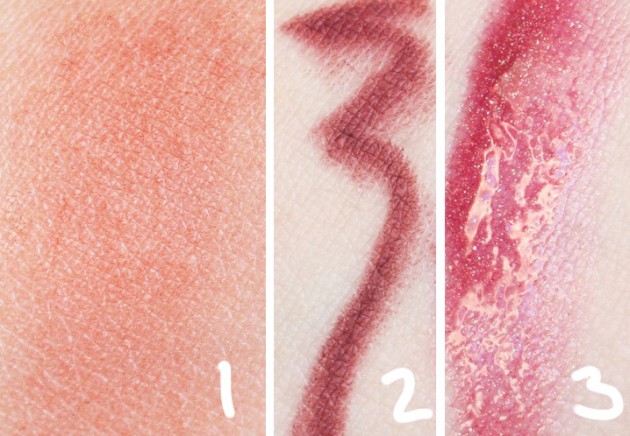 Swatched L-R: 1. Sunset Coral (burnt orange blush), 2. Plum (brown matte plum lipliner), 3. Delicious Plum (shimmery bright plum lipgloss).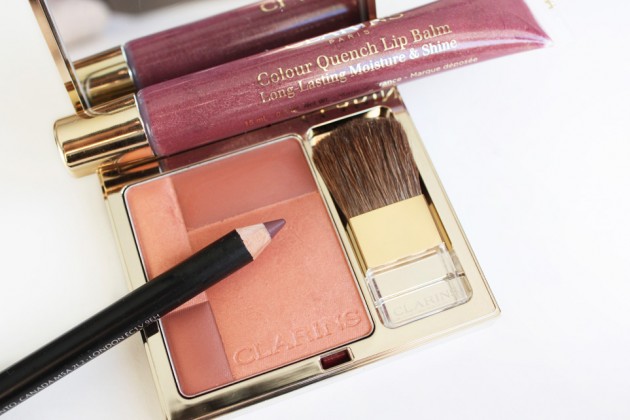 Fall 2011 colour inspiration – lips and cheeks