Okay, so I realize that I haven't been posting much recently, and I'm not sure how things are going to go when Fall term starts.
But it's okay! Because today, I'm going to make it up to you with taupe swatches! And who doesn't love a good taupe?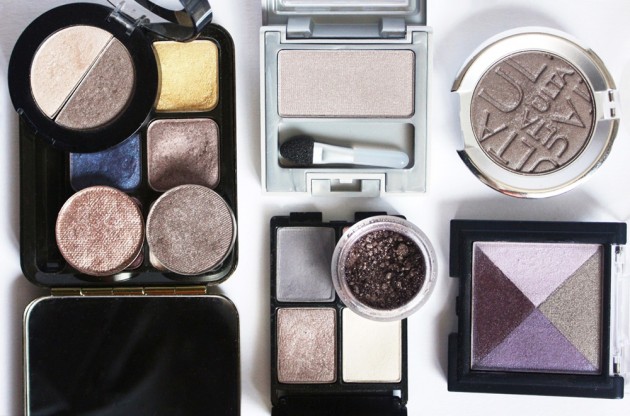 I wasn't really sure how I'd define "taupe" for this post, but I ended up trying not to go browner than MAC's Satin Taupe or more grey than Marcelle's Suede, but still trying to encapsulate many of the brown and gray variations within the colour family. It's a tricky colour to swatch, if you ask me, because everyone's interpretation is so different – one makeup junkie's taupe may be another's brown, or gold, or bronze, or grey.
I've settled on swatching my taupiest taupes, which isn't to say that there aren't more! Perhaps I'll do some of my favourite browns someday, and someone will call one of them (or many of them) taupe, but, well: that's a problem for another day. In the meantime, we'll just let sleeping dogs lie, shall we?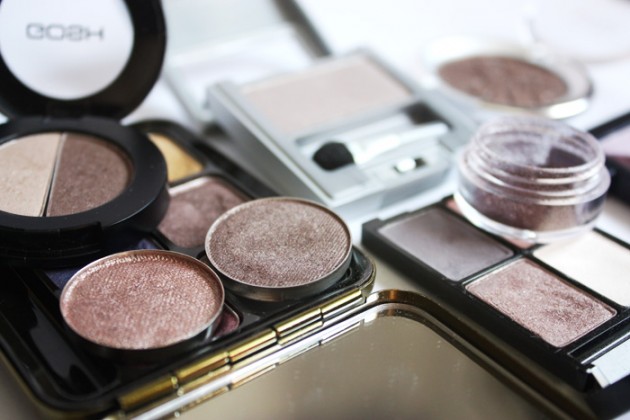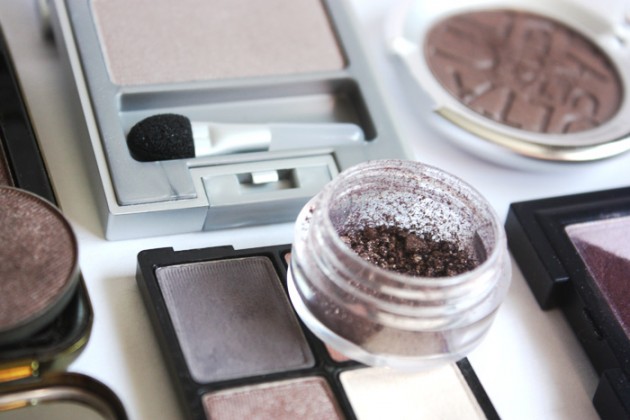 The swatches
From right to left, we have 1. GOSH Chocolate (from their discontinued Golden/Chocolate duo), 2. MAC Satin Taupe, 3. a self-blended russet-taupe, 4. Lancome Platinum, 5. the top shade from Marcelle's Dimensional Mauve quad (LE last winter), 6. Marcelle Suede, 7. MAC Mauvement, 8. Ulta Mystique, and 9. Senna Taupe Glow (pictured here).

1. GOSH Chocolate is the darkest eyeshadow I have that I'd still call a taupe, not quite brown (at least, to me) because of its coolness. 2. MAC Satin Taupe is a medium-dark taupe – I love working with the formula, but I often find it looks too muddy when blended out. The self-pressed, self-blended 3. russet-taupe is just on the outer edge of taupe; some days, I'll think it is, but others, I feel like it's perhaps too copper.
(Okay, so I'll admit that I often just forget that I went back, re-crushed, and re-blended that shade to be a little warmer. It used to be taupier, honest!)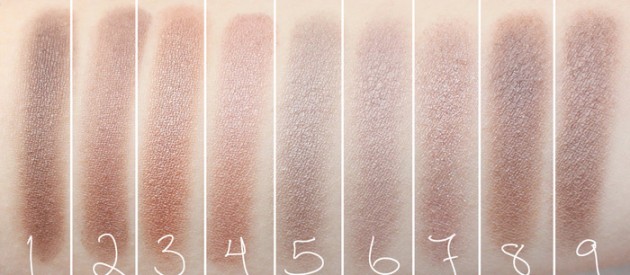 4. Lancome Platinum is a lighter taupe with a really fine frost finish, and it's on the warm side. The shade from 5. Marcelle Dimensional Mauve is just the opposite; really quite grey and very much my kind of taupe. 6. Marcelle Suede is a really sheer taupe (too sheer for my liking), but it's a really pretty heather grey sort of shade.
7. MAC Mauvement (pigment) is super-sheer, mainly just shimmer, and layers really nicely as, well, a mauve-y sort of shade. 8. Ulta Mystique is a gorgeous cool (grey) taupe, darker than you'd expect from the pan. 9. Senna Taupe Glow is similar to Mystique; I'd think of it as Satin Taupe's cool-toned counterpart.
Aside from Mauvement, all of these shadows are (more or less) frost finishes.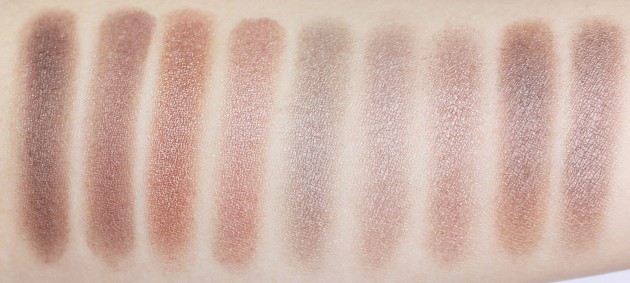 Of these, I probably get the most wear out of the GOSH and Ulta shadows. It's a bit surprising, because the GOSH duo really didn't stun me at first, and the Ulta my most recent taupe acquisition – but colour-wise, they're both just lovely; not too red or too warm.
If I'm in a hurry, I'll wear Clinique Bit O' Honey all over the lid with a bit of taupe buffed into the outer third with a 217. It's ridiculously easy, looks a lot more polished than just a bare lid, and gives a really natural effect. Plus, you just can't beat an eye look that takes less than two minutes!
What's your favourite taupe shadow?