Friday, September 23, 2011
Of all the products in Clinique's The New Black collection, this is the one I was looking forward to the least. So, of course, (in true Rae fashion,) it's the one I fell in love with.
And oh, what a complicated love it is.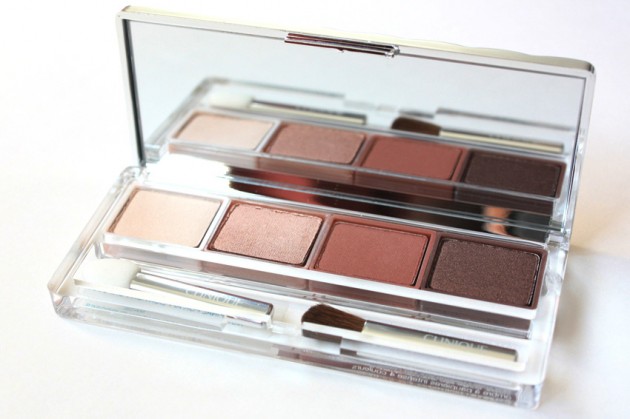 The product: Clinique Black Honey Colour Surge Eye Shadow Quad
I know that we normally do section-breakdown reviews, but this one needs a little bit more of a ramble. I hope you'll excuse the lack of structure!
First things first, I want to say that the Black Honey concept translates beautifully into an eyeshadow quad. Like the lipstick, this quad is best suited to light or medium complexions, really excels at flattering warm skintones, and offers a translucent wash of colour. However, I'm using terms like "best" and "excels" with a very specific intent: it really is phenomenal for them, but it can do so much more!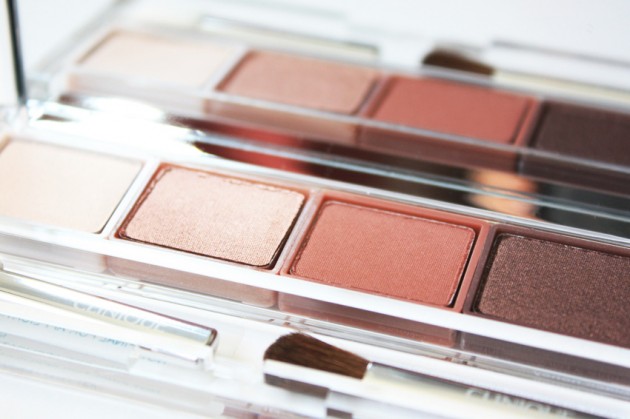 Personally, I find that the Black Honey Almost Lipstick doesn't sit quite right with my complexion – I'm too pale and too cool-toned for it. This quad, however, is a different story entirely. The shades are warm, but they're just the right kind of warm, and unlike the lipstick and blush, this quad isn't at all difficult for me to pull off. If you ask me, this quad is the most universal product of the collection, and I think it'll suit the broadest range of complexions.
This is my first Clinique quad (I know, that fact is blowing me away, too), and one thing in particular that stuck out to me is the fact that it's clear-backed. Which, for the record, is brilliant. Clinique presses its eyeshadows into coordinating plastic pans, and it makes it incredibly easy to identify the quad in an instant.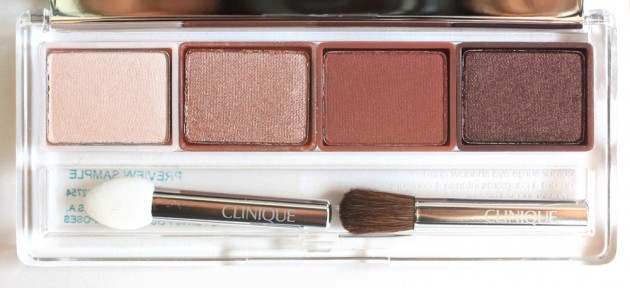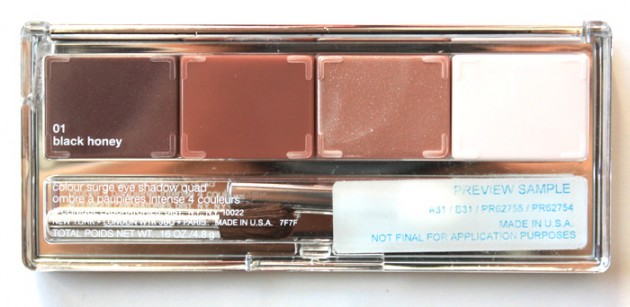 Like the shadows, not all of the plastic pans have the same finish to them: only two of the four, really, are shimmery. I've mentioned before how much I love palettes with mixed finishes, and this is no exception! Often, I find that the more you mix your finishes, the more depth you get out of the palette (and the more versatility it tends to have).
This palette contains:
a super-sheer, shimmery ivory,
a metallic-finish (think MAC's Frost eyeshadows) taupey brown,
a warm, satin-matte orangey-brown with fuchsia (yes, fuchsia!) sparkles interspersed, and
a rich chocolate brown with gold and pink shimmer.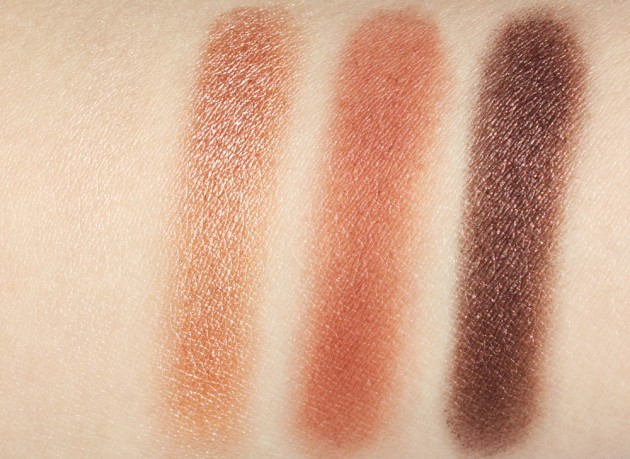 Clinique Black Honey Colour Surge Eye Shadow Quad swatches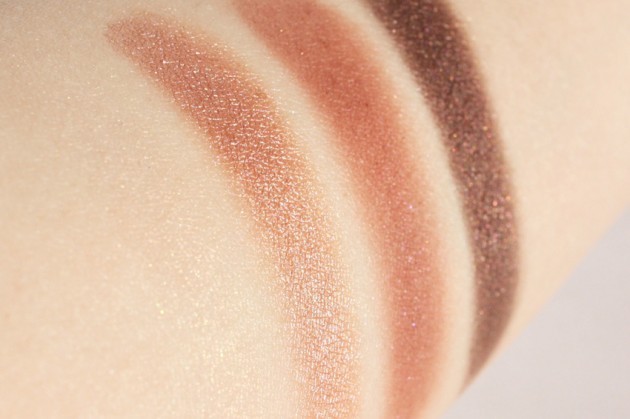 Clinique Black Honey Colour Surge Eye Shadow Quad swatches, at an angle
The verdict? (aka "the big however")
Despite everything I love about this… I'm going to have to recommend that you pass on it.
Yes, I just said "pass on it."
The thing is, this palette features three unexpectedly lovely eyeshadows, but it also has one that's extremely disappointing. Not even just sub-par, but flat out extremely disappointing. I mean, I get why companies insist on putting highlighters in every single palette, but if it's so sheer it won't even show up on an NC15, why bother? Sometimes I'll excuse the sheerness if the highlighter has a really gorgeous duochrome, or a sheen, or even just really pretty shimmer, but this is just – well, it's just some barely-there sparkles.
So: if you love the look of the Black Honey palette, and you're willing to accept the fact that the ivory's more or less a nonentity, then go for it. The other three shades definitely do not disappoint! But, in terms of a cost-to-product ratio, just know that this one's really only delivering on 75% of its promises.
–
P.S. The dark brown's a little on the dry side, so be prepared to put a little extra elbow grease into using it. If you're in a hurry, it still looks good used normally, but if you have the time – take an extra minute to "press and smudge" the colour on before blending. The results are very much worth the effort!