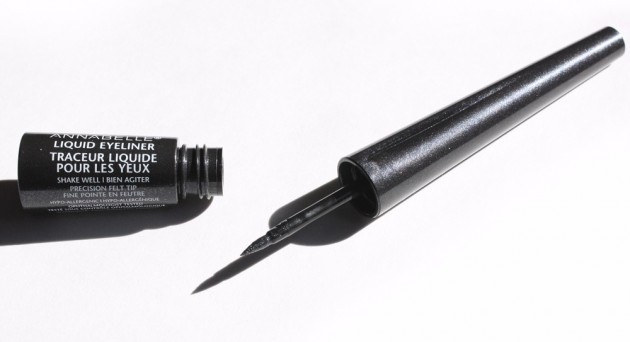 The product: Annabelle Liquid Eyeliner in Black Spark
The shade: Black Spark is an inky black with a ton of super-finely-milled silver microshimmer. It has a non-sticky finish, but I *think* it's got a bit of a vinyl sheen to it – I say think, because I'm not totally certain! Perhaps that's just the shimmer being sneaky and tricky.
The wear: I know that I bitch about it all the time, but the fact is, 98% of the liners out there are going to migrate on my lids. Like an Ellis Faas or Lancome liquid liner, though Black Spark holds up like a dream come true – and at just a fraction of the cost. I get zero smudging, flaking, or bleeding throughout the entire day, no priming or powdering necessary.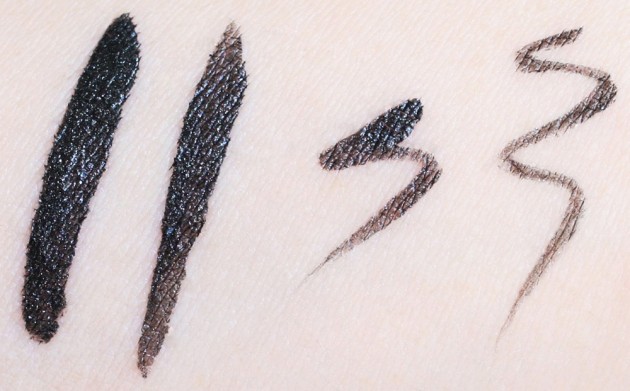 Annabelle "Black Spark" Liquid Liner in indirect sunlight; no flash.
Also similar to the Ellis and Lancome liners (and for that matter, similarly to almost all the liquid products which wear well in my eye area), Annabelle's liquid liners rinse off in "bits." So, if you give this a go, don't be frightened! :P (Photo under the cut.)
The applicator: Annabelle's liquid liners feature a short, stiff foam applicator. I'm really quite fond of it; the length and sturdiness give a lot of control, and it's easy to get your line just right. If I'm doing a particularly large wing or a graphic sort of liner, though, I do find that I have to re-dip part way (because the applicator's so small). I don't think this is an issue for "normal" eye makeup, but I figured I may as well mention it!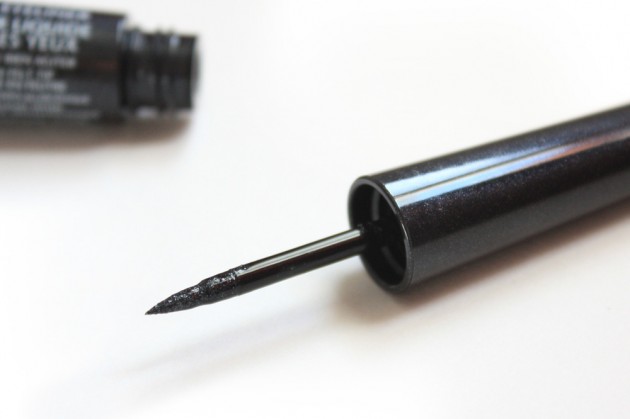 The ingredients:
C10-30 alkyl acrylate crosspolymer, water, butylparaben, cellulose, glyceryl stearate, hectorite, isobutylparaben, isopropylparaben, magnesium aluminum silicate, oleyl alcohol, propylene glycol, stearic acid, triethanolamine, xanthan gum. +/- colourants.
The verdict?
Black Out, a liquid liner from Annabelle's regular line, was my first-ever drugstore eyeliner purchase – and I while I liked it alright, I love this one. It's not just that the shimmer of Black Spark is spot-on (though it is), or that it's got a vinyl finish (which it does), but I'm almost 100% certain that the formula has changed.
(For the better. Just in case that wasn't obvious.)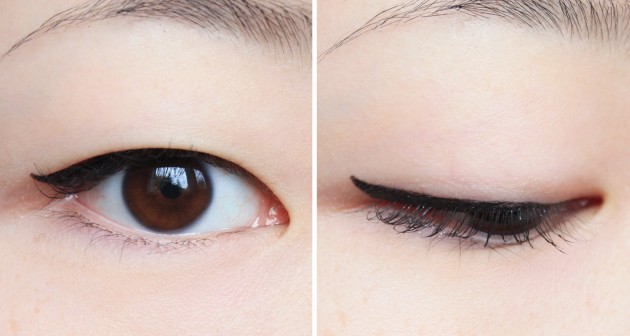 See, the last Annabelle Liquid Eyeliner I tried was "pretty good," but this one is is actually awesome. I've got it on the back of my hand right now, and I can quite literally scrub away at it with my other palm without incurring any damage to the liner. I can even go at it with a sopping wet cotton pad & come away with zero transfer – it's that waterproof. But, soak it with a little bit of makeup remover, and it'll rinse right off!
In short: this is amazing. The amazingest kind of amazing in all of amazingland, and unlike the other two budge-proof liners I've found so far, this one'll run you less than (!) $10.
Even if Annabelle's liquid liners have let you down in the past, I'd still encourage you to give Black Spark a try. At the very least, give it an in-store swtach – it's worth your time.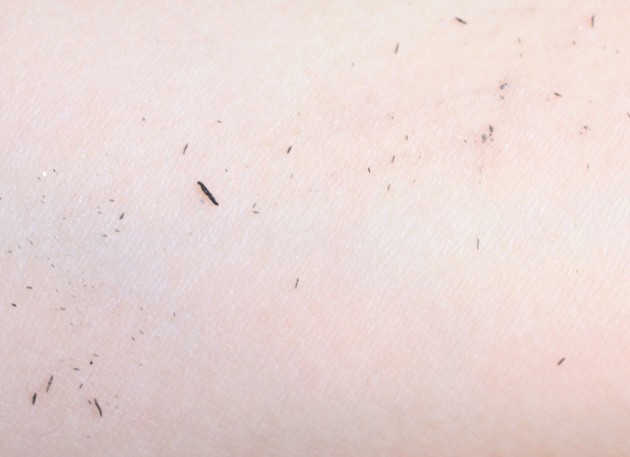 Following a quick wipe with makeup remover on a cotton pad