I had planned to do our Lid Smoothie coverage in three parts over a week or three – a "coming up" post, a swatch post, and a review. (Oh, and then some EOTD features on the side). The only problem in this plan?
I am extremely, extremely impatient in the short term.
Anyhow, because they're already available online (I've spied them at both Lord & Taylor and Dillard's), I figured that I may as well post the swatches – after all, they'll be on counters next month! Which is soon, in case you hadn't noticed. Too soon :P
Availability: August 2011, $19.50 US / $24 CAD

Shades: Bit O'Honey, Cashew Later, Sassy-fras, Ginger-ly, Cute-cumber, Pinkgo Bilboa, Seventh Heather, Born Freesia, Imprompt-blue, Currant Affair, Lick-orice, Salt and Pepper (italics denote shades that are featured in this post.)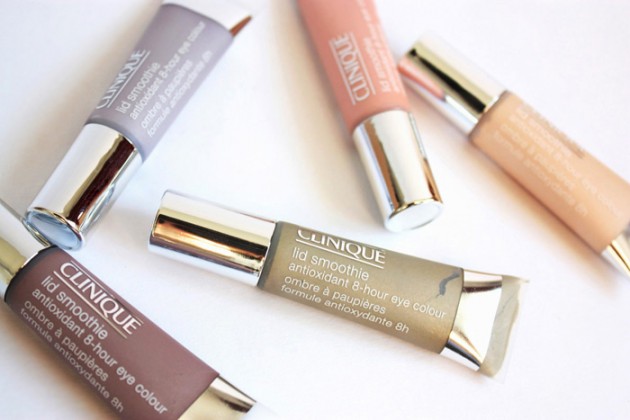 Shade descriptions
Currant Affair: red-brown with plummy undertones and red shimmer.
Born Freesia: sheer lilac with a fine lilac frost and slightly-rose microshimmer. Sheers out to an intriguing almost-no-makeup eye with delicate violet reflects.
Cute-Cumber: an adorably named medium-dark green with gold shimmer; fairly muted.
Pinkgo Bilboa: salmon pink with… I think that's champagne shimmer?
Bit O'Honey: extremely shimmery champagne – great for a no-makeup look or a wash of luminescence.
Okay – before I leave you to these photos, I want to point out that these have all been swatched heavily. When I do EOTD shots, I'll be sure to show off their sheerness and opacity (they both layer and blend out quite well), so please just give me time!
Clinique Lid Smoothie swatches L-R: Currant Affair, Born Freesia, Cute-Cumber, Pinkgo Bilboa, Bit O'Honey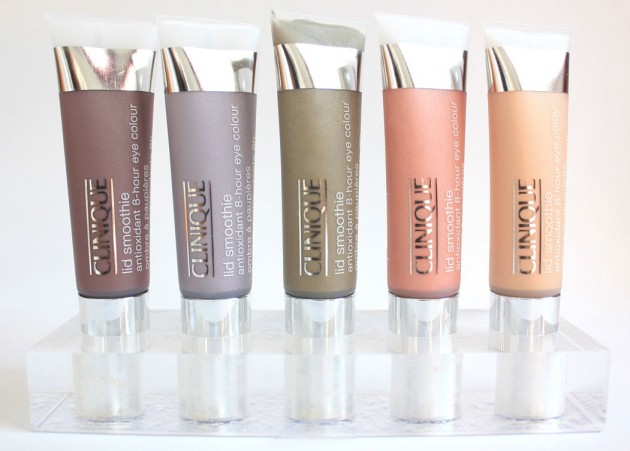 Reminds me of…
Currant Affair: Le Metier de Beaute Alexandrite (more berry), Make Up For Ever Aqua Cream 17, MAC Heritage Rouge (more burgundy, more pigmented)
Born Freesia: Bare Escentuals Flash (more sheer; whiter reflects), MAC Hint of Sapphire
Cute-Cumber: Inglot 419 (more intense), perhaps MAC Sumptuous Olive (more gold, less green), MAC Spread the Wealth (lighter)
Pinkgo Bilboa: MAC Expensive Pink (less salmon), MAC Mineral Mode (more white-pink)
Bit O'Honey: Um, all sheer washes of champagne? Think Stila Kitten, MAC Retrospeck, MAC Femme-Fi. Check out these wash/highlighter swatches if you're bored.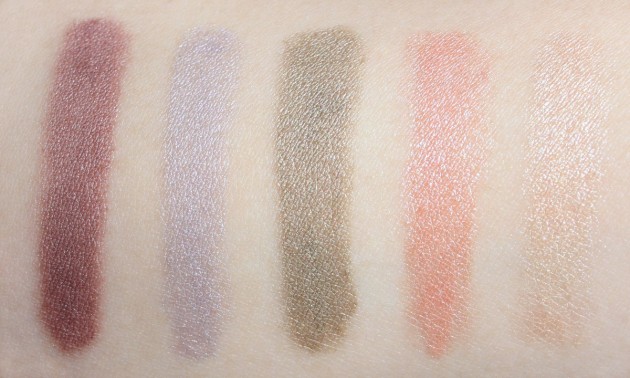 Clinique Lid Smoothie swatches in slightly more direct sunlight

Clinique Lid Smoothie labels and shade names, same order as swatched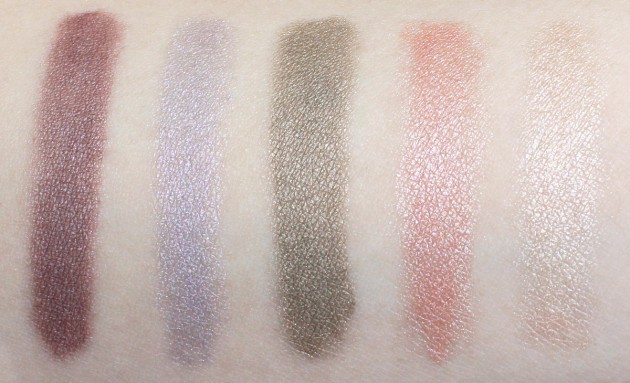 Clinique Lid Smoothie labels and shade names, flash