What it is: Benefit Finding Mr. Bright, a cute boxed set that includes minis of four fab complexion products. Check out our first post on it here.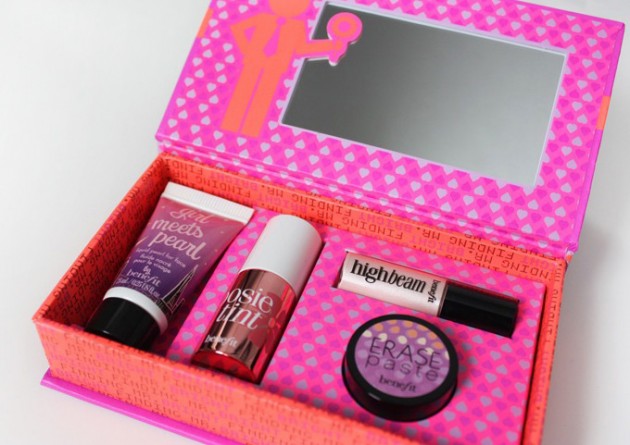 Girl Meets Pearl
Once upon a time in Sephora, a sales associate was insistant that, like the similarly packaged "That Gal," Girl Meets Pearl was meant to be used as an all-over luminizer.
Nice girl, but I'm calling her bluff. The rose-gold sheen (more on the gold than the rose) of Girl Meets Pearl is gorgeous, subtle, and deliciously demure, but it's definitely a full-fledged highlighter (and not just a primer with a glow). The base shade is quite sheer and the shimmer particles quite small, so I honestly can't come up with a single skintone that this wouldn't flatter!
Best for: all skintones

The effect: a sheer, subtle gold sheen appropriate for a day at the beach or a night out with the girls.

PosieTint
One of the problems I had with BeneTint was that it's really, really liquidy. While I have no issues with this in theory, it does make the product hard to blend out before it's set! PosieTint is sort of like BeneTint's creamier, pinker sister, and I find it a great deal easier to work with.
As you can see in the swatches, PosieTint comes out looking like a (slightly garish) hot pink, but blends out and sets to a much softer, more translucent rose. It's fairly sheer but layers really, really well, and is a "true" stain – none of this sticky-finish business (ahem, Tarte.) I should note, though, that like other liquid stains, it'll catch on dry bits if you're not careful (and should be topped with gloss of balm)!
Best for: light to medium skintones

The effect: a really natural-looking cool-toned pink stain (but wearable on warmer skintones as well).
high beam (l) vs girl meets pearl (r)
HighBeam
This one was Benefit's original liquid highlighter, and it's definitely worth the raves. It's a great deal more noticeable than Girl Meets Pearl, with a dewy off-white base (it leans a cold pink) and tons of shimmer, but I do know people of all skintones (super fair to super dark) who wear this.
Best for: medium to dark skintones

The effect: this is subtle on light skintones, but offers a lot of pop! for medium and dark tones.

Erase Paste
Because this was in Medium, I couldn't try it out for wear time, etc. However, I did test it out on my darker-toned mother, and I gotta say – it's good stuff! It's creamy and well-pigmented, and has just enough salmon tones to counteract the violet/red of dark circles (but not so much that it's an undereye-only product.)
Best for: dark undereye circles, occasional blemish concealing. Watch out for creasing if you have fine lines and/or oily skin, though!
The ingredients: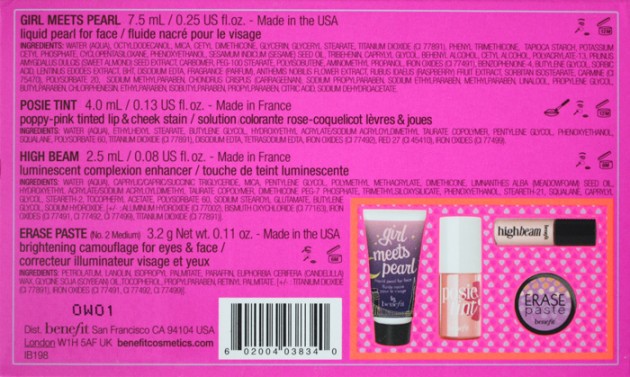 The verdict? The box is a bit too clunky to carry around with you, but it would be perfect to keep in your desk drawer or on your vanity – it's everything you'd need to touch up (& amp up) your complexion on your way out to dinner ;) It'll start hitting shelves in March, so if you're a Medium in Erase Paste, keep an eye out for it!
Pass on it if… you're not a medium-toned beauty. At $35US/$40CAD, it's not worth it unless you (or a friend) will be able to use the entire set.
l-r: heavy/blended swatches of girl meets pearl, posietint, highbeam, erase paste (med).