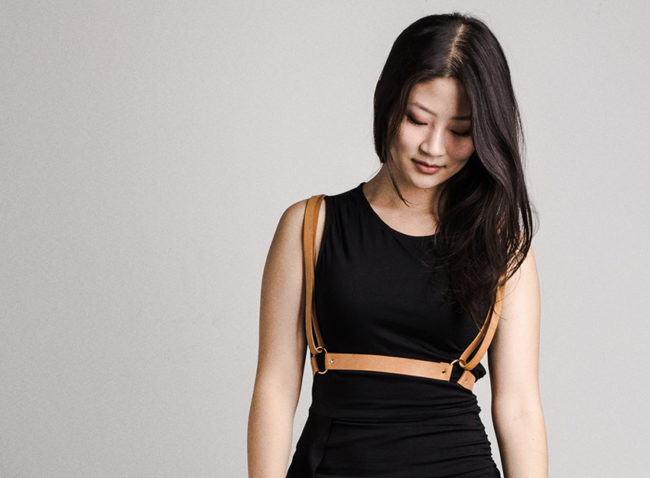 *This post was sponsored by Beyond Delights. Images by Sean Trayner.
What makes a shop stand out from the crowd has to do with a lot of things. There's their ethical standards, for starters, and the owners themselves. There's also their disclosure policies, and their willingness to support small businesses and bloggers. And then, of course, there's their selection.
I met one-half of the Beyond Delights team while I was at the Woodhull Sexual Freedoms Summit in August*. Between workshops, panels, and blogger hangouts, Narine introduced herself and her burgeoning business to me, and we chatted about putting a feature together for you this fall. EDIT 09/10/17 – see notes at bottom. 
Well: the feature is here, and it has been an awesome convergence of good things, in the fullest sense of the word.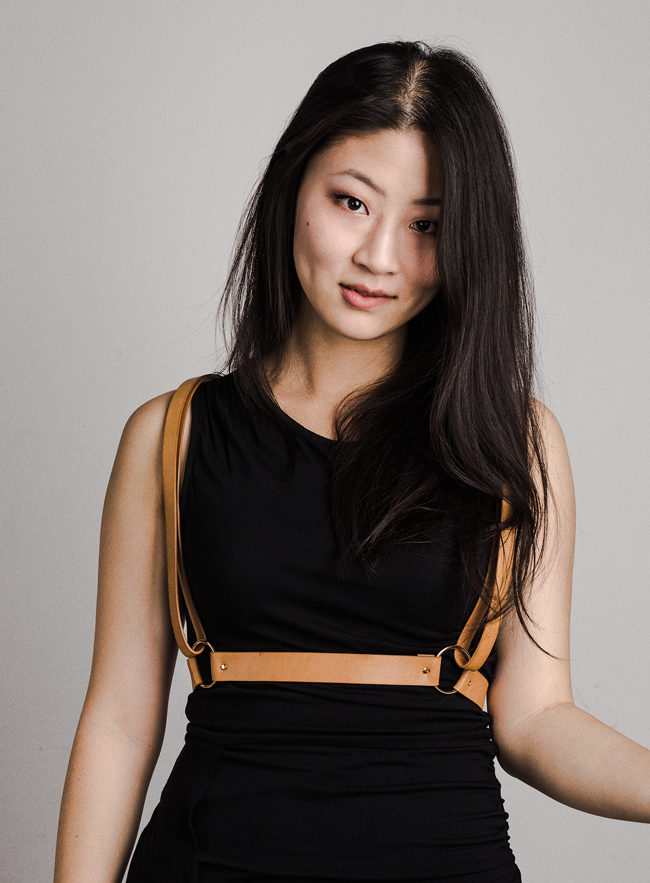 Makeup: Make Up For Ever Water Blend Foundation, Marcelle Translucent Loose Powder, and Make Up For Ever Pro Light Fusion in 01 Golden Pink. Colour: shu:palette eyeshadows, Ardell Individual False Lashes, and Burberry Lip Colour Contour Pen in 01 Fair.
The Bijoux Indiscrets leather look
One of Beyond Delights' main brands is Bijoux Indiscrets, a sensual, playful designer of what can only be described as "passion products." The Barcelona-based Bijoux Indiscrets makes everything from skin jewelry to stick-on masks, as well as the harness and suspender set featured in this post.
(Hey, do you remember that time I wore a stick-on mask for theNotice? I forgot about that thing!)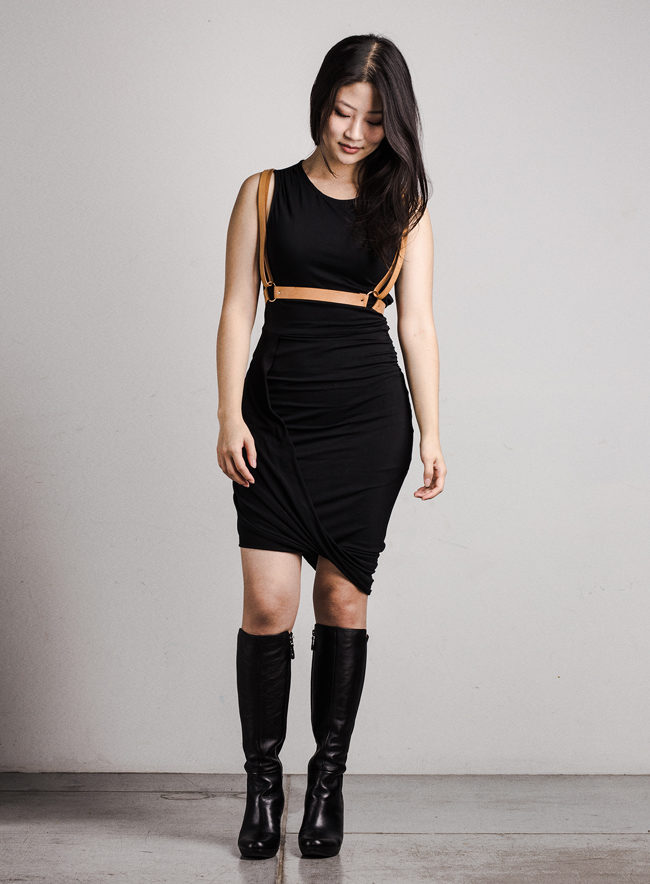 Pictured: Bijoux Indiscrets Maze X-Harness. Dynamite dress (similar). Geox Inspiration Stiv boots.
The Beyond Delights team sent over a couple of Bijoux's Maze products, and they couldn't be a better representation of the Beyond aesthetic. They're sexy, vegan-friendly, and cruelty free, and are offered at an affordable price point.
I've been focusing my attention first and foremost on the Bijoux Indiscrets Maze X-Harness in Brown ($64.99 USD), which fits up to a size 12. It's made from a recyclable polyurethane, and features lovely little details in gold. My one caveat about the Maze collection is that it runs large, so my advice would be to purchase these if you're in the size 6-12 range. I'm 5'2″ with a 34″ underbust, and I had to punch extra holes in the suspenders and triple-loop the harness to get them to fit.
The other vegan product photographed here is the Bijoux Indiscrets Maze Suspender Belt ($44.99 USD), which turned out to be a little hard to photograph. (I'm not saying there are nudes, but… there are nudes. They may or may not end up on social.) It's a simple, functional harness that's comfortable to wear, and it blends in seamlessly under a fit-and-flare dress.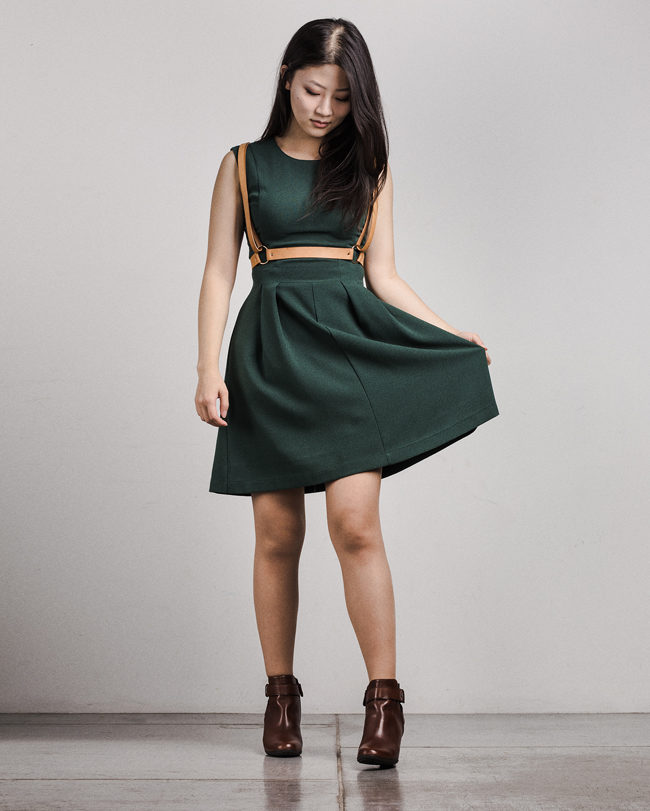 Pictured: Bijoux Indiscrets Maze X-Harness and Suspenders. BonLook Myrtle frames in Rose Dazzling ($145 CAD). Dynamite dress ($39.95 CAD). Geox Inspiration Wedge boots. 
Anyhow, here are some feelings
These photos were taken by Sean Trayner, and I always get a little caught up in them when I open them up. You can see all of my awkward bumps and lumps in them, and it's just – it's so weird for me. I asked for permission to clean up the images when they got to me, but in the end, I chose not to.
So here's what I actually look like, cat hair and all. In the green dress, you can see my arms (which I'm convinced are chubby) and my thighs (which I swear, look like sausages in thigh-highs). If you look closely, you can even see the underwire of my bra, and the scar that Tuna left me when he fell off of the range hood.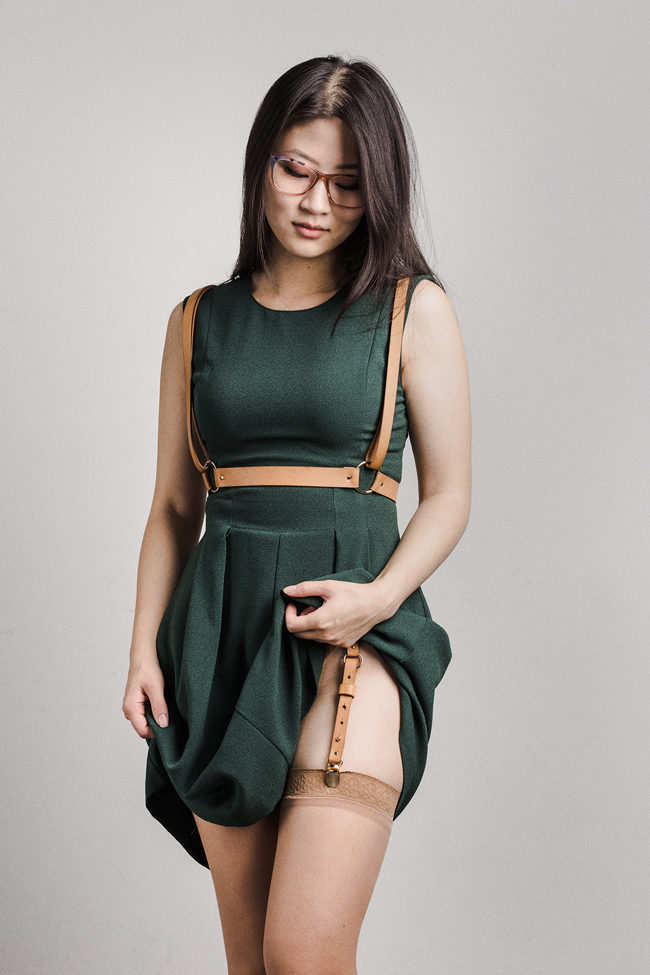 My favourite photo from this shoot, however, is the one below. I love this shot because I hate it: it's a beautiful image of a person that I don't particularly like. It catches all of the flaws that I couldn't tuck away, from my acne scars to my awkward neck wrinkles and my bumpy arms.
I am very, very uncomfortable with the photos in this post, and I kind of love that I am. I feel exposed. I'm a romantic at heart, and I always feel like the images someone takes of you are a representation of how they see you. This is the me that other people see, and for whatever insane reason, they think I'm smart and attractive and have value and stuff.
Which, as my imposter syndrome would have you believe, is crazy. So stop doing that, you guys. You're going to make me stop deflecting my feelings or give me self-confidence or something.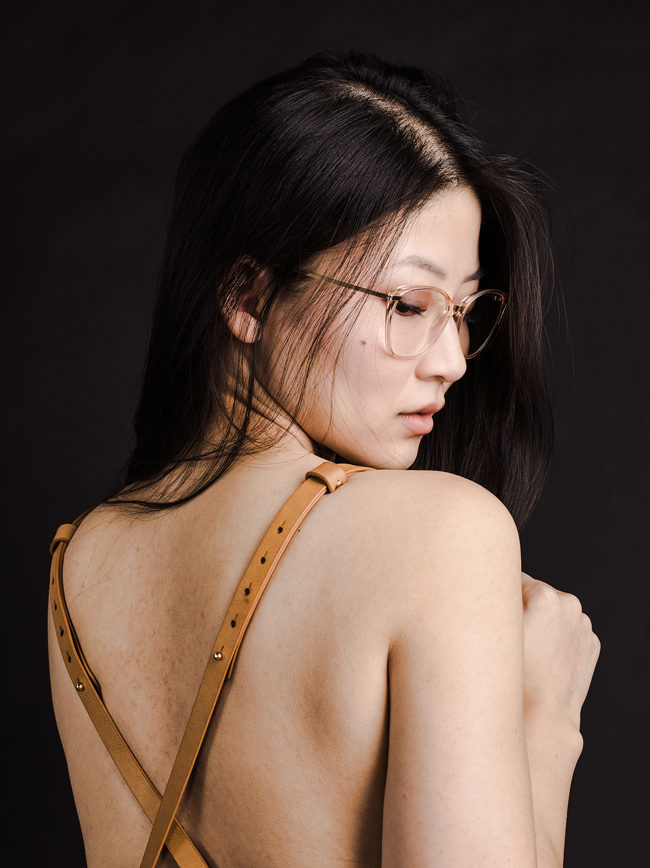 Pictured: Bijoux Indiscrets Maze X-Harness with BonLook Illusion frames in Blonde Metal ($145 CAD).
And, finally… About Beyond Delights
Beyond Delights is a new, online boutique that stocks exclusively high-end, body-safe sex paraphernalia. Their aesthetic is really sexy and sultry, and all of their shipping is done discreetly.
» Use code TheNotice10 for 10% off most products at Beyond Delights!
I really enjoy the fact that all of the products stocked at Beyond Delights are phtalate-free, and I love that their toys aren't sorted into gendered categories. Each product is listed simply as it is (for instance, Shop -> Vibrators -> Bullet Vibrators), and product descriptions include terms like "up to a size X" instead of "one size fits all."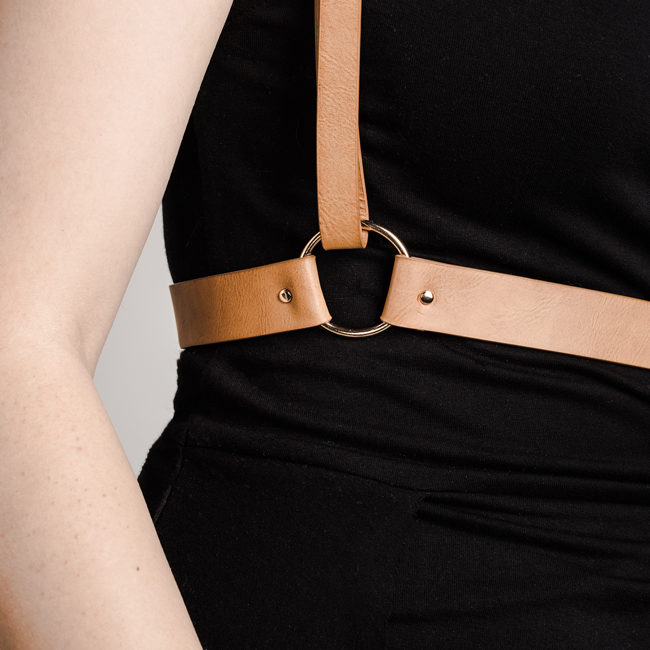 I'll be honest with you, however. The Beyond Delights team is pretty green, and they have a lot of learning to do. We struggled through a few bumps in the road getting to this post (they sent me 18 emails hammering out the details, which is a volume that I have never once come across in my 10 years of blogging), but that presents a unique opportunity for growth.
So tweet them. Email them. Experience the store for yourself, and let them know your thoughts – because, hopefully, they're ready to learn.
What's one thing that you love about yourself? 
—
*Thank you again to Chaturbate for the summit scholarship, and to all of the amazing supporters of our crowdfunding campaign to get more POC bloggers to Woodhull! ❤️
EDIT 09/10/17: This post mistakenly listed Beyond Delights as a POC-owned business, as Narine mentioned that she and David identify as both Armenian and ethnic. However, this post has been updated to reflect the fact that Armenian-Americans are in fact legally considered white in the United States (as of 1909).