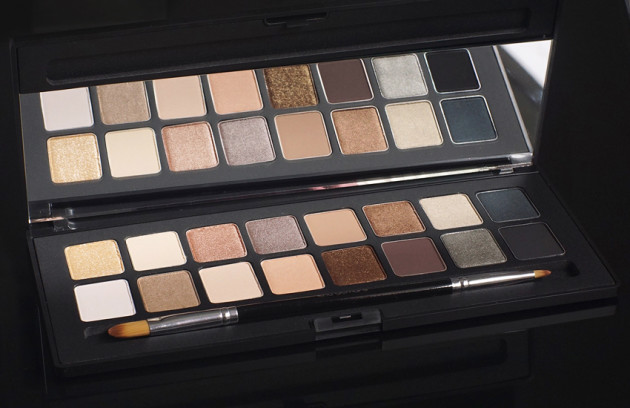 The product: shu:palette pressed eyeshadow palette
The palette: What makes the shu:palette special is that, unlike almost everything else available here, all 16 eyeshadows included in it have been specifically selected to work well on Asian skintones, which is — I mean, pretty darn exciting. (Plus, all of the application suggestions are designed to accent monolids, not disguise them!)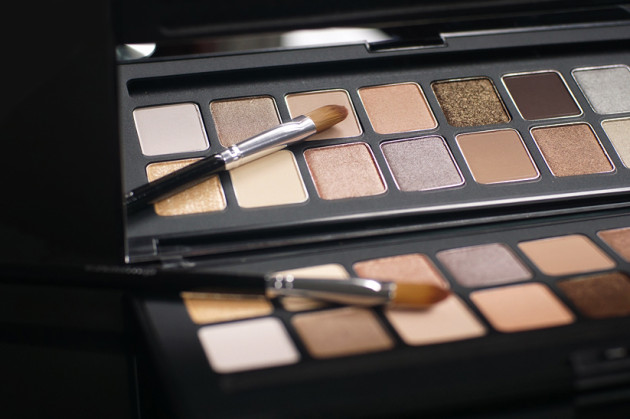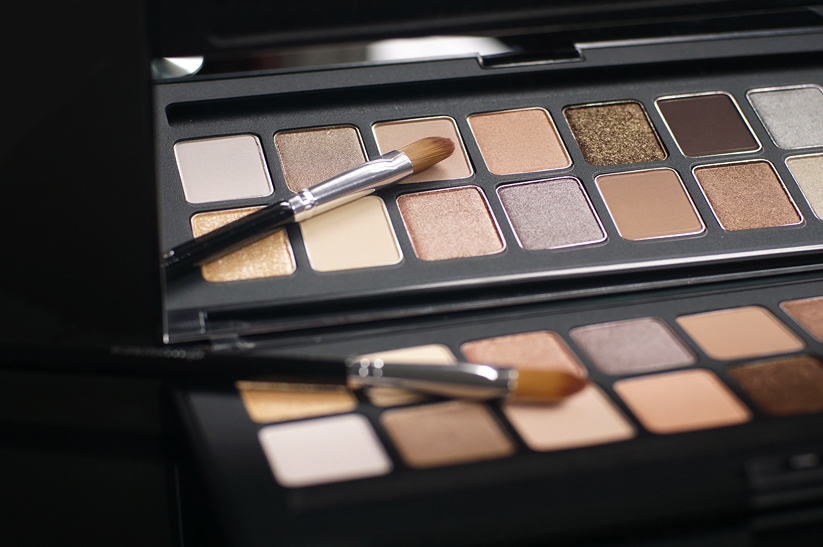 Included double-sided synthetic brush
The eyeshadows: I was very, very happy with the formulas here, as always. Yes, shu products are rather pricey, but you always get what you pay for — which is more than I can say for some other brands (ahem, MAC).
That said, I wish there were more light/medium shades in here. For some reason, it contains six highlighters, which seems a little excessive to me? Like, they're all great, but… that's a lot of highlighters in one palette.
Top row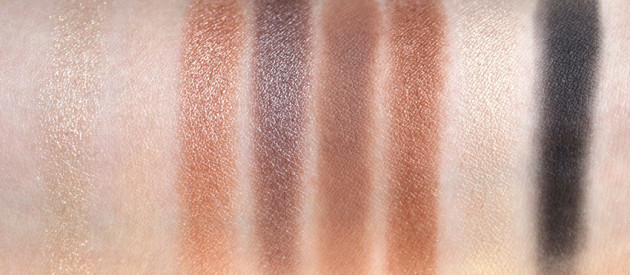 shu:palette top row swatches – indirect sunlight; over primer
G beige 821 – A sparkling, transparent yellow gold glitter. (I do love the way shu uemura does their glitter eyeshadows — they're wonderfully flaky and sparkly.)
M soft beige 814 – A sheer yellow nude; great for neutralizing any lid redness.
ME light beige 825 – A beautiful, peachy metallic shade.
ME medium brown 856 – Taupe lovers, unite! This is a gorgeously buttery taupe with a warm red base and a cool silver sheen. The more of this you apply, the cooler it will look (and vice-versa).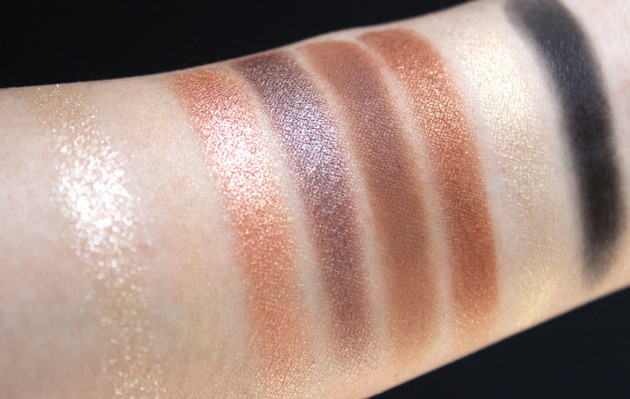 shu:palette top row swatches – indirect sunlight; over primer
M soft brown 851 – Matte camel brown. (The texture of this one is just fantastic.) Not too warm, not to cool.
ME medium brown 862 – Metallic copper. Simple, but lovely!
IR light beige 811 – Medium-pigmented butter yellow frost.
IR dark blue 690 – Functionally, this one reads as a cold, satin-matte black — not a dark teal, as it appears in the pan.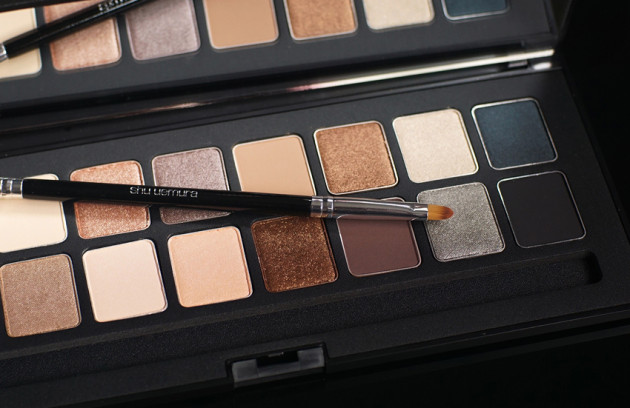 Synthetic double sided brush (included). This is the point/liner end.
Bottom row
M light beige 813 – Matte bone shade with sparse microshimmer for depth (reads as a medium-sheer matte white.)
P soft beige 823 – A very pretty, sheer shimmer with a very fine particle size. Can lean either pink or yellow, depending on the light. I'm quite fond of this one!
S light beige 815 – Creamy, satin-finish light beige.
P light beige 822 – Peachy and medium-sheer with very fine, uniform shimmer.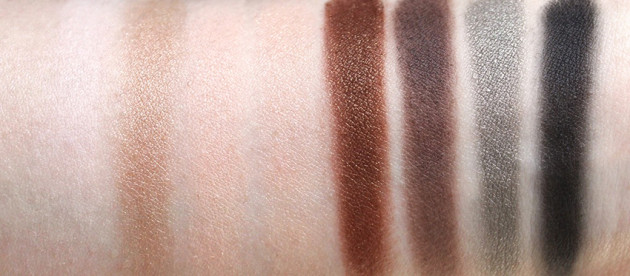 shu:palette bottom row swatches – indirect sunlight; over primer
P medium brown 875 – Warm (orange, not red) brown with distinct gold shimmer and an absolutely gorgeous texture. (You can really see the gold shimmer in the swatches below).
M dark brown 895 – Dry matte brown with very good pigmentation. This one is actually very neutral/cool, and doesn't warm up as it sheers out (which is a rare find!)
ME medium olive 471 – Cool grey with a strong metallic finish and green (!) undertones.
M black 990 – A very, very neutral, dry black. Good pigmentation, but not the blackest black to ever black.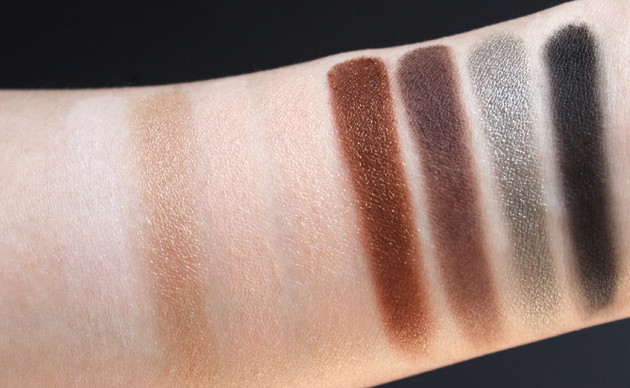 shu:palette bottom row swatches – indirect sunlight; over primer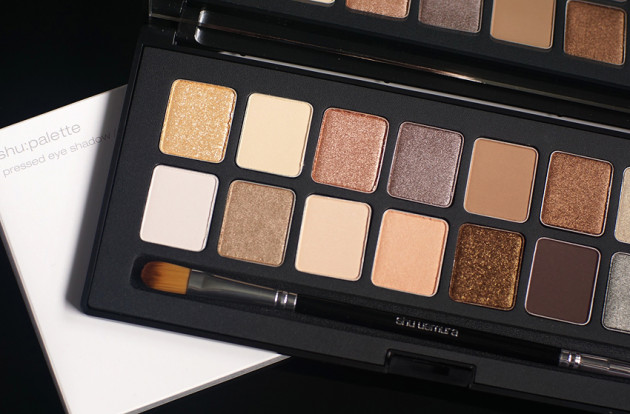 The verdict?
It took me a horrifyingly long time to test each and every one of these shades to finish my review, but if you can still get your hands on this palette, do. Each and every one of these eyeshadows is up to snuff, and with 16 full-sized pans, you're only paying $6.56 per eyeshadow — which is less than a lot of drugstore eyeshadows out there, and far less than shu's usual $19 CAD price tag.
The only thing that I'd change? I'd love to see a version 2.0 with more light-medium shades!
Availability: $105 CAD at shu uemura counters in Holt Renfrew.

shu:palette review, photos, swatches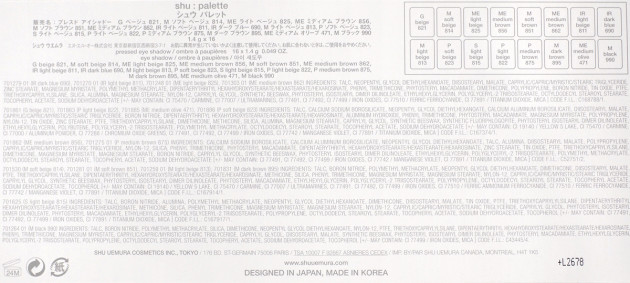 shu:palette ingredients