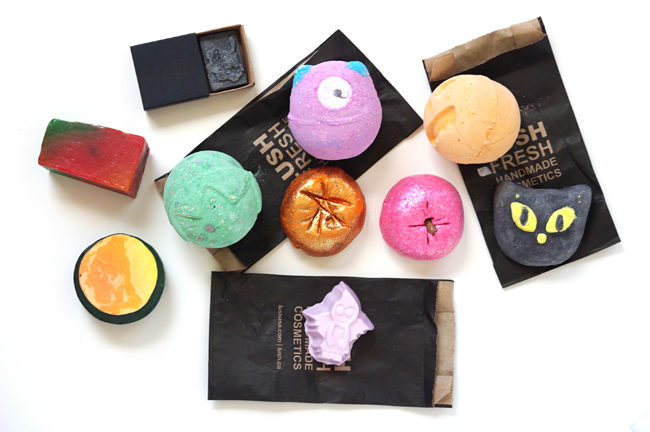 As I write this, I am waist-deep in a tub of LUSH Halloween products. I mean this literally: I woke up this morning to a stomach-clenching, full-body ache. So, after a bowl of chicken noodle soup, I hopped right into a tub full of crumbled Lush Sparkly Pumpkin Bubble Bar and starting type typitty typing.
I've talked about it at length before, but let me start out by reminding you that I love/hate Lush. On one hand, I LOVE some of their products, and their limited edition collections are always the bomb dot com. (Their Gorgeous moisturizer rocks my world, and I use Sympathy for the Skin pretty much constantly.)
But just like any other company, Lush is a corporate machine. They make a ton of money off of their hippie image, but at the end of the day – their products contain a crapton of artificial fragrances and dyes. So, as with any of my Lush reviews, please take this with a grain of salt.
Because these products are great. They're just not as natural as some media outlets would have you believe.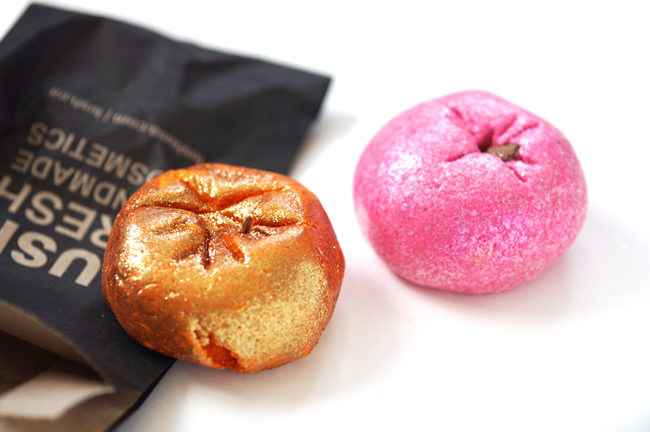 Lush Sparkly Pumpkin, Pink Pumpkin Bubble Bars
Why I hate change (aka why I love Lush)
The best thing about covering a Lush collection is that it's so. Damn. Easy. It usually takes me 1-4 months to turn around a review, but with Lush, I can get it done in a day.
Why? Because, for the most part, their products are just variations on a concept. If you love their bubble bars, you're going to love ALL their bubble bars, provided that you like each scent. If you love their bath bombs, you're going to love ALL their bath bombs, with varying degrees of initial squee.
(Plus, they're all so brightly coloured that they're easy as heck to photograph and edit. Lush products will pop against anything.)
I personally love it when companies pull this kind of marketing, because it makes shopping–and especially shopping online–super easy. Once you know what you like, you can enjoy it in a plethora of ever-changing forms.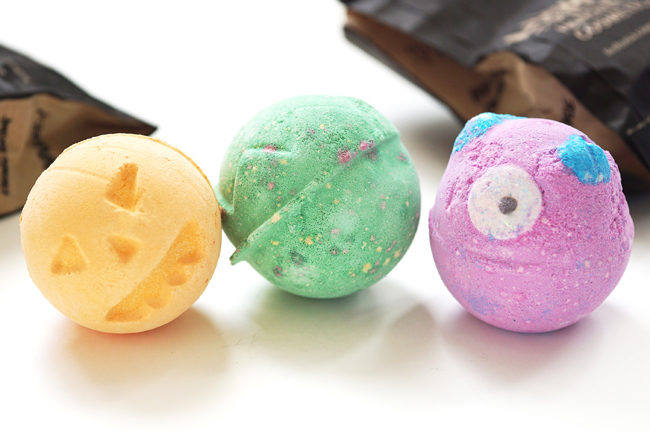 Lush Pumpkin, Lord of Misrule, and Monster's Ball Bath Bombs
The Lush Halloween 2017 collection
The 2017 Lush Halloween collection contains a lot of super cute items, like the Ectoplasm Jelly Bomb and Bewitched Bubble Bar. Each piece runs at about $7.95 apiece; a little less for soaps, and a little more for shower gels.
I'm most excited for the berry-scented Bewitched Bubble Bar (aka that adorable cat face), but I haven't gotten to try it out yet. (My partner is fascinated by the idea of a black bath, and begged me to wait to use it until he could watch it bubble up.)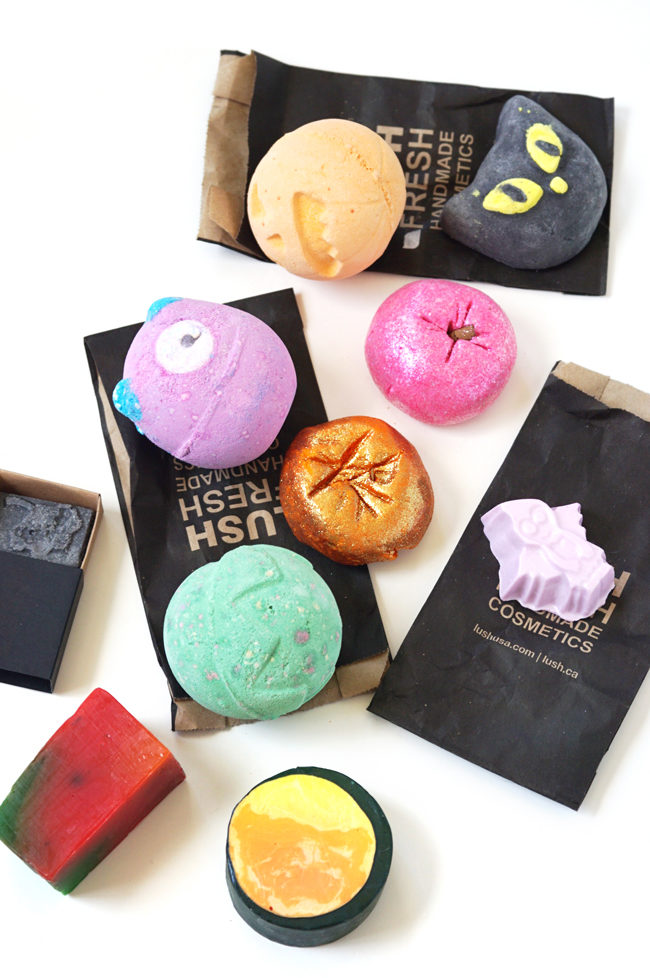 Lush Holiday 2017 review
In the meantime, I'm focused on the Pink Pumpkin and Sparkly Pumpkin Bubble Bars, which are super hella glittery and feature a floral bouquet and a juniper-citrus blend, respectively. From there, I'll be moving onto the Bath Bombs (I have Pumpkin, the green Lord of Misrule, and the adorable Monster's Ball pictured here), and at some point, finally moving onto the soaps – which, I must admit, are my least favourite part of any Lush Halloween collection.
I die for some of Lush's soap scents, but like the bath bombs and bubble bars (which get a pass for being so damn enjoyable), the formula is just too drying for my skin. I usually end up leaving them out when guests are over, or gifting them to friends. Someone's gotta enjoy them, right?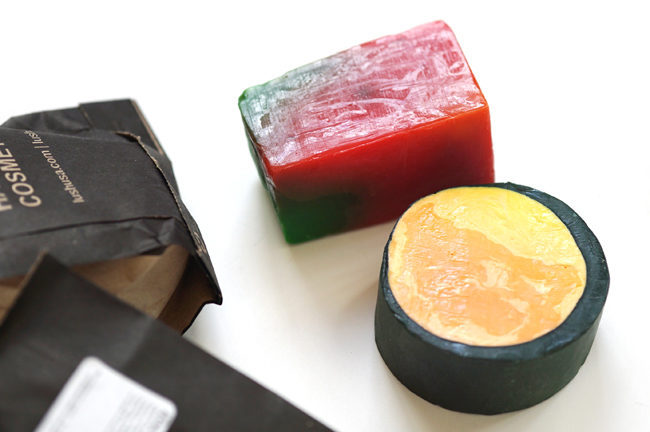 Lush Hedgewitch and Magic Wand Soaps
Finally, to round out this post, there are two non-bath products from the Lush Halloween collection: one that I've tried and loved, and one that's new to me. The Lush Goth Fairy Shimmer Bar is back again, and has as much fruity, silvery glitter as ever, and the Black Rose Naked Lip Scrub is a gentle, waste-free sugar scrub in a buttery base. (Murumuru butter, illipe butter, extra virgin coconut oil, and jojoba oil, to be precise.)
What do you have your eye on from the Lush Halloween collection this year?