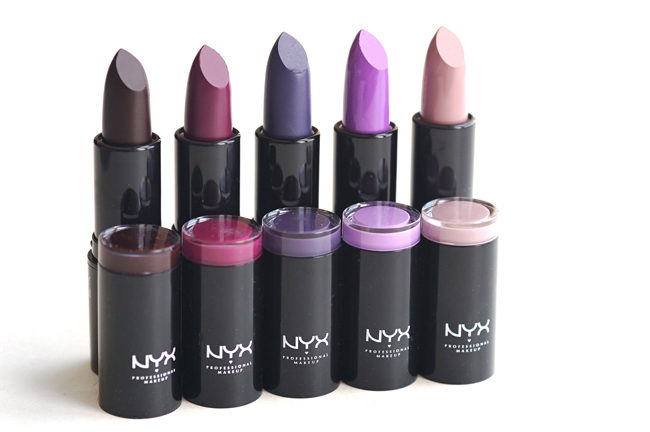 The product: NYX Pin-Up Pout Lipsticks in True Vixen, Flashy, Wild Spirit, Wisteria, and Smoke Me
Last fall, I started playing around with a few of NYX's Pin-Up Pout lipsticks. And by "a few," I mean "the entire gosh darn range," so I've been playing with them and swatching them for a… While. (Spoiler: NYX Wild Spirit is by and far my favourite shade of the entire range, which is why I'm starting with the purple shades.)
What? I get overloaded when there are too many things happening at once. It's not like anyone is surprised by this information.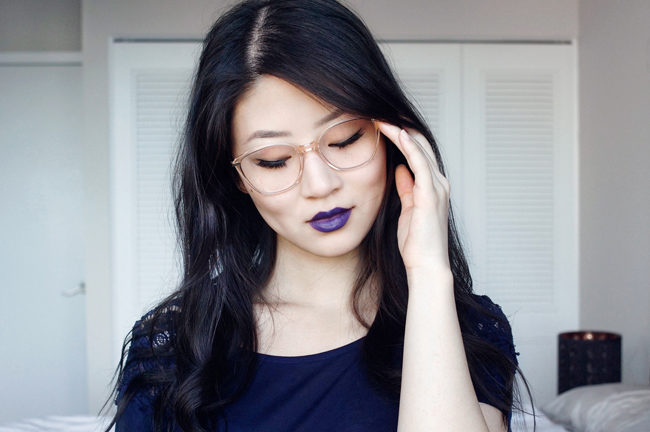 NYX Wild Spirit Lipstick swatch
The NYX Pin-Up Pout formula
It's been a while since I've worn a traditional opaque lipstick (dry-touch liquid formulas like NYX Liquid Suede and Maybelline Matte Ink have been keeping my food-oriented priorities and me occupied), but I… Actually really enjoyed these. The purples are all surprisingly easy to wear, and they totally deliver on the "extra plush" formula that NYX promises.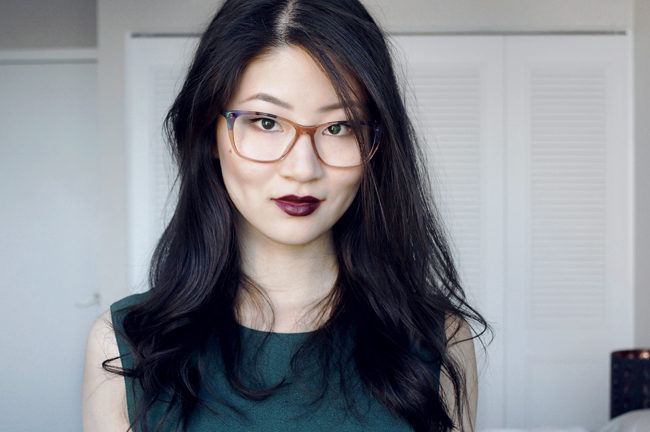 NYX True Vixen Lipstick swatch
The NYX Pin-Up Pout formula is soft and creamy. It wears without stripping my lips of moisture, and it has a really great cream finish (my fave)! That means that each shade feels comfortable and non-gritty, and all of these purples are shimmer, glitter, and gloss-free.
I've been a monster this month and I seemingly can't go more than two hours without drinking or snacking, so unfortunately, I don't have a wear time on these for you yet. (It's at least three hours without getting dry, but I have a feeling it's more like 4-5.) I'll make sure to test them more thoroughly before reviewing more shades, so keep your eyes peeled for that!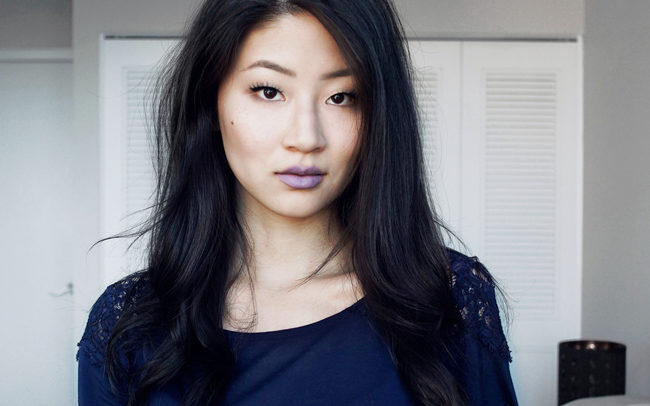 NYX Smoke Me Lipstick swatch
NYX Wild Spirit swatches (Plus True Vixen, Flashy, Wisteria, and Smoke Me, I guess.)
NYX True Vixen is a sexy, dark cranberry shade. It was my least favourite of these five – the formula is a little more slippery than the rest, which means the berry stain is a little translucent at times. NYX Flashy is a more vibrant berry.
NYX Wild Spirit is an absolute stunner; a dark violet that pulls blue. It had a perfectly clingy formula, and is best worn with either a blue-violet liner or overtop foundation or concealer, as it's very much not the same colour as your lips. I would recommend this one five hundred times to anyone with a cool skintone who is on the lookout for a good blue-based purple.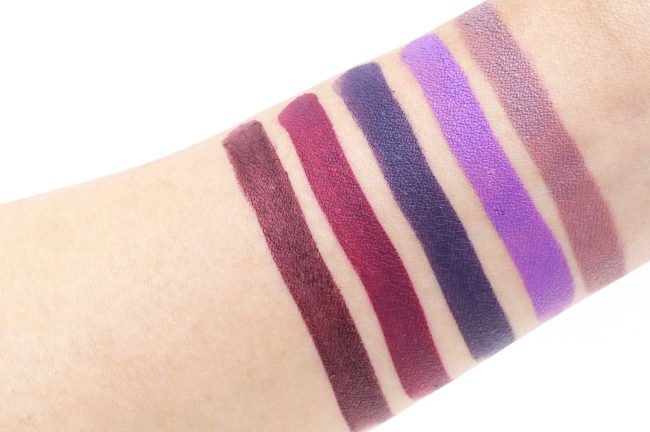 L-R: NYX True Vixen, Flashy, Wild Spirit, Wisteria, and Smoke Me swatches
NYX Wisteria is a bright lavender with both blue and red undertones, reminiscent of (but warmer than) NYX Sway. Finally, NYX Smoke Me is a badass grey-violet. It, too, is best worn over foundation or concealer, but it's pigmented enough that you can get away wearing it on its own.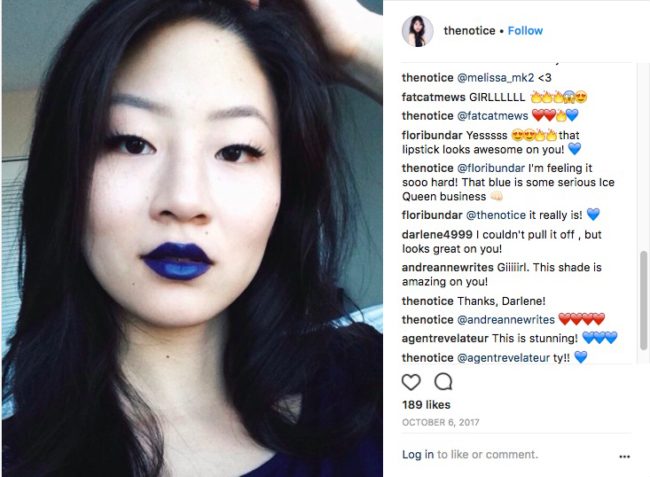 The NYX Pin-Up Pout Lipstick verdict?
At $8 USD a pop, the NYX Pin-Up Pout Lipsticks are truly a steal. They're a great, cruelty-free, scent-free formula at a really accessible price point, and the packaging is awesome – it's simple, but each lipstick shows the colour inside with a plastic disk. (I'm sorry, but I like tops like these way more than colour stickers or see-through tops.)
When I first started blogging, you really only had one good option for drugstore lipsticks: the Revlon Super Lustrous range. Eventually, other things slowly became less utter garbage, and so on and so fourth, but … I don't know. What I'm trying to say is that I'm very sleepy, and these are just a heck of a lot better than what was on the market ten years ago, and it makes me really happy that they exist.
And hey, they don't even have that gross lipstick-smell of drugstore buys of days gone by, so there's really no excuse for you not to buy NYX Wild Spirit. 
Availability: $8 USD/$10 CAD at NYX (US/CA), Ulta, Target, and Rexall (CA).