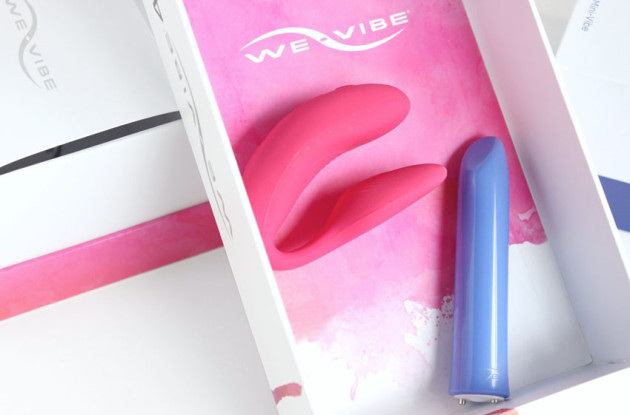 The products: We-Vibe 4 Wearable Remote Control Vibrator and Tango Waterproof Discreet Vibrator
After how well-received February's Je Joue MiMi Soft review was (thank you so much, you guys!), I had to follow up with another sex toy review — or two.
I handpicked this duo for two reasons: (1) the brand's reputation for making high-quality, durable toys, and (2) the We-Vibe 4 and Tango's rather singular designs. Whether you added the MiMi to your bedroom repertoire or you're still looking to start your collection, I think these will serve a purpose unique to themselves!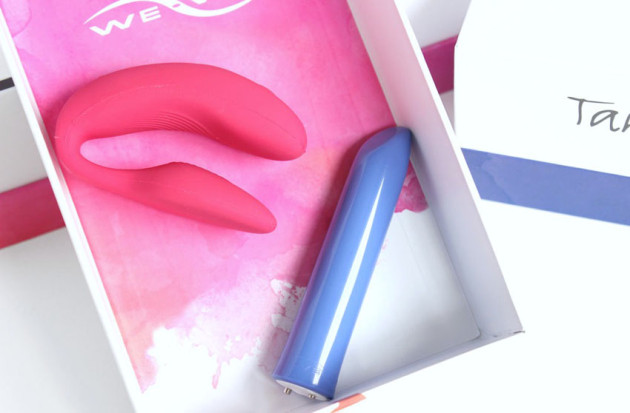 The "Bedroom Essential"
The rechargeable We-Vibe Tango recently got a waterproof update, and now comes in fuchsia and this lovely, slightly-desaturated blue. It's now a little bit longer and just a hair wider than it used to be (source), but should still be able to replace any sad, weak bullet vibe — which takes it from "great starter toy" to "bedroom essential" status.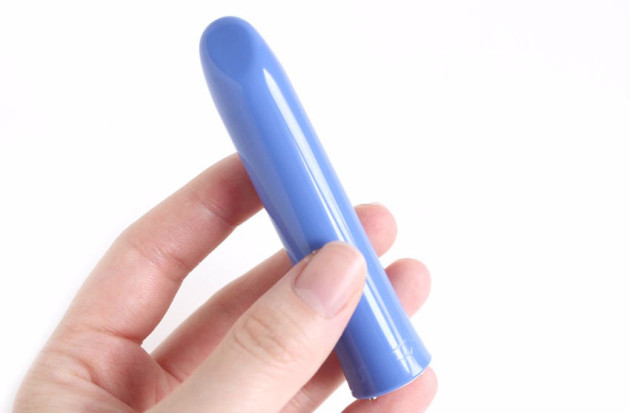 Powerful and quiet, the We-Vibe Tango is a great option for a small, discreet clitoral vibe. It runs for up to 2 hours (I find it lasts for less than that) and features 8 vibration modes (4 speeds/4 patterns), with a low battery warning that flashes through its base. But, while it's not as rumbly and cushy as the Je Joue MiMi, it can also be used in place of your standard bullet.
And the thing is — the Tango is strong. At $80, it's relatively affordable for a luxury sex toy, but it's more like two toys in one: your basic clitoral vibrator, and something that'll super-power anything with a bullet cavity (cock rings, vibrating dildos, harnesses, the base of a strap-on, most things Tantus, etc.)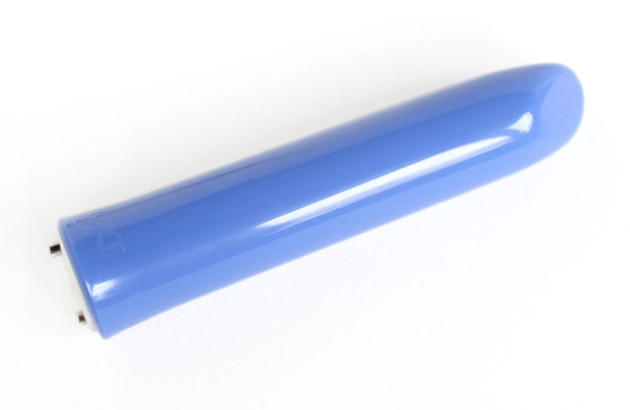 We-Vibe Tango (Waterproof) in Blue
We-Vibe's Tango is made out of body-safe ABS thermoplastic, and its plastic finish means that it doesn't pick up too much fuzz or create too much friction when being inserted into another toy. (Add a bit of water-based lube to ease a tight fit). It has the same motor as the line's discontinued, cult-followed Salsa, but features a slightly different tip.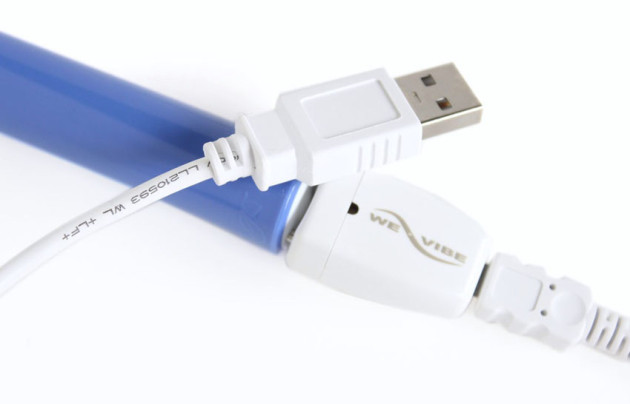 The "Nice in Theory"
Despite testing this one for (literally) months, I just couldn't get it to work well for me. That said, however, it is a really unique kind of sex toy.
Made for solo or partnered play, the We-Vibe 4 features the brand's first "echo" vibe — that is, there are two separate vibrators in this device (one for the clitoris and one for the g-spot) that vibrate in alternate patterns at three different speeds & three additional patterns. It's waterproof and relatively flexible with a soft, safe silicone finish, and comes with both an on-vibe control and a battery-operated remote.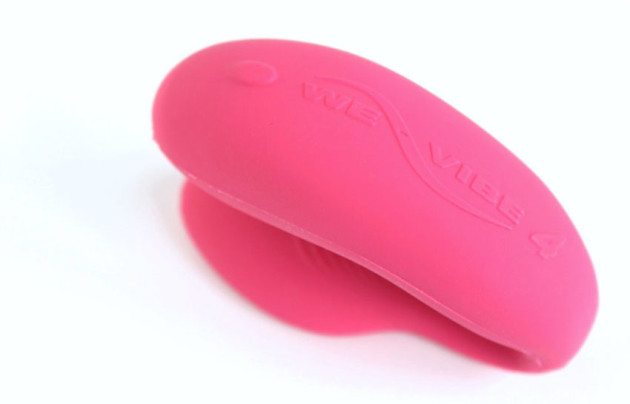 But, even though I like everything We-Vibe has included in this toy (especially its 3 hour battery life and space-agey stand-slash-charging-station), it just doesn't fit my anatomy — which is a risk that you always run with any dual-stimulation vibrator, no matter the style.
So, here are my recommendations. If you really want to try a couple's vibrator, choose this one. LELO launched the Ida to compete with the We-Vibe last year, but based on the reviews I've seen, it's a sloppy, painful imitation of a couple's vibe. If you really want to try a wearable vibrator, choose this one. Like all wearable vibes, it's not perfect (too loud for a library, and the remote has a garage-door range), but it packs way more of a punch than your typical vibrating panty or remote-controlled bullet.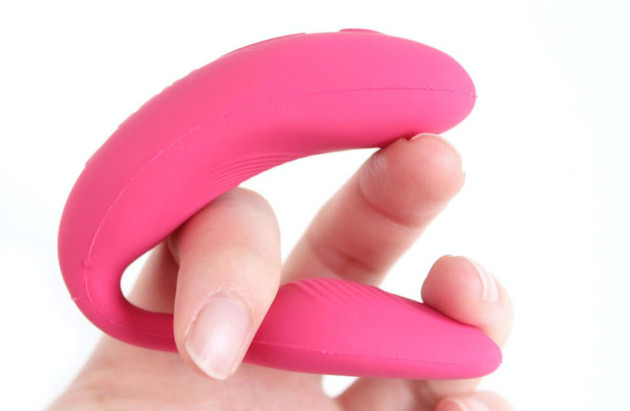 But here's the thing: if your bits are on the small side, skip this one. It turns out that I have a fairly short set of muscles with an extremely retroverted uterus (which, by the way, makes getting an IUD excruciating), so the We-Vibe 4 can be pretty painful when I use it. Plus, I mean, the clitoral arm goes way past my clitoris.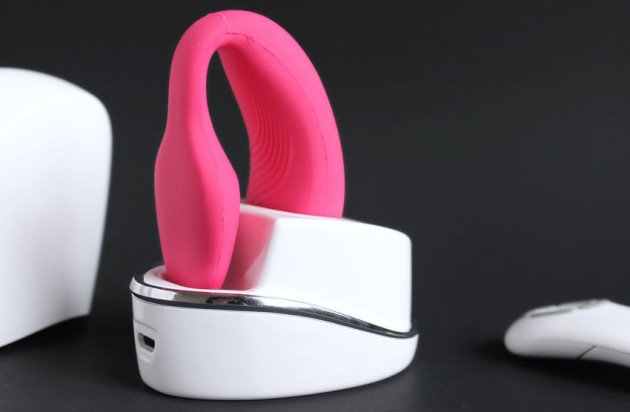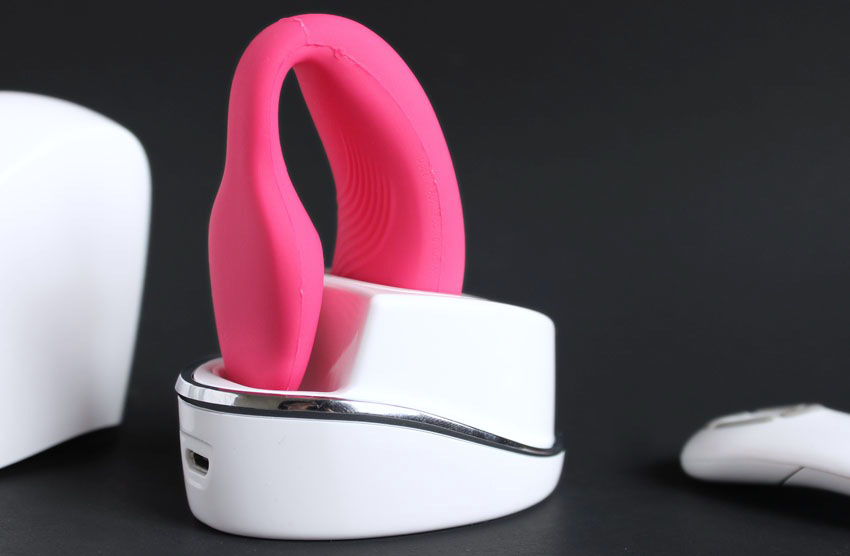 The We-Vibe 4 in its charging base/case (lid at left) and remote (at right)
The verdict?
If you have to have a remote-control vibrator or couple's vibrator, I say get the We-Vibe 4. BUT that said, I don't think it's worth the price, and I wouldn't recommend it to anyone who didn't have their heart set on this type of toy already. The clitoral vibrator is just placed too far forward, and at $160, I would have liked to see far less visible, uneven seams.
» Update: We-Vibe has since launched the We-Vibe Sync, which is supposed to be excellent!
The We-Vibe Tango, on the other hand, is definitely a toy I'd recommend. It would be my top pick for a bullet vibe, and my fondness for it sits about on-par with my love for the Je Joue Mimi Soft (which delivers more satisfying vibrations, in my opinion, but is larger, more expensive, and a little bit louder.)
Availability: $79.99 USD (Tango)/$159.99 (We-Vibe 4) at the awesome SheVibe.com, who sent these products in for review, or at We-Vibe. If you live in Canada or want to take advantage of the low Canadian dollar, the Tango and We-Vibe are also available at Come As You Are and PinkCherry.
Tip: These both charge via USB, so consider buying one of those $0.99 USB power adapters on eBay while you're at it! (I have this one — no sense paying $10 for a brand-name copy, you know?)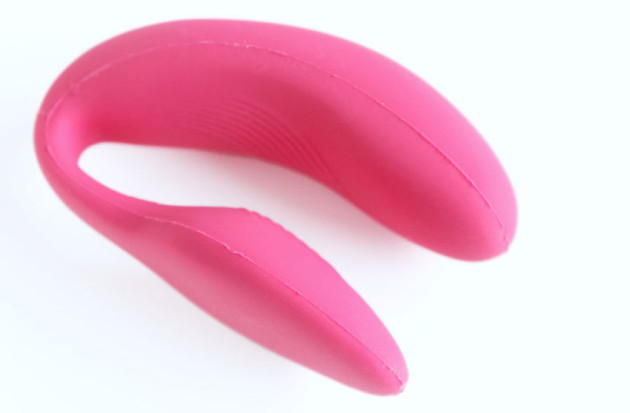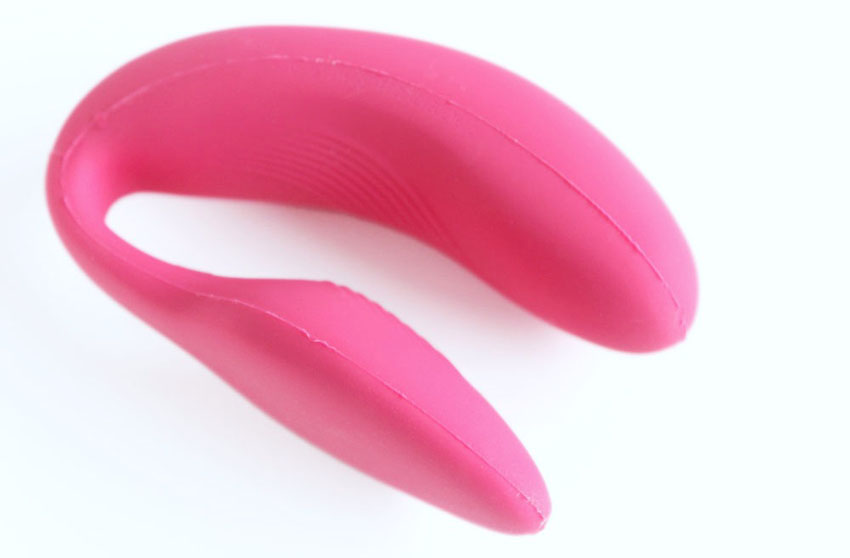 Cheap-feeling seams on the We-Vibe 4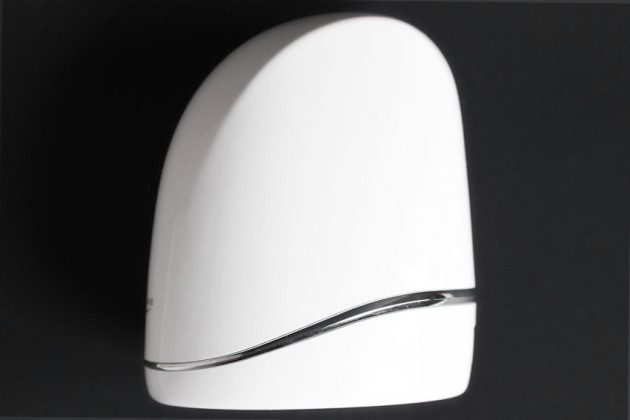 But a super-sleek case. (It makes me think of something Clarisonic would make.)