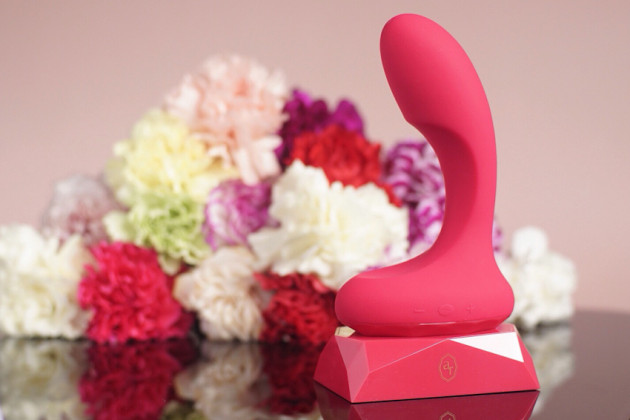 The product: L'Amourose Rosa Rouge Rechargeable Heated G-Spot Vibrator
It's been a while since theNotice's last toy feature. Missed the last couple? Check them out here! { Je Joue Uma G-Spot Vibrator / We-Vibe 4 and Tango }
L'Amourose's Rosa Rouge is, I think I can fairly say, a vibrator like no other vibrator that you've ever tried before. Its shape, design, and heating element (yes, you heard that right) are entirely without compare, and the not-so-hidden tech geek in me gets a little thrill every time I pull this one out.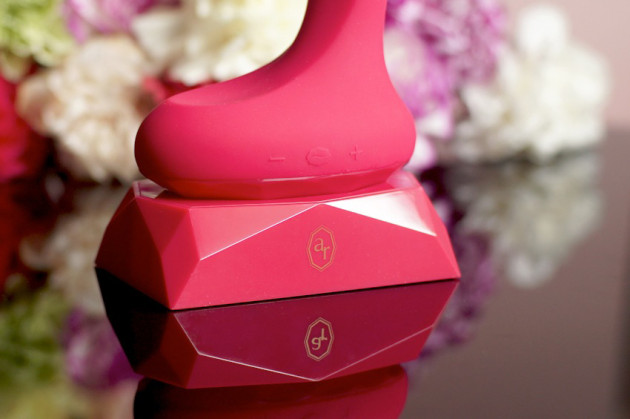 The Rouge difference: What makes the L'Amourose Rosa Rouge so utterly unique is that it's a heated toy. As in, "designed to heat to a perfect 42 degrees Celsius," (104 – 107˚F) which is a far cry from the usual, "accidentally heats up sometimes during use," seen in most vibrators.
An upgraded version of the brand's un-heated Rosa vibrator–which is otherwise identical–the Rosa Rouge maintains a steady 40-42˚C (normal internal body temp is about 37 degrees), warming up within a minute to skin temperature and reaching its final, toasty destination within 4 minutes.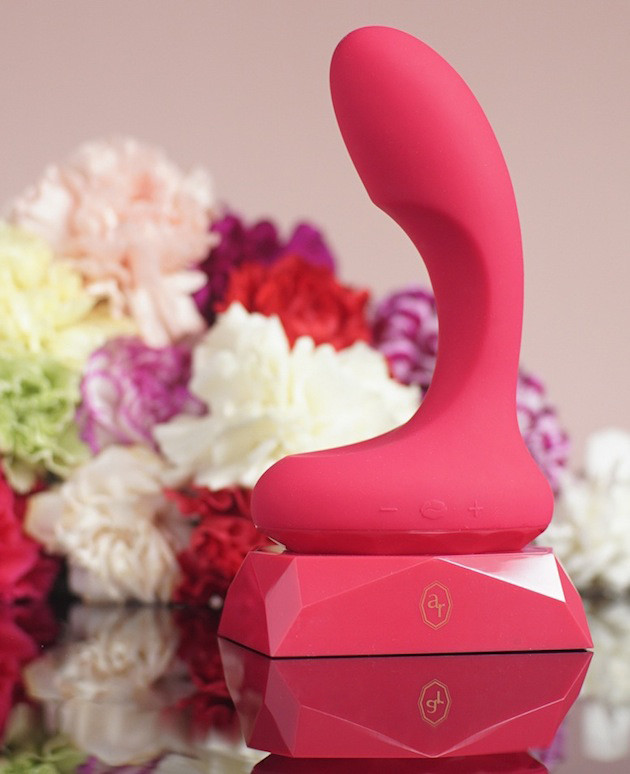 Temperature play: The warmth of the Rosa is focused on the g-spot ridge and is limited to the insertable portion, leaving the base only barely warmed no matter how long it runs for — which I think is quite a shame, because temperature play is typically most effective at skin level.
That said, however, the Rosa is lovely both in and externally. (I guess 42 really is the answer to life, the universe, and everything.) For those who have never experienced temperature play, I would absolutely urge you to! For me, warm objects feel like satisfaction–not even sexual satisfaction, but like… that feeling you get when you step into a hot shower on a cold day; that's just calm and quiet and good. Like a little moment outside of time, or a really great massage facial totally above-board spa treatment.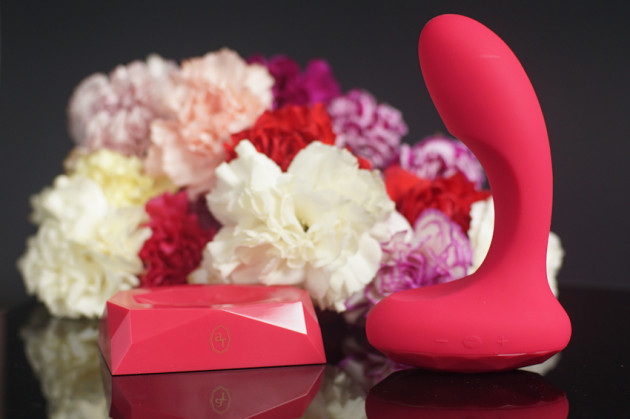 The motor and settings: Umpfgh. Oh my god. You guys, the motor on this thing is so rumbly — like, MiMi Soft levels of rumbly, but without the rattling. It's a constant, demure ruh-ruh-ruh, and it goes up HIGH, too: L'Amourose has tricked this baby out with a whopping 12 speeds and 9 vibrating modes. 
And y'know what? I'm usually a pattern-hater, but I have to give L'Amourose credit for these ones. They let you use only the internal or only the external motor (yup, this vibrator has two motors; it's that high-tech), alternate between the two, or slide from one to the other in a slow, hypnotic transition.
The motors totally aren't "whisper-quiet" as promised, but they're still very quiet. Despite this being one of the most powerful vibrators I own, it's near-silent under a blanket!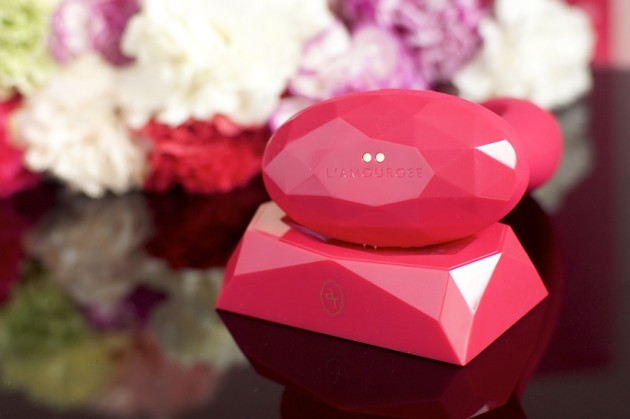 The design: Apart from a super-sexy, gemlike silhouette, the Rosa Rouge is equipped with all the good stuff, too. It's made from silicone and ABS plastic (for the shiny, multifaceted base), is fully waterproof, charges by simply sitting on its pedestal (LITERALLY A PEDESTAL), and has a battery that'll last for 3 hours at medium speed on a 2 hour charge. 
What makes the Rosa design truly brilliant, however, is the fact that, once inserted, it's basically a hands-free toy. It pairs well with clit vibes like the We-Vibe Tango, but it stays in place easily on its own, too.
And, finally, in terms of its g-spot design, I find the Rosa Rouge to have quite an intense curve to it. The flexible shaft keeps things relaxed, however, so no matter how filling it may be, the Rosa's shape is never bruising or sharp. I find that it's best used in a nudging/rocking motion (like the Tex), and if I pair it with the Tango, I can get off in an unbelievably short timeframe–the two together are a dirty, efficient, mind-blowing dream.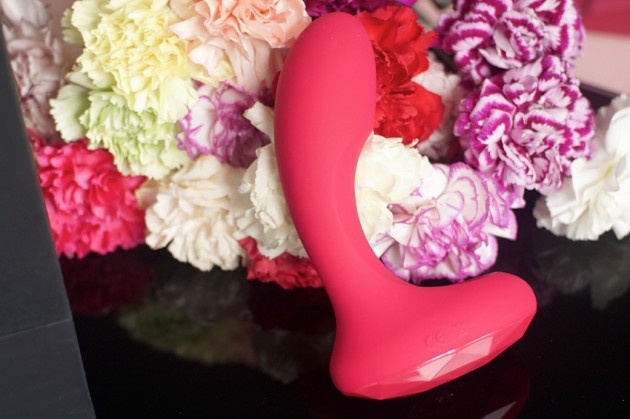 The verdict?
As a big fan of rumbly vibrations and temperature play, I can't not recommend the L'Amourose Rosa Rouge. It's an absolutely beautiful piece of technology, covered in velvety-soft silicone, and it is by far my favourite internal vibrator.
At 4.5″ insertable and 1.5″ around, the Rosa Rouge is something of a work of art. It's not something that I reach for all the time and it's not a toy designed for thrusting, but when I feel like I've been very, very good, the Rosa Rouge makes me feel simultaneously like a princess and an–actually, nope, it pretty much just makes me feel like a princess.
So… my final recommendations. A $240 toy isn't feasible for all of us (I was lucky enough to have mine given to me by the lovely folks at SheVibe), but the Rosa and Rosa Rouge offer things that other vibrators simply don't: a comfortable hands-free design, temperature play, and (and!) 3+ hours of near-silent play on a single charge. If you can do it, I say do it.
Availability: $239.99 USD at SheVibe, or $179.99 USD for the non-heated Rosa (currently available at SheVibe in Emerald or Cerise). To help take the sting off of the price tag, L'Amourose pieces come with an 18 month warranty and a lifetime quality guarantee (50% off any replacement piece if yours breaks, even 25 years down the road), as well as a beautiful storage box and a satin-lined velvet pouch.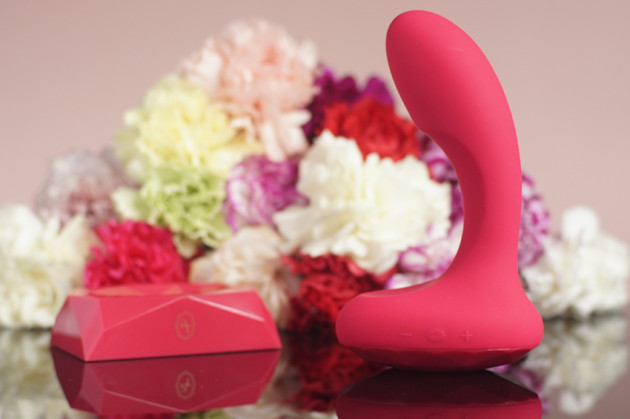 L'Amourose Rosa Rouge Heated G-Spot Vibrator and charging base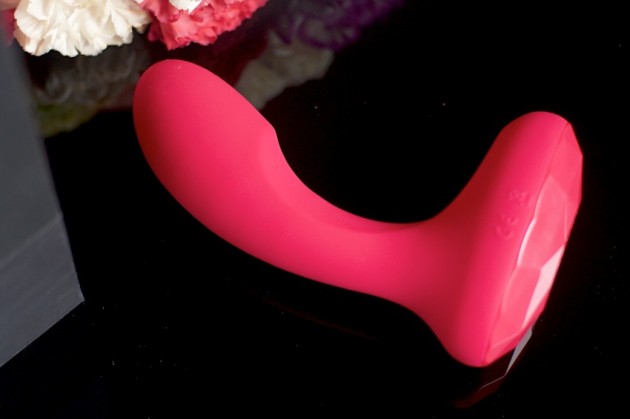 L'Amourose Rosa Rouge Rechargable Heated G-Spot Vibrator Review