The beauty world has been coming out with some pretty cool new innovations this year, so for the newest instalment of The Edit, I've selected nine products that have something different about them. They're mostly skincare (what? I've been on a skincare kick this month), but don't let that fool you: there's some really nifty stuff coming out of the makeup department, too!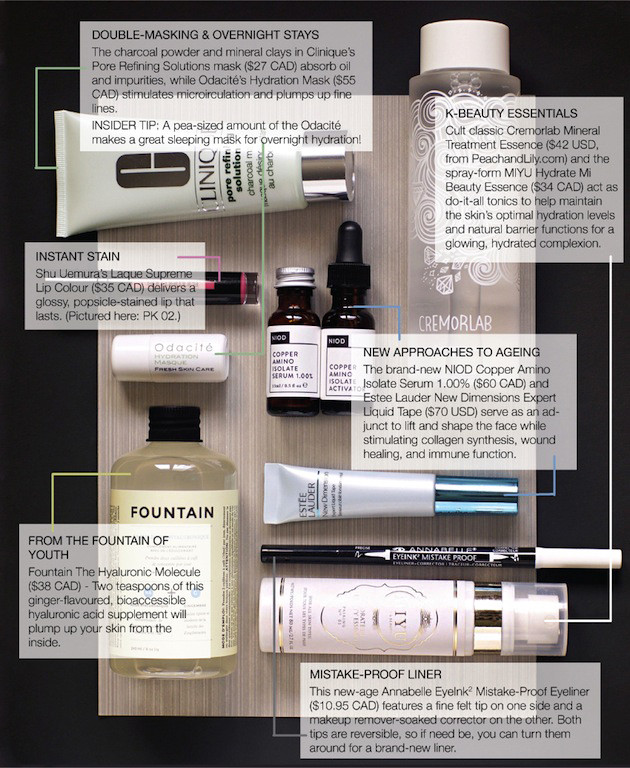 click the links!
Beauty Essences
Beauty essences are far from new (they've been popular in Korea and the rest of Asia for years), but they've been tricky to get ahold of here in North America until just recently. I picked out two for this edit: a classic, the Cremorlab Mineral Treatment Essence ($42 USD), which is now easily accessible outside of Asia thanks to Peach and Lily (get a $10 off code here!); and a personal favourite, the Canadian-made MIYU Beauty Hydrate Mi Beauty Essence ($34 CAD), which touts all the benefits of a traditional beauty essence but applies conveniently as a spray.
Mask On, Mask Off 
I also picked out two cool masks for this feature: one for oily skin, and one for dry. Clinique's new Pore Refining Solutions Mask ($27 CAD) is one of three masks that the brand is putting out this fall, and targets problem skin with its charcoal-based formula — its muddy-charcoal texture looks super cool coming out of the tube.
On the total opposite end of the spectrum is Odacité's Hydration Masque ($55 CAD; sample size pictured), which is bright white and is a great choice for dry skin. And, still working off of K-beauty trends, it makes an awesome sleeping mask for those inclined!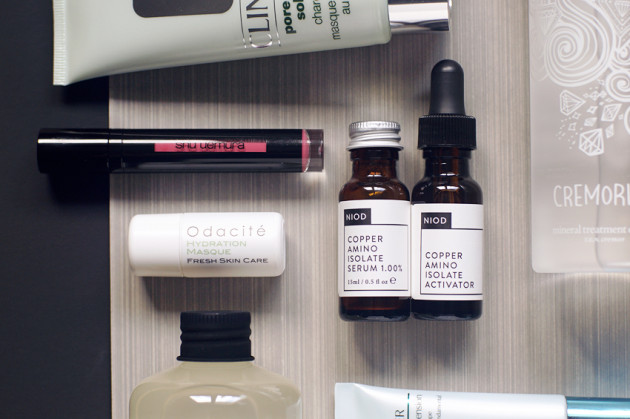 Make-Up Shake-Up 
I love a newfangled makeup product, so I picked out the Shu Uemura Laque Supreme ($35 CAD) and the Annabelle EyeInk2 Mistake-Proof Eyeliner ($10.95 CAD) for this feature. I reviewed the Shu just last week, and have been playing around with the Annabelle — the formula hasn't been working out for my oily lids, but I love the long, thin, reversible (!!) felt-tip applicator and the built-in double-ended touch-up pen!
Cutting-Edge Technologies 
And, finally, the coolest of the coolest. NIOD (by Deciem) has a new Copper Amino Isolate Serum 1.00% ($60 CAD) available this fall, and it packs a major anti-ageing punch — most brands only bother to put a 0.01 to 0.10% concentration into their products, which doesn't give you the same effects.
Also from Deciem is a range of drinkables from FOUNTAIN, including this bioavailable hyaluronic acid supplement, The Hyaluronic Molecule ($38 CAD). And, from Estee Lauder, something that's (also!) altogether new: the New Dimensions Expert Liquid Tape ($70 USD), which creates a thin, flexible layer over the skin that tightens over the course of ten minutes to literally lift and smooth the area!
What's the coolest beauty product you've tried this year?