I promised an eye look using just the Graphites quad (reviewed here and also worn here), so here goes nothing!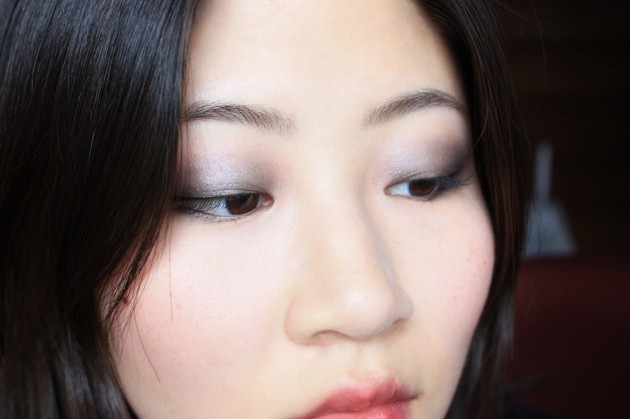 It's very rare that I'll do an entire eye look with just one palette, but the shades and finishes of this one are absolutely perfect. The four pans layer beautifully with one another, and it's easy to create different looks with them – for instance, I used a lot of the pewter and very little black in this look, but I could have easily made it more dramatic (more black, perhaps some foiling) or more subtle (less pewter, more highlighter).
Overall, I'm really happy with the way the finishes work with each other. They're all brilliant on their own, of course, but the effect when they're used together is consistently chic, sophisticated, and all-around lovely.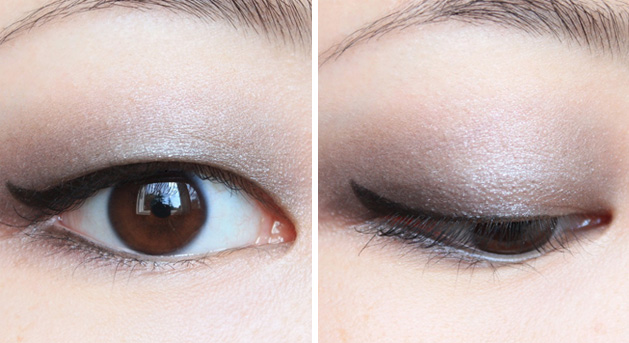 For this look, I focused mainly on the pewter shade, sweeping it all across my lid and on the outer half of the lower lashline. Then, for depth, I buffed just a tiny bit of the black into the outer corner, patted the silver onto the middle of the lid, and applied the highlighter to the inner corner. To finish the shadow, I blended out the edges using the highlighter, added a touch of it just under the brow bone, and blended the silver shimmer outwards from the center of the eye.
To finish the eye, I pushed black liner into my upper lashline and along my waterlines (Zero), added a flick of liquid liner (Marcelle Liquid Eyeliner Pen), and added mascara (L'Oreal Beauty Tubes).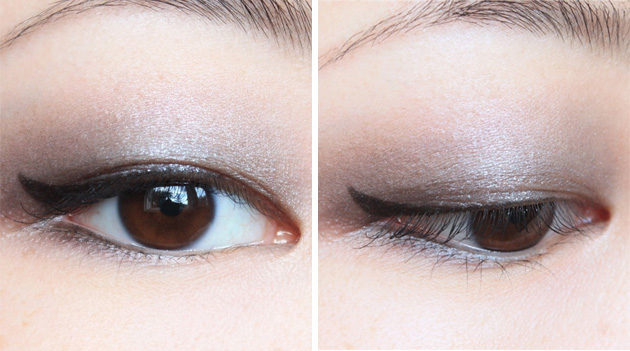 I snapped a quick photo of this look solely lit with flash, as well, just to help show off the pink duochrome of the highlighter and the finishes of the shadows. It's not exactly the most flattering eye shot, but I think it helps get the point across :P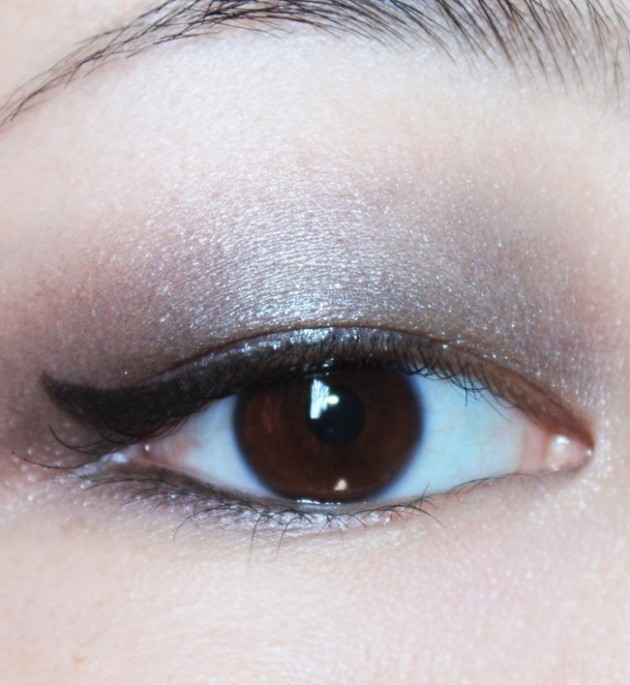 I wanted to keep the look really soft, so I picked a warm rose for the cheeks (Miami Pink) and skipped powdering altogether. Then, for the lips, I patted a on small amount of berry lipstick (True Vintage) with my fingertip for a soft edge, added a touch of shimmery gloss to the middle of my lower lip (Pixie), and blotted.
Miami Pink and True Vintage are permanent products, but Pixie was limited edition last Christmas. I'd recommend Breathless for a dupe from the same range, but any light, shimmery gloss would work! (In a pinch, just a touch of the highlighter from the eye quad will give a very similar effect, too.)
For touchups, I'd throw Zero and True Vintage into my bag, but I can get all-day wear out of everything else!
Products used
Eyes: Clarins Ombre Minérale 4 Couleurs Wet & Dry quad in Graphites, Clinique Lid Smoothie in Currant Affair,  Urban Decay 24/7 Eyeliner in Zero, Marcelle Liquid Eyeliner in Black, Smashbox Matte Eye Shadow in Smoke (brows), L'Oreal Double Extend Beauty Tubes Mascara in Black

Lips: Rimmel Lasting Finish lipstick in True Vintage, Annabelle Le Gloss in Pixie

Skin: theBalm timeBalm in Lighter Than Light, Clarins Blush Prodige in Miami Pink , Smashbox Matte Eye Shadow in Smoke (contour)
P.S. The links in the "products used" lead to reviews and swatches of the product listed ;)