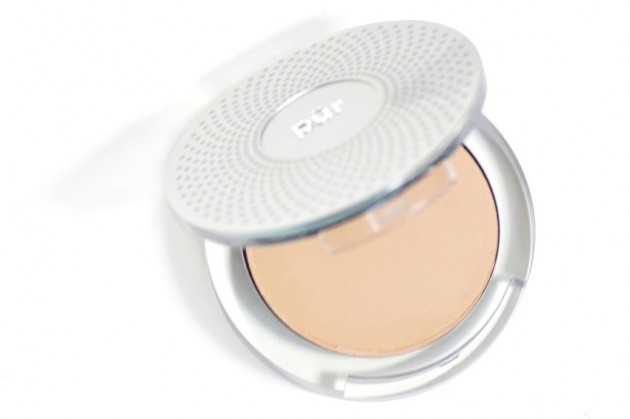 Pür Minerals 4-in-1 in Fair
The product: Pür Minerals 4-in-1 Pressed Mineral Makeup Borad Spectrum SPF 15 foundation in Porcelain 
Note: These images look a little off in Chrome. To get a really good idea of what these foundation shades look like, please view this post in a different browser!
According to my editorial calendar, I'm supposed to be writing about my 2015 favourites right now. And I am, technically, but my favourites roundup is going to have to wait just one more day, because this stuff? This stuff is too good for me to not blog about for even just one more minute.
The newly-reformulated Pür Minerals 4-in-1 foundation is, to put it simply, my favourite product of the year.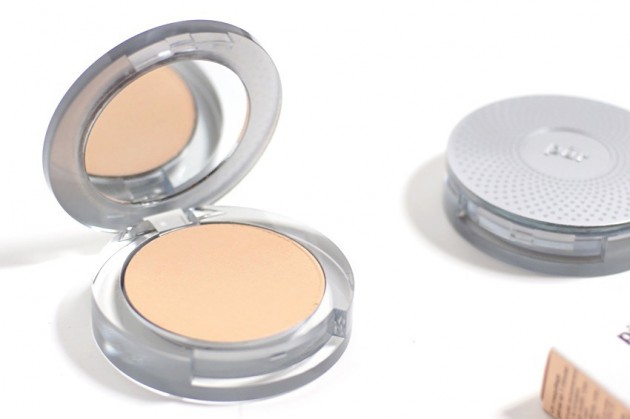 Pur Minerals 4-in-1 Pressed Mineral Makeup SPF 15 in Porcelain
The formula: I've never found a powder foundation that has been just right for me before, so Pür Mineral's 4-in-1 is kind of like my unicorn product. It kicks up a lot of dust when you pick up product, which is my only complaint about the formula, but it's lovely — it has just the right amount of medium coverage, and its skin-like satin finish both looks and feels like you're wearing almost nothing at all.
Pür Minerals' 4-in-1 foundation is the kind of product that's so good that it seems almost boring, but where it differs from other powder foundations is where it really shines. (Jayne went through a whopping three pans of the original 4-in-1, which I think really says something about how great it is!!)
I tried both Porcelain and Fair for this review, and weirdly enough, the formula is different for Porcelain vs. the rest of the line. Both formulas wear very well, in my opinion, but I did find that Fair oxidized a bit on me after about an hour!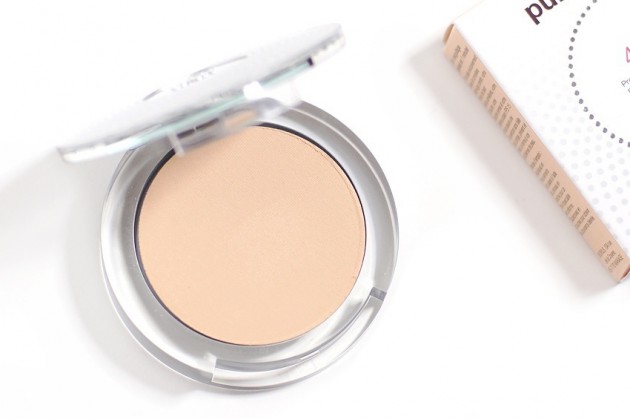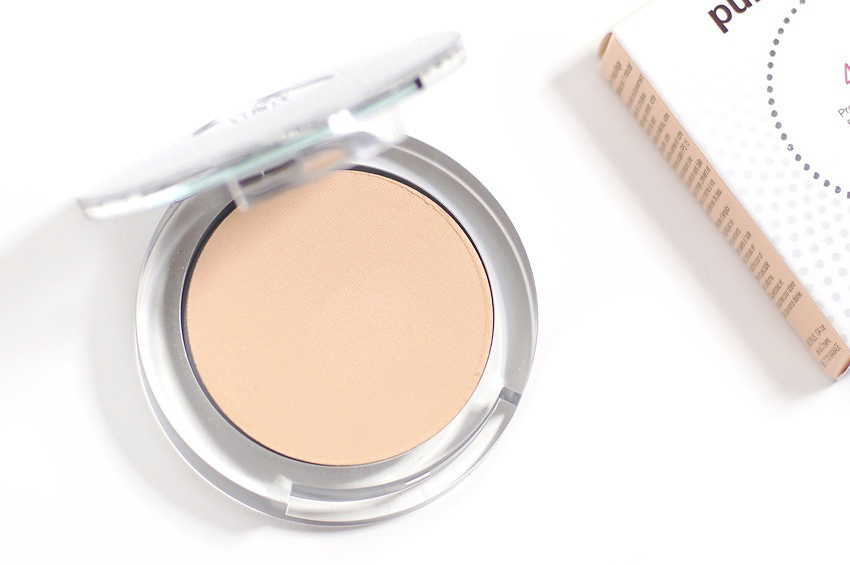 Pur Minerals 4-in-1 Pressed Mineral Makeup SPF 15 in Porcelain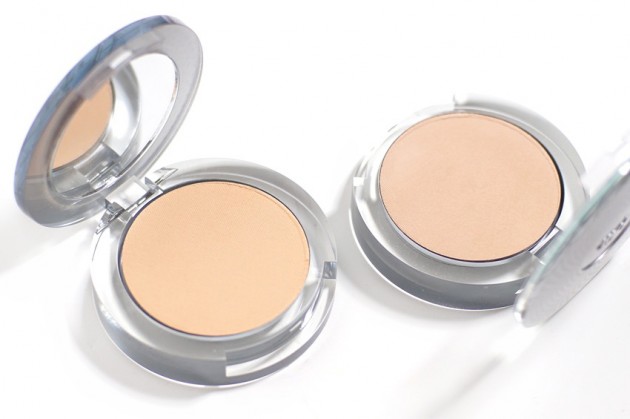 Pur Minerals 4-in-1 Pressed Mineral Makeup SPF 15 in Porcelain (L) and Fair (R)
What makes the 4-in-1 so special: My #1 pet peeve with foundations of any kind is that they can apply just fine, but then feel almost gritty by midday–sort of like a sunscreen, you know? Where they look fine, but if you touch your face with your hands, it feels dirty.
The Pür powder foundation feels velvety from application to removal, though, and the range runs really light — Porcelain is a perfect match for my skintone (I can even use a dense brush with it to apply as concealer), meaning it runs lighter than even the Make Up For Ever foundation range.
(MAC, unfortunately, don't offer any silicone-free foundations, and mineral lines like Bare Escentuals would need to add another 1-2 light shades before I could find a match.)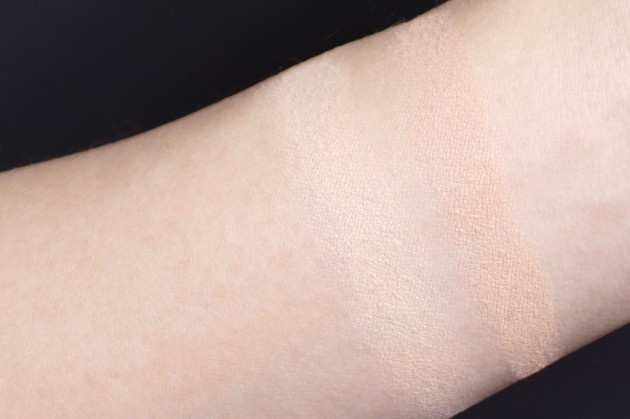 Pur Minerals 4-in-1 Pressed Mineral Makeup SPF 15 swatched: Porcelain, Fair
How I apply: I've been applying my 4-in-1 Pressed Mineral Powder with the line's Chisel Foundation Brush, but the brush is a little rough. Application is a breeze, though (I can finish my entire face in under 60 seconds), and if I want a completely invisible finish, all I have to do is spritz my face with one of my MIYU Beauty Essences and let it dry.
Pür Minerals is launching a number of new brushes in March (you heard it here first!) including a really soft-looking powder foundation brush, but I would love to hear your brush recommendations in the meantime!!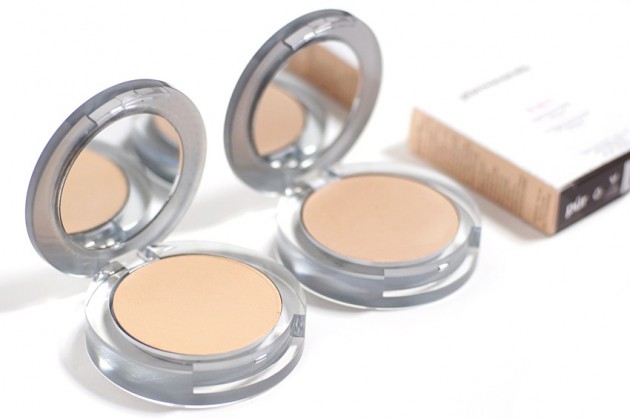 Pur Minerals 4-in-1 Pressed Mineral Makeup SPF 15 in Porcelain, Fair
The verdict?
I've never really fallen in love with a foundation before. I've liked products (timeBalm and Sensual Skin Enhancer come to mind), but this–this is a whole other level.
The Pür Minerals 4-in-1 Pressed Mineral Makeup really does make me look like I've applied a flawless layer of foundation, concealer, and powder in under a minute (I've timed it), and it comes with unnoticeable SPF 15 (thanks to weightless titanium dioxide) and a silicone-, fragrance-, and paraben-free formula. 
I wish that this was a little less than $32, of course, but for the perfect shade, formula, and packaging, I'm willing to pay it!
Availability: $28 USD/$32 CAD at Shopper's Drug Mart (and online at their Beauty Boutique!), Ulta, Beauty.com, and Pür Minerals.
The Pür Minerals 4-in-1 Pressed Mineral Makeup SPF 15 ingredients:
Porcelain
Active ingredient: Titanium Dioxide 17.0% | Inactive ingredients: Mica, Bismuth Oxychloride, Caprylic/Capric Triglyceride, Boron Nitride, Zinc Stearate, Magnesium Silicate, Sodium Starch Octenylsuccinate, Mannitol, Sodium Gluconate, Citric Acid, Sodium Citrate, Waltheria Indica Leaf Extract, Dextrin, Ferulic Acid, Lactic Acid (L), Shea Butter, Retinol, Ceramide AP, Silica, Tocopheryl Acetate, Aqua, Glucosamine HCI, Pea Extract, Bambusa Vulgaris Leaf/Stem Extract, Magnesium Carbonate, Iron Oxides (CI 77491, CI 77492, CI 77499)
All other shades
Active ingredient: Titanium Dioxide 9.0% | Inactive ingredients: Mica, Caprylic/Capric Triglyceride, Boron Nitride, Bismuth Oxychloride, Zinc Stearate, Magnesium Silicate, Sodium Starch Octenylsuccinate, Mannitol, Sodium Gluconate, Citric Acid, Sodium Citrate, Waltheria Indica Leaf Extract, Dextrin, Ferulic Acid, Lactic Acid (L), Shea Butter, Retinol, Ceramide AP, Silica, Tocopheryl Acetate, Aqua, Glucosamine HCI, Pea Extract, Bambusa Vulgaris Leaf/Stem Extract, Magnesium Carbonate, Iron Oxides (CI 77491, CI 77492, CI 77499), May Contain: Titanium Dioxide (CI 77891), Ultramarines (CI 77007)