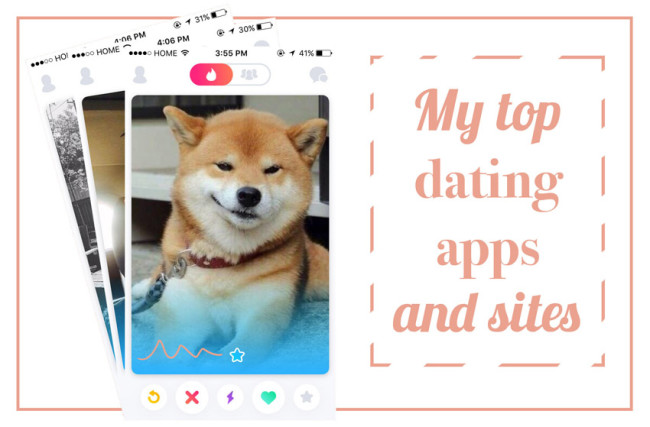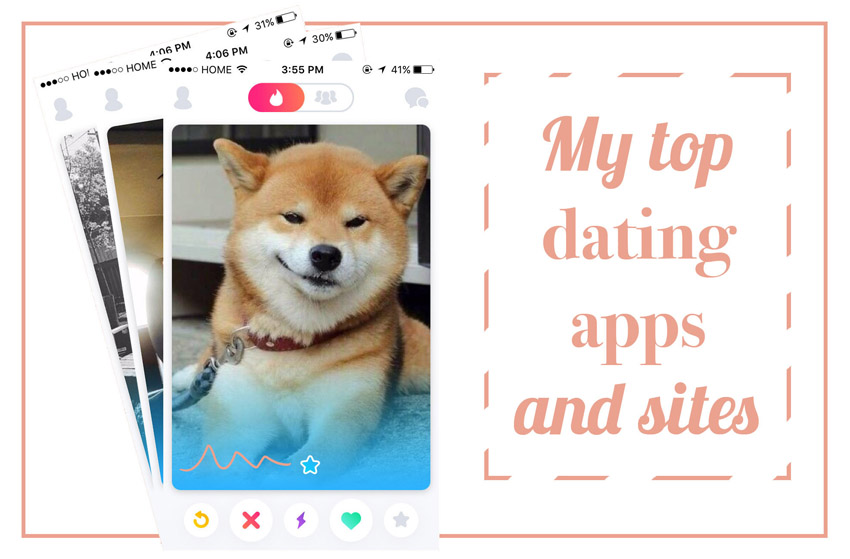 The Tinder Superlike: Good for your self-confidence, bad for the size of your massive ego
*sponsored by SwingTowns
As a sex blogger, I get asked for my top dating apps on social media on a pretty frequent basis. My general answer is "they're all good, for different reasons," but it's hard to put into 140 characters just what those reasons are. So, here's a full post on my top dating apps (and sites)!
I met my honey on Tinder, so I'm always going to have a fondness for it–but every dating site and every dating app has its pros and cons. Here are a few quick pros and cons of the three most popular dating apps that I've found, plus a couple of niche sites to consider.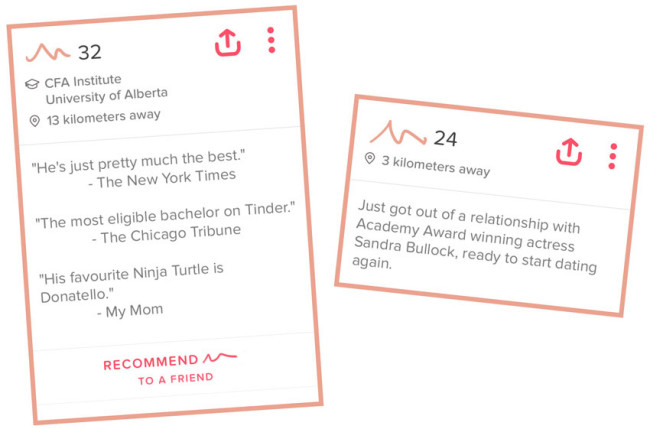 A few great Tinder profiles that I've seen recently
A comparison of a few top dating apps
Tinder
PROS: 7 million monthly users (Bustle), easy to use, and connected to Facebook and Instagram. Both users must swipe right to chat, which I find minimizes harassment.
CONS: Only offers binary gender options.
NEUTRAL: Younger user base, user interface prioritizes photos, has a reputation for being a hookup app.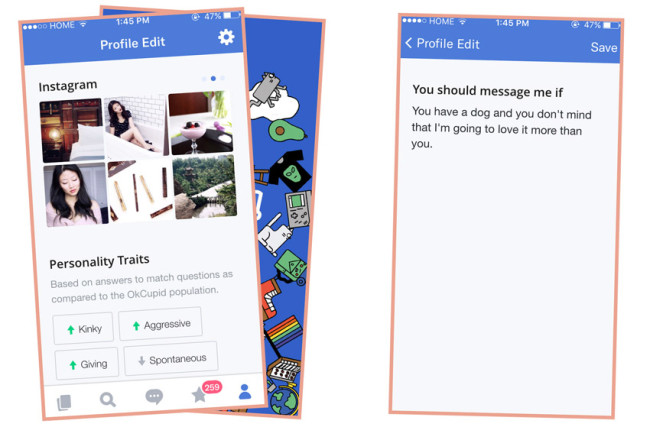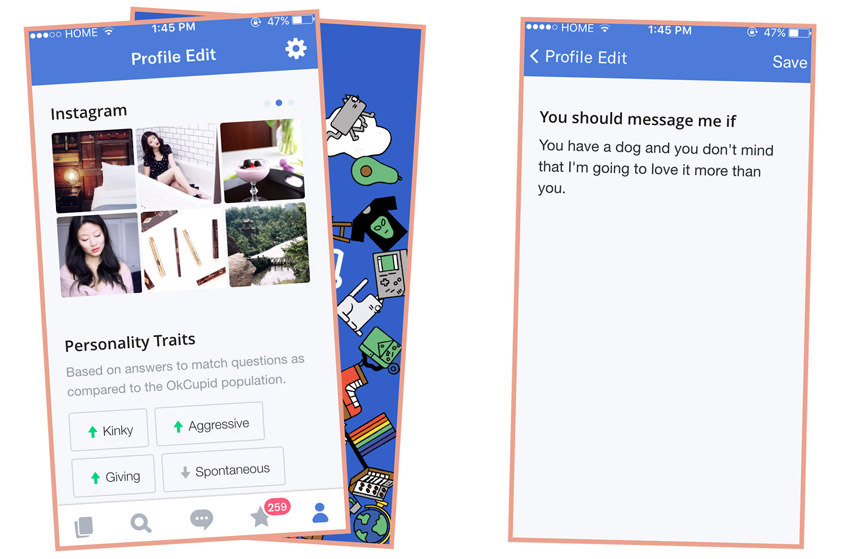 A few screen grabs from OKC. That's right; my main personality traits are "aggressive" and "kinky."
OK Cupid
PROS: 2.5 million monthly users (Bustle). Focuses much more on your profile's text than on your pictures and tries to calculate compatibility based on your responses to questions. Accessible online and through the app. Offers multiple gender options, as well as the ability to link your account to a single partner's.
CONS: Anyone can contact anyone. I loved the way that OKC prioritizes personality over photos, but left it after a couple of weeks due to the sheer volume of harassment I was receiving on it.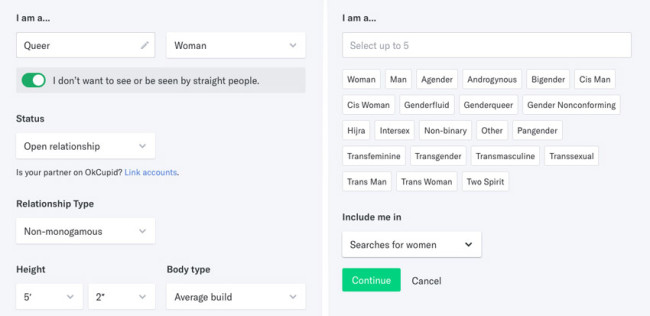 Ok Cupid's gender identity options
Bumble
PROS: Only female-identifying individuals can initiate conversations, which is designed to minimize harassment. It also has a feature called BFF, where you can swipe to make friends!!
CONS: Bumble's user base is much smaller than Tinder's–as of 2016, it takes up 3.6% of the market, to Tinder's 25.6% and OKC's 10% (Medium).
NEUTRAL: Bumble's user base skews younger (18-29), with a higher percentage of their users in this category than Tinder or OKC.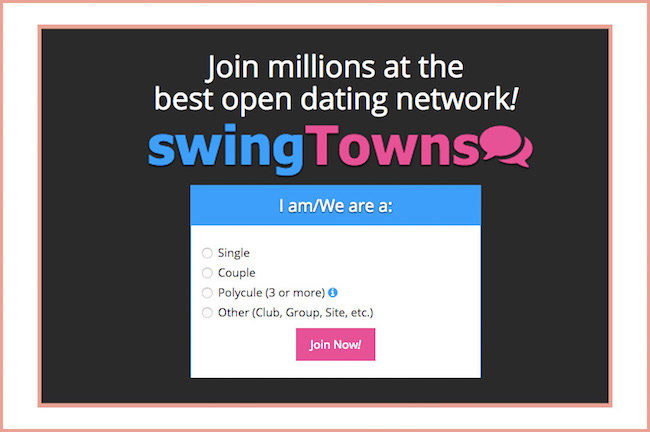 Niche dating sites
If you're dating within a more specific niche, there are sites and apps for that, too. FetLife is a big one for kinksters, but from what I've heard, its user base skews older and male.
For people in open/poly relationships who aren't necessarily kinky, there's also SwingTowns, who have sponsored this post. SwingTowns offers both free and paid memberships, and it's designed to be used by singles, couples, or polycules on the same account. (More mainstream sites like OKC offer similar benefits, but limit your coupling to two people – which definitely doesn't cover all relationships out there.)
For a niche site, SwingTowns offers a sizeable user base, as well as a commendable range of gender and orientation options.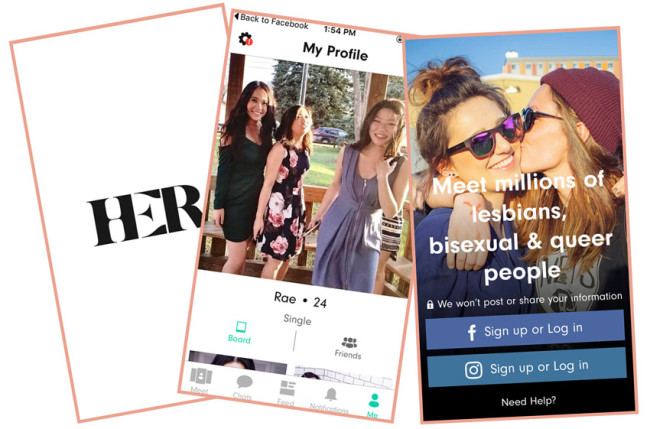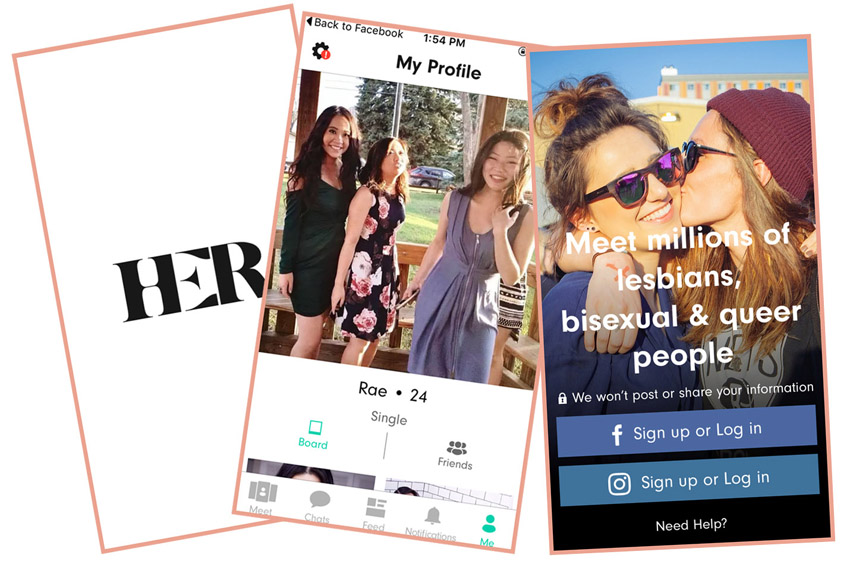 A few screens from Her
For men seeking men, the biggest app out there is Grindr, and for lesbians, bisexual women, and trans*/gender-nonconforming/non-binary folk, there's Her.
If there are others that I just haven't heard about yet, I'd love it if you could leave them below in the comments!!
Where do you click to meet people? 
—
Edited 01/08/17: This post originally went up with a line break in the wrong place in the "Tinder" section, which mistakenly listed "only offers binary gender options" as a pro instead of as a con. This error has been fixed, and I really regret that the post went up with it–it's one of my biggest issues with Tinder, and I would never intentionally imply that that was a pro.