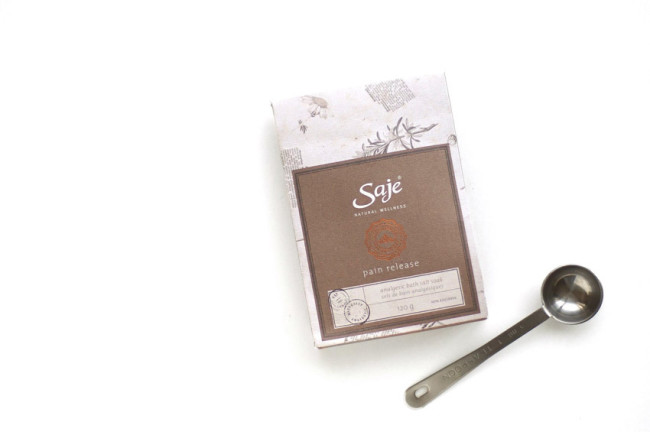 The product: Saje Pain Release Analgesic Bath Salts
Once upon a time, I was a bath-hater. I'll admit it: we all make mistakes. I started taking baths again last year to use up the Saje Pain Release Analgesic Bath Salts that Boyfriend gave me, but up until that point, I thought they were a waste of time.
How to use the Saje Pain Release Bath Salts
The Saje Pain Release Bath Salts are designed to ease "muscular aches, strains and stiffness" with a blend of essential oils, sea salt, and epsom salt. You add barely anything into each bath (Saje recommends 3-5 teaspoons added to a full bath), close the bathroom door, and let the essential oils envelop you.
Do the Saje Pain Release Analgesic Bath Salts actually work?
Honestly? I don't find that these bath salts make a huge difference for me. What really impacts my pain levels is lying in a tubful of scalding hot water–emphasis on the scalding.
If I take a comfortably-warm bath, it doesn't seem to do anything for my pain levels. But if I take a bath that's so hot that it's uncomfortable, my pain levels go way down. The key is getting the water hot enough that it hurts when I first get in the tub, and so hot that I then sweat my way through the rest of my bath.
So no, I guess these bath salts aren't a must-have for me. However, they're a really nice addition to a bath, and I love how little you have to use each time. My little baggie of bath salts has lasted me ages, and I'd say that it was well worth the price. 
Availability: $7.95 CAD at Saje.
The Saje Pain Release Analgesic Bath Soak ingredients:
Lavender, Marjoram, Eucalyptus, Rosemary, Camphor, Roman Chamomile, Sea Salt, Epsom Salt, Cornstarch, Baking Soda.