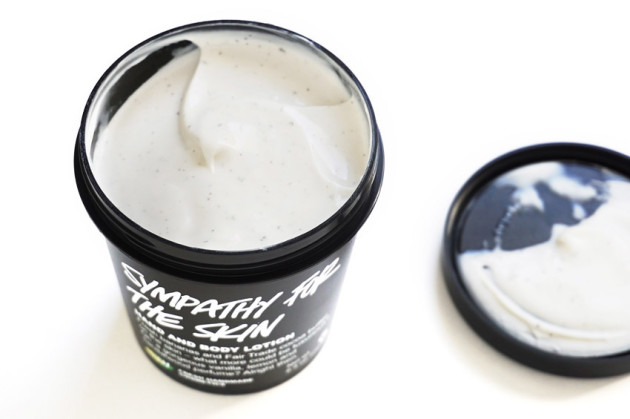 The product: LUSH Sympathy for the Skin Hand and Body Lotion
In my Lush Halloween 2016 review on Tuesday, I mentioned that the brand's soaps and bath bombs tended to be a little too stripping for my skin, as many of them contain SLS. But when I had requested "no soaps, please!" last month, Lush did something really surprising: instead of leaving their classic bar soaps out of the package, they sent an additional body moisturizer.
Sympathy for the Skin is one of Lush's original products, and I quickly saw why it has been part of their brand since day one. I have never fallen for a Lush product the way I fell for this one, but… man. It's gorgeous.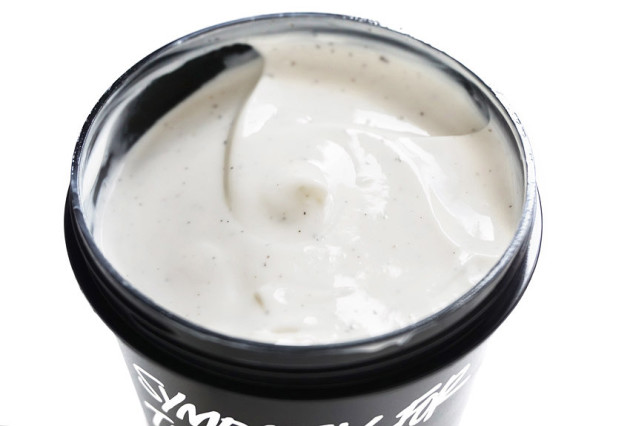 What it is: Sympathy for the Skin is a "creamy, banana custard body lotion for soft skin." It smells of sweet, all-natural vanilla (as a custard should!), and it's made with fresh organic bananas mashed up into it.
The ingredients that make it smell delicious are the same ones that make your skin oh-so-soft, and it also features organic, fair trade cocoa butter, brightening lemon oil, soothing vanilla pods and vanilla extract to minimize redness, and sandalwood oil to tone.
Basically, it's a wonder-moisturizer, and it smells twice as good as it looks. It's also cruelty-free and vegan, although it does contain parabens to keep those bananas in good condition!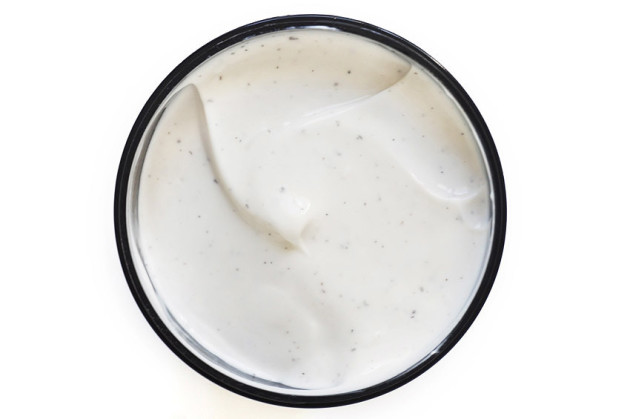 Mmmm, custard…
How it performs: In short? Really well. Sympathy for the Skin smells absolutely delicious, and though it's a very thin lotion, it's extremely hydrating. It leaves my skin feeling nourished and buttery-soft to the touch, and is even hydrating enough to use as a hand cream.
It's more nourishing than Lush's Dream Cream Hand and Body Lotion, with strong vanilla notes that make it smell more luxurious, too. And the scent sticks around – if I moisturize with this in the morning, my skin still smells cozy the next day when I wake up.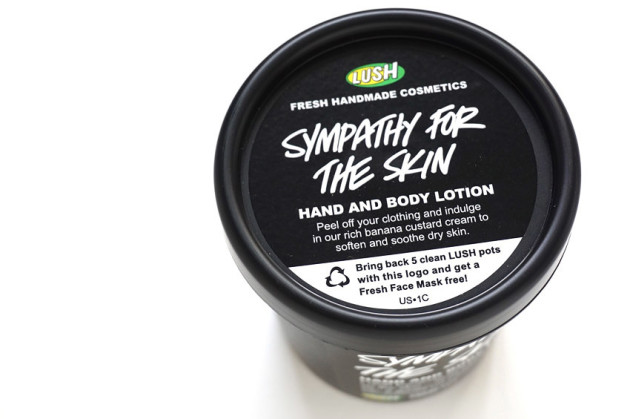 The verdict?
If you haven't tried Sympathy for the Skin yet, DO. Apart from the pricey Gorgeous, it's easily the best Lush product I have ever experienced. It makes Lush junkies make sense, and I can totally see why it's been a mainstay of the brand's lineup since they began.
With fair trade organic cocoa butter, a vanilla pod infusion, and fresh organic bananas, Sympathy for the Skin is lightweight, nourishing, and delicious. Just don't eat it – it smells tasty, but trust me, it tastes gross.
Availability: $29.95 CAD/240g at Lush. Permanent.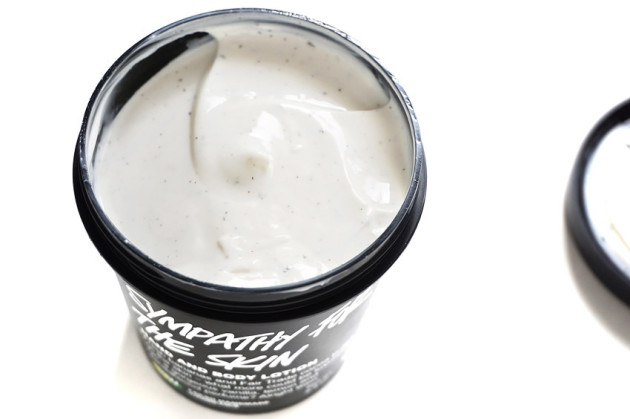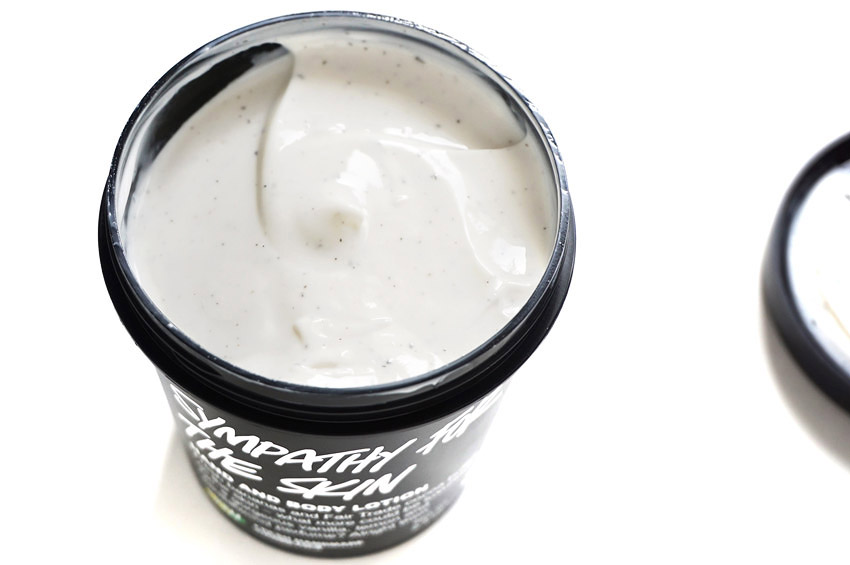 Lush Sympathy for the Skin ingredients:
Vanilla Pod Infusion (Water, Vanilla Planifolia), Almond Oil, Fair Trade Organic Cocoa Butter, Fresh Organic Bananas, Stearic Acid, Glycerine, Triethanolamine, Sandalwood Oil, Lemon Oil, Labdanum Resinoid, Cetearyl Alcohol, *Limonene, Fragrance, Methylparaben, Propylparaben.