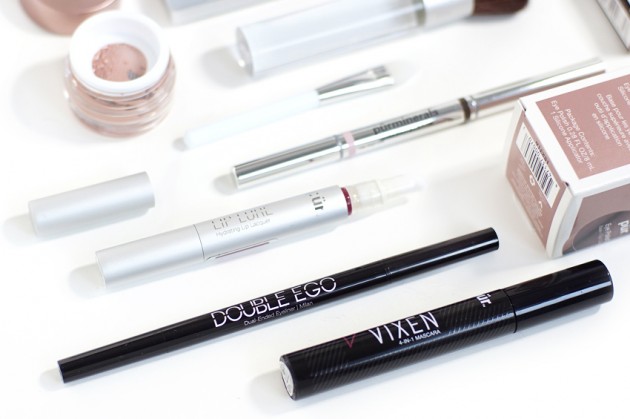 It's no secret that I've fallen hard for Pür Minerals, so here are four (yes, four!) more mini-reviews of Pür products that I'm loving. I hope you guys are all having an awesome Friday so far!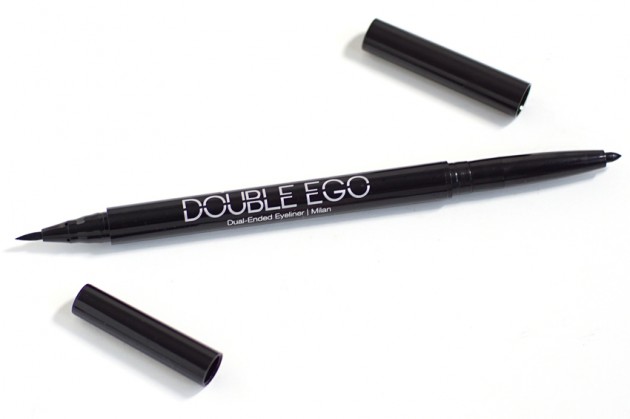 Double Ego Dual-Ended Eyeliner ($21 USD/$23 CAD)
All of my favourite pen liners come only in black, but Pür's Double Ego Eyeliner Liquid/Pencil 2-in-1 Liner comes in a ton of shades — everything from violet to jewel-toned teal. The Double Ego liners come with a short, stiff brush tip on one end and a creamy mineral pencil on the other. 
I really love the formula and opacity of the liquid liner half (I can easily get 15+ hours of flawless wear from it), but I think the applicator itself is a little too hard. It can draw super precise lines, but the stiffness also pushes up on my eyelid and draws in little folds!
As much as I love the liquid end, though (I think it's actually the best pen liner that I own), I think I'd pass on these pens — the pencil liner smudged within three hours on my lids, and I just couldn't get quite enough intensity from it.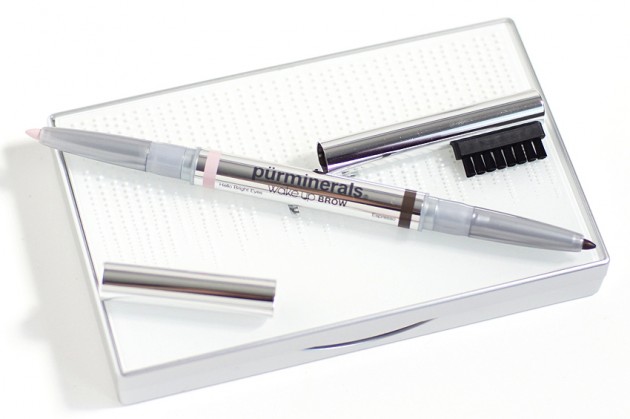 Pür's Wake Up Brow Dual-Ended Brow Pencil is, like the double-ended liners, kind of hard — but I love it.
The Espresso end of this pencil makes it easy to draw in super-sharp brows (if you're seeing too many hard lines, the brow brush on the other end blends this formula out perfectly), and the glowy, pink Hello Bright Eyes end adds noticeable lift to the brows and inner eye.
My only warning? Pür doesn't do any really cool-toned browns, so skip this one if you're really worried about your brows looking too warm!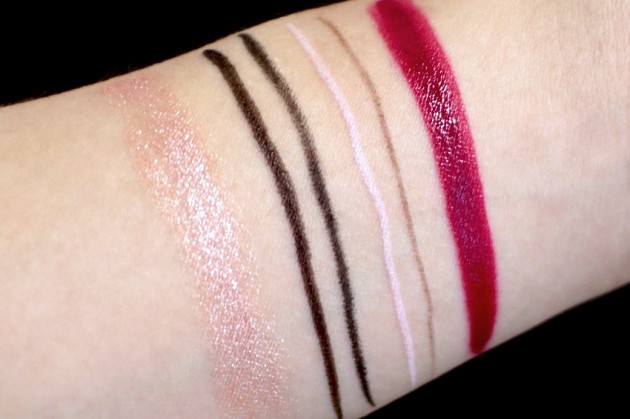 Pür Minerals swatches: Eye Polish in Satin, Double Ego Eyeliner in Milan (liquid/pencil), Wake Up Brow in Hello Bright Eyes/Espresso, and Lip Lure in Mystic.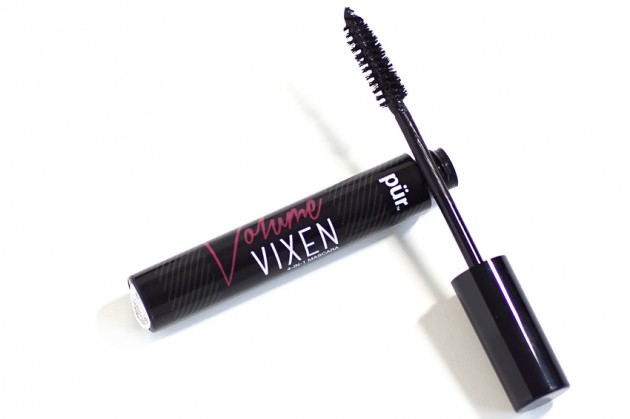 Okay. So the two products above are great but still skipable for some… But you NEED these next two.
The Pür Minerals Volume Vixen 4-in-1 Mascara with Keratin is perfect. It makes my lashes look super long, holds a curl like that's its only job, and wears like it's a freaking tubing mascara — all while feeling soft to the touch. 
The brush is awesome, too, with clumped nylon bristles (perfect for feathery separation) and a very slightly flat cross-section that holds just right amount of product every time.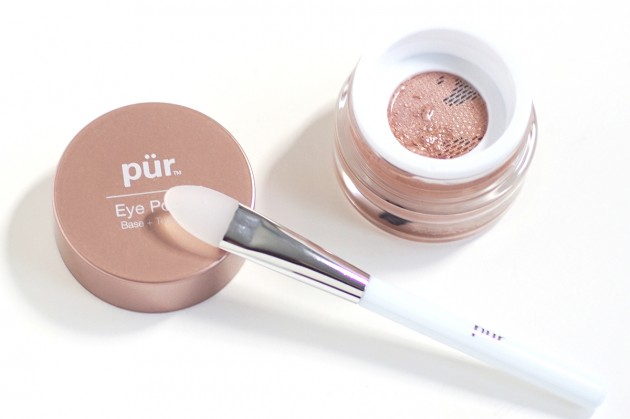 Aaaand last but not least, the AWESOME new Pür Minerals Eye Polish Eye Base and Top Coat in Satin.
This suff, ladies and gentlemen, is the shit. Its novel liquid-cushion format (think Stila liquid liners) is designed to be applied with a silicone paddle applicator (included in the price), and the pairing is just perfect. The silicone applicator is easy to use, and the formula blends out and sets like a dream.
I never end up with too much product with these (the brush picks up very little, which is exactly what you need), and the formula wears well — about nine hours with very light creasing, which is eight hours more than my lids usually get out of a potted eyeshadow!
I've been wearing this eyeshadow pretty much non-stop since December, and I would absolutely recommend it. It's a little pricier than I'd like, but for the unique formula and considering how little you need, I think it's worth it.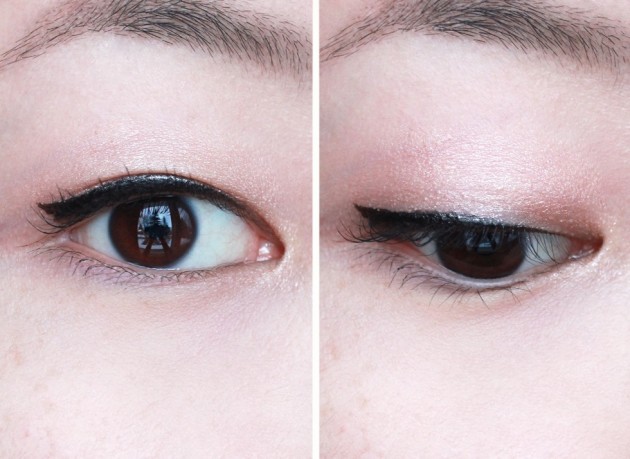 Wearing Pür Minerals Eye Polish in Satin, Volume Vixen Mascara, and Double Ego Liquid Eyeliner in Milan.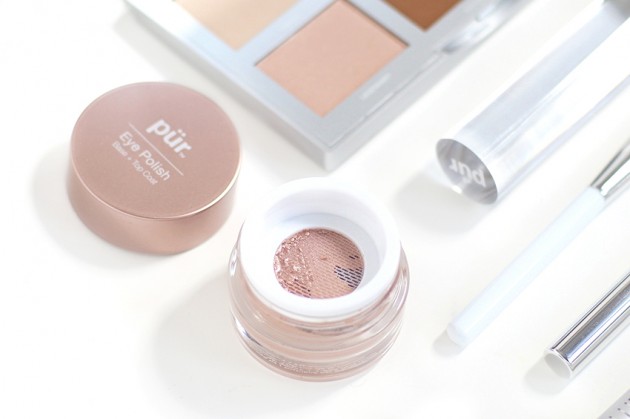 The verdict?
You guys, you *need* to try the new Pür Minerals Eye Polish line. They're easy to apply, they wear really well, and (don't pretend this isn't a factor) they're like, super cool.
I would also definitely recommend the Volume Vixen mascara (especially if you have trouble finding mascaras that won't smudge on you), and the coffee-named Wake Up Brow and Double Ego liners are great — although they're not a must-have, if you ask me!
Availability: Available at Pür Minerals, Shoppers Drug Mart, and Ulta.