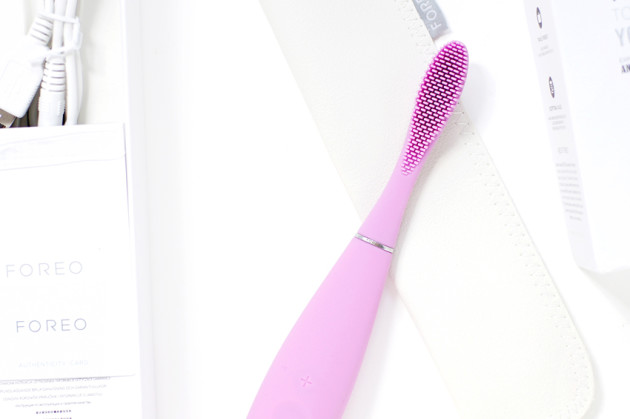 The product: FOREO ISSA Toothbrush in Lavender
» Did you catch my FOREO Luna mini review?
It's tough to love something and, at the same time, be gripped with anxiety every time you think about it. But that's more or less how I feel about teeth: I have six toothbrushes sitting sink-side right now, and yet (or perhaps because) thinking too hard about over-brushing and receding gum lines can push me into a full-on panic attack.
That's what makes the ISSA so cool. It's high-tech and gorgeous, but it's also designed to gently clean your teeth and stimulate your gums without scraping them up, so there's no extra anxiety needed.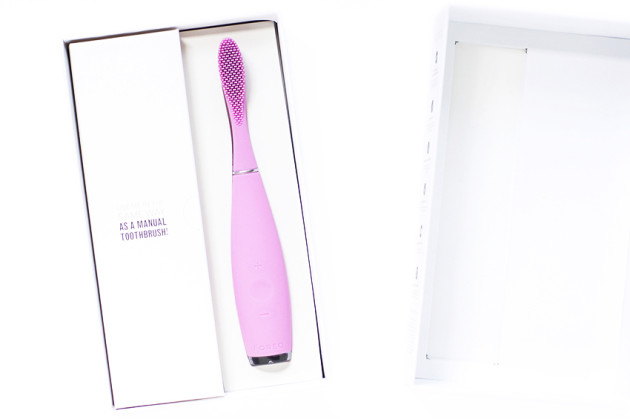 FOREO ISSA packaging. Perfect for gifting, and it comes with a classy little travel sleeve, too!
About the ISSA: The ISSA, believe it or not, is designed to be used just like a manual toothbrush! You use normal toothpaste (though nothing with gritty bits) and turn it on, picking one of 8 pulsation speeds and brushing as usual.
Like the LUNA, the ISSA is fully waterproof and has a battery that needs charging only every 365 uses (compare that to the Philips Sonicare DiamondClean, which lasts 3 weeks, tops). Plus, it's crazy lightweight and really comfortable to hold, with a 100% silicone finish that's bacteria resistant and fast drying.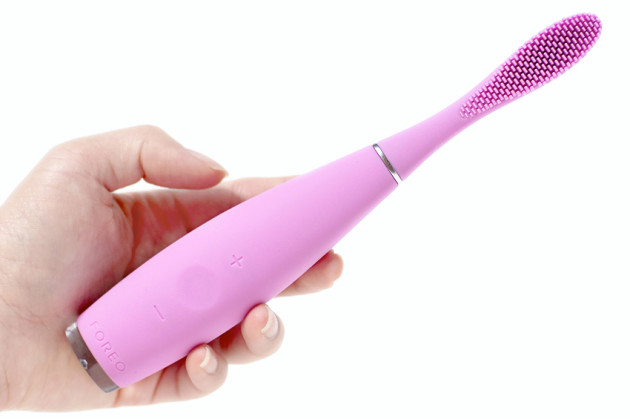 How it works: You know how silicone is kind of "draggy," and will pick up lint and dust like nothing else? (Well, other than an old NARS compact?) Well, that's how the ISSA cleans your teeth!
High-intensity pulsations and silicone bristles create friction that sticks to smooth surfaces, literally rubbing your teeth and gum line clean without pick-axeing at plaque the way nylon bristles do.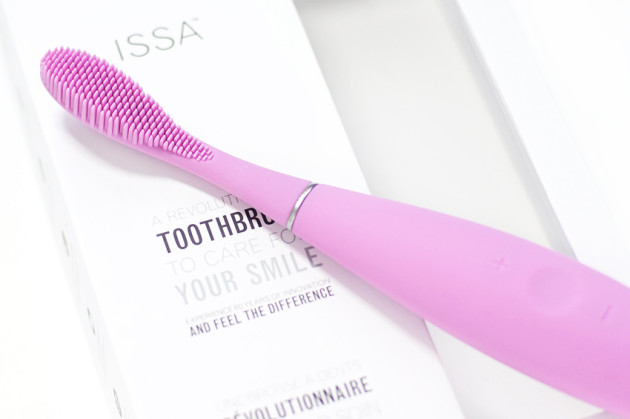 But does it work? In a word… yes! I don't notice any more plaque when I floss after brushing with the ISSA vs. a manual toothbrush, and if I eat something really sugary and then brush, the ISSA actually leaves my mouth and tongue feeling slightly cleaner than my other toothbrushes.
The ISSA isn't a bracing experience, though. It leaves my mouth feeling neutral, and my gums aren't pinked or sensitive after I brush with my ISSA, which is a strange (but very, very good) change.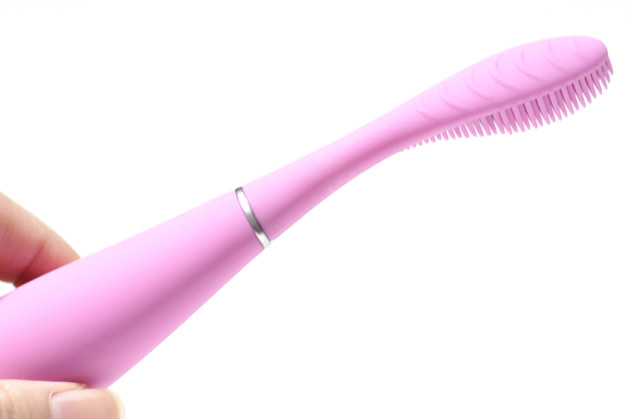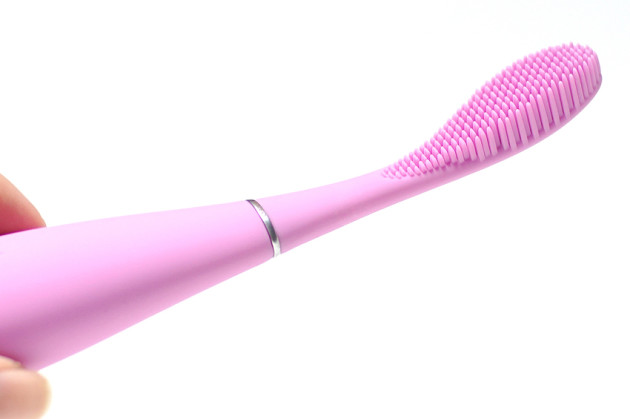 Sizing & heads: My only complaint about the ISSA is that smaller heads are always recommended by dentists to really get between your teeth, and the ISSA head is huuuuge. New brush heads are only $20-25 each, though, and they're interchangeable between the ISSA and the ISSA mini. 
There are three different ISSA brush heads (regular, hybrid, and a tongue cleaner), and each comes in full and mini size. So, when I replace my brush head in a year–or sooner; they're really easy to switch out–I'll be picking up an ISSA mini brush. It won't match my lovely lavender base, but I think I might just go with the super-sunny Mango Tango head and colour block it! ;)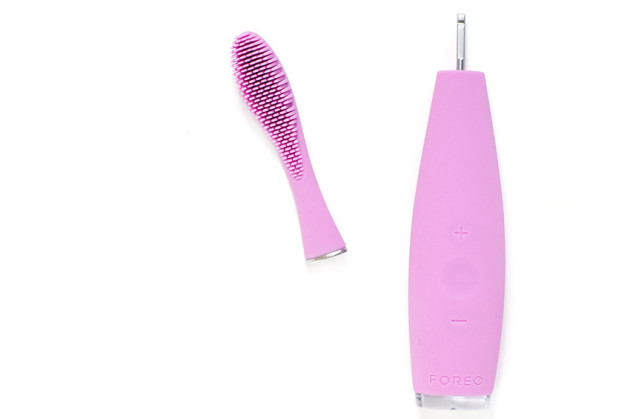 Easy to remove, easy to clean brush heads!
Win an ISSA of your own! 
I know you guys got really excited about my LUNA mini giveaway, but I'm really excited to be able to share an ISSA or an ISSA mini with one lucky reader! You get to pick your model and colour, and it should arrive just in time for you to start off the new year with a fancy new toothbrush.
Not sure which one you want? The Hybrid brush is a great way to transition over from a traditional toothbrush, and the mini size will deep-clean any sized mouth. Granted, the ISSA has 8 speeds, but the ISSA mini will frown at you if you haven't been brushing regularly, so… that choice is up to you.
This giveaway will be open worldwide until 11:59 PM on December 24th, MST, so pick your ISSA here and start entering!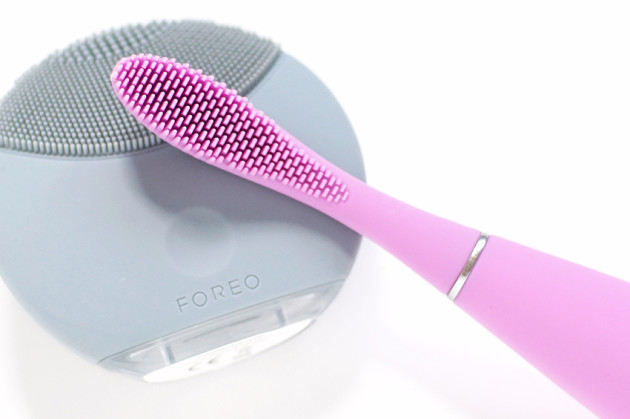 FOREO LUNA mini in Cool Grey and ISSA in Lavender
The verdict?
You guys, I am head over heels for my ISSA. Full disclosure, it was provided gratis for this review, but–goddamn. 
My top recommendation for the ISSA, weirdly enough, is as a gift for someone with fatigue or chronic pain. (And yes, you can totally gift it to yourself.) On my worst fibro days, brushing my teeth is so hard that sometimes I have to stop partway though and rest, but the ISSA is so lightweight and ergonomic that I never feel it in my forearms.
Aside from that? If you're at risk for receding gums–or even if you're not–a once-every-decade $199 investment in your teeth is nothing. Not everyone out there is a toothbrush nerd, but if you are, (a) please let's be friends, and (b) you totally need an ISSA.
Availability: $199 USD/$229 CAD for the ISSA and ISSA Hybrid; $119 USD/$139 CAD for the ISSA mini.

» If you order from Foreo.com before December 31st, the entire ISSA device range is 20% off! That includes the ISSA minis, so for those of you on a budget, make sure you snap up a FOREO toothbrush for $95.20 USD with free shipping while you can.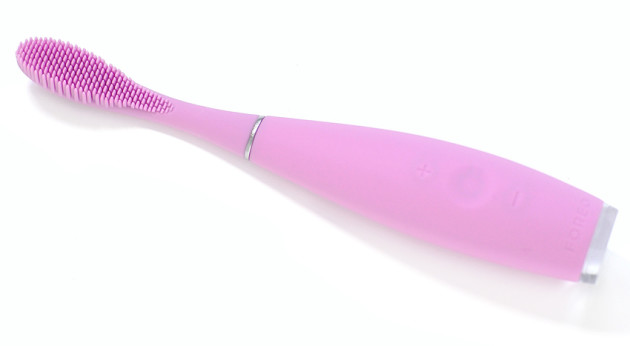 FOREO ISSA toothbrush review – Lavender
—
Disclaimer: This is a sponsored post. (Sadly, I do not make enough off of theNotice to buy you guys $200 toothbrushes just because I heart you.) However, all opinions included are my own, and my priority will always be getting it right for all of you!