We actually did a "Feb faves" giveaway, but that's over and done with – so I suppose these aren't really February's favourites. They're just… current favourites. (Which makes sense, because I've loved a few of them for quite a few months now!)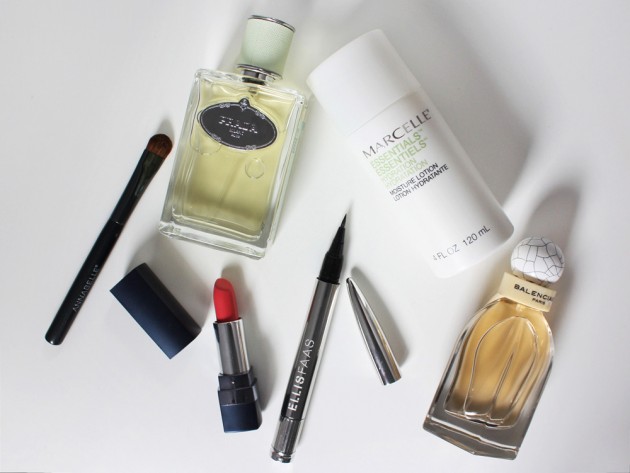 Annabelle A-21 Large Shader Brush ($8.50)
How have I not reviewed this brush yet?! I've had it for ages, and I always reach for it – it's quite basic, sure, but it does its job well. Plus, the quality is more on par with $20 brushes than $8 ones (which, yes, it is).
Prada Infusion d'Iris ($105)
I'm sitting on the review until closer to Mother's Day (because I think this would make a lovely gift), but in the meantime: just know that I love this! It's a very classic fragrance; feminine without being girly, and perfect for spring.
Marcelle Rouge Xpression, Paris Rose ($11.95)
Paris Rose is such a romantic shade; gorgeous on lips but perfect on cheeks. (Plus, it's 'cone-free, so I don't need to worry about breakouts). Photos and swatches here, and I've got a few lip swatches for you later this week as well.
Ellis Faas Eyeliner E501 ($38)
Another product that I absolutely cannot get enough of. It's incredibly easy to apply and delivers a really intense, precise black line. Almost everything creases on my lids, be it liquid, cream, gel, pencil… but this wears like metal. No fading, no bleeding – I can literally go all day and night with this liner and it looks perfect until I rinse it off.
(The price kills me, but formula-wise? It's honestly the best liquid liner I've ever come across, and that's not an honour I'll hand out lightly.)
Marcelle Essentials Moisture Lotion ($19.95
I don't have a review ready for this one yet (I'd like to try it out for longer and make sure it doesn't make me turn green), but it's fab! Silicone-, paraben-, and scent-free, it sinks in quickly and leaves my skin feeling deliciously velvety. Bonus points for the reasonable price and sleek packaging (though I'd like it even more with a pump!)
Balenciaga Paris ($95)
The comments have been lost, but here is the original review. This easily ranks in my top three favourite fragrances – it's quite versatile and never gets boring. Sexy without being cloying, fresh but not sharp… honestly, it's exquisite. Give it a sniff for me sometime? I promise: you won't regret it.