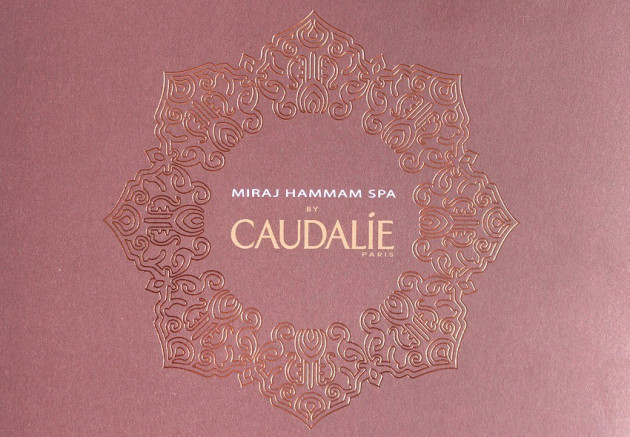 The Miraj Hammam Spa by Caudalie is located on the fifth floor of the Shangri-La Hotel, but you'd never know it by the decor. This spa is a cozy, Middle Eastern-inspired haven from city life decorated with low lights, exquisite dark wood cutouts, and gently curving furniture that warms and welcomes you in from the busy city streets.
Note: I lost all of my photos of this gorgeous location, so unfortunately, you're going to have to re-live my experience through photos provided by the spa! (And, okay, edited rather extensively by me because when do I not.)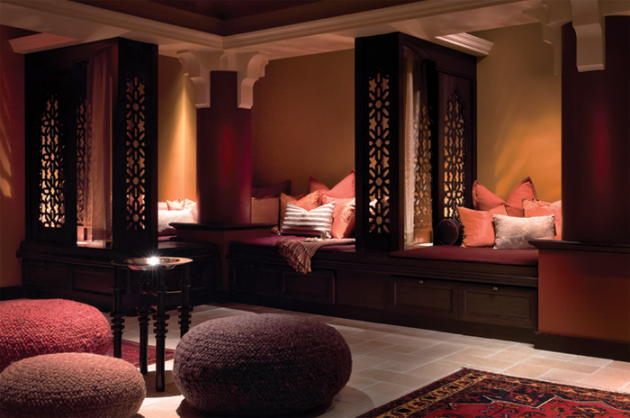 The relaxation lounge within the Miraj Hammam Spa by Caudalie
The Hammam & Gommage (30 min/$130 CAD)
What makes the Miraj Hammam Spa unique is their private hammam (Turkish bath) rooms, which contain a high intensity steam chamber inside of a warm, low mist chamber.
The spa's Hammam & Gommage treatment begins with 10 minutes in the steam room, which is a really intense experience — it's literally so heavy and dense with steam in there that I had a bit of a claustrophobic panic going in (and I'm not even claustrophobic). It opens your pores right up, and I was left warm, tingling, fresh-faced, and dripping with condensation! Facials have nothing on this.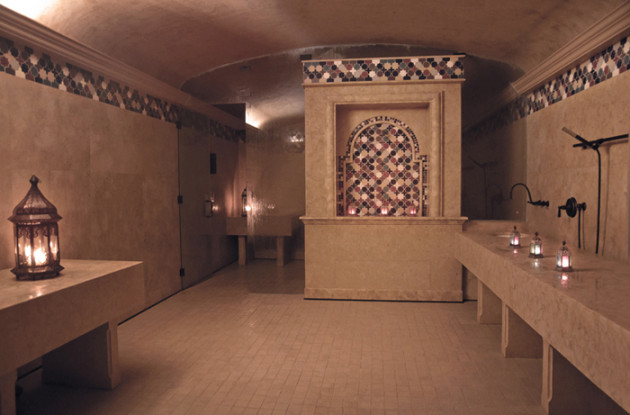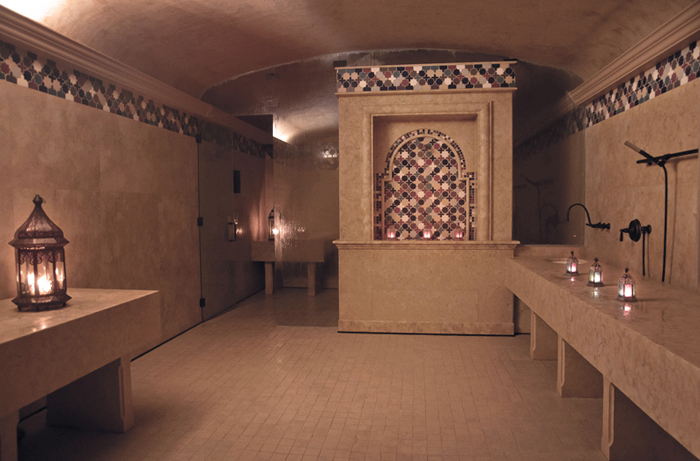 One of the two steam rooms, sans steam
I wasn't crazy about the gommage, though I know a lot of other reviewers have loved it. For this part of the treatment, you lie (preferably naked) on Jerusalem gold marble in the low-intensity steam chamber, and a spa attendant scrubs you down using tingly, eucalyptus-infused black Moroccan soap on exfoliating gloves — no grit-paste involved.
My gommage treatment left me feeling wonderfully raw and smooth, but… also kind of like a horse. I mean, the woman who preformed my treatment was fantastic, and my back feels suuuuuper smooth, but I'm thinking that getting literally hosed down by a stranger might just be too clinical for me.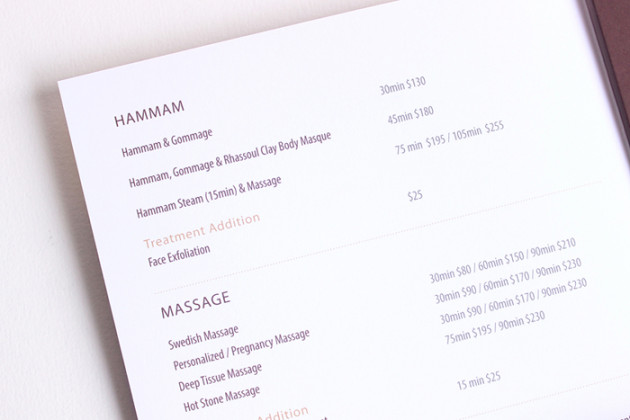 The Deep Tissue Massage (30 min/$90 CAD)
My second treatment of the day was the spa's 30 minute Deep Tissue Massage, which uses pressure techniques to target stressed muscles and increase circulation. It left me feeling limber but not sore, and my (registered) massage therapist used mostly pushing and pulling movements, not kneading ones.
The finishing touches for this massage were great, too: the table that you lie on is heated (perfect for the winter), you're covered by a warm, heavy blanket where you're not being massaged, and a Caudalie candle burns quietly on the side table. You can also choose from unscented, orange blossom, or clove-enriched grapeseed oil for your massage (I chose the clove, of course!), which is great for those with scent sensitivities.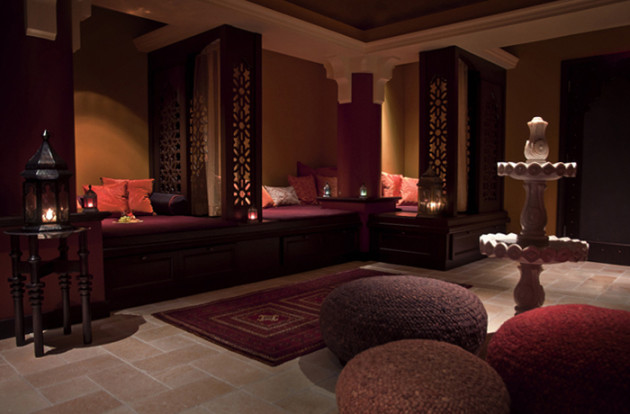 The Alahambra Lounge
The Alhambra Lounge
Finally, every visit to the Miraj Hammam Spa ends in their Alhambra Lounge, which is a gorgeous, dimly-lit room walled with what can only be described as relaxation cubicles. The room has a very soothing, intimate feel to it, and you're served a perfectly-spiced shot of sweet chai tea along with (a hilarious) three grapes and a piece of baklava.
» Can we talk about that baklava for a moment, though? Because I swear, it was the most delicious piece of baklava that I have ever had in my life — it was small, light, and syrupy, and reminded me a lot of jalebi (aka the best thing ever).
Once you're ready to leave the Alhambra Lounge (if you're ever ready, that is), it's back to the change rooms, where the showers are equipped with rain-style and handheld shower heads and the shelves come stocked with Caudalie products.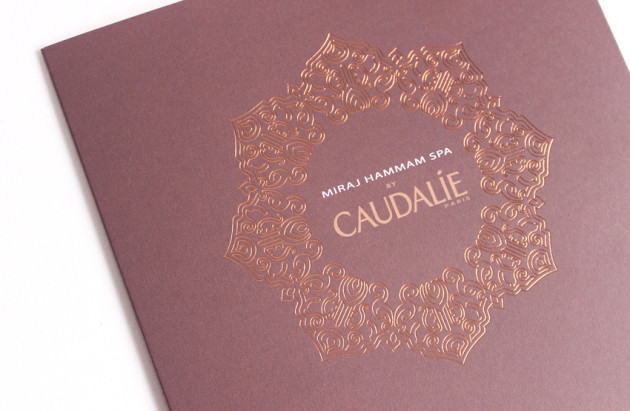 The verdict?
I can't believe I'm saying this about a spa, but: yes, I would absolutely go back. The hammam is a must-experience (you can add it onto any service for $25), and the atmosphere at the Miraj Hammam Spa is just so welcoming and relaxing — even for an awkward twenty-something.
For a luxurious treatment that really will leave you feeling fantastic, I recommend the Hammam & 60 Minute Personalized Massage ($195) as a serious indulgence, or the 30 minute Deep Tissue Massage with a 15 minute Hammam booked separately ($115) if you're just feeling a little under the weather and want to come out glowing. 
My two 30 minute appointments (the gommage was covered by the spa, but I added on the massage out of my own pocket) took about two hours altogether, so make sure to give yourself lots of time at the Miraj Hammam to really relax and enjoy your treatments!
—
Don't miss…
A week away | theNotice goes to Toronto! (part I)
Spot the Neutrogena + 2015 launches | theNotice goes to Toronto! (part II)
And that, ladies and gents, concludes our coverage on what to see, do, and eat in Toronto. See you Monday for theNotice's regularly scheduled beauty content!