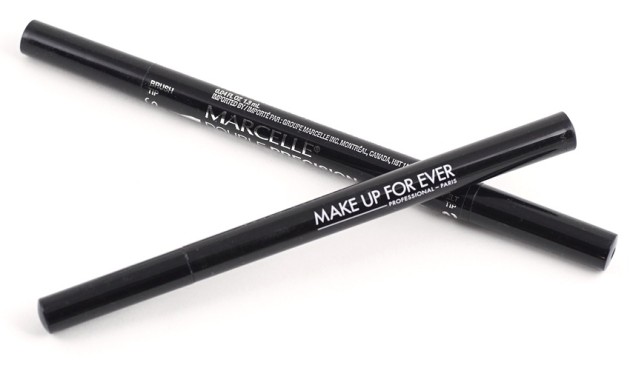 When it comes to makeup, I sometimes find it helpful to think of things in context of "generations" — like, different generations of eye primers (pre-Urban Decay tone eveners vs post-Urban Decay longevity-improving creams), lip stains (thin liquids vs YSL-type gloss-stains), eyeliner pencils (hard kohls vs waxy gel-creams) and now, liquid eyeliner pens.
These, ladies and gents, are not your mother's pen liners. They apply like liquid liners rather than markers, they dry down to wonderfully glossy finishes, and–most importantly–they wear absolutely flawlessly all. day. long. with no staining.
PS: Neither of these liners contain silicones, so they're a great choice if you're trying to go 'cone-free but still want something with great opacity and wear time!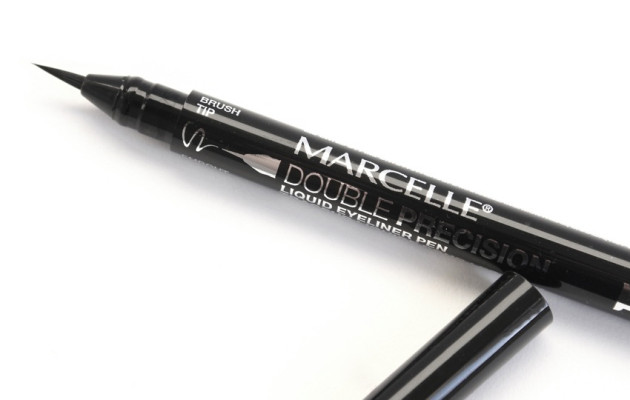 Marcelle Double Precision Liquid Eyeliner Pen in Intense Black ($14.95 CAD)
This dual-ended liner was the very first pen-style liner that I ever fell in love with, and I fell hard. The two tips moderate product flow so that you never end up with tons of liner on your lashes (as you might with a liquid liner), but it wears without smudging or budging for a good 12+ hours — maybe more, but I've never needed to test it for any longer.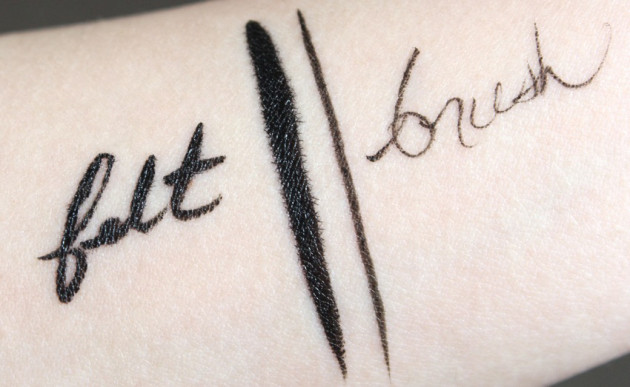 Marcelle Double Precision Liner swatches
I like this one for its wear, which I find to be better than the Make Up For Ever Liner, but I think that its dual-ended design has a pretty big pull, too. The felt tip is smaller than that on the Make Up For Ever, and is just firm enough to line the eyes with ease (yes, even for winged liner), while the brush tip is very fine and looks like a delicate paintbrush.
Of the two brush ends, I mainly use the felt end — the brush tip doesn't dispense quite enough product to deliver a really solid-looking wing, though it is excellent at getting the very point at the end of your liner and fading it into nothingness. Occasionally, I need to make two passes with this liner (either end) to achieve full opacity.
» See it worn here!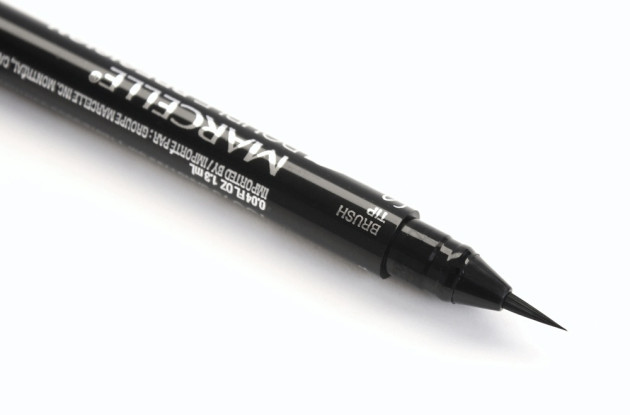 Marcelle Double Precision brush tip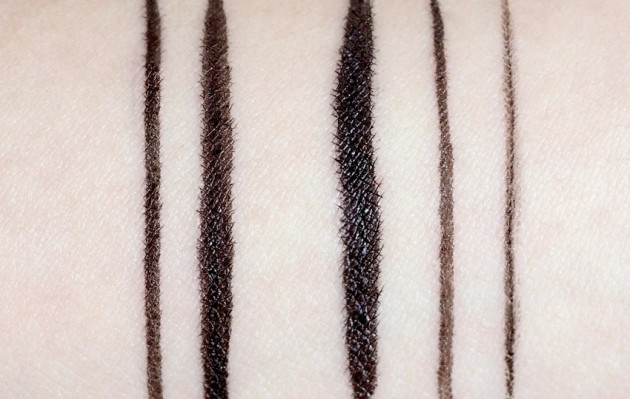 MUFE Graphic Liner (thin/thick), Marcelle Double Precision felt tip (thick/thin), Marcelle Double Precision brush tip
Make Up For Ever Graphic Liner ($24 USD/29 CAD)
This liner has a significantly firmer felt tip than the Marcelle, which means that it delivers a much more consistent result: the line, no matter how fine, is always the same amount of pigmented and opaque.
On the flip side of that equation, however, is the fact that the Marcelle can achieve lines that are both thicker and thinner than those within the Graphic Liner's range (even with just its felt end), so you have to choose which is more important to you: width or opacity. (There is no wrong answer!)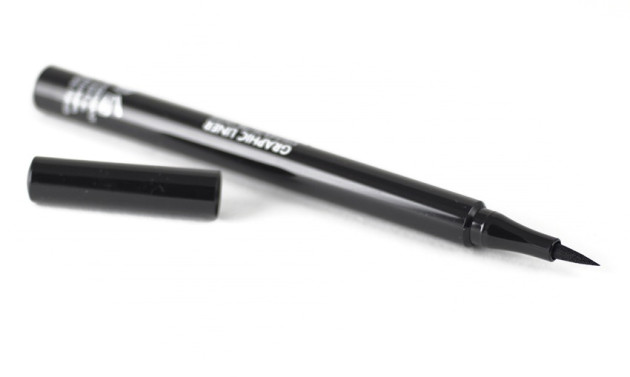 Make Up For Ever Graphic Liner
I do think this liner is ever so slightly better than the Marcelle, but (and this is a big but) I have two problems with it. One, the cap doesn't click on; it just slides into place, and I constantly worry that it's drying out. And two: the formula smells really toxic. Which is dumb, right? Like, logically, I know that something smelling bad does NOT equal toxic, and vice-versa.
But it smells really bad, like a paint or a Sharpie or something, and I'm not gonna lie, it freaks me out a little.
EDIT 11/03/15: This liner has started to smudge pretty badly on me, folks! I think it's an issue of mascara — if I'm wearing a tubing mascara to "lock in" any stray patches of liner, I'm good; but if I'm not wearing any mascara at all, the Graphic Liner smudges on the top AND bottom. Keep it in mind!
» See it worn here!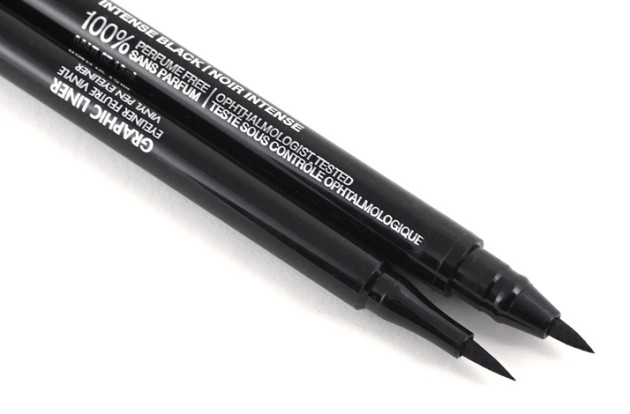 Make Up For Ever Graphic Liner vs Marcelle Double Precision felt tips
The verdict?
I really love both these liners, so I'm going to leave the final verdict up to you (and possibly where you happen to live), but I think beginners and casual makeup wearers will appreciate the brush tip on the Marcelle, while makeup pros will prefer the Instagram-perfect opacity of the Make Up For Ever.
Whichever one you buy, remember that BOTH are very good — you really can't go wrong here! Instinctually, I think I like the Make Up For Ever more (for its opacity and firm tip), but the scent-free Marcelle liner freaks me out way less.
EDIT: Note that the Marcelle has better wear time for those with oily lids! It does sometimes fade, but doesn't really smudge or crease; the MUFE will give me "panda eyes" if I'm not wearing mascara.
Availability: The Marcelle liner is available at drugstores & mass market retailers across Canada or online at marcelle.ca ($14.95 CAD); the Make Up For Ever liner is available at Sephora ($24 USD/$29 CAD) and Make Up For Ever boutiques.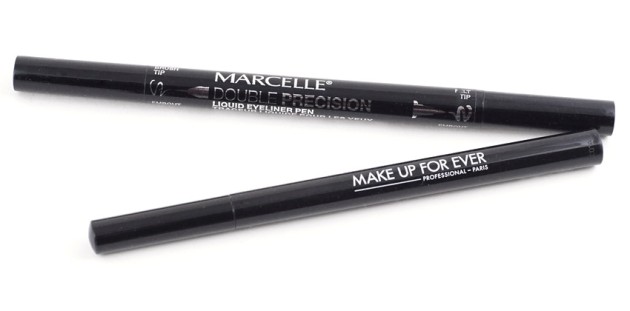 The Marcelle Double Precision Liquid Eyeliner Pen ingredients:
Aqua Acrylates Copolymer, Propylene Glycol, Glycerin, Triethanolamine, PVP, Magnesium Aluminum Silicate, Polysorbate 60, Sorbitan Stearate, Methylisothiazolinone, Iodopropynyl Butylcarbamate +/- Black 2, Red 40, Green 5, Blue 1
The Make Up For Ever Graphic Liner ingredients:
Water, Butylene Glycol, Black 2 [nano], Styrene/Acrylates/Ammonium Methacrylate Copolymer, PEG-60 Hydrogenated Castor Oil, Phenoxyethanol, Coco-Glucoside, Potassium Sorbate, Citric Acid, Sodium Laureth-12 Sulfate, Sodium Benzoate, Ammonium Hydroxide