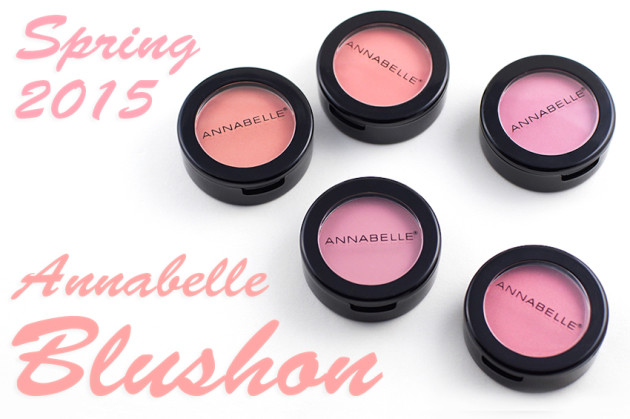 The product: Annabelle Cosmetics Blushon Powder Blush (new permanent shades)
↳ in Lotus, Rosebud, Peony, Spring Petal, and Hibiscus
There are five new shades being added to Annabelle's Blushon range this spring, and they are fantastic. I haven't been this excited about the expansion of a range since MAC came out with Full of Joy (which, yes, I know, I still haven't featured on the blog), but ugh, these are all so pretty!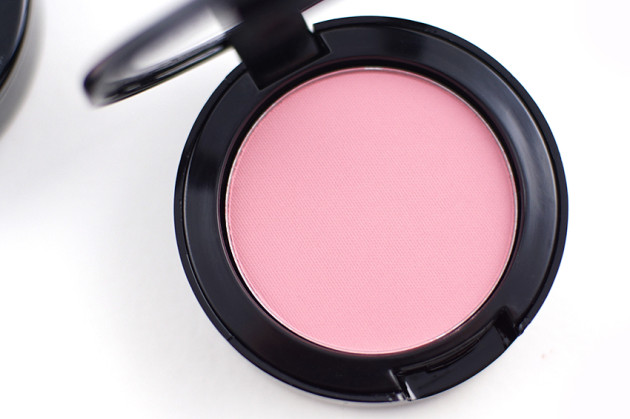 Lotus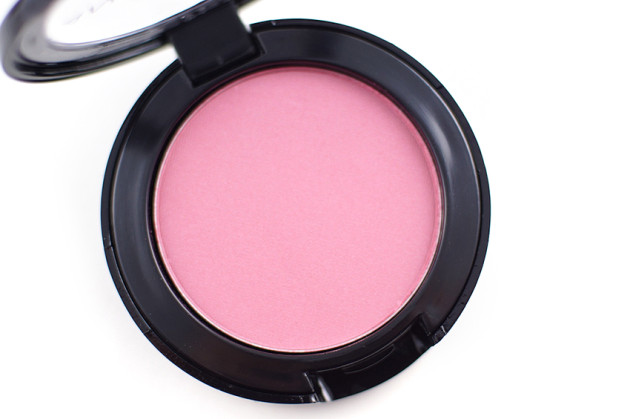 Rosebud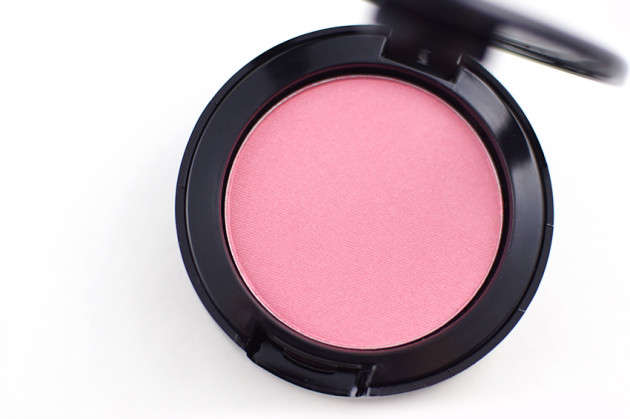 Peony

The formula: These are actually the very first Annabelle Blushon blushes that I've tried, and can I just say: I really regret not buying some sooner! The formula in these is just gorgeous — really finely milled and velvety, and not too solid in the pan, either. They kind of remind me of the Clinique Cheek Pops (you know, creamy), but they get their smoothness from non-chalky talc and mineral oil, not dimethicone and bismuth oxychloride.
You get great pigmentation with each swipe, but not so much that you're going to end up with crazy cheeks if you're not careful, you know? We're talking medium-layerable pigmentation, not sudden attacks of rouge.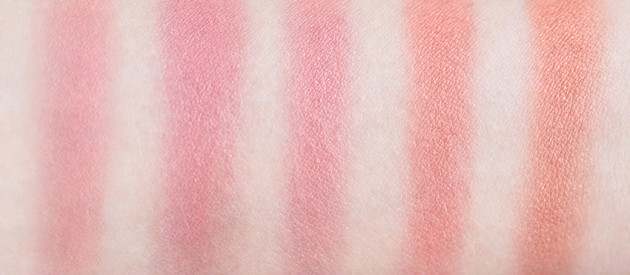 Annabelle Blushon swatches: Lotus, Rosebud, Peony, Spring Petal, and Hibiscus
The shades: On one hand, I kind of wish that I had tried these sooner, because they're lovely — but on the other hand, I don't. This range expansion includes five new (and totally not-brown) shades, and each shade is more my style than the last.
There are three pinks: Lotus (matte; similar to Lancôme Rose Fresque), a purpley light pink, Rosebud, and Peony. Rosebud looks softer than Peony in the pan, but actually swatches more strongly; Peony has more shimmer in it, as well as more coral. Lotus (my favourite) works very well on fair skin, Rosebud is the best "true" pink, and Peony will be gorgeous on warm and medium-toned complexions.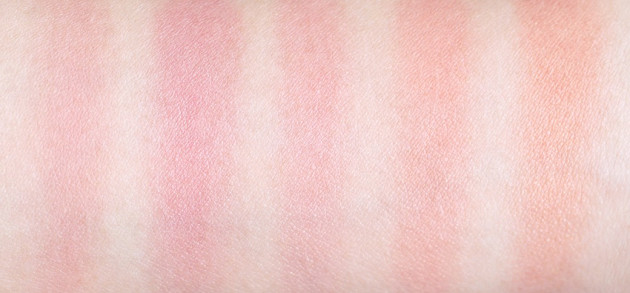 Annabelle Blushon swatches: Lotus, Rosebud, Peony, Spring Petal, and Hibiscus (blended)
I was particularly smitten with the pinks, of course (especially the matte Lotus, which pulls a little bit lilac and just seems more velvety than the rest), but there are also two orange/coral blushes: Spring Petal, which leans a little bit more pink, and Hibiscus, which is noticeably more metallic.
Spring Petal will quench your coral cravings — especially if you, like me, love the idea of coral but really do look better in pinks. If you want a true orange blush, though, go for Hibiscus!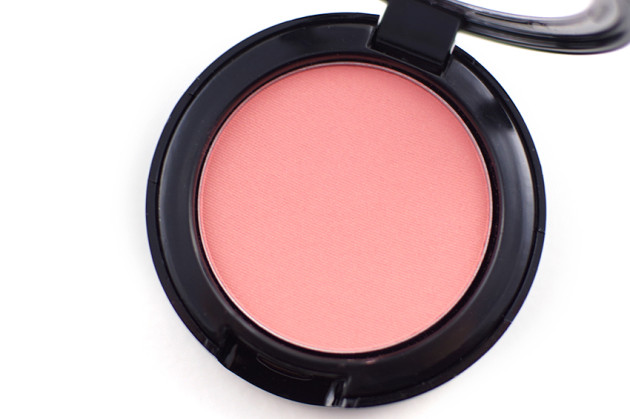 Spring Petal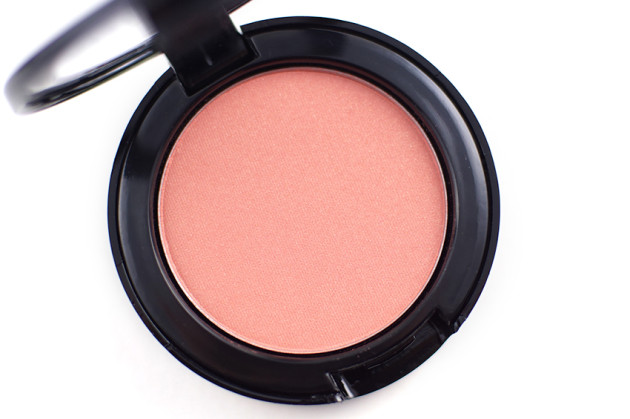 Hibiscus
The verdict?
If you like perfectly-pigmented, non-dusty blushes, then definitely check these out. The new shades really remind me a lot of the MAC Très Chic collection (bright, pretty, and springy), and the formula feels very Clinique Cheek Pops-y!
Plus, at $7.95, you don't have to pick between the lilac pink, the shimmering orange, and the bright coral — for the price of just one MAC or Clinique blush, you can get all three.
Availability: $7.95 CAD at online at Annabelle.ca & in drugstores and mass-market retailers across Canada.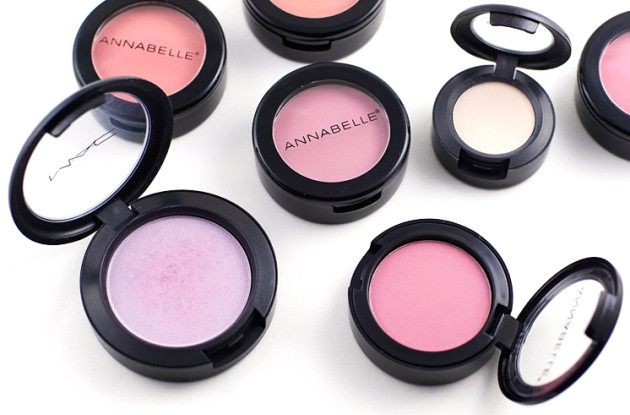 Size comparison — vs MAC Full of Joy blush (from the Très Cheek collection) and MAC Blanc Type
Annabelle Blushon ingredients:
Talc, Zinc Stearate, Mineral Oil, Boron Nitride, Beeswax, Diazolidinyl Urea , Sorbic Acid, Tocopheryl Acetate, Iodopropynyl Butylcarbamate, BHT

+/- Mica, Iron Oxides, Titanium Dioxide, Red 7 Lake, Red 27 Lake, Yellow 5 Lake, Red 6 Lake, Ultramarines