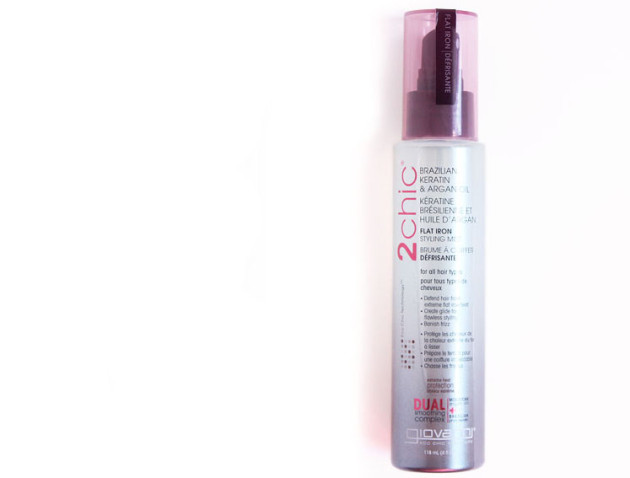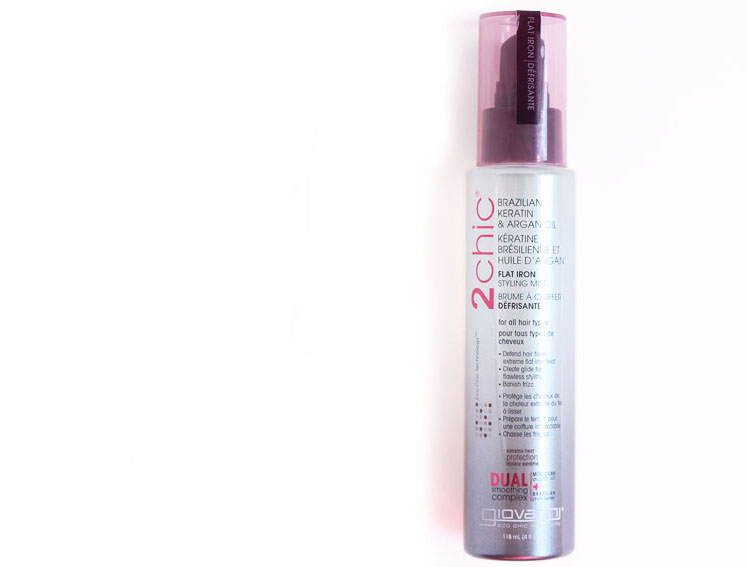 Good: Giovanni 2chic Ultra Sleek Brazilian Keratin & Argan Oil Flat Iron Styling Mist
This Giovanni mist smells, to me, like a softly-scented, old-timey salon; vanilla with a hint of nuttiness and a whisper of hairspray. It's part of the same range as this oil-serum that M and I love, but has a different, much more subtle scent. It's made from 100% vegetarian ingredients, and the brand doesn't test on animals, which is nice to note!
Giovanni says this mist is good for all hair types, but it contains denatured alcohol high up in the ingredients list, and amodimethicone later on — so I'd say skip it if you have really dry hair, are concerned about using body-safe products, or have a silicone sensitivity.
The Giovanni Keratin & Argan Oil Flat Iron Styling Mist ingredients:
Water, Glycerin, SD Alcohol-40B, Argan Kernel Oil, Brazilian Cocoa Keratin Extract [Phyto-Keratin], *Rooibos Tea Extract, Coconut Oil, *Macadamia Seed Extract, *Shea Butter Extract, Sorbitol, Amodimethicone, Panthenol, (Pro-Vitamin B-5), Benzyl Alcohol, Polysorbate 20, Phenoxyethanol, Natural Fragrance.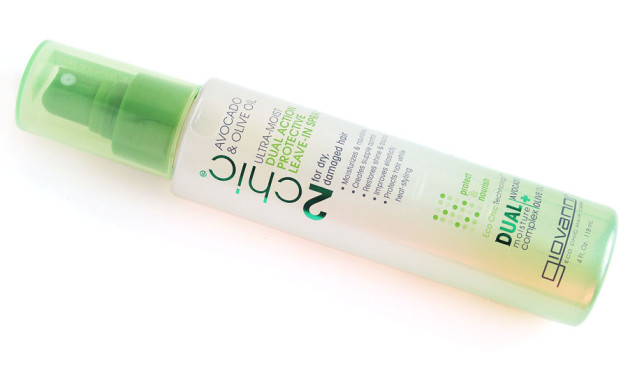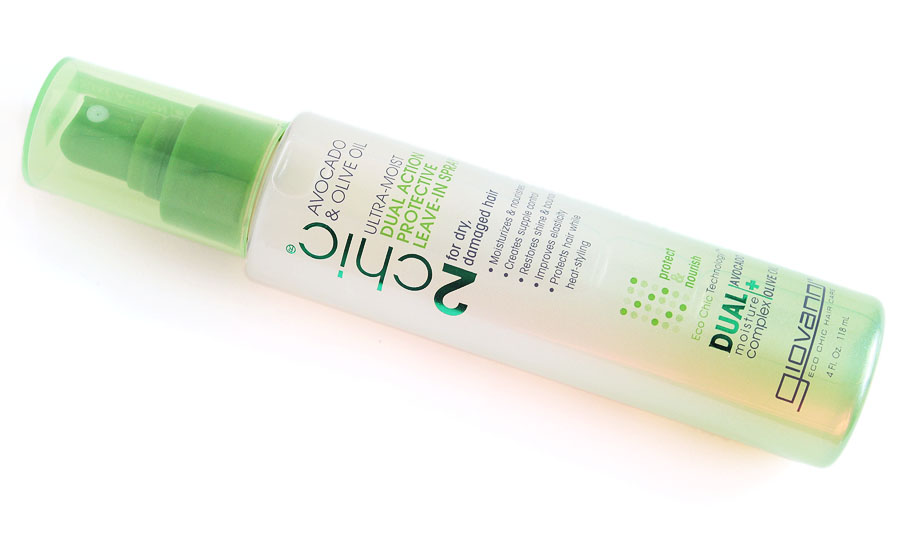 Better: Giovanni 2chic Ultra-Moist Avocado & Olive Oil Ultra-Moist Dual Action Protective Leave-In Spray
Even better than Giovanni's Keratin & Argan styling mist, though, is their Avocado & Olive Oil leave-in spray. Silicone-free and formulated for dry, damaged hair, it's designed to be both a leave-in conditioner and a heat protectant — all bundled up with a low scent profile and an easy-to-use mist pump.
Unlike its nutty, vanilla counterpart, this leave-in spray smells bright and rather synthetic, like a light, fruity hairspray — but while the formula leaves your hair feeling soft and smooth all day long, the scent fades quickly. It's full of hydrating and soothing ingredients like aloe, avocado oil, olive oil, and shea butter, and is definitely my top pick for a silicone-free mass-market heat protectant spray. 
The Giovanni Avocado & Olive Oil Leave-In Spray ingredients: 
Water, Panthenol (Pro-Vitamin B-5), Glycerin, Vitamin E, Xanthan Gum, Phenoxyethanol, Polysorbate 20, Citric Acid, Fragrance, Sodium Benzoate, Chlorophyllin-Copper Complex, *Aloe Vera Leaf Juice, *Avocado Oil, *Lychee Chinensis Fruit Extract, *Olive Fruit Oil, *Chenopodium Quinoa Flower/Leaf Extract, *Shea Butter, *Sunflower Seed Oil.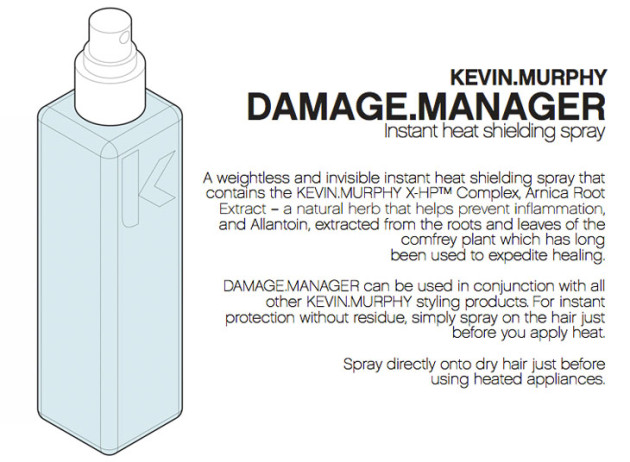 Best: Kevin Murphy Damage.Manager Instant Heat Shielding Spray
Despite what your salon may tell you (I've had not one, but two separate stylists in different salons lie to me about this), the Kevin Murphy line is not 100% silicone-free. Rather, the line uses "functional silicones" that rinse out easily (this is coming from the brand itself), which I interpret as meaning that they use water-soluble silicones whenever possible — ones that are lighter and less hydrophobic than traditionally heavy, slick silicones like dimethicone.
That said, Kevin Murphy does a ton of products that are silicone-free, and Damage.Manager is one of them. (Their Angel.Wash and Angel.Rinse are, too!) Damage.Manager protects your hair without weighing it down or leaving it even the slightest bit sticky, and it smells amazing — both complex and unisex, like the perfect whirlwind of vetiver and woods, with a tenacity that lasts right through your next shampoo.
I can't for the life of me find an ingredients list for this online, but I promise that it's paraben- and silicone-free. The formula features arnica root extract and allantoin alongside the KEVIN.MURPHY X-HP Complex, and it protects the hair up to a whopping 220ºC (428ºF).