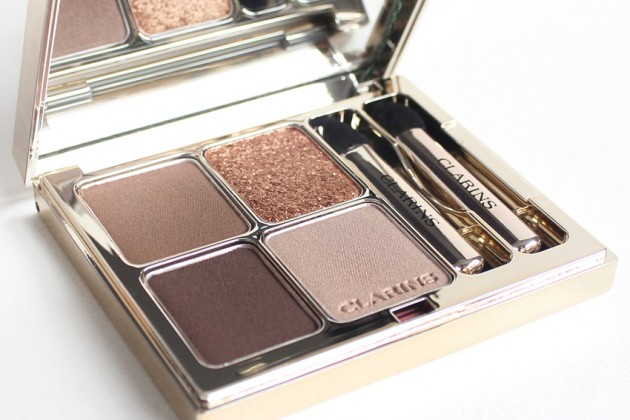 The product: Clarins Eye Quartet Mineral Palette in Odyssey
"Dress your eyes in gold… brown, beige and taupe-bronze eye colours can be blended or layered as desired, instantly creating warm glowing eyes. The pearl highlighter adds a touch of luminosity and a gold leaf effect to any eye look."
Seen first here.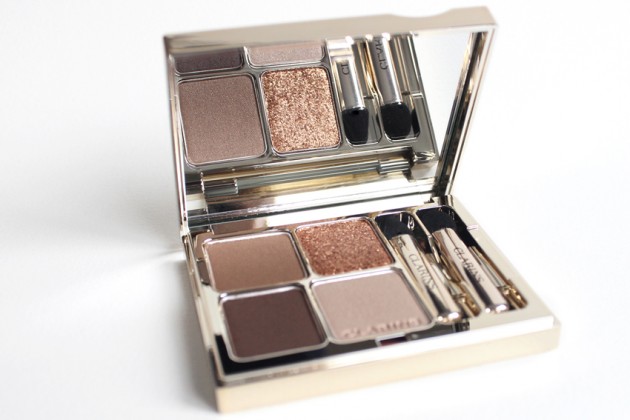 The shades: The four shades in the Odyssey palette area little odd, to be honest. For a palette that "feels" this warm, visually, it's surprisingly wearable on cool-toned skin — the warmest shade also happens to be the most sheer. The lean isn't unbearable, either; rather than being too orange, it's unexpectedly yellow, with silver microshimmer to balance.
The three non-glitter shades are medium-sheer with finely-milled microshimmer, settling into a range of satin-frosts. The beige actually reflects a bit pink (as Clarins highlighters tend to do) — imperceptible unless you're actively looking for it, but it gives a very brightening, polished sheen that's stunning in person.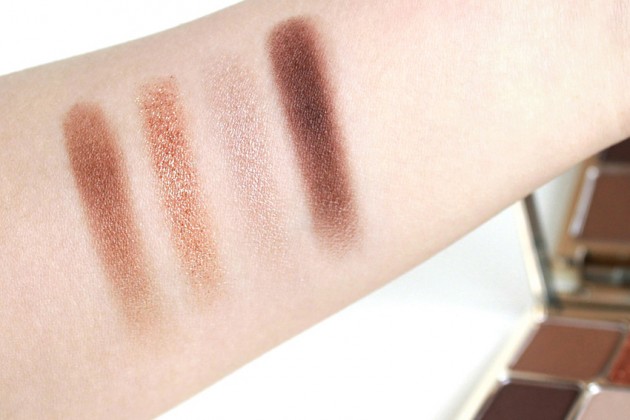 All of the satin shades contain a small amount of silver microshimmer, giving them the illusion of a neutral colour temperature and allowing the stunning bronze-gold glitter to really pop. Like all Clarins glitters, it sticks well to the skin, mixing chunkier bronze shards with loosely concentrated silver and gold shimmer for a mesmerizing, wet-finish effect. 
Foiled or applied overtop a sticky primer, the gold shade applies much more densely, mimicking a warm (slightly coppery) gold foil… minus the finicky application and wear of actual cosmetic foil.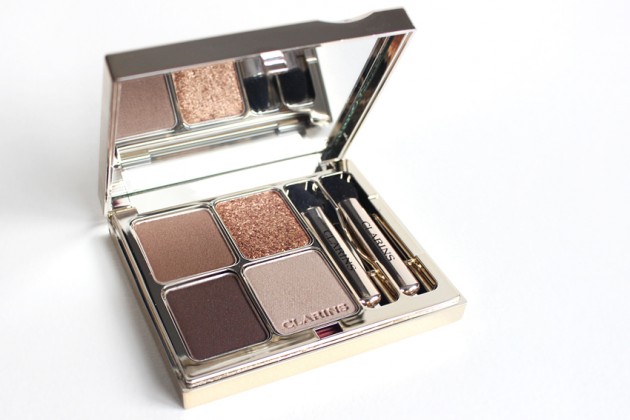 The textures: I love the texture of Clarins' eyeshadows, but I know not everyone does. If you're really into crumbly, super-pigmented shades, their Eye Quartets won't be for you — but if you prefer a mix of smooth satin finishes and gorgeous, dimensional glitters, then they'll be perfect.
I love mixing textures to create depth & add versatility to a palette, and Clarins do a particularly great job of creating quads with this in mind. All of the quartets under a certain aesthetic, so if you have one or two that you're happy with already, I think you'll really enjoy this one, too.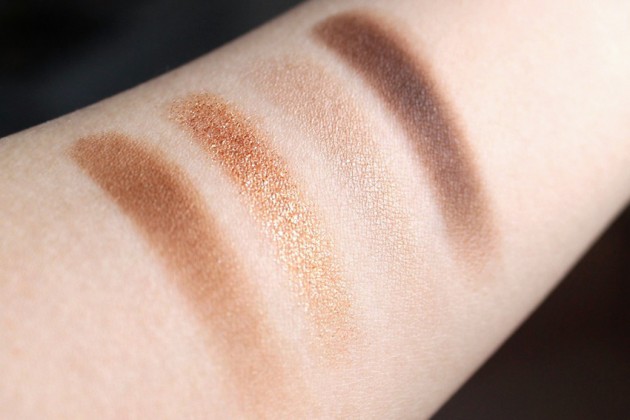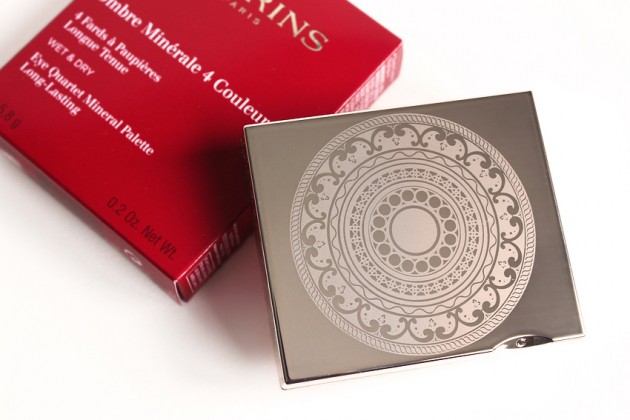 The verdict?
My love affair with Clarins' quads is no secret, and the Odyssey palette is no exception. (To be honest, though, I think I'm hitting my upper limit on these! Perhaps one in colour, and that'll be it. Perhaps.)
For an earthy palette that feels warm and rich without pulling too orange on cool-toned skin, this is a great option. Clarins do a great job of mixing textures in their palettes, and the finely-milled satin finishes and rich gold foil featured here definitely don't disappoint. At $42 CAD (and in stunning gold packaging), I would certainly recommend this!
PS: If you loved the gold glitter from the shu uemura Prestigious Bordeaux palette, this is a great dupe at less than half the price.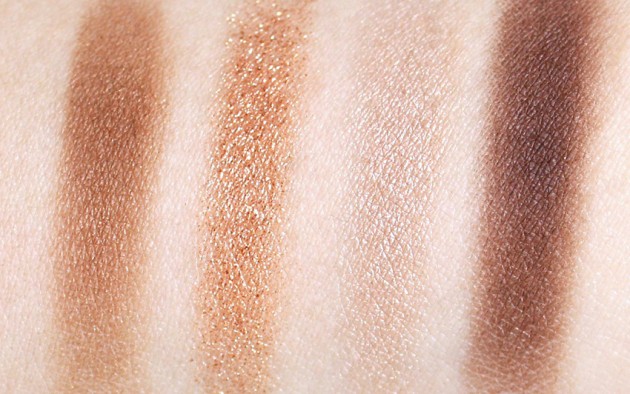 Clarins Eye Quartet Mineral Palette in 09 Odyssey – swatched in on primed skin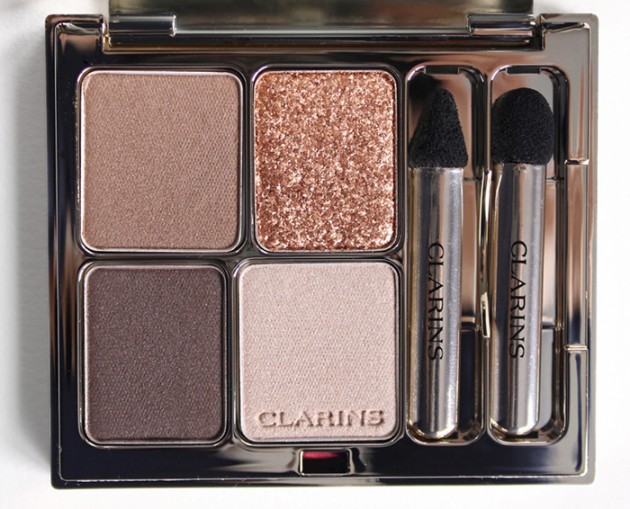 Clarins Eye Quartet Mineral Palette in 09 Odyssey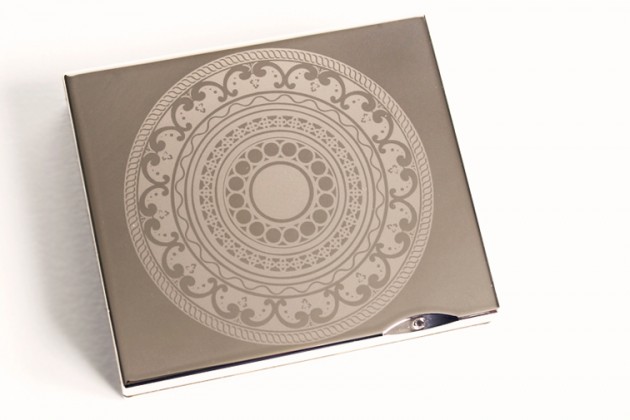 Clarins Odyssey packaging, Holiday 2012