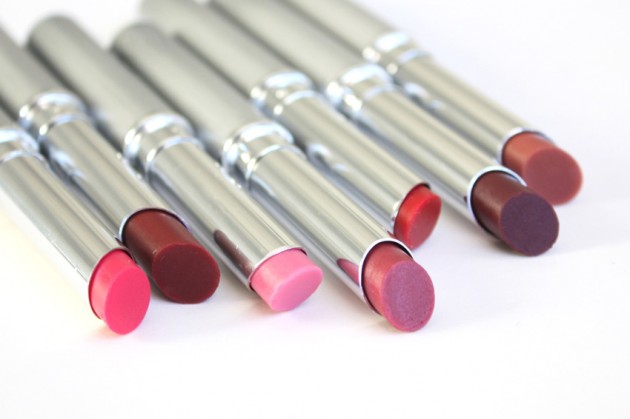 The product: Clinique Almost Lipstick (all shades)
The story of Black Honey: Clinique tells this tale much better than I ever would, so:
"Black Honey made its debut in the US in 1971 and this deep, blackened rasin hue became an instant success. In 1989, when Black Honey was later launched as an Almost Lipstick, no one realized how quickly it would become an iconic lip colour. A precise blend of red, blue, orange and yellow pigments in a sheer base allows Black Honey to look beautiful and different on virtually every skin tone, making it a cult favourite."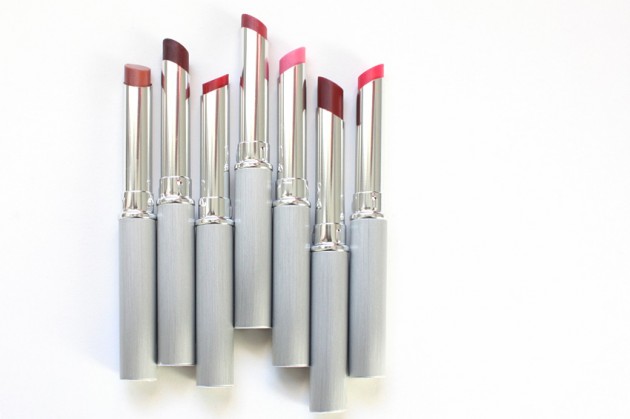 L-R: Tender Honey, Chic Honey, Luscious Honey, Lovely Honey, Shy Honey, Spicy Honey, Flirty Honey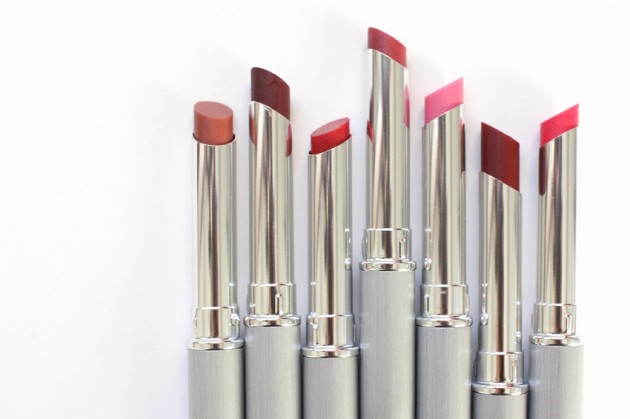 L-R: Tender Honey, Chic Honey, Luscious Honey, Lovely Honey, Shy Honey, Spicy Honey, Flirty Honey
The formula: Like the classic Black Honey, Clinique's range of Almost Lipsticks are best interpreted as gloss sticks, or sheer lipsticks, rather than… well, rather than lipsticks. They feel balmy going on, completely smooth and almost entirely scent-free (they do smell a bit waxy when applied, but the smell fades in a matter of minutes), and deliver wearable colour with a natural-looking finish.
The Almost Lipsticks are essentially glamorous tinted lipbalms, so they have a bit of a shine to their finish – think "fresh and hydrated," rather than "sticky and vinyl." All in all, while I'd like a bit more moisture out of the formula, I'm quite happy with them: they're practically impossible to botch up (even without a mirror), and I've been wearing them non-stop since swatching them.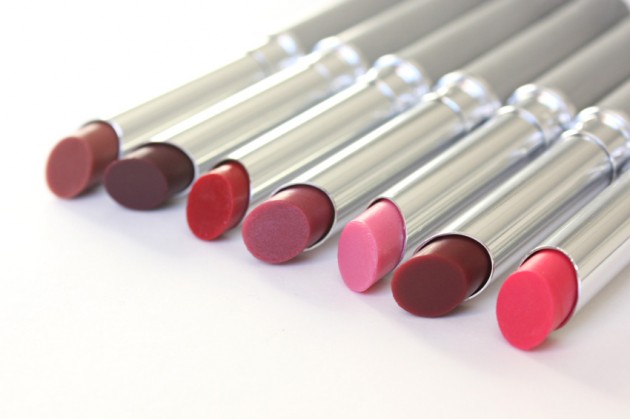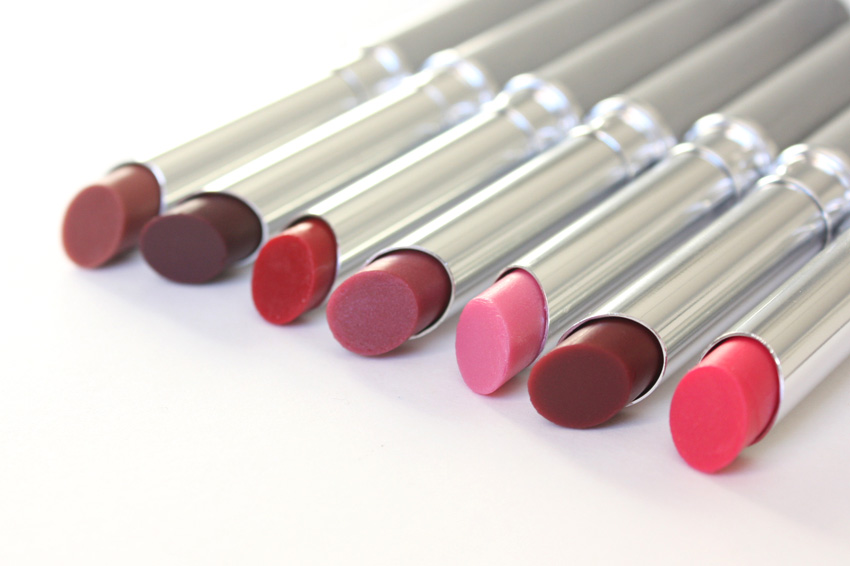 L-R: Tender Honey, Chic Honey, Luscious Honey, Lovely Honey, Shy Honey, Spicy Honey, Flirty Honey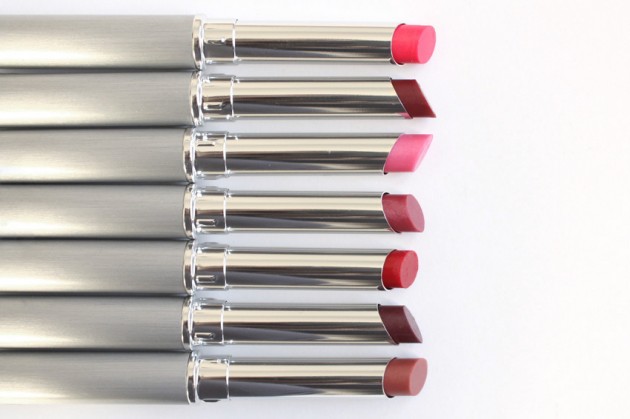 Top to bottom: Flirty Honey, Spicy Honey, Shy Honey, Lovely Honey, Luscious Honey, Chic Honey, Tender Honey
The shades: In addition to the classic Black Honey, Clinique has added seven new shades to the Almost Lipstick line. They're all varying degrees of "sheer," but (ironically enough), I find all seven of the new shades more wearable than the "universal" Black Honey! For photos of each shade individually, don't miss this post. (Fixed; two of the photos were switched earlier. Apologies!)
Black Honey (01) is a warm brown-red, one of the darkest and most pigmented Almost Lipstick shades. Tender Honey (35) is a medium nude with subtle microshimmer and just a hint of yellow-pink undertones. Chic Honey (36) is a (super-chic) berry shade; think "Black Honey for cool skintones." Luscious Honey (37) is a sheer, juicy bright red .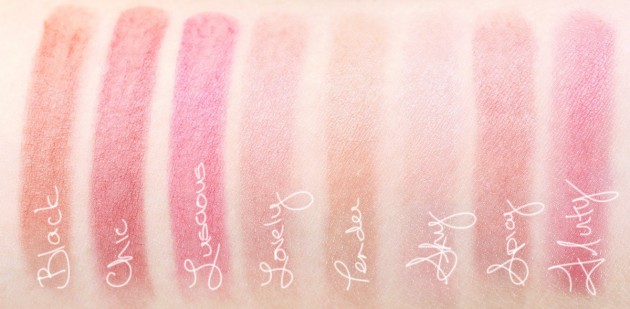 Clinique Almost Lipsticks swatched heavily.
Lovely Honey (38) is a violet-berry with faint brown undertones and gold microshimmer – super pretty in the tube. Shy Honey (39) is an extremely sheer baby pink. Spicy Honey (40) is a wine red, not quite as dark as Chic Honey but somehow more sheer than Flirty Honey (which is lighter in the tube). Flirty Honey (41) is a bright fuchsia-pink.
I managed to somehow swatch Tender Honey fifth, rather than second, so I thought it best to label the swatches above directly onto the image – hope the order isn't too confusing! There's another small swatch set under the cut, with the correct order, if you need it.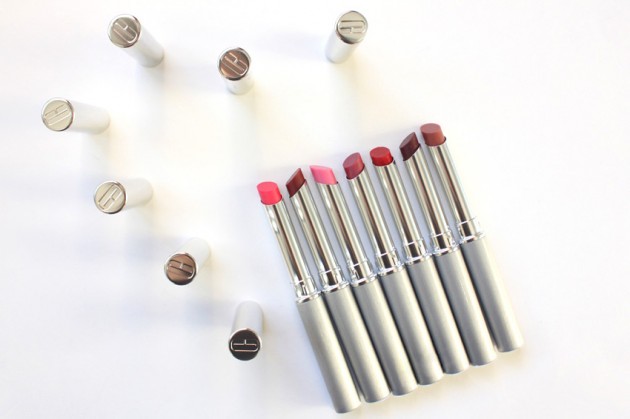 The verdict?
As a lover of Black Honey in formula and theory (but not in shade), I'm really pleased that Clinique has built on their Almost Lipstick range. As promised, these gloss sticks ($18.00 CAD, available Feb 2012 onwards) deliver transparent, lightweight colour, and while my super-dry lips would like to see a bit more hydration from them, I'm quite impressed with the colour range & the feel of the formula.
If you were hoping for something a little more more pigmented than Clinique's Chubby Sticks (I was, initially), then these aren't going to cut it – but if you're looking for sheer, scent-free, paraben-free colour, I think you're going to like these!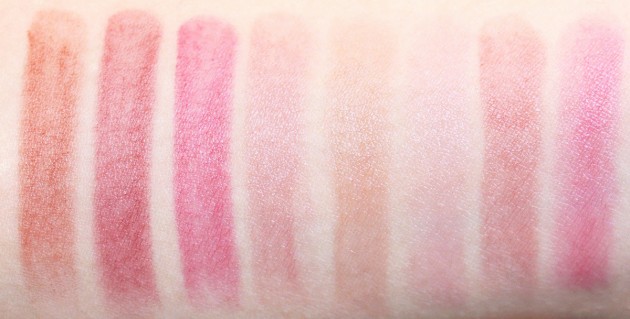 Swatched heavily L-R: 01 Black Honey, 36 Chic Honey, 37 Luscious Honey, 38 Lovely Honey, 35 Tender Honey (sorry, I'm a dolt who managed to get the nicely numbered shades in the wrong order somehow), 39 Shy Honey, 40 Spicy Honey, 41 Flirty Honey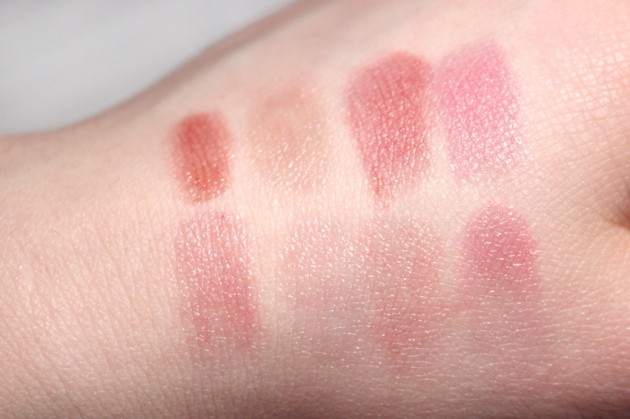 Top row – Black Honey, Tender Honey, Chic Honey, Luscious Honey
Bottom row – Lovely Honey, Shy Honey, Spicy Honey, Flirty Honey