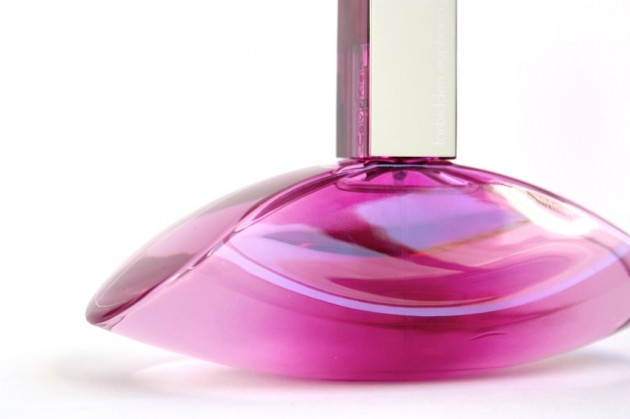 The product: Calvin Klein forbidden euphoria (eau de parfum)
Marketed as yet another "fruity floriental," I wasn't expecting all that much from the latest euphoria flanker. And, okay, it's more or less what I'd expected – but in some respects, that could be a good thing.
When you go with a generically seductive fragrance from a brand known for its pretty-but-mainstream offerings, you're not going to find anything riveting. Which sounds terrible, but it works both ways: the more adventurous a brand is with their scents, the more likely it is that everything is going to end up in a terrible mess of overdone scent molecules and trying-to-hard sillage.
forbidden euphoria, like the classic it is based off of, plays it safe: it's the kind of scent that most people will kind-of-sort-of like, but perhaps not love.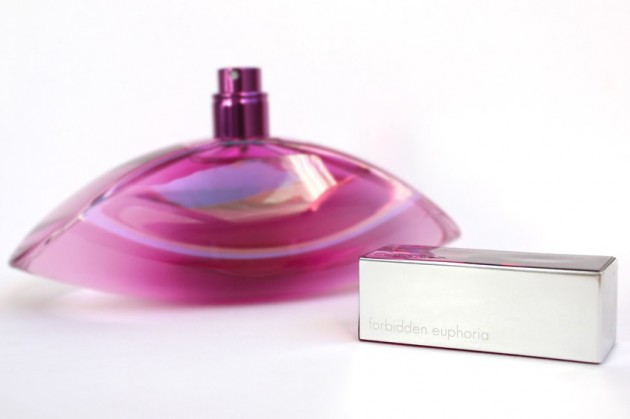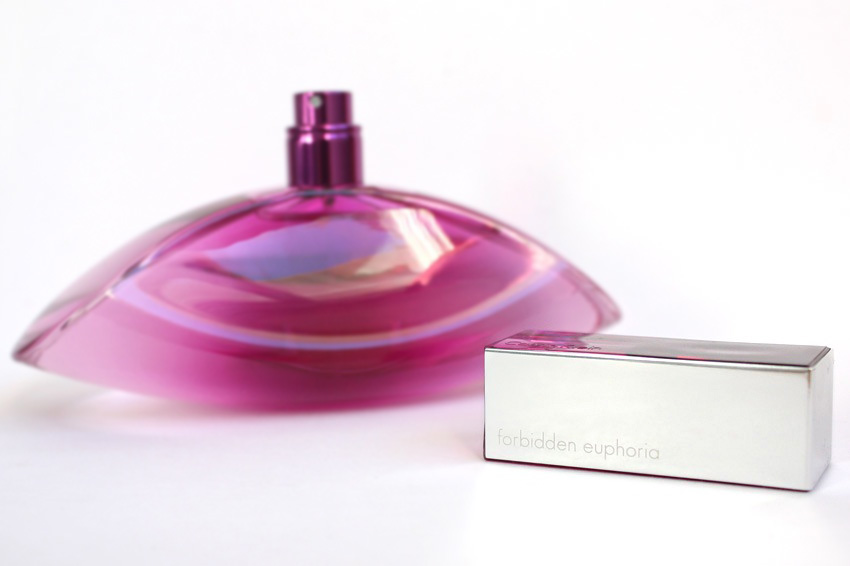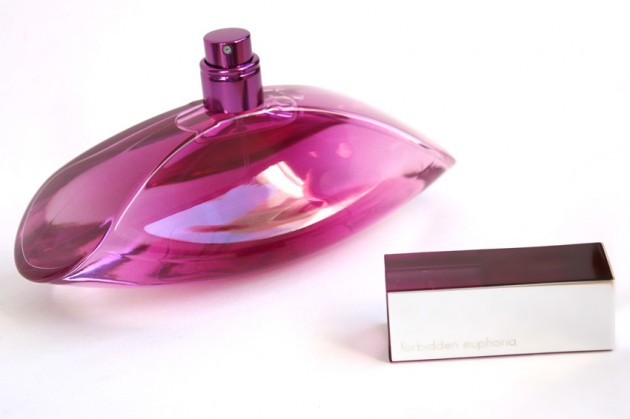 Launched September 2011, the bottle is a spin on the original just as much as the scent is: the same shape, and the same idea, but this time in a gorgeous, translucent berry. I could photograph this for ages – and, to some extent, I suppose I did. (It's so easy to go overboard on photo-taking when you're working with a product that looks like this.)
The Calvin Klein house describes forbidden euphoria as a younger interpretation of euphoria, which is a description I'd have to agree with. It lists top notes of sparkling mandarin, peach blossom, passion fruit, and iced raspberry; heart notes of  pink peony, tiger orchid, and jasmine; and base notes of cashmere woods, patchouli, and skin musk.
(And I'm sorry, but I cannot use the name "forbidden euphoria" without quotation marks or stylized text. I just can't do it. Please, for the love of grammar, capitalize your bloody product names, industry; you're driving me crazy.)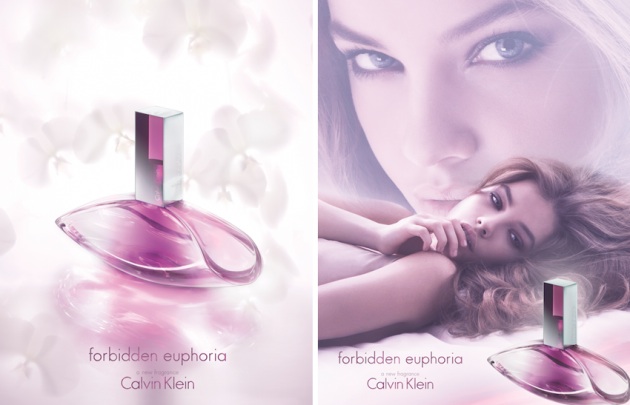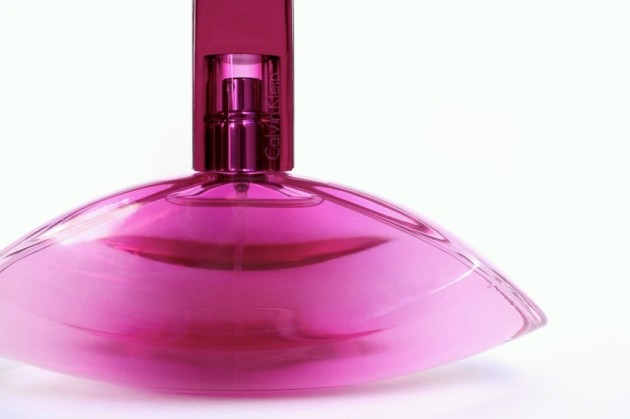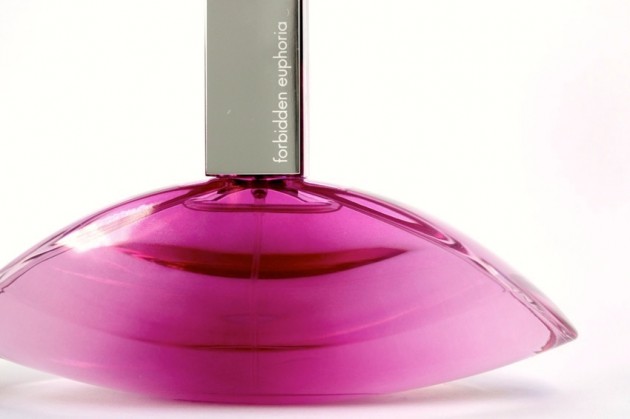 Silver to the sides, or silver to the front and back? The adverts say translucent facing forward, but I think the silver looks rather cleaner.
The bottom line
I get an indiscriminate kind of fruity from this scent; soapy and very sweet. ("Soapy" as in commercial soaps and shampoos, not "soapy" as in aldehydes and Chanel No. 5.) I think iced raspberry was a very apt description of it – it's like someone theorized a raspberry syrup that you'd make a tasty (and extremely alcoholic) drink from, created an absolu, and infused it into forbidden euphoria.
If I had to sum this all up in one word, I think I'd go with "tasty." (Because, seriously, it's more mouthwatering than any fragrance has a right to be.) I doubt forbidden euphoria will be winning awards for innovation anytime soon, but it plays its strengths – and (god help me), I kind of find myself accidentally enjoying it every now and again.
It toes the line of headache-inducing and I definitely have to use a light hand with this one, but it's also the perfect guilty pleasure. Let's keep that between the two of us, though, yeah? ;)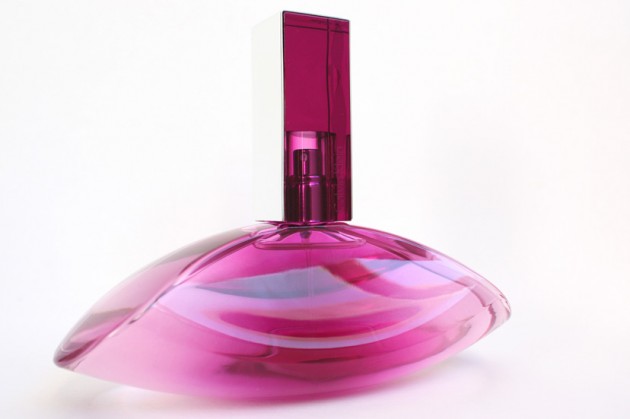 P.S. The bottle featured in this post is the 3.4oz size, which retails for $80 US / $102 CAD. It's also available in 1oz and 1.7oz, though, as well as a 200ml body cream, and (depending on where you are), a rollerball, so don't fret if you typically buy smaller bottles.
(If we're being honest, I wouldn't recommend the 3.4. It's rather too clunky in my tiny-person hands, and a little ungainly on my fragrance tray, despite the super-sexy shape.)