The product: Anatomicals No Old Bags Allowed Eye Gel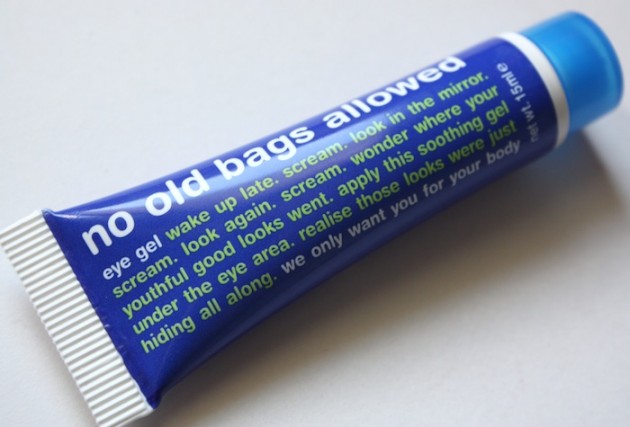 Hold your horses: I know the first reaction a few of you will have to this review is "Rae's not qualified to review eye gels! She's like, ten freakin' years old!" Well, I'm certainly not ten anymore, and many sleepless nights have given me some pretty major bags over the past few months. (Weekly all-nighters? Yeah, they'll mess your skin up pretty badly. Not recommended!)
I've tried a few eye gels and cremes before, but so far I still look like a bit of a zombie.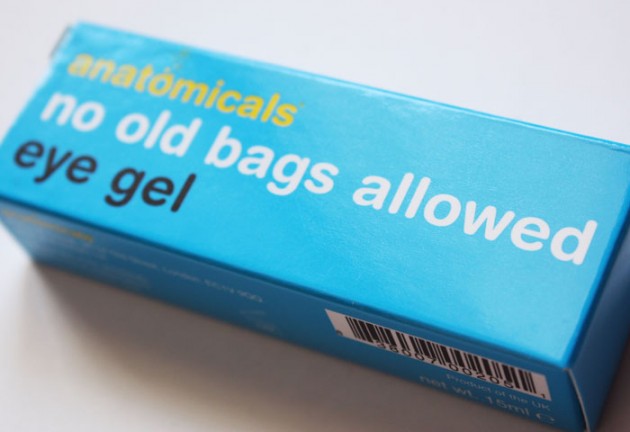 The product: No Old Bags Allowed has a light liquid-gel consistency. It sinks in very quickly, you don't have to use a lot, and it dries to a blissfully non-sticky finish. (Ever use an eye gel that left your undereyes kind of… tacky? Nice, it is not.) It does list perfume as the last ingredient, which I found a bit concerning at first — but the scent is super-light and dissipates almost immediately. (And more importantly, my super-sensitive eyes didn't protest.)
The ingredients: ('cone-free and paraben-free!)

But does it work? To a degree, I think it does. It's not the holy grail of eye gels (if such a thing exists, it's still hiding from me,) but especially for the price, I don't by any means regret trying it. It won't make bags disappear, but it seems to help "tighten" the eye area and make me look just a touch less tired, if that makes sense.
The verdict? I don't think it's leaps and bounds better than other eye gels I've tried, but it's also no worse — and the ones that I have tried so far (The Body Shop, Benefit, and Bliss,) have all cost a ton more! At just $4/£3 for 15ml, this cheeky tube of eye gel is definitely worth the pocket change. It's a fairly simple eye gel, so don't go in expecting a miracle — but it definitely does its job, particularly for the price.