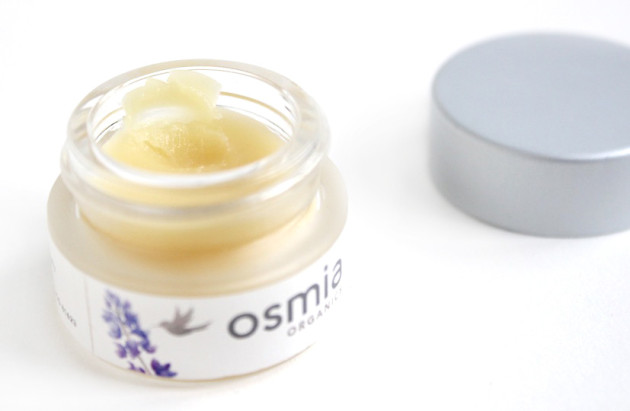 The product: Osmia Organics Honey-Myrrh Lip Repair
Have you met Osmia Organics yet? Until very late last year, I hadn't — and I wasn't all that interested in the line. Sure, their packaging was pretty, and everyone else seemed to love them, but niche organic lines seem to be a dime a dozen these days. What's one from the next one, right?
Wrong. Their range is relatively small, but everything is such a joy to use: naturally-fragranced, packaged in the most beautiful, basic glassware, and run by a small business owner in a mind-blowingly idyllic, dreamy, snowy Colorado nook. I'm a convert, you guys — and this lip balm is a big reason why.
Editor's note: Win this (and a few of my other Osmia favourites) here!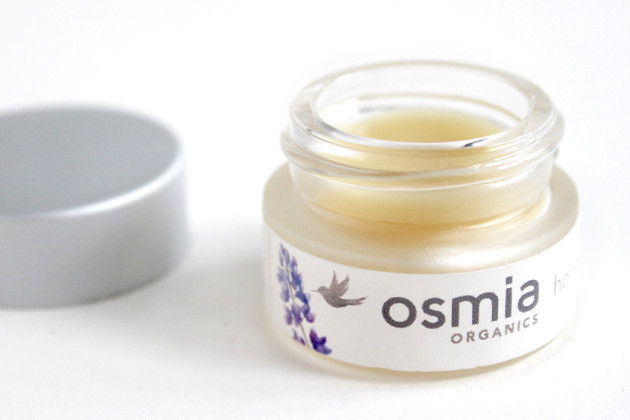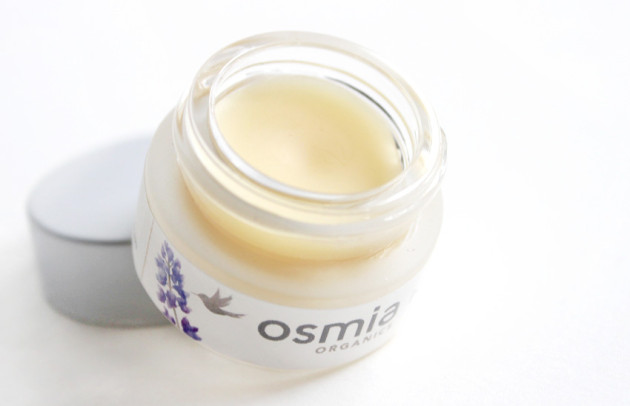 Osmia Organics Honey Myrrh Lip Repair review – unbroken surface
The formula: Osmia makes sure to note that this "Lip Repair" isn't quite the same as your standard lip balm. Formulated with organic manuka honey, myrrh extract, and lanolin, it's designed to heal dry and cracked lips in a matter of days.
The surface of your new balm needs to be "broken" with the tip of your finger or the back of your fingernail before use (it forms a stiff layer after being poured and cooled, but no product needs to be removed or wasted), which I think is just the coolest thing — as a lip balm addict, anything new and different is always interesting to try. Once broken, the balm is much softer and more emollient, working easily into the lips and forming a comforting layer.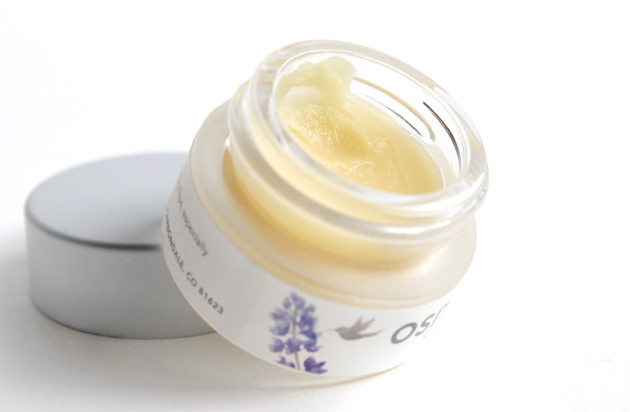 Osmia Organics Honey Myrrh Lip Repair review – broken/cracked surface
The wear: The Honey-Myrrh Lip Repair isn't lipgloss-sticky, but it sticks around. While drugstore lip balms like Maybelline Baby Lips & Labello/Nivea have me reaching to re-apply every hour (minimally), Osmia's Honey-Myrrh Lip Repair lasts from meal to meal, and wears well overnight. Yes, you can really feel it on your lips (it's a lot tackier than a a tube of Chapstick), but honestly?
For lads & ladies with dry lips, you want your lip balm to stick — that's what makes it great.
The (impressively short and natural) ingredients list:
Castor Bean Oil, Beeswax, Cupuacu Butter, Lanolin, Manuka Honey, Tamanu Oil, Gmo-Free Vitamine E Oil, Wild Myrrh Co2, and Bergamot FCF Essential Oil.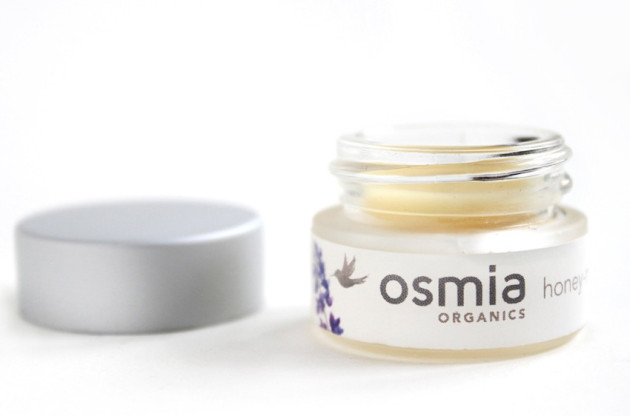 But does it work?: In one, short, succinct word, yes.
While not quite as effective for my lips as Bobbi Brown's Lip Balm SPF 15 (my go-to overnight lip hydrator and healer), Osmia's Honey-Myrrh Lip Repair comes a very close second. It wears just a fraction shorter and doesn't prime lips in the same way, but I think a lot of people will be more comfortable with Osmia's version. It's a little less sticky and much more natural, carrying a strong herby/natural scent rather than a strong synthetic one. I love my Bobbi Brown lip balm, but it feels like slapping a chemical salve on my lips — not exactly pleasant.
Of all of the lip balms I've ever tried (and I've tried a lot), this is my second favourite, falling very close behind the first. It is hands-down the best natural option, and works wonders on very dry, cracked lips!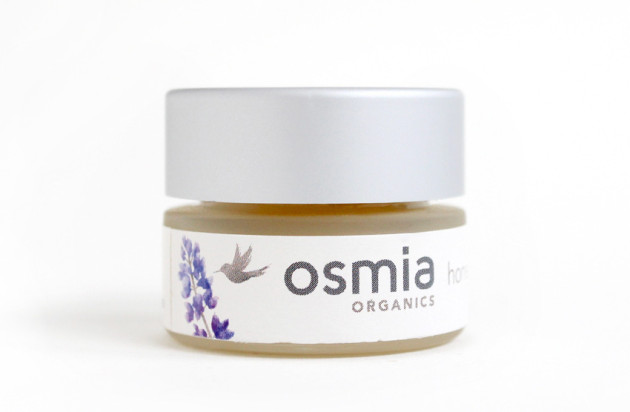 The verdict?
If you're on the market for a new lip balm, please give Osmia's a try. It's a little pricy at $22 USD, but it hydrates and nourishes the lips quickly and beautifully, touting an ingredients list so clean that it's well worth the cost.
Don't get me wrong: I wear a ton of non-organic, non-natural products on my lips, but it just feels kind of weird to be doing it overnight. Like, where do nighttime lip balms go? You're not wiping them off before dinner, but they're almost always gone by the morning — are they all over your pillowcases? Did they seep into your skin while you slept? Did you eat them by accident while dreaming about cake?
Osmia's Honey-Myrrh Lip Repair won't disappear in the dead of night like some sketchy one-night stand, and the most frightening thing in it comes from sheep. I wish it was less strongly scented, but aside from that? Colour me impressed.
Availability: $22 USD/0.28 oz at Osmia Organics. International shipping available!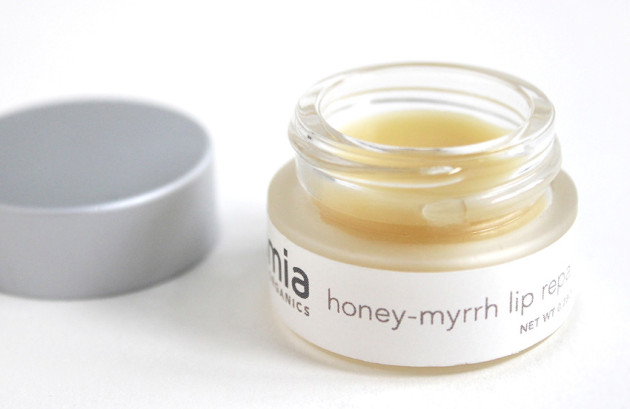 Osmia Organics Honey-Myrrh Lip Repair review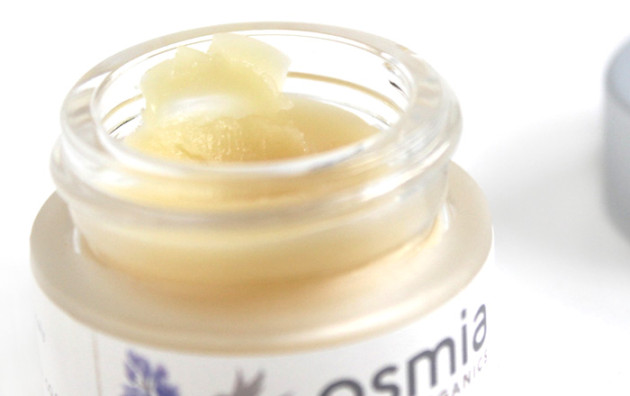 Osmia Organics Honey-Myrrh Lip Repair cracked, up-close…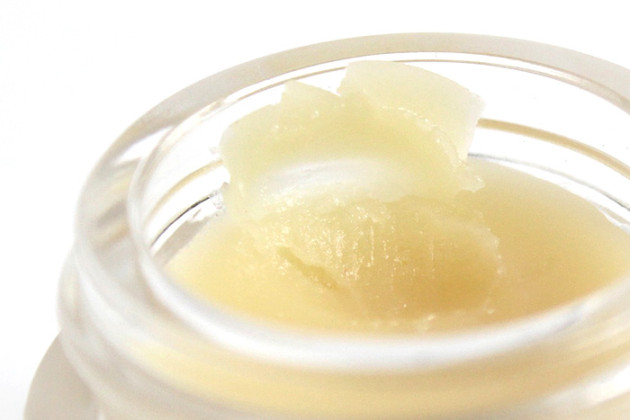 ..and even closer