Tuesday, December 17, 2013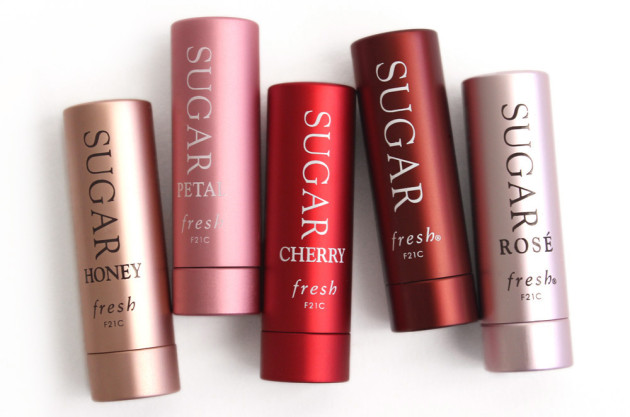 The product: Fresh Sugar Kisses Mini Lip Trio
   ↳ Sugar Petal, Sugar Honey, and Sugar Cherry Tinted Lip Treatment SPF 15
Okay, so: it's the week before Christmas and you:
a) Get a last-minute invite to a holiday girl's-night-slash-secret-santa gift exchange,
b) Find out that your distant cousin, twice removed, is going to be at your parents' this year (and you need a gift for her),
c) Realize that your sister's gift, while pretty cool, could use an extra dose of awesome.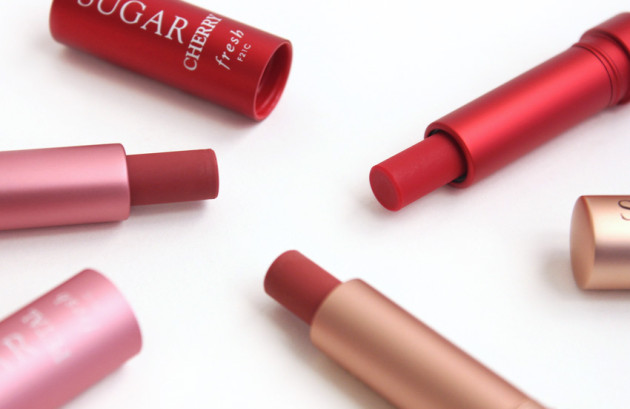 In any of these scenarios, I'm going to go right ahead and recommend that you snag a Fresh Sugar Kisses Mini Lip Trio from Sephora on your way to… wherever it is you're headed. I'm a sucker for a Fresh lip balm, so this trio of three minis (which comes in a super-easy-to-wrap box) is a pretty no-fail gift idea, as far as I'm concerned.
The shades: The Sugar Kisses Mini Lip Trio contains Sugar Petal, a neutral-pink with a touch of brown, Sugar Honey, a medium-nude with a hint of red (for warmth), and Sugar Cherry, an absolutely gorgeous sheer red. The first two are nice, but Sugar Cherry gives the lips a really lovely, natural-looking, "just bitten" effect — perfect for the winter.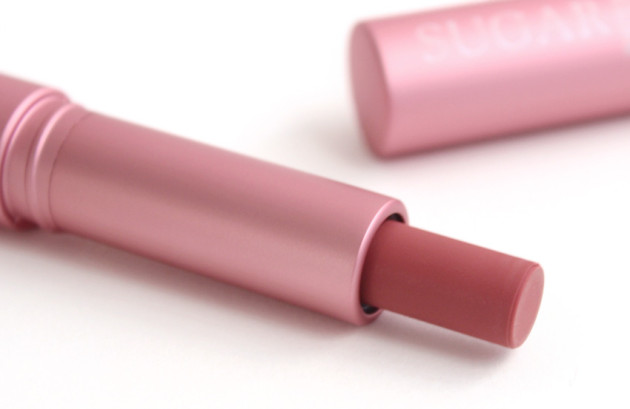 Fresh Sugar Petal Tinted Lip Treatment SPF 15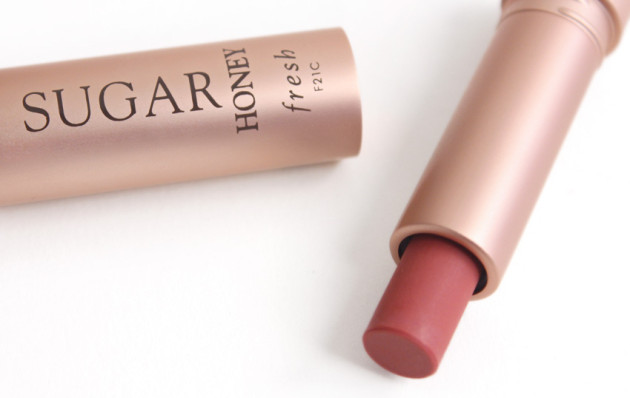 Fresh Sugar Honey Tinted Lip Treatment SPF 15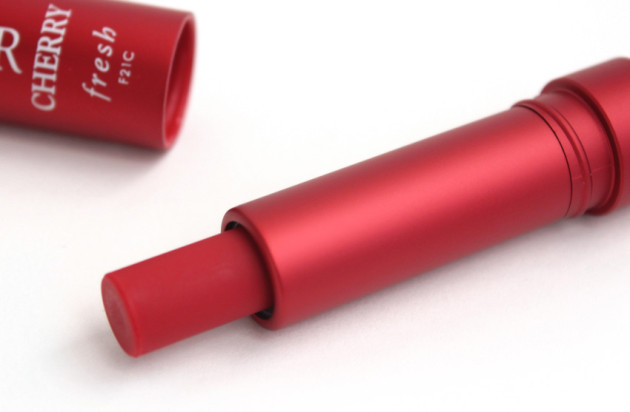 Fresh Sugar Cherry Tinted Lip Treatment SPF 15
The Fresh Sugar Lip Treatment SPF 15 formula: The first thing to note about the Fresh Sugar Lip Treatments is that, while they have a fairly moisturizing formula, they're very soft and slippery. It makes the balms comfortable, but also prone to sliding around on your lips & smooshing during application.
Despite being formulated with hydrating oils like meadowfoam seed oil, avocado oil, and jojoba, these aren't the best choice for an actual "lip treatment" (as opposed to a tinted balm). They're hydrating while worn, but need to be reapplied every two hours or sooner, making them a good choice for daytime wear but not a great one for overnight. The Fresh Sugar Lip Treatment formula has a nice, lemony-sweet scent — sugary without being overpowering and just citrusy enough.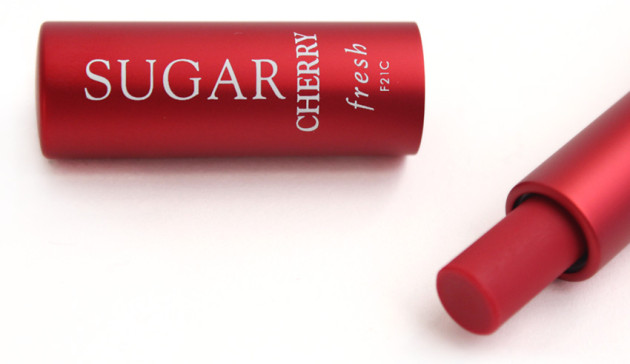 The tint: Because of the slippery formula, these balms need a minute to sink in. Once they do, however, the colour stops sliding around on my lips, and acts more like a balm with a very light stain. I've tried four shades of this balm (Honey, Cherry, and Petal, all featured here, as well as Rose), and all of them deliver exactly the amount of pigment I'd want from a tinted lip balm — more than a Clinique Chubby Stick, less than a lipstick, and definitely enough to give my lips some really natural-looking colour. 
The packaging: Mini sizes of products usually lose out when it comes to packaging, but the great thing about Fresh lip balms is that they don't. Just as solid, luxe, and well-made as the full-sized versions, mini Fresh Sugar lip balms feature the same coated-metal tube & twist-closure bottom as their full-sized counterparts.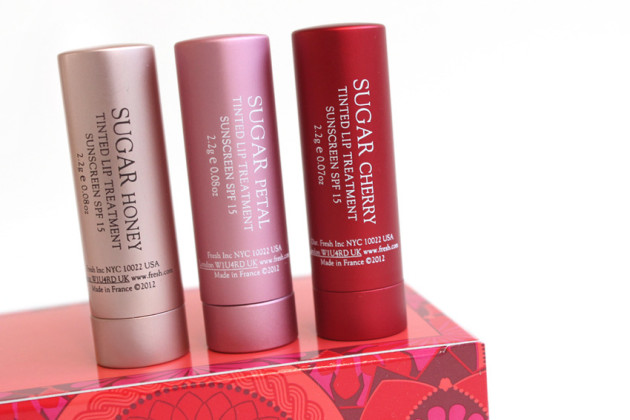 The verdict?
I have a no-longer-secret soft spot for Fresh Sugar lip balms, and I think that this set is a worthwhile indulgence. No one needs a 20-something dollar lip balm, but the Sugar lip balms are a really nice treat. The scent is close to lemony biscuits and far from lemon cleaner, and the light tints really do do a great job of adding colour without making it obvious that you're wearing makeup.
To note, these mini lip balms are 0.08 oz, the same size as last year's BI birthday gifts. Buying just one full-sized tube is a little cheaper (in listed price, not cost per ounce), but I actually prefer these small(ish) tubes — they're perfect for throwing into your handbag, and three shades is always more fun than one!
Availability: $28 USD/$32 CAD for the Sugar Kisses Mini Lip Trio (3 x 0.08 oz), or $22.50 USD/$26 CAD for a full-sized tube (0.15 oz).
Keep reading for more photos & individual ingredients lists!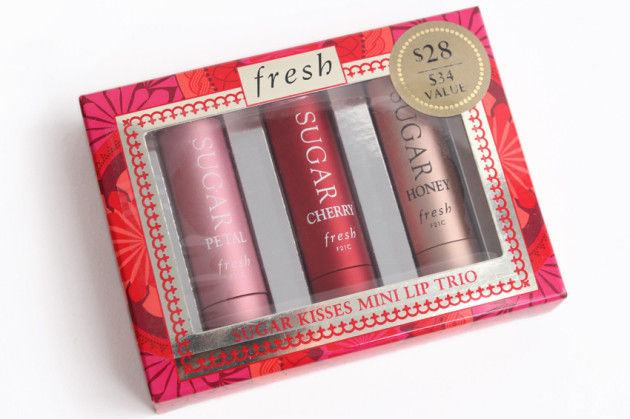 Fresh Sugar Kisses Mini Lip Trio set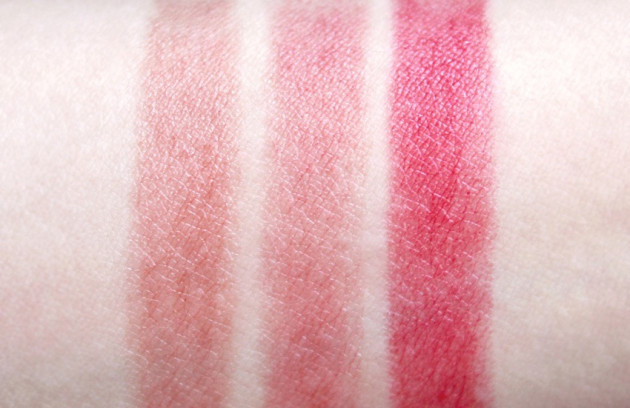 L-R: Fresh Sugar Honey, Sugar Petal, and Sugar Cherry Tinted Lip Treatment SPF 15 swatches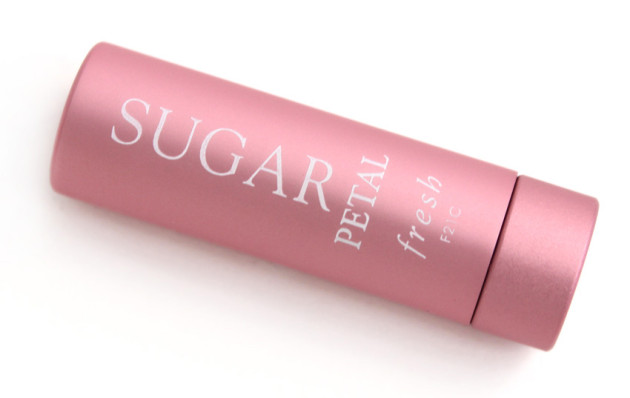 Fresh Tinted Lip Treatment SPF 15 in Sugar Petal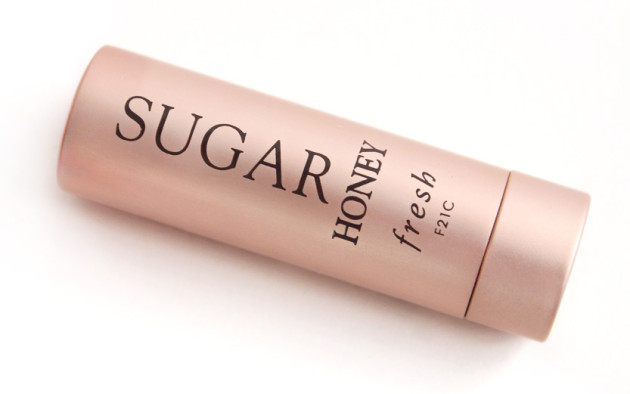 Fresh Tinted Lip Treatment SPF 15 in Sugar Honey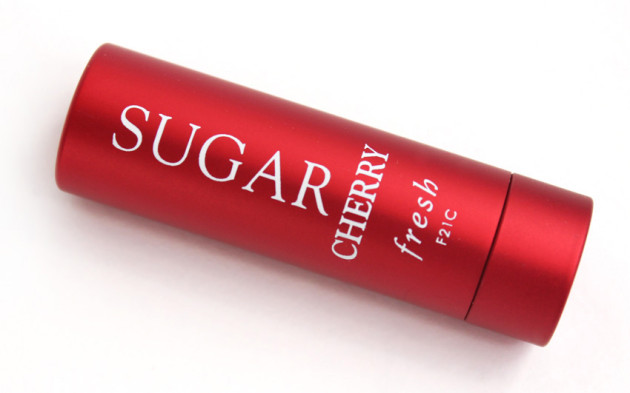 Fresh Tinted Lip Treatment SPF 15 in Sugar Cherry
The Fresh Sugar Petal Tinted Lip Treatment Sunscreen SPF 15 ingredients: [EXPAND Click to view]
Beeswax, Jojoba Seed Oil, Castor Seed Oil, Hydrogenated Olive Oil Decyl Esters, Grape Seed Oil, Fragrance, Carnauba Wax, Avocado Oil, Meadowfoam Seed Oil, Passiflora Incarnata Seed Oil, Sucrose Tetrastearate Triacetate, Black Currant Seed Oil, Sunflower Seed Oil, Retinyl Palmitate, Ascorbyl Tetraisopalmitate, Tocopherol, Ascorbyl Palmitate, Ci 77891 (Titanium Dioxide), Ci 77491 (Iron Oxides), Ammonium Glycyrrhizate, Polyglyceryl-3 Polyricinoleate, Ci 15985 (Yellow 6 Lake), Ci 15850 (Red 7 Lake), Vanillin, BHT, Aluminum Hydroxide, Propyl Gallate, Ci 42090 (Blue 1 Lake), Limonene, Citral, Benzyl Alcohol, Linalool, Geraniol. [/EXPAND]
The Fresh Sugar Honey Tinted Lip Treatment SPF 15 ingredients: [EXPAND Click to view]
Beeswax, Jojoba Seed Oil, Castor Seed Oil, Hydrogenated Olive Oil Decyl Esters, Grape Seed Oil, Fragrance, Carnauba Wax, Avocado Oil, Meadowfoam Seed Oil, Passiflora Incarnata Seed Oil, Sucrose Tetrastearate Triacetate, Black Currant Seed Oil, Sunflower Seed Oil, Retinyl Palmitate, Ascorbyl Tetraisopalmitate, Tocopherol, Ascorbyl Palmitate, Ci 77891 (Titanium Dioxide), Ci 77492 (Iron Oxides), Ci 77491 (Iron Oxides), Ammonium Glycyrrhizate, Ci 15850 (Red 7 Lake), Polyglyceryl-3 Polyricinoleate, Ci 77499 (Iron Oxides), Vanillin, BHT, Propyl Gallate, Limonene, Citral, Benzyl Alcohol, Linalool, Geraniol. [/EXPAND]
The Fresh Sugar Cherry Tinted Lip Treatment Sunscreen SPF 15 ingredients: [EXPAND Click to view]
Beeswax, Castor Seed Oil, Jojoba Seed Oil, Hydrogenated Olive Oil Decyl Esters, Grape Seed Oil, Fragrance, Carnauba Wax, Avocado Oil, Meadowfoam Seed Oil, Passiflora Incarnata Seed Oil, Sucrose Tetrastearate Triacetate, Black Currant Seed Oil, Sunflower Seed Oil, Retinyl Palmitate, Ascorbyl Tetraisopalmitate, Tocopherol, Ascorbyl Palmitate, Ci 15850 (Red 7 Lake), Ci 19140 (Yellow 5 Lake), Ci 15850 (Red 6), Ci 77491 (Iron Oxides), Ammonium Glycyrrhizate , Ci 77891 (Titanium Dioxide), Polyglyceryl-3 Polyricinoleate, Vanillin, BHT, Propyl Gallate, Aluminum Hydroxide, Ci 42090 (Blue 1 Lake), Limonene, Citral, Benzyl Alcohol, Linalool, Geraniol. [/EXPAND]