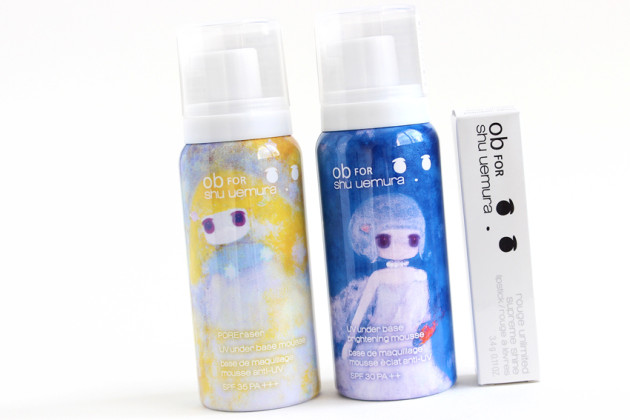 ↳ Brightening Mousse SPF 30 PA ++ in Pink Purple
   ↳ POREraser Mousse SPF 35 PA +++ in Beige
I've been trying to put together a review of the YSL Tie and Dye topcoats all week, but — no dice. (I think I took way too many photos; seriously.) In the meantime, here's a review for something that really blew me away this month!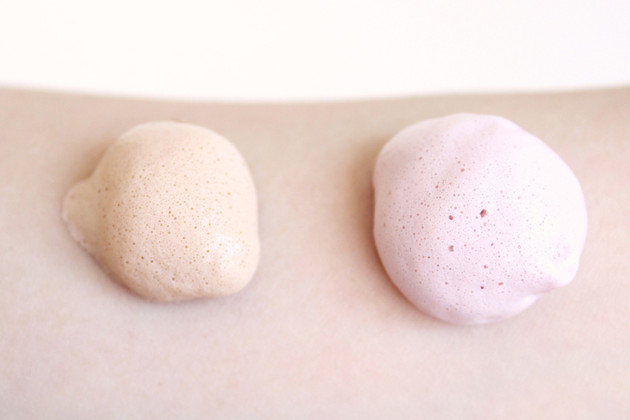 (how cute are these?!)
The POREraser UV Under Base Mousse in Beige
To start off with: shu's Beige Under Base (SPF 35 PA +++) is made to even out skin tone and texture, reduce redness, and minimize the appearance of pores.
It's kind of like — you know how makeup primers tend to be a clear layer of silicones, while paint primers are there for adhesion and tint? The POREraser is more like the latter, not only filling pores but creating a more even tone, too. I'd say its pore-filling prowess is less than a heavy "filler" (think Benefit The POREfessional), but it's worth it for the lighter feel and silicone content.
Try this if: You're looking for something to even skin tone without "flattening" the face. Use before your foundation —  or instead of, if you're around a NW20-30!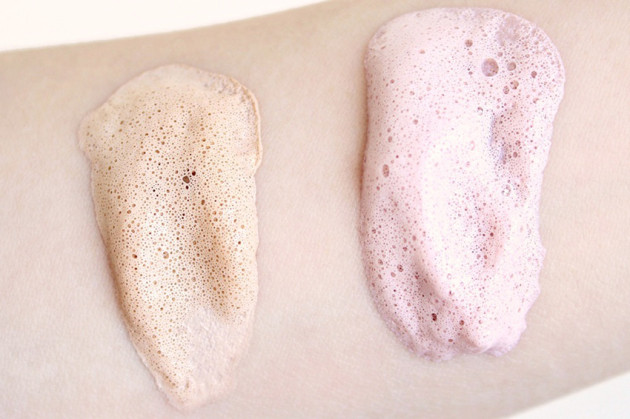 shu uemura UV under base – POREraser/beige (L) and brightening/pink purple (R)
The UV Under Base Brightening Mousse in Pink Purple
Here's the one that really steals the show for me. Like the POREraser Under Base, the Brightening Mousse was created to be a weightless way to even out skin tone and texture — but with a brightening benefit, too, both in immediate effect and long-term reduction of imperfections.
With SPF 30 PA ++, this primer is phenomenal at brightening up a fair to medium skintone (perhaps a deep skintone, too, if used sparingly), and works particularly well with yellow undertones. You definitely need to spread this one out (the shu website recommends applying a walnut-sized amount with their pentagon sponge) and make sure to cover all exposed skin, but it is absolutely, definitely worth it.
Try this if: You already have a sheer-to-medium foundation that you love, but want something to help "pick up" your complexion without relying on shimmer or sheen.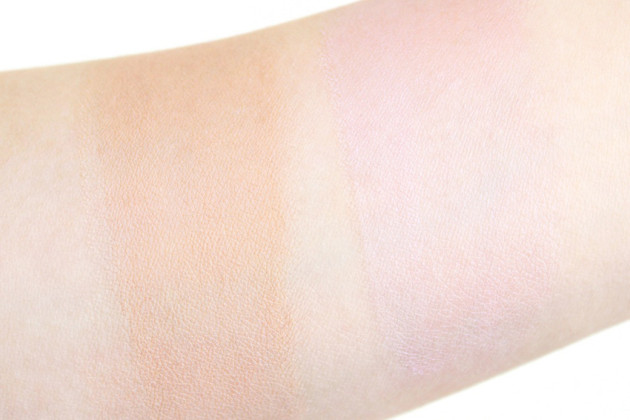 shu uemura UV under base swatches – beige (L) and pink purple (R)
The verdict?
shu uemura's POREraser Under Base is great, but the Brightening Mousse — wow. From the spot-on Pink Purple shade (which really does have pink-purple undertones) to the wonderfully unique mousse format, it absolutely blew me away. 
I don't feel like these are absolute must-haves (perhaps because I personally don't wear an all-over base), but at $46 CAD, the shu bases are a very novel, wonderfully packaged product.
Availability: At Holt Renfrew & select Sephora boutiques (Canada); shuuemura.co.uk (United Kingdom). The bases are permanent, but the packaging featured here is limited edition!
See the brightening mousse: featured in this OB for shu uemura teaser post & used as a base for this blue eyeliner look.
The POREraser Beige ingredients
Talc, Ethanol, Silica, Propane, Isobutane, Dimethicone, Crosspolymer Methicone, Ethylhexylglycerine, Linalool, Citronelle, Benzyl Alcohol, Mica, Aluminum Oxide.
Transcribed from Diary of a Product Junkie