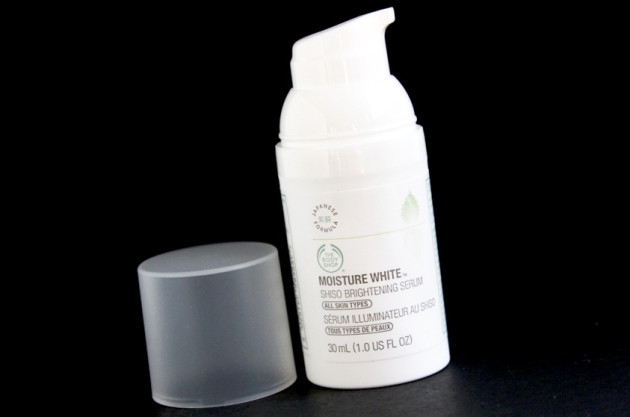 The product: The Body Shop Moisture White Shiso Brightening Serum
I can't review this one for you. I'll be right upfront about it: I would love to, because I think it's going to have a huge pull as part of a range of Asian skincare products brought over to the North American market, but I can't — it's full of silicones.
So, instead, let me tell you a little bit about this one.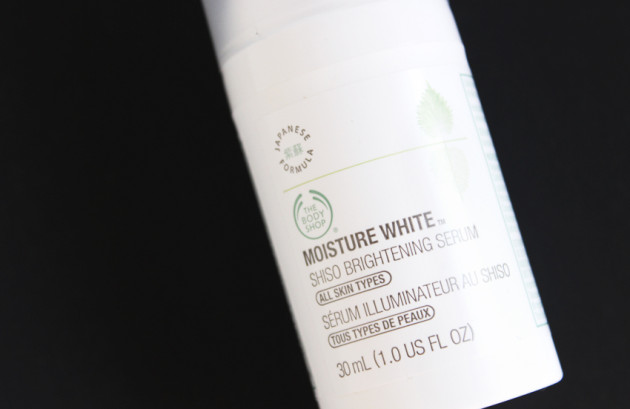 The Body Shop's Moisture White Shiso range contains six products (including this brightening serum), all of which contain hand-harvested Community Fair Trade aloe vera gel from Guatemala. The serum is made to be invisible and non-sticky, suitable for all skin types, and features the skin-brightening shiso plant (perilla leaf extract), liquorice, and vitamin C to add radiance to the skin.
I'm not a fan of whitening products, and I'm a little saddened by the fact that The Body Shop is perpetuating the whiter-is-better stereotype. However, I also recognize that it's something that's becoming more & more common in today's market, and I would rather see theNotice's readers turned toward a gentle, community-oriented, FDA-approved serum than order something from Asia that they may not be able to read the packaging for — something I'm personally very wary of, myself!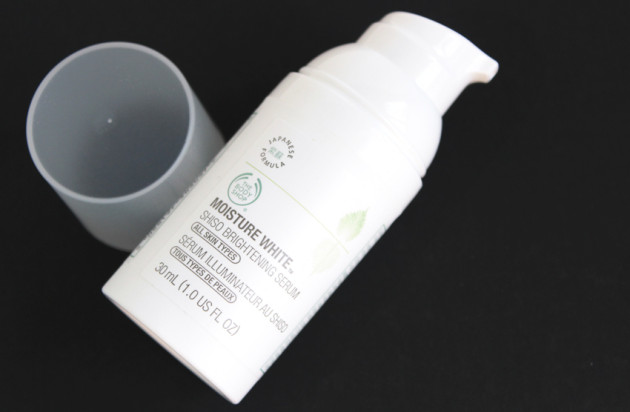 I'm not a fan of whitening itself, but whitening serums can be a great way to safely manage hyperpigmentation, too — so this could be a good option for you even if you aren't looking to lighten your skintone. And, of course, it's great to see the North American market extend past western ideals of beauty, even if I still hope for the day when everyone can be happy with their own skintone!
The Moisture White range was formulated in Japan, which I think is very cool — and I hear the Moisture White BB Serum Inside ($25 CAD, not available in the US) BB cream is very pale, which speaks to my inner (okay, outer) pale girl.
Availability: $36 USD/$36 CAN online & in-store at The Body Shop. The Moisture White range is available starting at $15 CAD.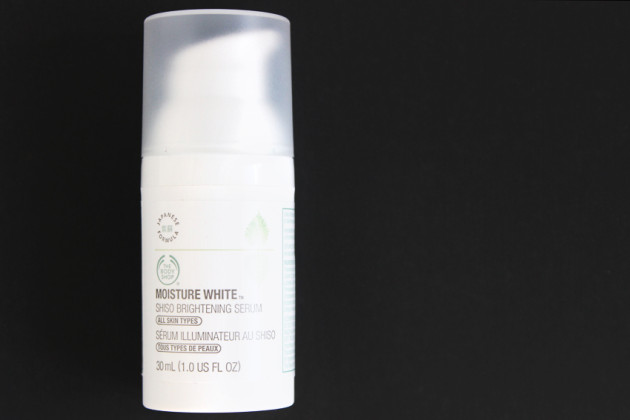 The Body Shop Moisture White Shiso Brightening Serum ingredients:
Water, Glycerin, Cyclopentasiloxane, Squalane, Butylene Glycol, Caprylic/Capric Triglyceride, Magnesium Ascorbyl Phosphate, Dipropylene Glycol, Behenyl Alcohol, PEG-100 Hydrogenated Castor Oil, Dimethicone, Sesamum Indicum (Sesame) Seed Oil, Sodium Stearoyl Lactylate, Glyceryl Stearate, Sodium Citrate, Phenoxyethanol, Xanthan Gum, Methylparaben, Polyglyceryl-10 Pentastearate, Tetrasodium EDTA, Fragrance, Batyl Alcohol, Alcohol, Dimethicone/Vinyl Dimethicone Crosspolymer, Butylparaben, Propylparaben, Dipotassium Glycyrrhizate, Aloe Barbadensis Leaf Juice, Butylphenyl Methylpropional, Citronellol, Glycyrrhiza Glabra (Licorice) Root Extract, Hydroxyisohexyl 3-Cyclohexene Carboxaldehyde, Hexyl Cinnamal, Perilla Ocymoides Leaf Extract.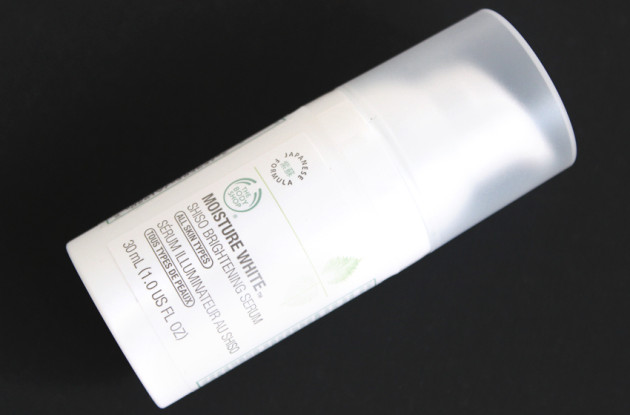 The Body Shop Moisture White™ Shiso Brightening Serum (30 ml/1 oz size)