A little while ago, a few of my fellow bloggers and I stumbled into a rather interesting situation. (Liz, I'm totally blaming you for this one.) It involved six bloggers, a thread of very strange tweets, and one very important thing we all have in common: the ability to create lipstick lemmings in a super-stealthy manner.
(Because honestly, why would you need a mask if you're not doing it stealthily?)
Of course, when you've always wanted to do mask makeup and the opportunity is dropped into your lap like this – well, you can't just pass it up.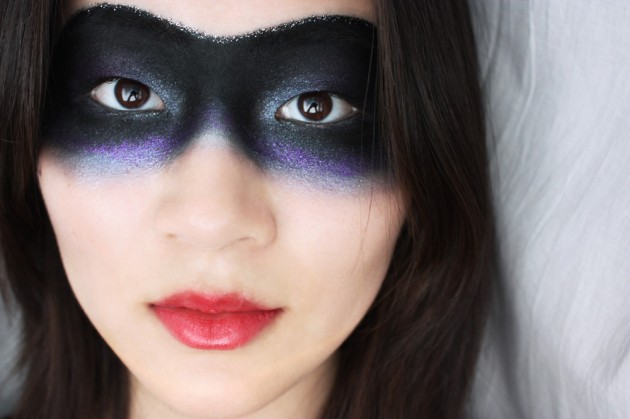 As I write this, I still haven't seen the other five masks – so I'm just as excited as you are to see  how everyone else interpreted the challenge! To check out more black-mask-red-lip FOTDs, head on over to Eye Heart It, Beauty Reflections, Glitter Geek, call it beauty., and Makeup Morsels.
I'm willing to bet that Arianne and Dani (Glitter Geek and call it beauty., respectively) will be the only other ladies posting full-face shots, but hey, a girl can hope! :P Full-face or not, I know I'm in good company for this one, and I hope you enjoy (all of) the looks.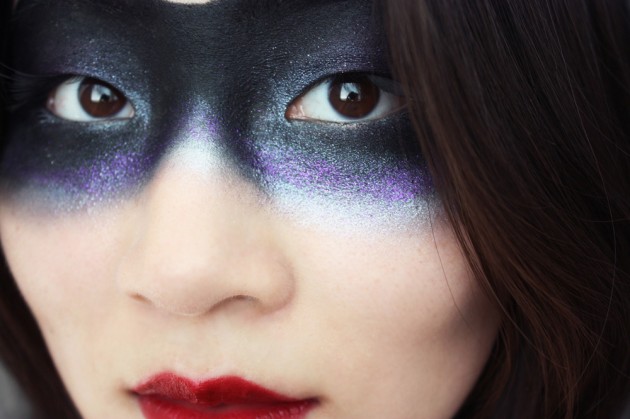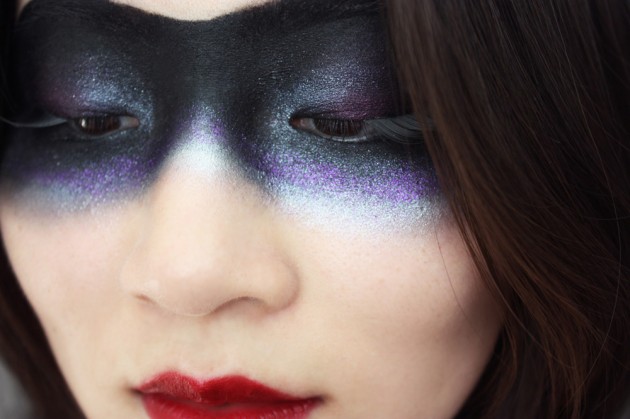 I actually created two versions of this, which in retrospect, was actually a terrible idea. Because now I want to just to share tons and tons of photos of each, which just… well. It's a lot of images. I've chosen just nine images in total to upload, which is a feat in its own right!
One look (directly above) features strong, opaque red lip, and a half-lash of falsies – I went with Annabelle Adrenaline for the red, because all of my other favourites have long since been discontinued – while the other (at the top of the post) showcases a more translucent, glossy lip, with a bit of glitter along the top of the mask.
(Which one do you like more? I think I prefer the lighter lip, with the glitter liner and without the lashes.)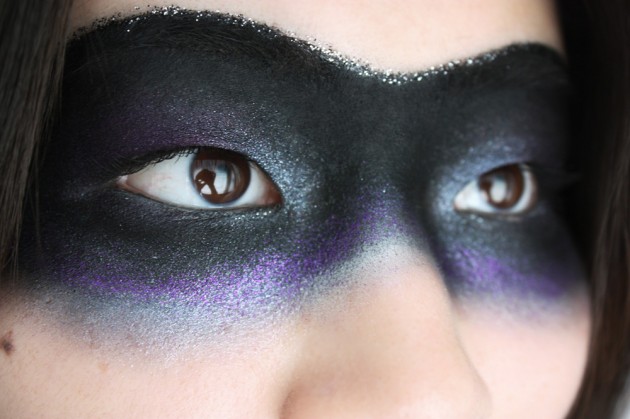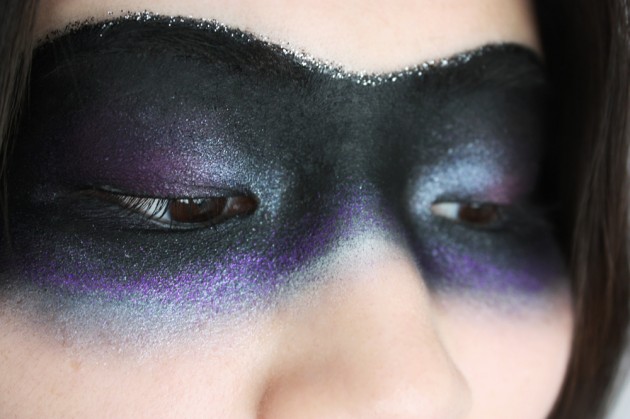 Products used: eyes and mask
Eyes: MAC Pigments in Grape, Fuchsia, and Lovely Lily, MAC Powerpoint Eye Pencil in Silverplate, Annabelle Le Big Show mascara in Black
Mask: Annabelle Smoothie Extreme Longwear Eyeshadow Pencil in Licoriche, Urban Decay 24/7 Glide-On Eye Pencil in Zero, Annabelle Glitter Eyeliner in Blast Off
Glitters: FaceFront Ultra-Steel Finish Artistic Pigment in Silver Fox, Coastal Scents Purple Punch Glitter 0.004 particle size (would not recommend!)
Products used: lips and cheeks
Lips: Annabelle Rouge Velours in 210 Adrenaline, Stila Lip Glaze in Brown Sugar (applied sparing after blotting)
Cheeks: Smashbox Matte Eye Shadow in Smoke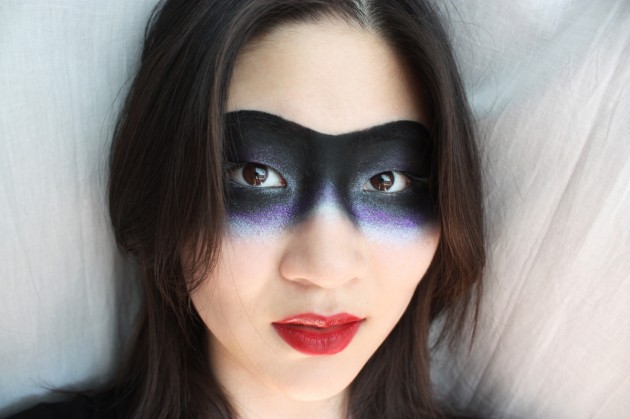 Details, details… a few more shots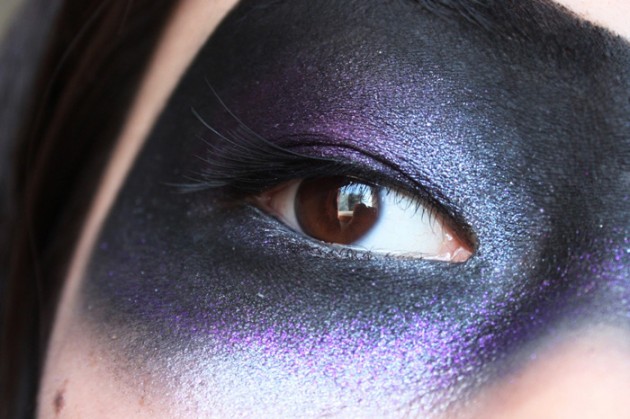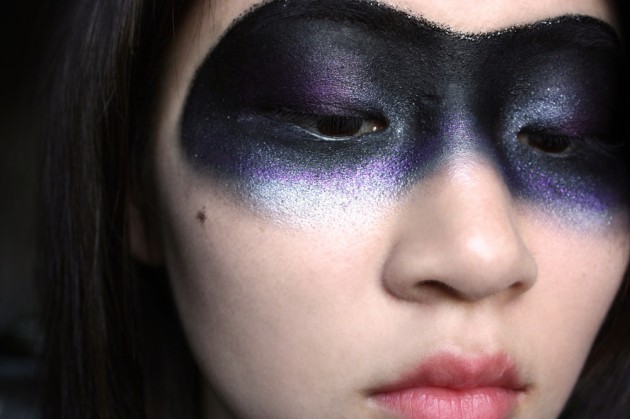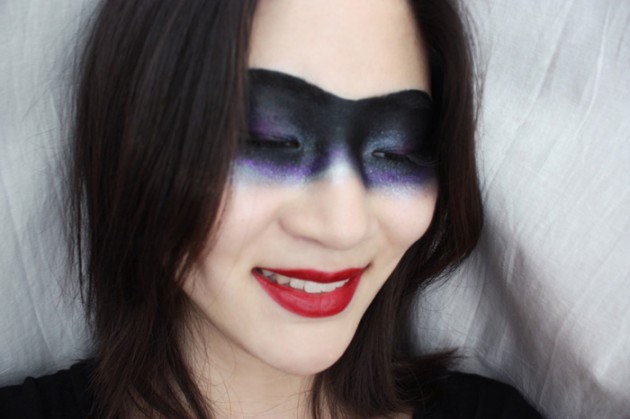 (It's hard not to break a smile when you're quite literally dressed up as glittery, shimmery, red-lipped bandit and taking photos of yourself in thirty-degree weather!)
—
Okay, that's it for today. I'm not sure about you, but I'm definitely feeling rather image-overwhelmed :P Hope you liked the look, and make sure to check out my fellow Bandits' masks as well! xx