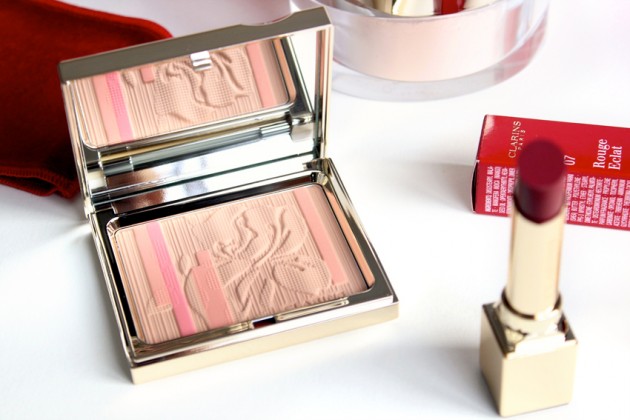 The product: Clarins Palette Eclat Face Blush & Powder
I'm not always the best at reviewing things right when they come out, and the Face & Blush Powder in the Clarins Rouge Eclat collection was no exception.
That said, the tardiness is entirely my own issue — it says nothing (nothing!) about the product itself.
Like many of Clarins' other limited edition face powders, the Palette Eclat is a gorgeously intricate pressed powder marketed as a "Face & Blush Powder" — that is, you can use it sheerly over your entire complexion, or focus the product on the cheeks as a highlighter, bronzer, or blush (depending on your skintone) with a denser brush.
Because I'm quite pale, I tend to use face-and-blush duos just on my cheeks, as warm blushers — you can see it used as a contouring blush in:
(If you have a medium-deep complexion, Karen's review on this blush at MABB is a can't-miss!)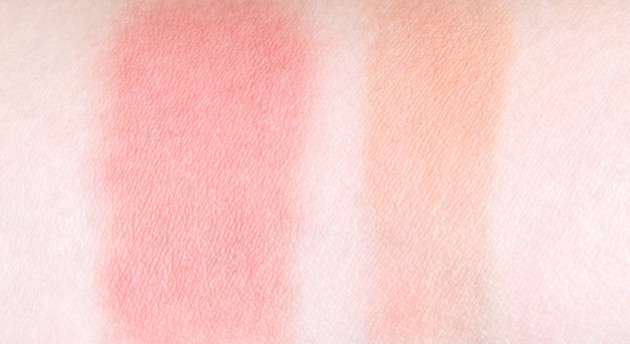 Clarins Palette Eclat swatches: more pink vs. just beige.
I'm in love with the scent of this season's Clarins powder (it's very noticeable, for a face powder; exquisitely blended powder and violets), but it's definitely not the only thing to be smitten with. The matte finish blends in seamlessly with the skin, and the strips of colour are insanely pigmented — I thought they'd be an overspray, but they go right down & really influence the tone of the powder.
With a focus on the coloured strips, you'll get an intense pink cheek, with a little bit of a yellow/orange lean; with only the solid beige, you'll get a soft, natural peach.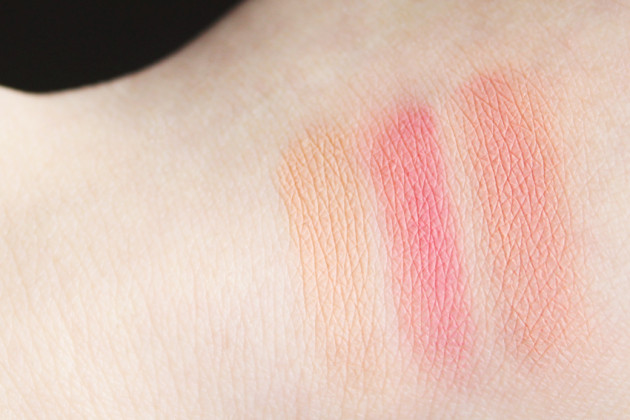 Clarins Palette Eclat Face Blush & Powder swatches: just beige / just pink / whole pan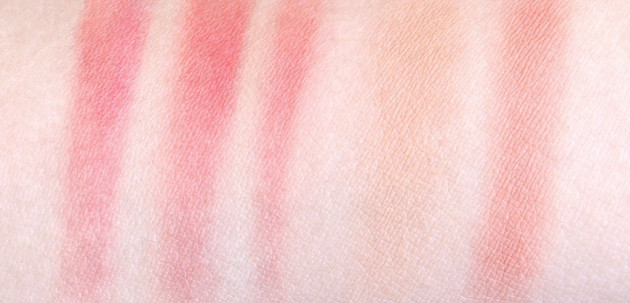 Clarins Rouge Eclat collection Face Blush & Powder swatches
Here's the stunner, though: with a swipe across the whole pan, you'll see a gorgeous peachy pink. (Imagine what would happen if you took a drop of fluorescent hibiscus pigment and diluted it with 10 drops of neutral-warm skin tones… and then add an extra five points for awesome.)
(FOR AWESOME.)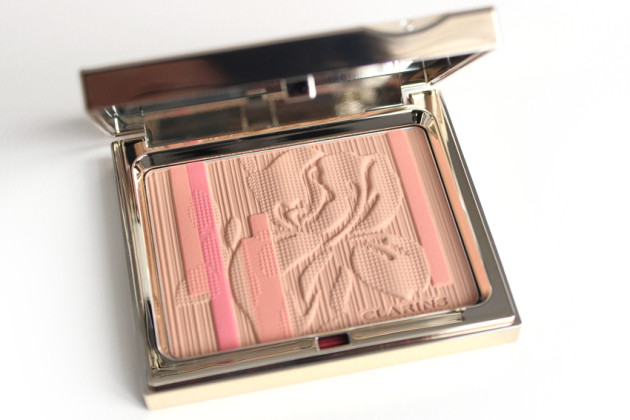 The verdict?
If I could give a verdict as, "eeeee!", I totally would. I am crazy about this powder — the price is reasonable for what you're getting; the pigmentation and versatility are gorgeous; the design and scent are perfection. 
I find it hard to write reviews for products wherein I literally cannot find a single bad thing to say about the product (because there's a dearth of such products, not because they're hard to write), but… well, this is one of the few. You need this. 
Get it at:Nordstrom; Clarins counters. $35 USD/$40 CAD.
P.S.: See all of our Clarins Palette Eclat features here!