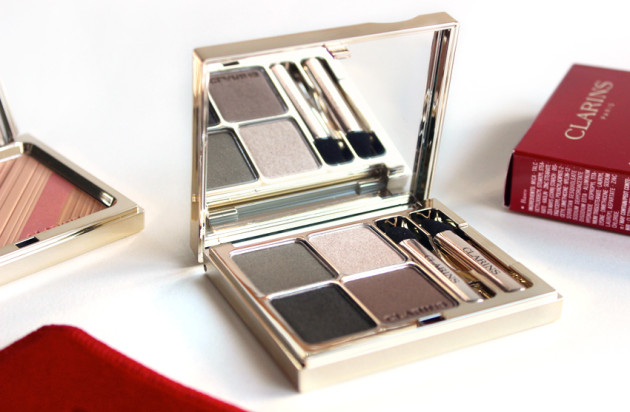 The products: Clarins Ombre Minérale 4 Couleurs (Eye Quartet Mineral Palette Long-Lasting) in 11 Forest
Like the Clarins Graphic Expression Face & Blush Palette reviewed earlier this week, the Forest eyeshadow quad launched in Clarins' Graphic Expression Fall 2013 colour collection. A new addition to the permanent range, it's a little less gift-able than the powder, but no less lovely.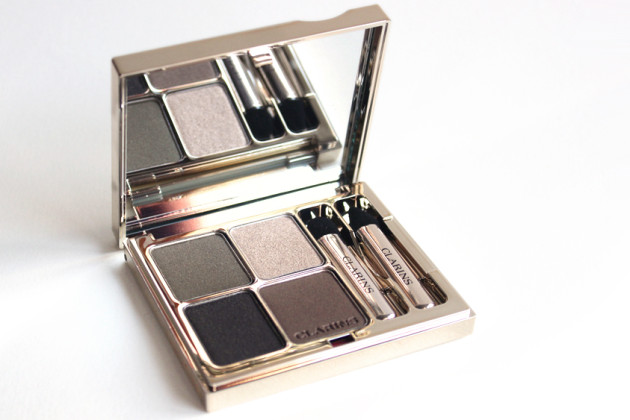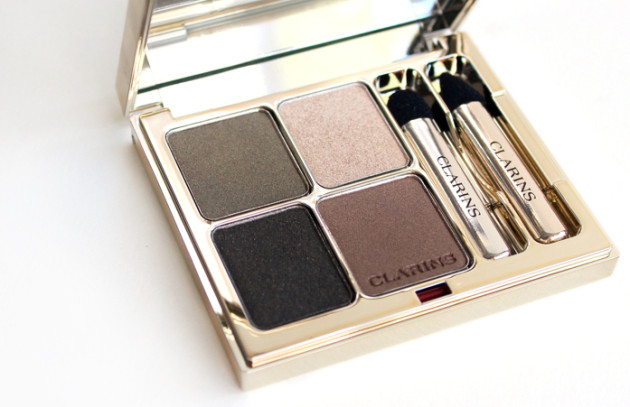 The formula, texture, and pigmentation: Introduced this August into Clarins' permanent range, Forest is a beautifully earthy quad. As a sheer eyeshadow/mixed textures lover, I've always been a big fan of the Clarins Eye Quartet Mineral Palettes, though they're not for everyone.
Like the other products in the Eye Quartet range, Forest features three hard-but-smooth eyeshadows that lend very well to seamless blending and medium-intensity looks, while layering well over primer or foiling works well to add colour density. I find the shades to be a little butterier and more pigmented than some of the other Clarins quads (the darkest shade in particular), and love that they all have a different finish.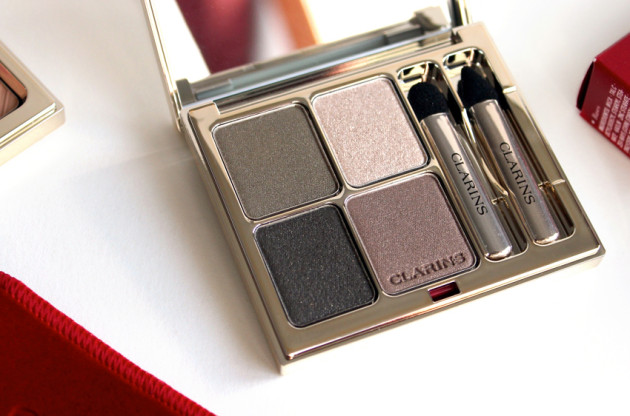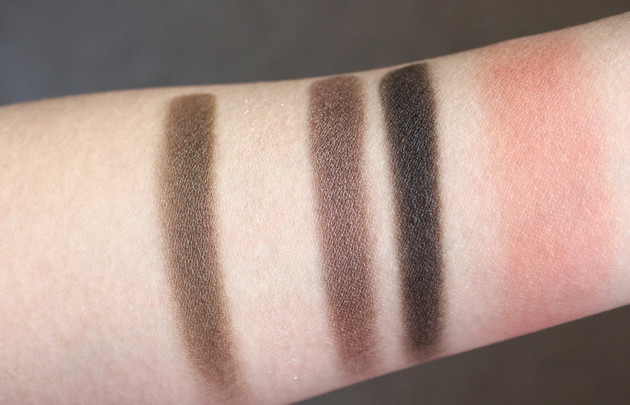 Swatched L-R: Clarins Eye Quartet Mineral Palette in Forest (4), Clarins Face & Blush Powder in Graphic Expression (wide)
The shades: In the top row Forest features a really interesting, almost dirty khaki with a bit of very fine microshimmer and a very sheer, white-and-gold shimmer (tiny yellow-gold microshimmer and slightly larger white reflects suspended in a transparent base). On the bottom, it features a green-based charcoal with noticeable gold shimmer (it looks black in the pan, but swatches on dry skin as a medium-sheer matte with a greenish cast and gold shimmer interspersed throughout) and a very pretty neutral-brown taupe (frost).
The finishes of this quad, like all Clarins quads, are what really sell me on it: a satin, a glitter, a matte-with-microshimmer, and a frost. Worn together, the textures of the Eye Quartet Mineral Palettes give any natural, demure eye look a really intriguing edge.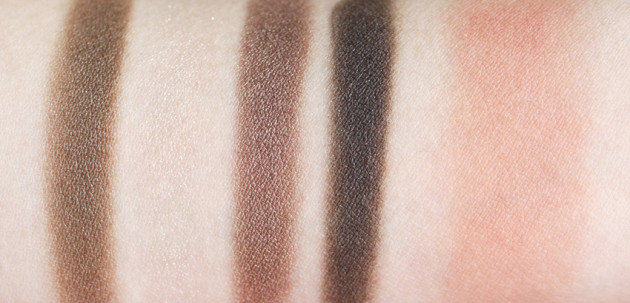 Swatched L-R: Clarins Eye Quartet in Forest, Clarins Face & Blush Powder in Graphic Expression
Overall, this quad has a warm green vibe to it — something you don't see a lot of. I think it would be especially lovely on warm olive tones, but it would work really well on beige and neutral skintones, too. It looks a little bit "off" on me (which eyeshadows very rarely do), so I'd say that the only colouring this quad wouldn't shine on would be cool olive ones (cool pink overtones and light olive undertones).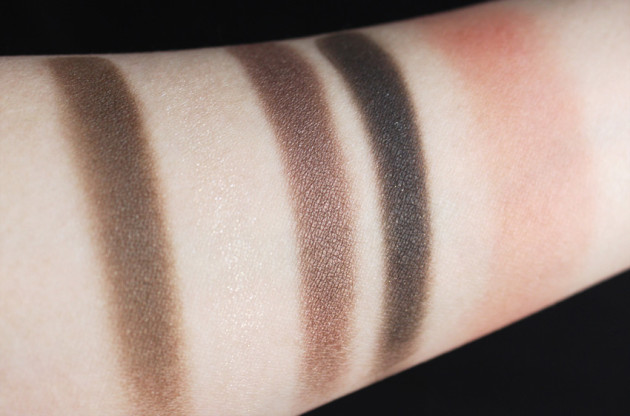 Swatched L-R: Clarins Eye Quartet in Forest, Clarins Face & Blush Powder in Graphic Expression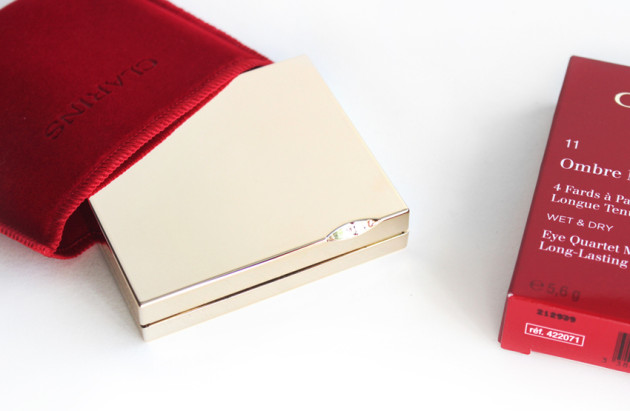 The Face & Blush Palette and Eye Quartet Mineral Palette (Ombre Minérale 4 Couleurs) packaging
The verdict?
The Forest quad doesn't get quite as much of a gold star from me as the Graphic Expression blush/powder, but it's a very pretty product, too: the same beautiful-but-lightweight gold Clarins packaging, with four wonderful mix-and-match eyeshadow finishes inside.
Forest is a little more pigmented than other Clarins quads, and is a must-have for anyone who wears khakis really well. Unfortunately, that's one of the few colours that doesn't work very well at all on my skintone (I photographed a look with it but had to scrap it), but I think it would look like a dream on my sister's warmer, more olive-toned skin — to each her own, really.
Availability: $42 USD/$42 CAD, and is a new addition to the permanent range.