Friday, November 11, 2016
The products: Burberry Beauty Kisses Lipstick in No. 01 Nude Beige, Effortless Liquid Eyeliner in No. 02 Chestnut Brown, Cat Lashes Mascara in No. 1 Jet Black, and Nail Polish in No. 453 Silver Glitter
Much like their holiday collection, Burberry's Fall/Winter 2016 makeup look is full of easy-to-wear basics paired with chunky glitter. As someone who routinely does the same as an easy way to make things festive, I am, to say the least, a fan.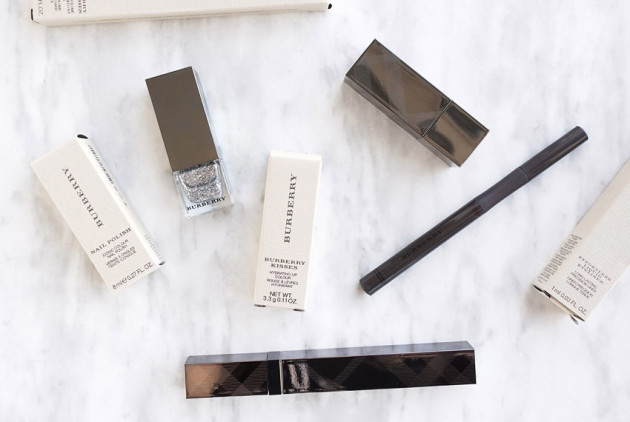 Burberry Kisses Lipstick in Nude Beige ($33 USD/$36 CAD)
I've always been fond of Burberry's makeup collection (how could you not be, with that packaging,) but the Burberry Kisses Lipstick in No. 01 Nude Beige ($33 USD/$36 CAD) is the first product of theirs that has worked its way into my everyday makeup stash.
With a lightweight satin formula and a paraben-free, fragrance-free formula, it's easier to wear than an A-line dress in the summer (and that's saying a lot, for me).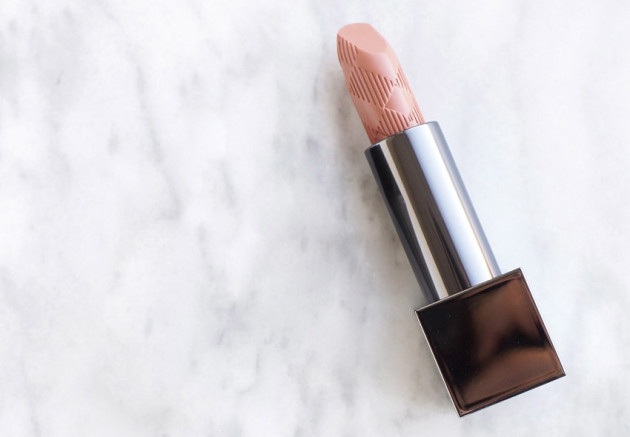 Burberry Kisses Lipstick in 01 Nude Beige review

Burberry Kisses Lipstick swatch in 01 Nude Beige (bare lips/1 layer)
The Burberry Kisses lipstick formula is one that I have to reapply often despite its six-hour wear claims, and yet I still find myself reaching for it. The Kisses line is built on this weird principle of "multiple, satin finishes with one shade," depending on how many layers you apply, and I… kind of think it works.
They function just like any other lipstick, of course, but I like that Burberry has taken into consideration the fact that, well, when you apply only one coat of a sheer lipstick, your lip colour bleeds through. For Nude Beige, this means that one coat sinks into your lips and simply neutralizes your lips' redness slightly, and that three coats sits on your lips for a thicker, more "classically nude" look. I like toning down my lips with a "nothing" lipstick when paired with a dark eye, and Nude Beige is absolutely perfect for that.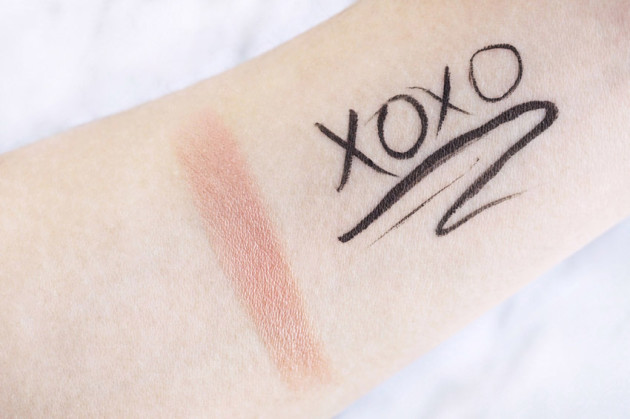 Burberry Kisses Lipstick in 01 Nude Beige, Effortless Liquid Eyeliner in Chestnut Brown swatches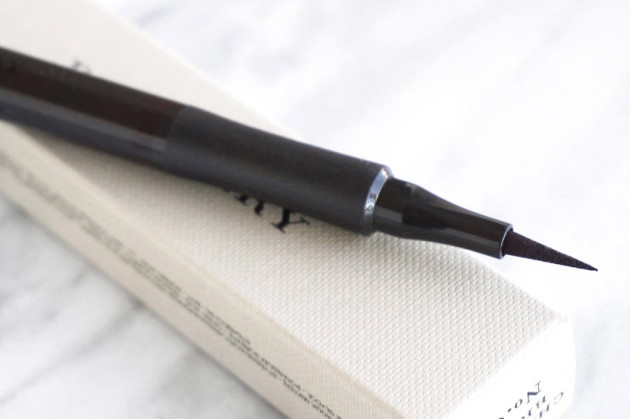 Burberry Effortless Liquid Eyeliner in Chestnut Brown review
Effortless Liquid Eyeliner in Chestnut Brown ($34 USD/$37 CAD)
Like Nude Beige, Burberry's Effortless Liquid Eyeliner in No. 02 Chestnut Brown ($34 USD/$37 CAD) is a natural-look makeup item from their standard range. It defines the eyes well in a very subtle way, and despite its sharp lines, the dark chestnut brown has a softer overall look than an inky black eyeliner.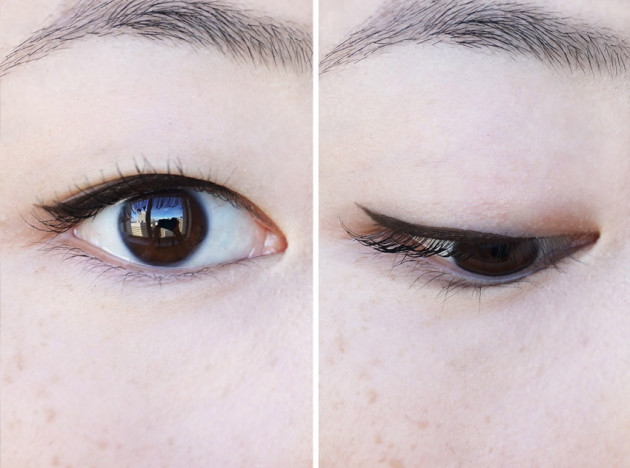 Wearing Burberry Effortless Liquid Liner in Chestnut Brown and Cat Lashes Mascara in Jet Black
If you caught my Lise Watier Féline Liquid Eyeliner review, this Burberry liner is a lot like that one – stiff and long. (Are we still doing phrasing, guys?) It's immensely easy to work with, but I find the formula to be a bit thin.
Skincare plays a big role in this one, and I find that on days when I use a really heavy moisturizer, the Burberry Effortless Liquid Eyeliner is harder to apply and smudges throughout the day. I have to go over my line a few times to get it nice and inky. But, on days when I'm wearing a lighter moisturizer, everything goes off without a hitch. Like Burberry's Lip Kisses and mascaras, their eyeliner is also paraben- and fragrance-free.
I moisturize like a fiend (like, night cream plus a serum plus an oil during the day), so you likely won't need to worry about running into any issues. With your eyeliner, at least. I can't make any promises otherwise.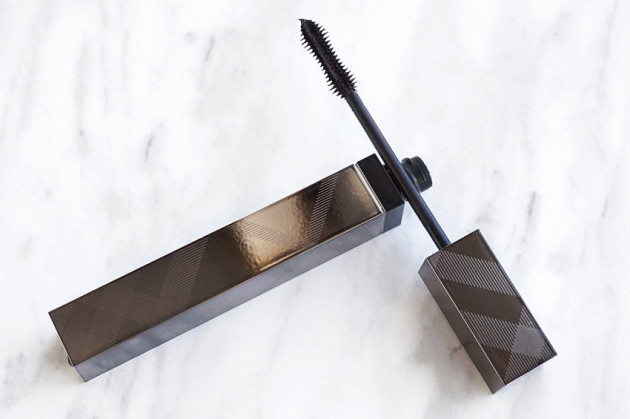 Burberry Cat Lashes Mascara in Jet Black review
Cat Lashes Mascara in Jet Black ($29 USD/$32 CAD)
When a mascara is re-promoted in a collection, I don't always test it out. I know I should, but honestly–so many of them come out each season, and I'm tired of constantly running around with raccoon eyes.
The Burberry Cat Lashes Mascara in No. 1 Jet Black ($29 USD/$32 CAD) has one weird-ass brush, though, so I had to do it. It's an elastomer hourglass with spiky bristles, and it's bendy. Not just "soft enough to bend intentionally," but almost floppy.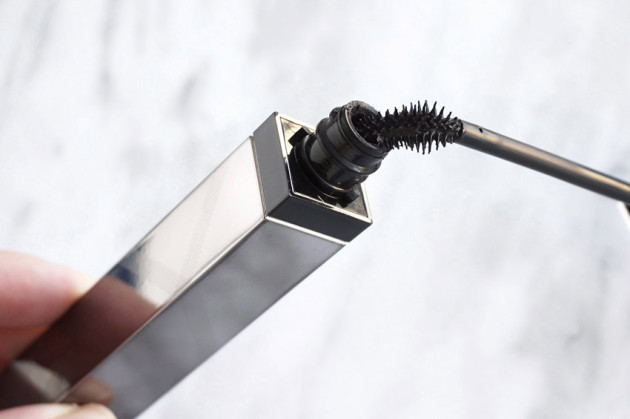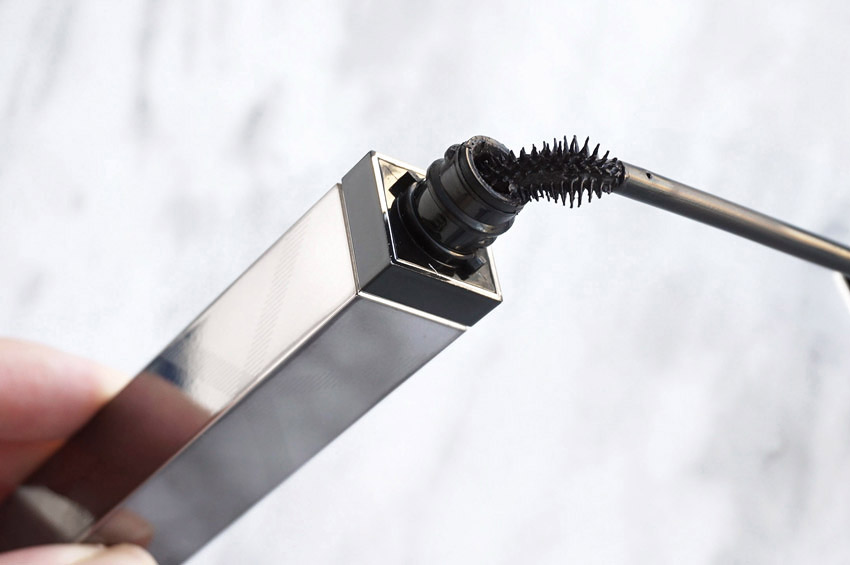 Burberry Cat Lashes Mascara bendy brush
The Cat Lashes Mascara gets its name from the curved end of the brush, which lets you "stretch out" the lashes in your outer corners (using it vertically) for a cat-eyed effect. It works so well that I did this intuitively, and only found out that it was designed for this purpose after the fact.
The formula gives great separation and length, and it wears for a solid nine hours with minimal smudging.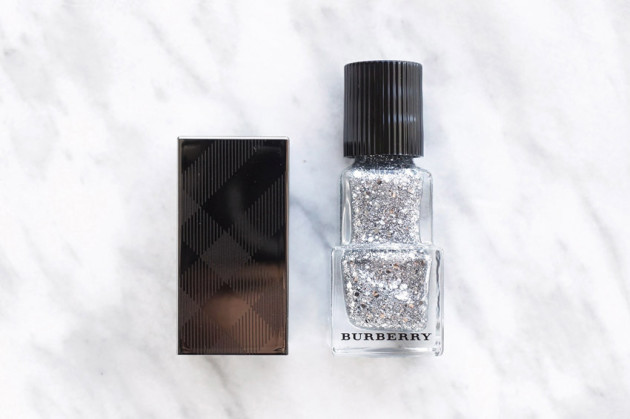 Burberry Nail Polish in 453 Silver Glitter review
Nail Polish in Silver Glitter ($22 USD/$23 CAD)
Finally, the piece in this collection that I'm convinced the folks at Burberry must love the most. (What is it with them and holiday glitter?) The Burberry Nail Polish in No. 453 Silver Glitter ($22 USD/$23 CAD) is a basic glitter polish in, as always, an excellent clear base.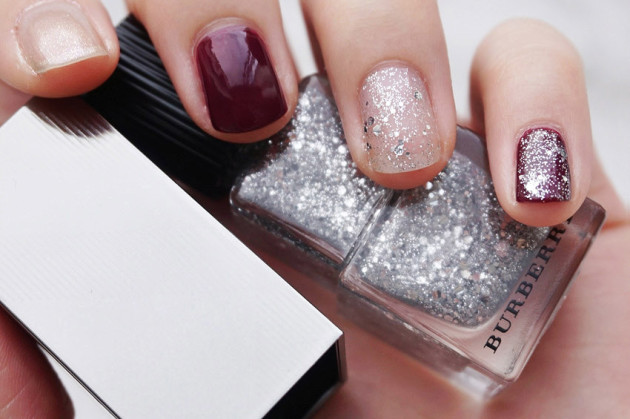 Burberry Nail Polish in 453 Silver Glitter swatches (1 coat on bare nails on the ring finger, one coat over polish on the pinkie finger.)
It applies with dense silver glitter and dries quickly. Burberry says their polishes dries in 2 minutes and hardens completely in 6 1/2, which is oddly specific, but I'm into it. I would urge you to try one of their standard nail polishes at that price, however, because they're stellar–not YSL good, but a big step up from the likes of Essie and OPI. Glitters are easy, but Burberry does a great job of deep shades like Elderberry, and of obscure ones like Sage Green.
I tried my best to run around with Silver Glitter on my nails for a weekend, but I just couldn't do it. Finger nail polish, no matter how gorgeous, drives me nuts! It did make me feel very festive, though… or maybe that was all the rum and eggnog.
What are you loving from the Fall/Winter 2016 Burberry makeup collection?