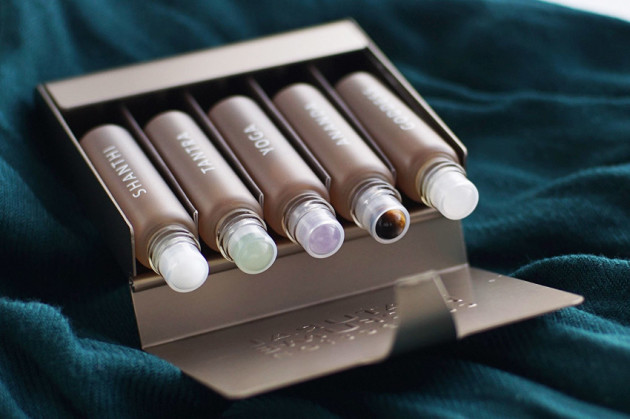 The products: Saje Natural Perfume Collection; Goddess and Ananda Perfumes
You know how I shared my top holiday splurge recommendation on the blog last week? Well, Saje's Natural Perfume Collection is my top budget pick. This review is all about the why (and I have plenty of reasons!)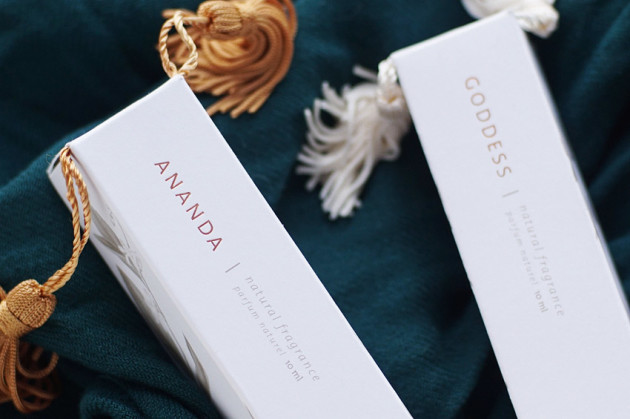 Saje Natural Perfumes
I LOVE everything Saje, and the Saje Natural Perfumes ($29.95 CAD) are no exception. They're absolutely beautifully designed products, and they feature something that I have never seen on the market before: gemstone rollerballs.
Each fragrance is based in jojoba seed oil and has a different gemstone associated with it. While I don't fully buy into mysticism, part of me loves it. (Yes, I still go to witches' markets a few times a year.) I adore the idea of associating fragrance with a goal, and I love the mindfulness that each gemstone brings.
Take, for instance, Ananda: a sweet, floral citrus with notes of grapefruit, juniper berry, and ylang ylang. It directs the wearer to "embrace your truth," and features a tiger's eye gemstone to guide the wearer into identifying their needs versus their desires. (Tiger's eye is said to be extremely grounding, and enhances willpower.)
I love Ananda–it may be my favourite of all five–but it's a very "bright" scent. For an earthier floral that's still very popular, there's always Goddess: a floral citrus with a vanilla base. It features strong notes of rose otto and jasmine, and its gemstone is rose quartz.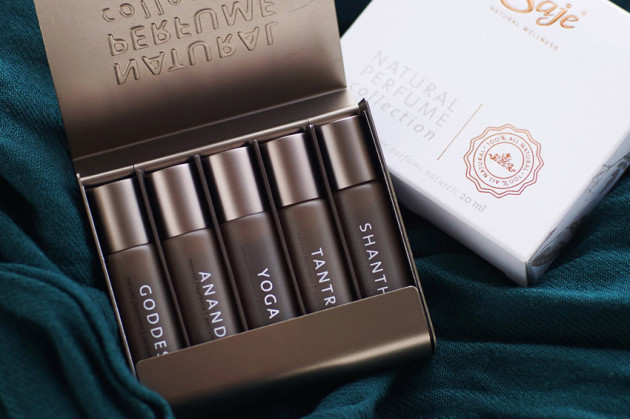 The Saje Natural Perfume Collection 
There are a lot of similarities between all of Saje's scents, which is why I love the concept of their Saje Natural Perfume Collection ($49.95 CAD). It's just as delicately made as their full sizes, but it allows you (or a loved one) to try each scent on your own schedule. Each one will last for weeks of use, so don't be wary of the smaller rollerballs!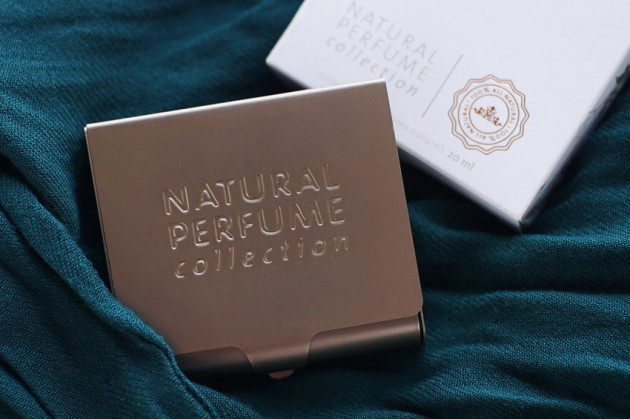 For instance, if you didn't love Goddess and Ananda you're insane and we can't be friends, because Ananda is perfection, perhaps you might like Shanthi. Its rollerball is made from white marble to inspire mindfulness, and it smells like an herb garden – lots of lime, lemongrass, basil, and nutmeg. Smelling like an herb garden isn't my thing, but I have to admit: it smells bloody tasty. 
For a very "incense-y" scent, there's Yoga, which smells a bit like an alt clothing store or meditation studio. Its gemstone is an amethyst, and it smells mostly of michelia champaca oil.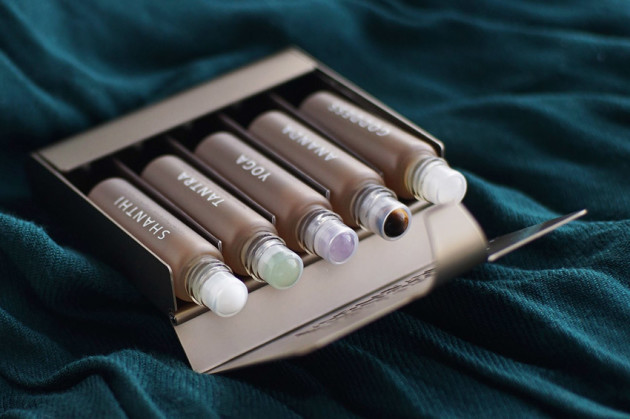 If you're looking to get busy, there's always Tantra, too.
Tantra is weird for me, because it does NOT smell like a sexy fragrance to me. I like it a lot, but… mostly it smells like incense and ginger ale: delicious, and also like diabetes. Its gemstone is a cheeky jade sphere (you know, because jade is lucky), and it's a really complex scent. It has notes of champa, like Yoga, but it gets its "ginger ale" vibes from sweet palmarosa and spicy ginger.
Even if you're not planning on buying, I'd suggest going into a Saje someday just to give Tantra a try. Olfactorily*, it's a lot of fun!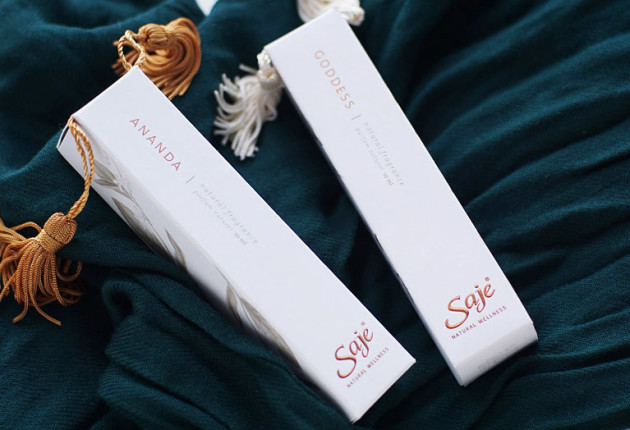 The verdict?
Saje's natural perfumes are one of my top gift picks for so many reasons. I love the concept of gemstone rollerballs, but more than that, I love that they're made from essential oils. Anyone who has worn a purely essential oil perfume before will know two things: they wear very close to the skin, and they fade quickly.
For that reason, they hit a middle ground between "perfume" and "self-care" that sits so well with me. They can most certainly be worn in conjunction with a favourite perfume, and they're very inoffensive – whether you were to gift someone one or the entire set, there is something in each to appreciate.
Especially in Tantra.
Availability: Single perfumes are $29.95 CAD at Saje; the set is $49.95 CAD. (Get 20% off everything until the end of today!)
—
*Autocorrect and I are having an argument over this one, but I KNOW WORDS. If the OED says that I'm allowed to say it, I'm allowed to say it.