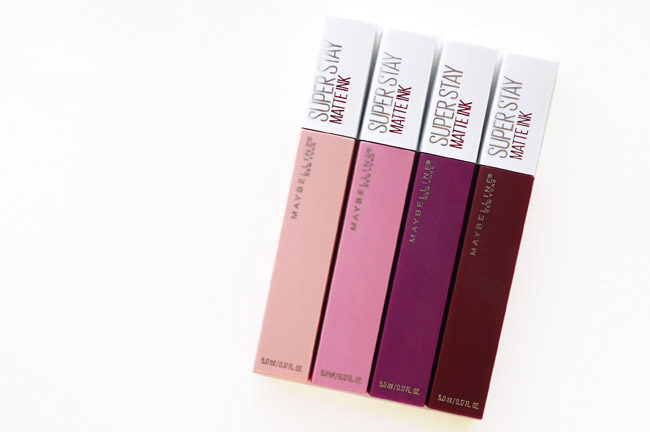 The product: Maybelline SuperStay Matte Ink in 05 Loyalist, 10 Dreamer, 40 Believer, and 50 Voyager 
There is one thing that you NEED if you're getting your lip on this Valentine's Day, and it's a tube of Maybelline SuperStay Matte Ink.
These liquid lipsticks are everything that I've ever wanted out of a lipstick. They're opaque, comfortable, and affordable, and most importantly: they do. Not. Budge.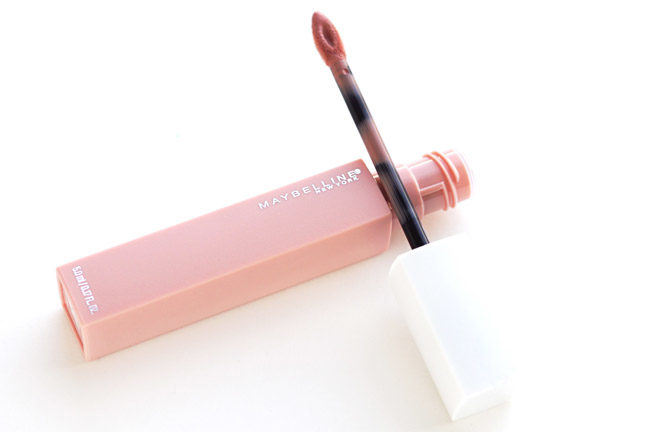 Maybelline Voyager 05
The Maybelline Super Stay Matte Ink formula
The Maybelline Super Stay Matte Ink formula is a total dream. It applies with a modified doe-foot applicator, drying totally matte within 90 seconds. And once it's dry… It's there to stay.
The formula smells lightly of vanilla, which fades quickly. It feels a little tight after about 3 hours, but it's not significantly drying. Though my lips are usually parched, the Matte Ink lipsticks are comfortable without lip balm underneath. (Which is a good thing, because they don't set if you're wearing a greasy lip balm.) I couldn't wear them every day, certainly, but they never leave me with cracked lips or dry patches.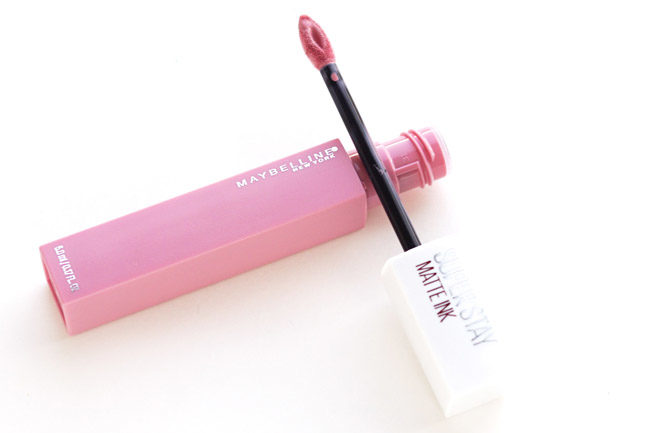 Maybelline Dreamer 10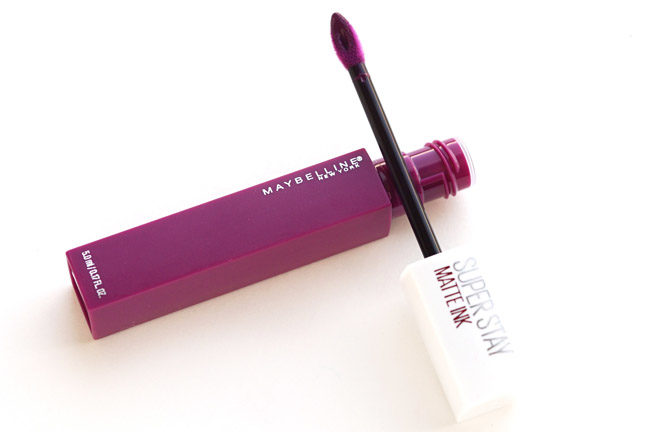 Maybelline Believer 40
The Matte Ink formula lasts for 7 hours on me, including two messy meals. The hardest wear test I put this through included bubble tea, pho, and tooth brushing, and my lip still looked great 5 hours in. After that, I wanted to touch up, but I didn't think it looked necessary until the 7th hour.
But it's not just food that this formula stands up to. Even when wearing Voyager, the darkest shade of these four, I can get through a heavy makeout session and only end up slightly smudged. The Super Stay Matte Ink formula totally does away with messy kissed lips, staining a ring around the outside of my lips but never smearing.
Maybelline Voyager 50
The same thing applies for my partners, too. Zero lipstick transfer occurs during a standard peck on the lips, and there is only minimal transfer if you're really getting in there. This is by far the least messy lipstick I've ever worn – and I love it for that.
I've always had this picture in my head of a woman who can wear a powerful, dark red lip on a date, but up until now, I've rarely done it. It always just seems like too much hassle to have to eat around your lipstick, or to have to wipe it off before food or sex. But with the Maybelline Matte Inks, you can apply your lip and go about your day totally normally. 
No matter what that day entails.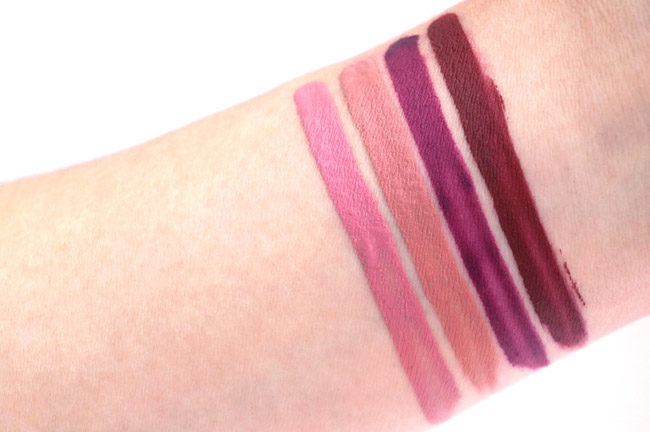 Maybelline Super Stay Matte Ink swatches L-R (indirect sunlight): Loyalist, Dreamer, Believer, Voyager
Maybelline Matte Ink in Loyalist, Dreamer, Believer, and Voyager
05 Loyalist is an easy-to-wear medium pink. 10 Dreamer is a creamy light nude; it has good opacity and wears evenly. (I'm pretty pale, and it was a good "eraser lips" shade on me.) 40 Believer is a gorgeous, bright, wild berry shade – sort of a berry-magenta mix. I find this one to be the hardest to apply, but as long as you apply it carefully and in thin layers, it stays in place once set.
50 Voyager is the shade that I've been wearing around almost non-stop. It's a beautiful brown-red that's… Kind of my perfect vampy red, really, looking simultaneously goth and sultry.
I really love Voyager because it's sexy without being bright. It doesn't leave me feeling as exposed as a true red lip does, but it still makes me feel really alluring. Like, I could totally wear this to class and no one would ask me where I was going afterwards, but they'd still be like, "hey, I like your lipstick."
It's that kind of good.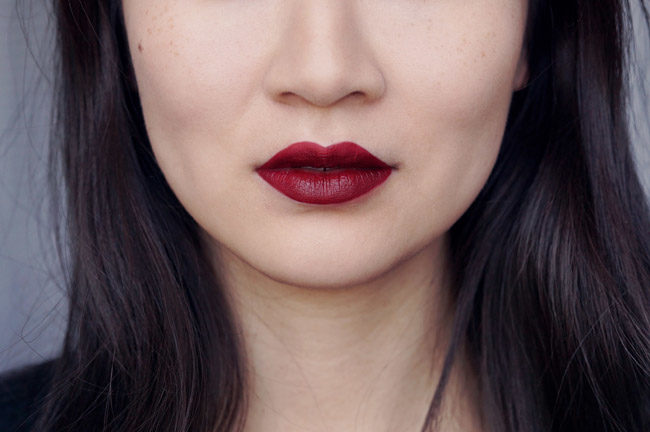 Maybelline Voyager review, swatches, photos
The Maybelline SuperStay Matte Ink verdict?
Totally. Totally get your butt out to the drugstore and pick up a tube of Maybelline SuperStay Matte Ink. I wasn't a fan of the original SuperStay formula back in the day, but the Matte Ink formula is really comfortable. It doesn't leave my lips feeling like tight, saran-wrapped plastic the way the original SuperStay lipsticks did, and it doesn't flake.
I heartily recommend Voyager for everyday wear, date night wear, or Valentine's Day wear, but I liked the other three shades I tried, too. There are currently ten shades available, but I would love to see more in the future. (I kind of want Pioneer? But also it's like, mega bright, and that's not my thing.)
Availability: $9.49 USD/$11.99 CAD. Permanent at Ulta, Walgreens, Target, and most major drugstores and mass market retailers.