Wednesday, March 20, 2013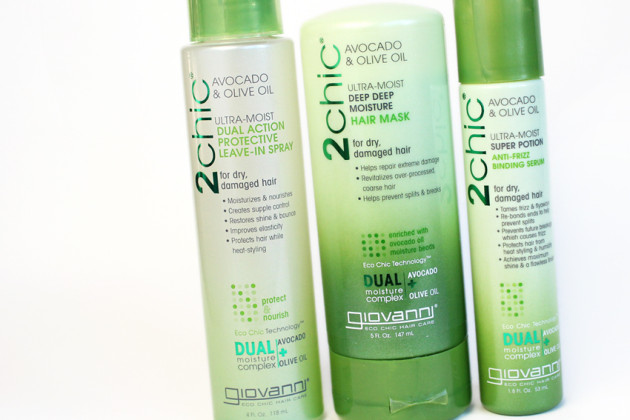 With the March Sephora + Pantone Emerald launch (not to mention, this past St. Patrick's Day) on my mind, I've found myself thinking rather a lot about green recently.
Like, a lot. When you take into consideration the fact that I don't even like green, it's kind of a problem.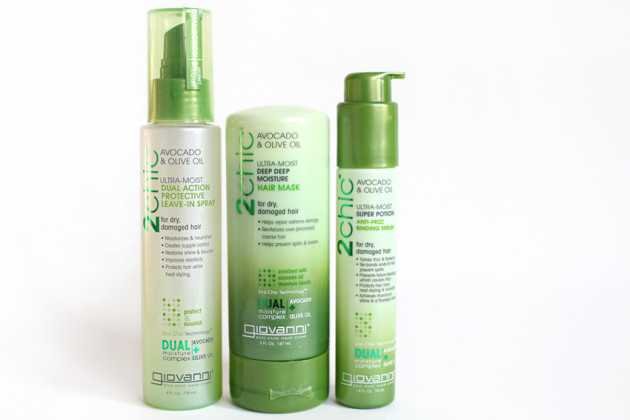 Anyhow: I haven't tried out the Giovanni 2chic Ultra-Moist Collection yet, but it's very green! Made for dry, damaged hair and normal to dry skin (there are a few body products in the range, too), I thought I'd share this avocado-and-olive-based collection with you today.
No particular reason why; I was just really pleased with this particular shade of green today. Better than feeling blue!
The Ultra-Moist Dual Action Protective Leave-In Spray
To: give a flexible, polished finish; protect hair from heat-styling; and add moisturizing, shiny, supple control. 4 fl oz.
Aqua (Purified Water), Panthenol (Pro-Vitamin B-5), Glycerin, Tocopheryl Acetate (Vitamin E), Xanthan Gum, Phenoxyethanol, Polysorbate 20, Citric Acid, Fragrance, Sodium Benzoate, Chlorophyllin-Copper Complex, *Aloe Barbadensis (Aloe Vera) Leaf Juice, *Persea Gratissima (Avocado) Oil, *Litchi (Lychee) Chinensis Fruit Extract, *Olea Europaea (Olive) Fruit Oil, *Chenopodium Quinoa Flower/Leaf Extract, *Butyrospermum Parkii (Shea) Butter, *Helianthus Annuus (Sunflower) Seed Oil.
*USDA Certified Organic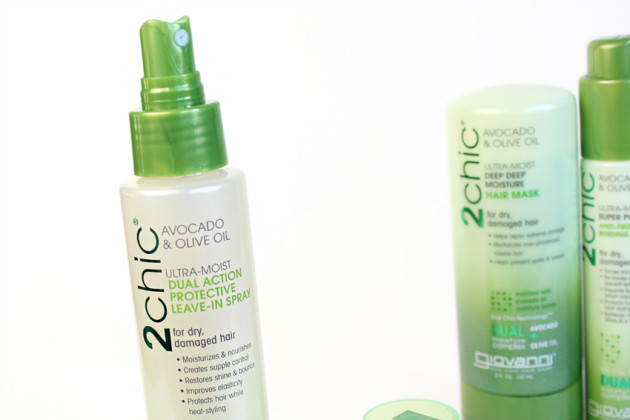 The Ultra-Moist Deep Deep Moisture Hair Mask
To: revitalize over-processed hair, with adorable green beads of avocado oil for extra moisture. (I think it's hilarious and charming that this isn't just deep… it's deep deep. 5 fl oz.