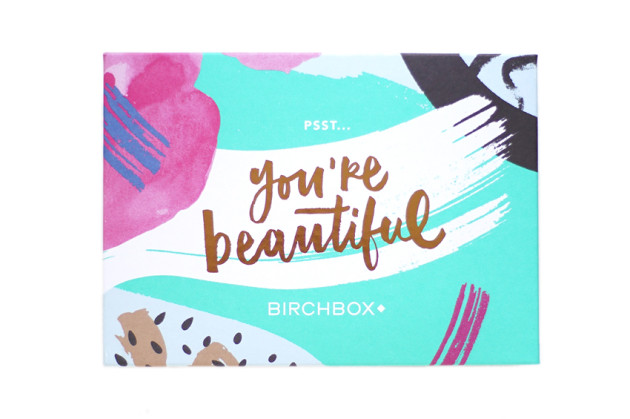 The product: Birchbox (Canada), September 2015 box
I've always been wary of monthly subscription boxes. I mean, I've tried one or two in the past, but subscription boxes tend to be full of silicone-y products that I can't try and creamy eyeliners that just wouldn't work for me.
But when I was asked to try the September Birchbox, I had to say yes. It's the company's five-year anniversary, and I'm on the site all the time — it's chock-full of reviews, funny product descriptions, and (most importantly) ingredients lists! I figured I was probably long overdue to try an actual box.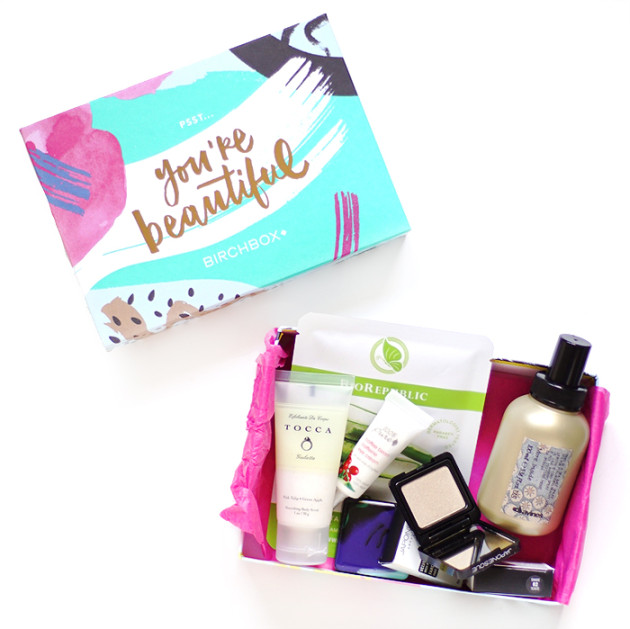 The overall box: September is customer appreciation month at Birchbox, so my box came with the usual five products (actually, it came with six by mistake; there was a double of the Japonesque eyeshadow) plus a 20% off code for the Birchbox.ca store.
For $14.95 including shipping, the contents of this year's September box really impressed me. The box itself was just gorgeous (I'm using it to store stuff now!) and it contained a sheet mask, a full-sized eyeshadow, a VERY generous haircare sample, and two "regular" samples. I did the math for comparison's sake, and compared to the full-sizes based on ounces, the samples in this box are valued at $44.20.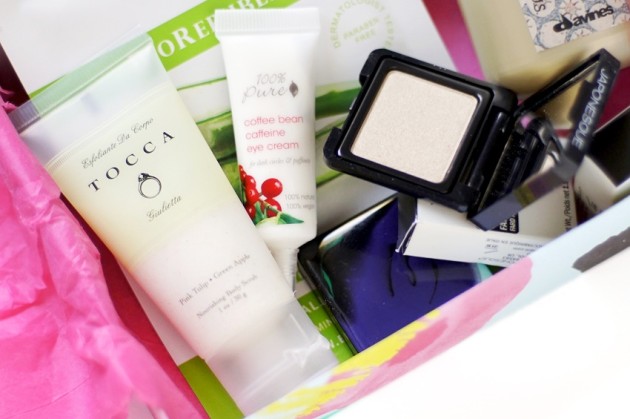 The products: Honestly, the most important factor in all of this was luck. I happened upon a box that was perfect for me, so I got to use all five of the silicone-free, paraben-free goodies — and two of them, again, just so happened to be products that I've been meaning to try for a while anyways.
(My mom always tells me that I've got horseshoes up my butt, which I can assure you, I absolutely do NOT. That sounds dangerous and also horrifically painful.)
100% Pure Organic Coffee Bean Caffeine Eye Cream ($26 CAD full-sized) – I had a hell of a time opening this one (it still had that little bud-thingy that needed to be cut off), but it smells JUST like sugary breakfast cereal! It's smooth and rich, and definitely best for vanilla-lovers.
BioRepublic Skincare Aloe Rescue Revitalizing Sheet Mask ($21 CAD for 3) – I'm not really a sheet mask girl, but if I was, this would have been the perfect mask for me! It's a fiber mask (so it's all ready to go), and it's perfect for dry, sensitive skin like mine.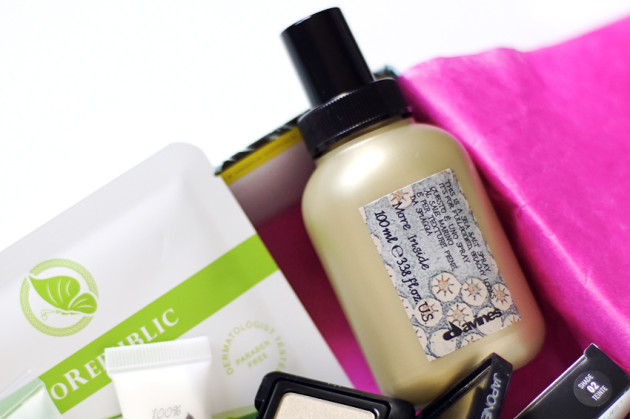 Davines This is a Sea Salt Spray ($30 CAD full-sized) – Okay, so I maybe actually squealed a little bit when I saw this in my box. The sample itself is practically full-sized, and I've been meaning to buy a salt spray for months. Now, I won't have to: the This is a Sea Salt Spray, which smells deliciously like vanilla and coconut, gives my hair lots of texture and body and makes it feel lush and full. 
Japonesque Velvet Touch Eye Shadow in Shade 02 ($12 CAD; this is full-size) – This was the other product that I really wanted to try! It's a light green/gold with a soft metallic finish, but honestly, I'm glad I didn't spend $12 on it alone — it's smooth and blendable, but definitely on the sheer side.
TOCCA Esfoliante da Corpo in Giulietta ($38 CAD full-sized) – Am I going to get heckled if I admit to not really "getting" the TOCCA line? All of the scents seem so watered-down and dated to me, and while I love the packaging… I need a little more punch. Giulietta smells, to my nose, kind of like generic green apple hand soap in a mid-range restaurant, but I do really like the scrub itself — it's a lovely, gritty sugar scrub that leaves my skin feeling soft and moisturized.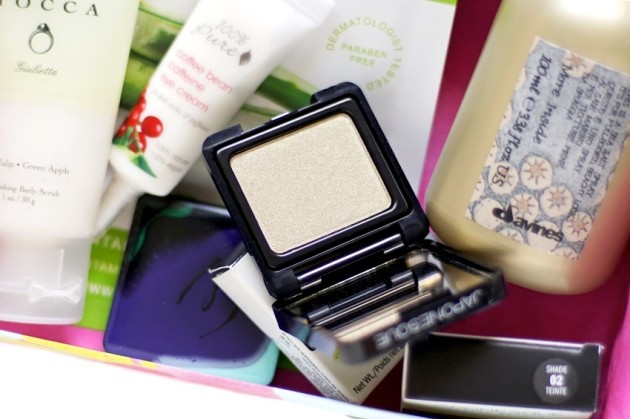 The verdict?
With a box whose contents change on a monthly basis, there's no way that I can tell you that you're going to love the Birchbox every month. What I can tell you is this: I was really happy with my box, and it contained only full-sized products and deluxe samples — nothing that you could just pick up a sample of at Sephora.
I found two products that I loved, two products that I'm glad I got to try (so that I could learn that they're not really for me), and one product that I'm still looking forward to trying, which… I mean, isn't that kind of the whole point of a sampling subscription? To get to try a bunch of stuff that you're interested in without spending a lot of money, and find some loves and losses along the way?
Availability: $14.95 CAD shipping/month. I would love if you used my friend referral (I'd get "Birchbox points," but no actual $$), but it's up to you!