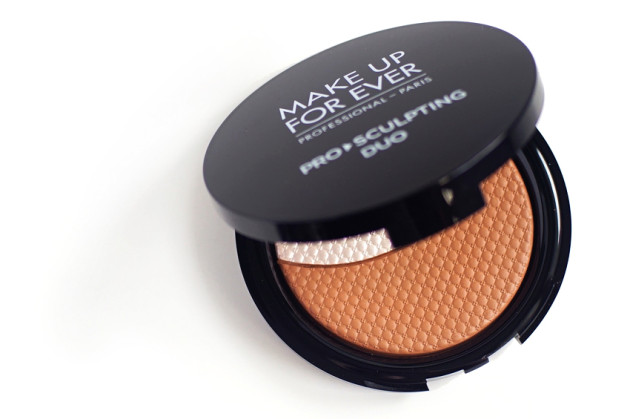 This season, Make Up For Ever joins that insane contouring craze with their Pro Sculpting Duo, which they billet as an "undetectable face contour" and recommend using with their 156 brush (the Large Flat Brush or Flat Round Brush, depending on who you ask).
I think this pillow-topped, gel-powder formula is far from undetectable, but still worth checking out. It works well with both the 156 and the 150 brush that I love so much, and comes in two shades: 01 Pink Beige ("light with cool undertones") and 02 ??? (tan with warm undertones).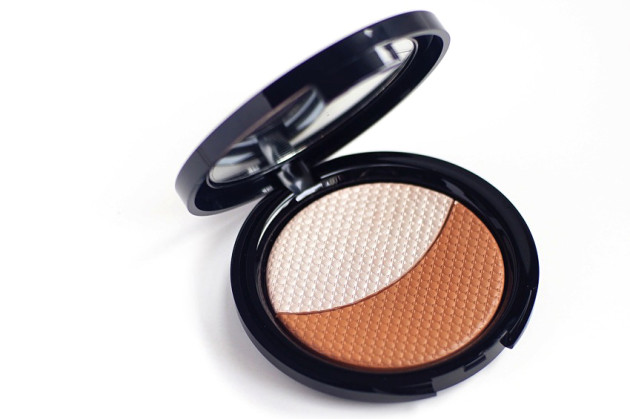 Make Up For Ever Pro Sculpting Duo in 01 Pink Beige review
The sculpting shade: I'm gonna start with the not-so-great stuff, which is to say: like many other contouring products I've tried this season, this one totally didn't work for me. It leans quite orange and looked like an obvious bronzer against my complexion, and I'm not the only one. The best look that I've seen with 01 Pink Beige so far has been on Chelle, but even she found the contour shade in this duo to be more of a bronzer than a sculpting shade. (This duo–the highlighter especially–looks totally bangin' on her, though!)
You can see her look here, but, well… take that into consideration when purchasing, because it's not just me who was hoping for a much cooler contour out of this one.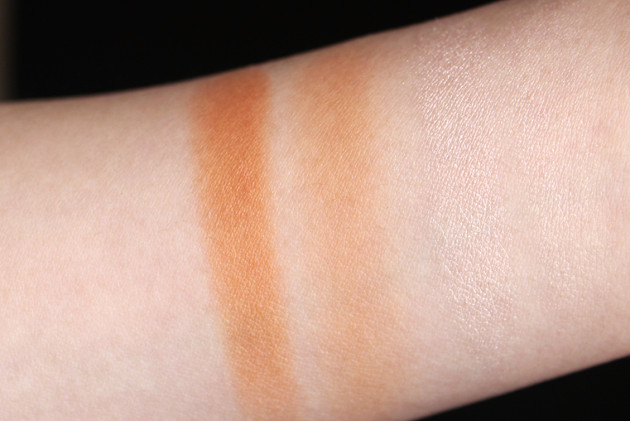 Make Up For Ever Pro Sculpting Duo in 01 Pink Beige swatched heavily/lightly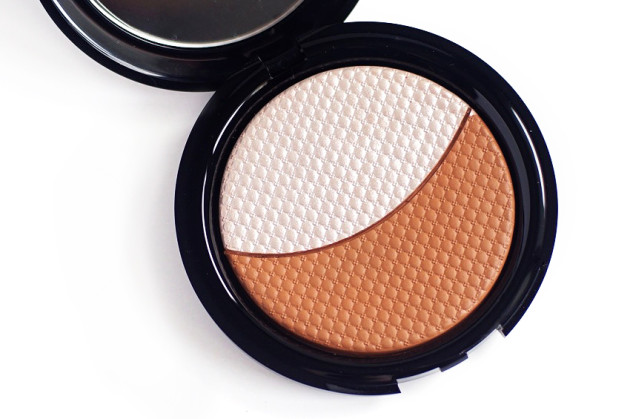 Make Up For Ever Pro Sculpting Duo in 01 Pink Beige
The highlighter: Okay folks, THIS IS WHERE IT'S AT. I don't love a really bold highlight most of the time, but this highlighter is gorgeous.
You can see individual sparkles from about 3 ft away under incandescent lighting (that's so not "unbelievably natural," MUFE), but it's one of the (very) few highlighter shades that really pops against my fair complexion. Normally, highlighters look really shimmery on me, but are too dark or yellow to give more than a sheen — but this baby lifts the cheekbone right up. It's still more shimmer than I want from day to day, but I'm smitten!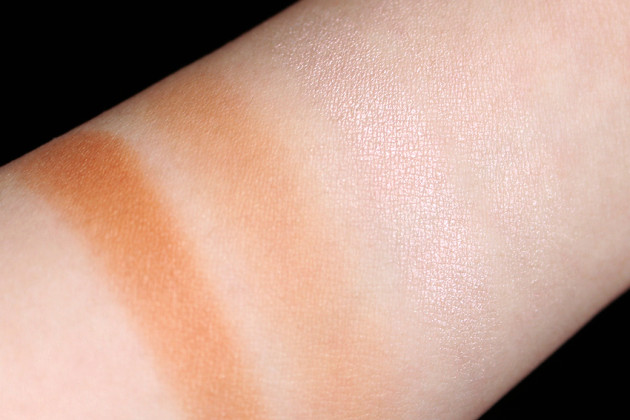 Make Up For Ever Pro Sculpting Duo in 01 Pink Beige swatches – contour & highlighter heavily/lightly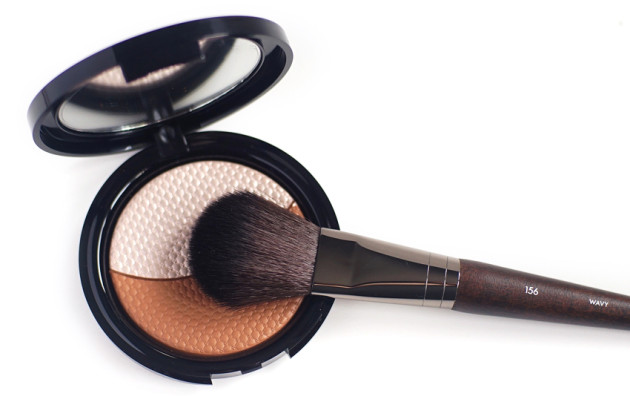 THAT BRUSH, THOUGH: The 156 Large Flat/Flat Round Brush is insanely kitten-butt soft and relatively small, for a blush brush. It's great for loosely applying a small amount of product and blending it out, and is extremely versatile — it's great for blush, contour, and setting undereye concealer, plus it can easily handle setting powder and highlighter in a pinch.
And did I mention that it is so soft? I have at last count forcibly petted four people with zero interest in makeup with this brush, and all of them begrudgingly admitted that yes, it's as soft as a kitten-butt Rae; please stop stroking my face with that.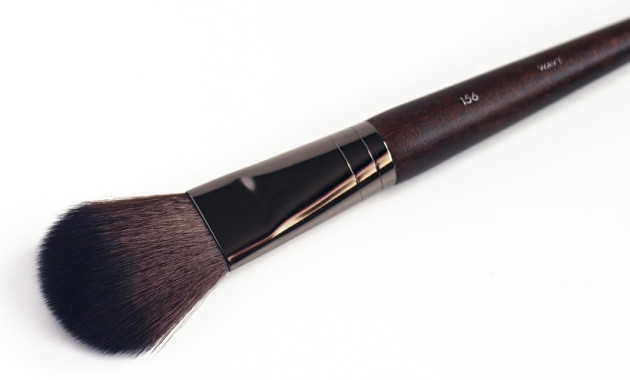 Make Up For Ever 156 Flat Round Brush review
Make Up For Ever 156 Large Flat Brush review
The verdict?
At $45 CAD, I think this Sculpting Duo can be skipped — unless you want it as a high-impact highlighter/bronzer duo, in which case, go for it.
For an invisible, high-def contour, this duo isn't the product that you want. However, the highlighter is just gorgeous, and the brush is a total must-have. (Oh, this brush!) If you only have room in your life for one of these two, definitely invest in the brush instead!
Availability: $39 USD/$45 CAD for the sculpting duo; $37 USD/$43 CAD for the brush. Both permanent products available at Sephora and Make Up For Ever boutiques as of March 2015.