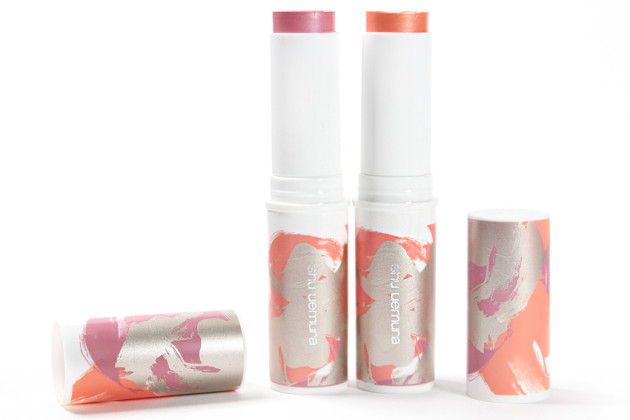 The product: shu uemura Satin Radiant Sticks in Pink and Orange Coral
I've been all about stick makeup this month, so today I thought I'd share photos of one of my first cheek-stick loves: the Shu Uemura Brave Beauty Satin Radiant Sticks.
They're not something that I was planning on reviewing, because they contain way more shimmer than I prefer, but… I mean, I've been wearing the pink one so often that it would basically just be wrong NOT to post about it.
So, consider this my not-rave product rave.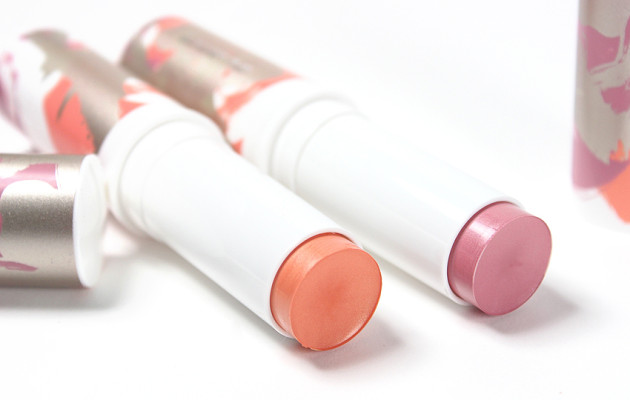 The shades: This stick is available (right now, at least; it's limited edition from the fall) in four shades: two blushes, pictured here, and two highlighters. Orange Coral is a bright, super glowy orange with yellow/gold shimmer, silver microshimmer (for a super dewy finish), and literally no coral undertones. Pink is a gorgeous purpley pink with a cool pink sheen and silver microshimmer.
If you're cool-toned and you're looking for the perfect stick blush, the Pink Satin Radiant Stick is totally where it's at.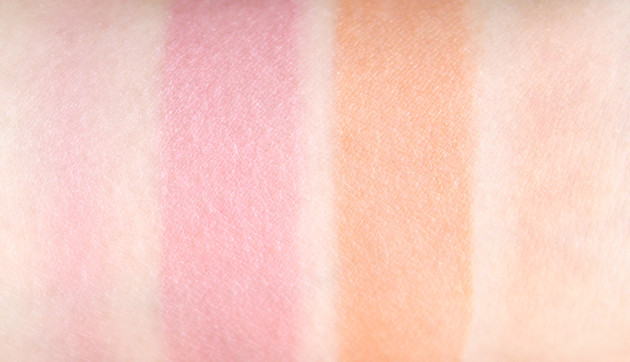 shu uemura radiant blush stick swatches – pink (blended/unblended), orange coral (unblended/blended)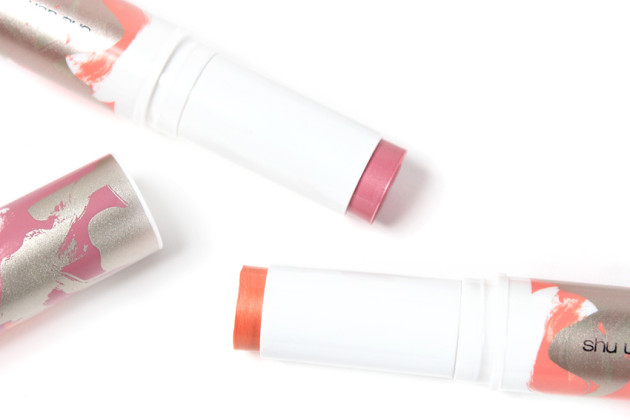 Heartbreak! Suspense!: So, if I'm so obsessed with these sticks, why the hesitation?
Well… for one, I'm big on totally invisible makeup, and silver shimmer doesn't quite fit the bill. But more than that, my Pink stick doesn't twist back down, so I have to twist it up, swipe twice, and then push it back in with my fingers. Which… is kind of icky, for travel purposes.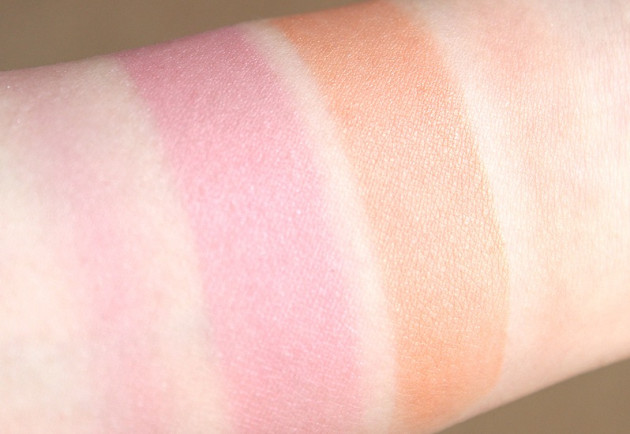 shu uemura brave beauty radiant blush stick swatches — pink; orange coral
The verdict?
The pros definitely outweigh the cons with these blush sticks, but for a whopping $55 CAD apiece, I expect a blush to be flawless if I'm going to recommend it to you guys. And these, with their silver shimmer and slightly flawed packaging, just aren't flawless.
Are they pretty? Absolutely. Would I have been heartbroken if I hadn't gotten something in that gorgeous Brave Beauty packaging? Definitely. But are these two products worth $110? Well… maybe not. I say get Pink if you're an absolute blush fiend, but in general, I think that the Brave Beauty eyeshadow palettes are a better buy!
Availability: $55 CAD at shuuemura.ca and in select Holt Renfrew locations.