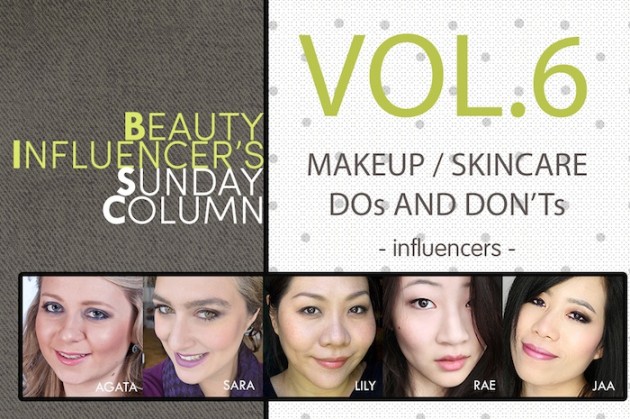 Makeup / Skincare DOs and DON'Ts
LILY | Malaysia | Chloe Ash
When it comes to both makeup and skincare, DO know your own face and skin. Your skin type, skin tone, skin behaviour. Nobody knows your skin better than you.
Do your own experiment – mix and match or layer different products. Layer different serums or mix foundation shades. Pull out your inner mad scientist but as a rule of thumb, refer number 1 first.
Don't be afraid to sample new skincare or new looks. When it comes to makeup especially, it's more fun to try a variety of looks and explore your own features at the same time.
RAE | Canada | the Notice: a beauty blog
DO treat all acne like face acne. (This is so, so important. I had back acne for years, and it all but disappeared when I started moisturizing my back.)
DON'T try too many new things at once. It's tempting, but too many new treatments at once can stress out your skin barrier and leave your skin really reactive!
DO bend the rules. Makeup and skincare should be fun! And a little bathroom alchemy never hurt anyone.
SARA | Germany | Color Me Loud
Don't wear foundation which is too light or too dark compared to the tone of your neck. This one seems to be a common mistake, to the point that it is widely excepted by the brands, so they release their foundations in deeper shades in one part of the world and very light shade in the other. Try not to go with the trend, there is nothing less appealing than your face sticking out of your neck.
Do test out skin care and foundation and actively ask for the shops to provide you with samples. This is especially important if you are going to spend a small fortune on the product. No samples, no purchase!
Don't (over)plug your eye brows. Later in life you might regret plugging them too much since they get ever more sparse each year.

AGATA | USA | Her and Makeup
Do emphasize your beauty but don't conceal it. A lot of people will say that you put on makeup to hide the real you. Don't. Use makeup to hide imperfections but play up your best features- beautiful eyes, prominent cheek bones, plump lips.
Do step out of your comfort zone and try new things. Red lipstick is not for you? You won't know until you try it on. Makeup is supposed to be fun, play with it.
Do take good care of your skin. It's the basis for all your makeup and if your skin isn't well taken care of, no amount of makeup will cover it. Drink plenty of water, properly cleanse and moisturize your skin.
JAA | Thailand | Hello Jaa
Don't pop or pick at your pimples to avoid acne scars!
Do apply sunscreen religiously wherever there is sunlight, even when you are indoors.
Don't share your makeup, especially eye makeup, to prevent contamination and eye infection.