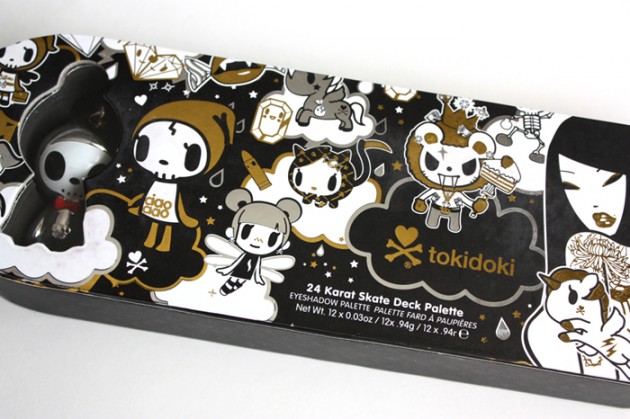 The product: tokidoki 24 Karat Skate Deck Palette
My Skate Deck palette is missing one shade (Goccia, on the bottom row), but I've swatched the rest of them. The tokidoki eyeshadow formula isn't one that I go crazy over, but it's not half bad — better than most drugstore eyeshadows, but not on par with a brand like MAC or NARS.
I'd put the formula at a solid "just okay," making it a good choice if you're looking for fun, glittery shades (think Urban Decay on a smaller budget,) but I wouldn't choose it for staple shades.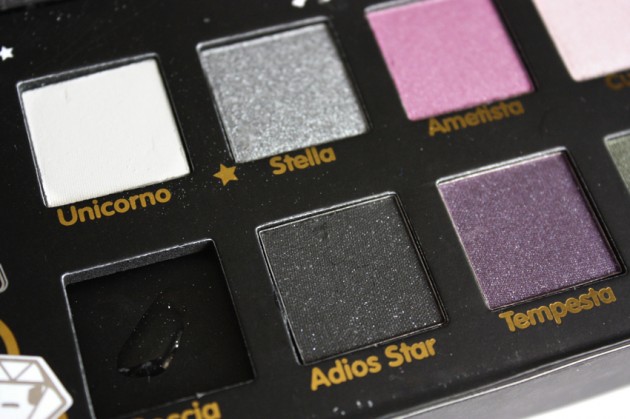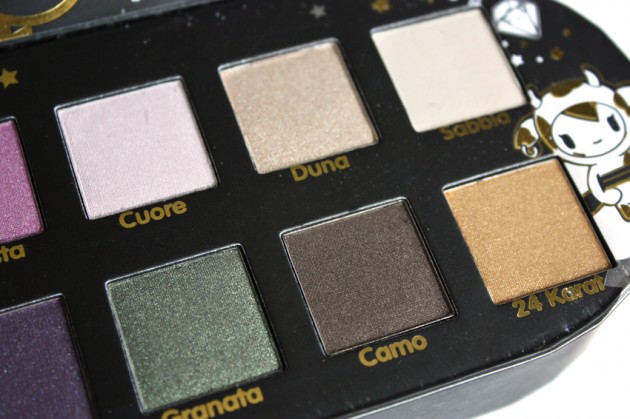 –> The top row
The top row of the Skate Deck palette contains…
Unicorno – a matte white (base colour) accompanied by finely-milled silver shimmer.
Stella – chunky silver glitter in a sheer, shimmery silver base.
Ametista – a pink-violet of medium intensity, paired with fine silver (and a bit of gold) shimmer.
Cuore – a super-sheer white-pink with finely-milled, shimmery white reflects.
Duna – a light, smooth, shimmery gold with a bit of fine silver shimmer for depth.
Sabbia – dense gold shimmer in a translucent white-yellow base.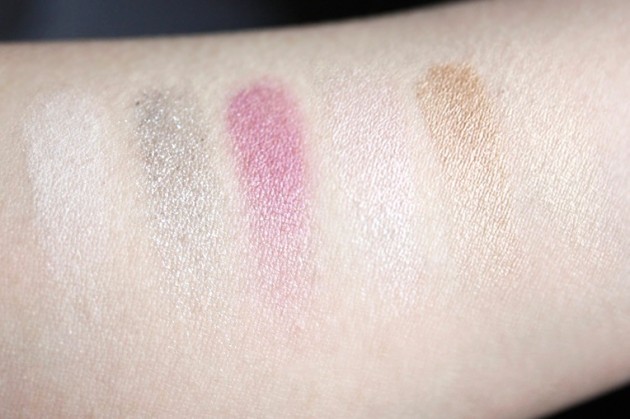 Stella is definitely the most interesting shade in this palette, (and would make a gorgeous faux-gloss lid,) but I think Duna is my favourite — it's just such a gorgeous shade, with the perfect warm gold/cool brown balance.
A few of the bottom-row shadows stain (more on that in a bit,) but none of these top-row shades do.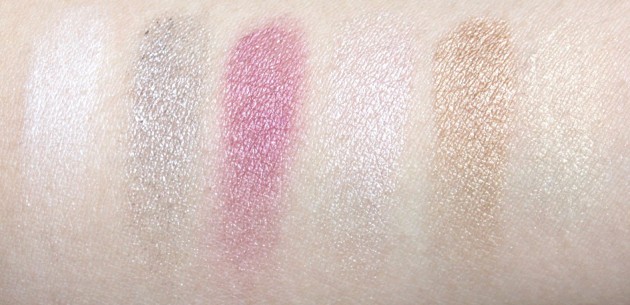 Swatched L-R: Unicorno, Stella, Ametista, Cuore, Duna, Sabbia.
–> The bottom row
The bottom row of the Skate Deck palette contains…
Goccia – missing, but it should be a dark, vibrant shimmery blue.
Adios Star – a basic black with a small amount of chunky silver glitter.
Tempesta – a blue-violet with fine blue and silver shimmer.
Granata – a medium-sheer mossy green with yellow undertones.
Camo – an intense, satin-finish chocolate brown.
24 Karat – a pigmented, dark yellow-gold with gold shimmer.