Thursday, August 20, 2015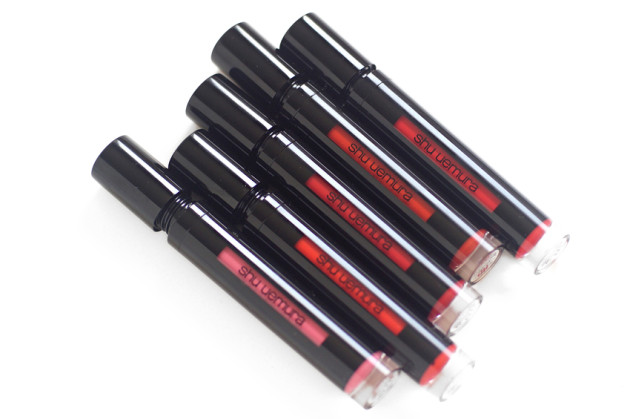 The product: shu uemura laque supreme lip colour in RD 01, RD 02, RD 03, and PK 02
Shu Uemura's new Laque Supreme Lip Colours take their cues from traditional Japanese urushi lacquerware. Urushi lacquerware has been around since 14 500 BC, and is an art form of lacquering rich pigments over wood.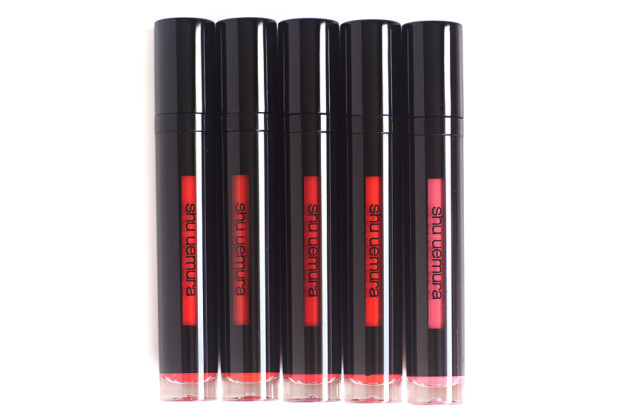 Shu Uemura Laque Supreme in RD 01-04, PK 02
The formula: The Laque Supreme Lip Colours are essentially gloss-stains, which use a brand-new water soluble dye to provide a translucent wash of colour, oil-dispersed pigments (used in all of your old Shu favourites) for opaque coverage, and coating polymers help the formula settle into a honeycomb molecular structure for intense shine and long wear.
The "oil in water" formula gives a "fresh and smooth sensation upon application" (very true), and the applicator on these is a slanted doe-foot — which is exactly what you want when the product you're applying is going to stick around for four hours.
Tip: If you need to remove your Laque Supreme lipgloss before its time is up, reach for a micellar water, not an oil.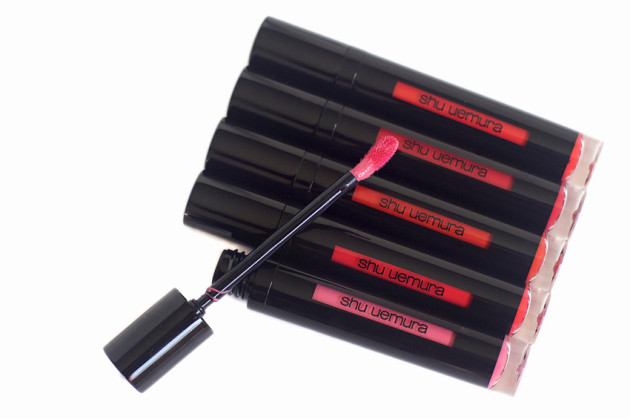 The shades: There are 15 Laque Supreme shades, but here are the five I tried (including all 4 of the reds in the range)!
RD 01 AKA Red – A warm, tomato-orange red; more vibrant than RD 02. This shade was developed with lacquer wear brand Yamada Heiando, who once provided lacquerware to the Imperial Househould of Japan. It's inspired by the traditional shade of Japanese lacquer, so expect to see a Vermillion red with a slight yellow tint.
RD 02 Red Player – Almost a berry red. A cool fuchsia red with blue undertones.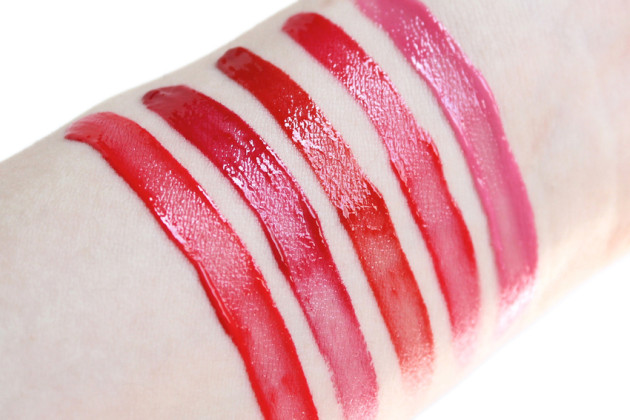 Shu Uemura Laque Supreme swatches, L-R: RD 01 AKA Red, RD 02 Red Player, RD 03 Flaming Red, RD 04 Shu Red, PK 02 Dreamy Pink
RD 03 Flaming Red – Browner and more of a brick red than RD 01, Flaming Red is a warm orange-red.
RD 04 Shu Red – Shu Uemura (the man, the legend)'s favourite red — red with strawberry pink undertones; the same shade as the Rouge Unlimited 165. This one's a little too warm for me, so it makes me look kind of dated. Best on warmer skintones.
PK 02 Dreamy Pink – A milky lilac pink. This one really settles and stains on my lips to give an instant (but inevitable) Korean popsicle-stained lip look.

Shu Uemura Laque Supreme Lip Colour in PK 02 Dreamy Pink swatched lightly / heavily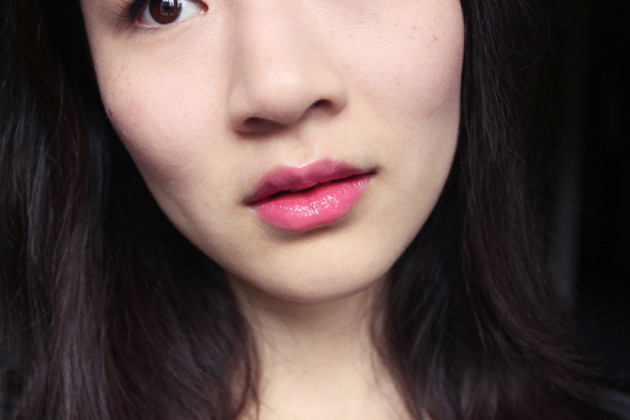 Wearing PK 02 Dreamy Pink
The experience: I liked the feel of these lip colours, but my lips are a tricky beast — even with regular lip products.The inner edge of my lip tends to make lip products either cling or slide, and for these glosses, it did both. The stain really caught on the inner rim of my lip, and the gloss slid away from it, resulting in a popsicle-stained lip that could give even the trendiest Korean magazine a run for its money.
Which, I mean, is awesome if that's what you're going for, but unavoidable if it isn't. Unfortunately, it kind of killed these lip colours for me — but, again, I don't think that most people will face this problem. (My lips have just always been weird!)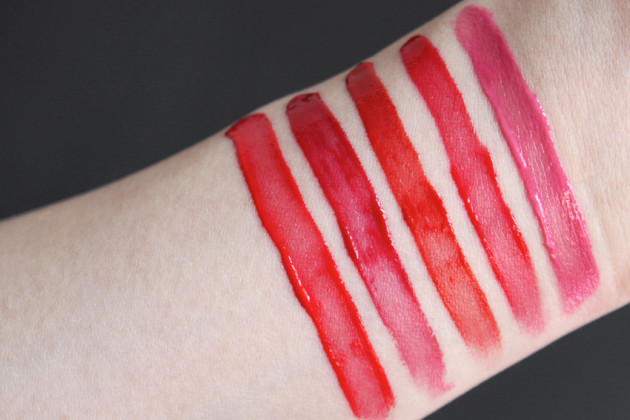 Shu Uemura Laque Supreme swatches, L-R: RD 01, RD 02, RD 03, RD 04, PK 02
The verdict?
I really wanted to love these, but with the way they caught on my lips… I just couldn't. Almost, but not quite.
If you don't usually have problems with products catching on your lips, though, I'd say these are definitely worth a look. They're almost identical to the YSL Vernis À Lèvres Glossy Stains ($38 CAD; comparison based on texture and ingredients), which I love, but I think the pigments are different — the Shu Uemura Laque Supremes are, generally, more pigmented and stain more intensely.
So, if you loved the Glossy Stains but you're ready to try something just a wee bit different (or if you still have yet to try a gloss-stain!), give these a go!
Availability: $35 CAD at shuuemura.ca and in-store at select Sephora and Holt Renfew locations across Canada.