*sponsored post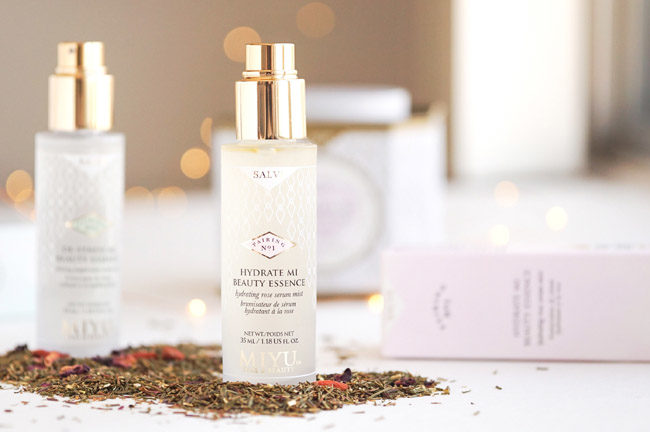 theNotice's 10th blogiversary giveaways continue today, and I couldn't be more excited to share this feature. I have a special place in my heart for MIYU Beauty, and to be able to give away these these travel-sized MIYU Beauty Essence sprays makes me glow right down to my core.
MIYU was one of the first brands that I met with in person while working on theNotice, and it's not an exaggeration when I say that I genuinely adore the ethos and #girlbosses behind this brand. Founder Connie Tai and PR maven Linda Nguyen are the embodiment of the platonic power couple. They're gorgeous, driven, and wholly genuine.
Basically? These beauty babes are the kind of best friends that you only read about in books, but they're the real thing.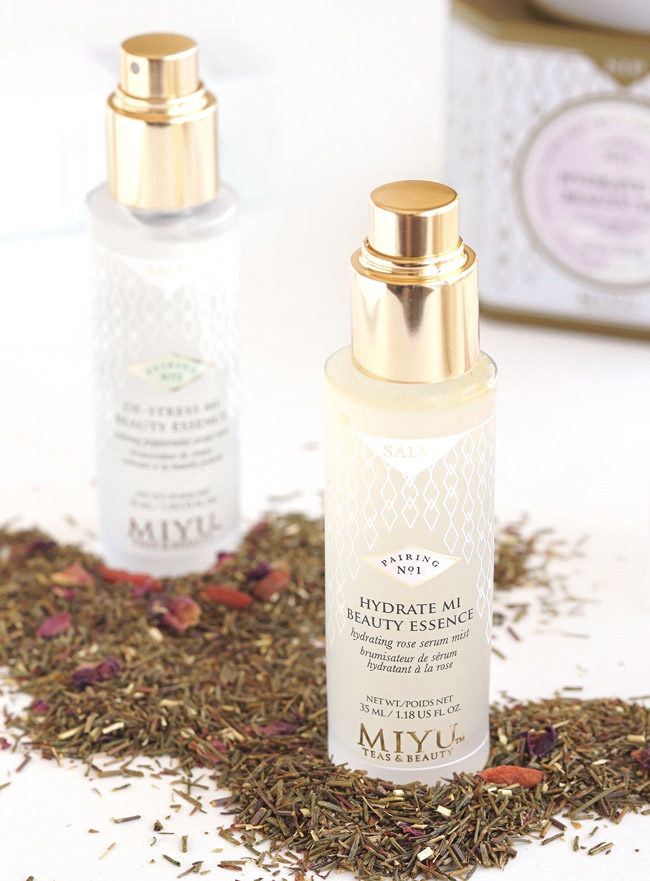 On top of all that, Connie and Linda have always had faith in my work – even when I haven't. (Any of my fellow creatives will know just how special that is to find.)
When I recommend MIYU to my friends and family, I'm not just recommending a great product. I'm recommending something made with love by people who I love, and that feels so much more meaningful to me than saying "hey, the new palette that everyone and their dog is talking about really is great!"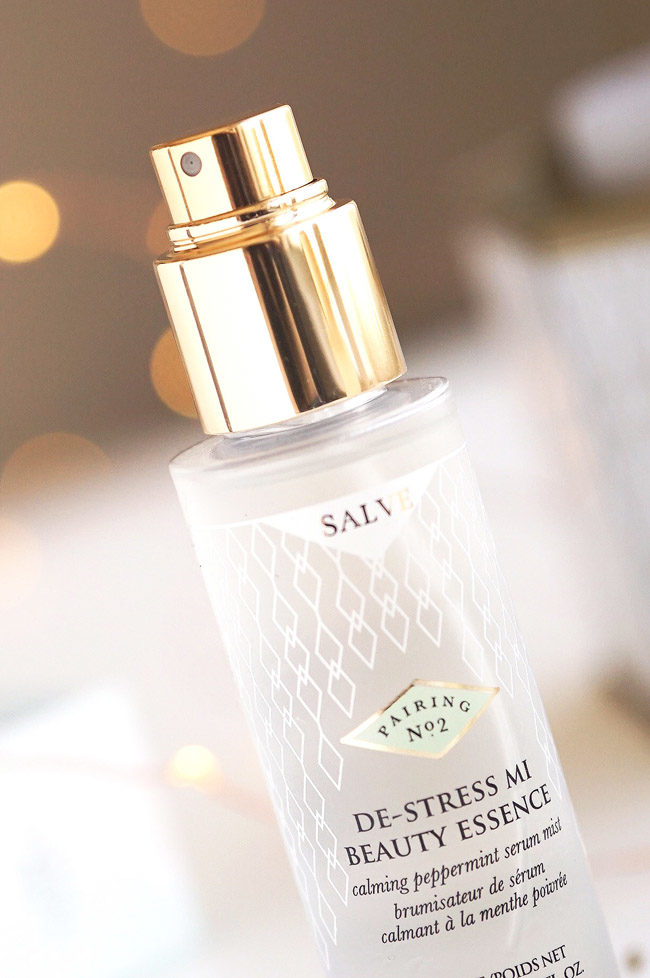 What makes the MIYU Beauty Essence formulas special?
The MIYU Beauty Essence concept is a really cool one: it's a hybridization of a facial mist and a serum. It's easier to apply than a serum, and more nourishing than your standard mist.
The MIYU Beauty Essence formula comes in two variations: De-Stress Mi, for irritated and inflamed skin, and Hydrate Mi, for dull and ageing skin. The mists can be layered or interchanged, especially if you have no skin concerns. Both formulas are free of synthetic fragrances, alcohol-, paraben-, and silicone-free, and Leaping Bunny cruelty-free.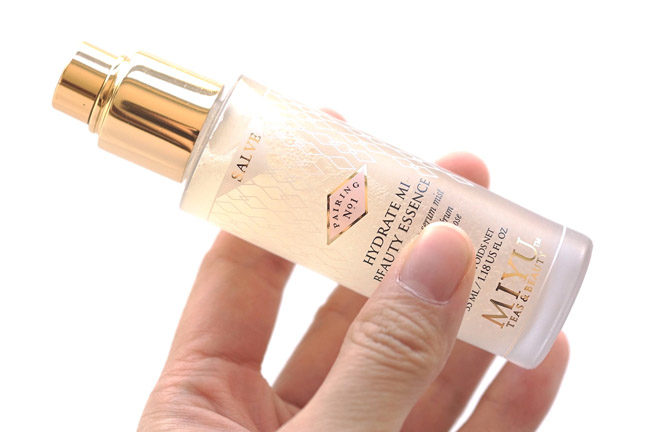 MIYU's De-Stress Mi Beauty Essence ($24 USD) is a "healing serum mist." It's great if you have a high-stress life, or if you live in the city. The De-Stress Mi formula features peppermint, ginger, Chinese liquorice, and honeysuckle extracts to detoxify skin and "deflate" any inflammation. It's hydrating, too, though – both Beauty Essences contain sodium hyaluronate (which can carry up to 1000x its weight in water) and MIYU's signature blend of green tea, white peonies, and pearl powder.
I use my De-Stress Mi when I've had a tough week, but my MIYU formula is the Hydrate Mi Beauty Essence ($24 USD). (Coincidentally, it's also my favourite of their two beauty teas.)The Hydrate Mi formula is perfect for travel and for dry climates. Wild pansy extract helps boost skin hydration levels (by as much as 20% in 28 days), and goji berries and mangosteen extract are both powerful anti-oxidants.
Hydrate Mi is designed to hydrate, revitalize, and protect against free radicals – so, basically, it's made to keep me fresh while I'm young and young when I'm old.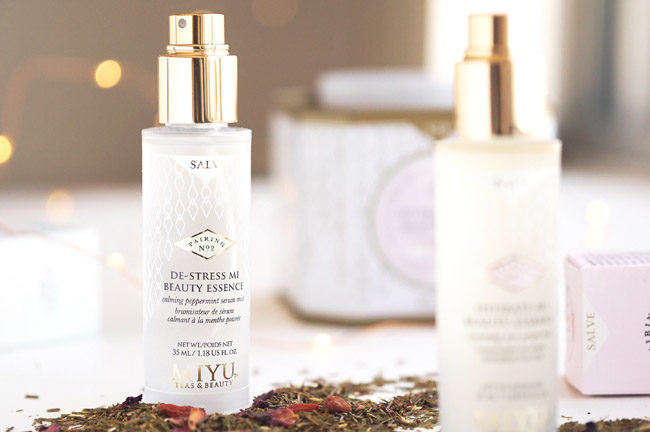 Win your own set of travel-sized MIYU Beauty Essence mists
When I told MIYU that I was running special giveaway posts for my 10th blogiversary, they knew what product they wanted to give away immediately. The MIYU Beauty Essence duo photographed here features brand new packaging, and it is gorgeous. (Fun fact: these were the first two bottles of this packaging to go out to anyone, including Connie herself!)
MIYU's new look is chic beyond words, with delicate white and gold detailing on frosted bottles. The gold misters on each bottle finish off the look perfectly, and nothing about these mists feels "travel-sized" – they're luxurious through and through.
theNotice's 10th blogiversary giveaway – MIYU Beauty

This giveaway will be open for two weeks (closing on September 31st at 11:59 PM MST), and is open to anyone in the US or Canada who is over the age of majority. You can enter using the form above, and if you're really determined to win, there's also an option for daily entries. Good luck!!