Tuesday, November 18, 2014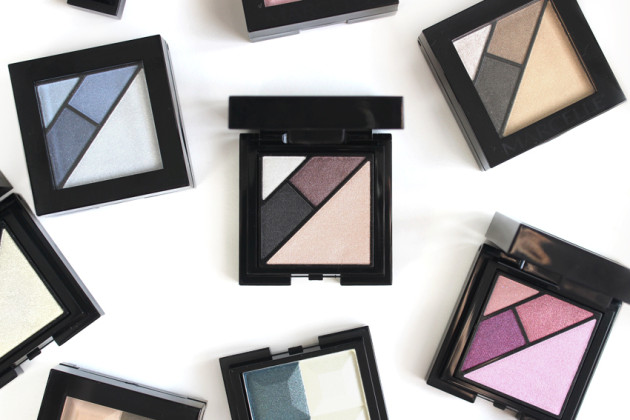 ↳ in Smoky Chestnut, Chocolat Vanille, Starry Night, Emerald Isle, Plum Envy, and Glacial.
Today, I have something very, very exciting to share with you: the entire range of the new Marcelle Trio+ quads (I mean, I'm calling 'em quads. If there are four colours, they're quads. But I do respect the Trio+ name, because that fourth shade is tiny!). As a blogger, it's rare that I see the entirety of any given line, so this is as much a treat for me as I hope it will be for you!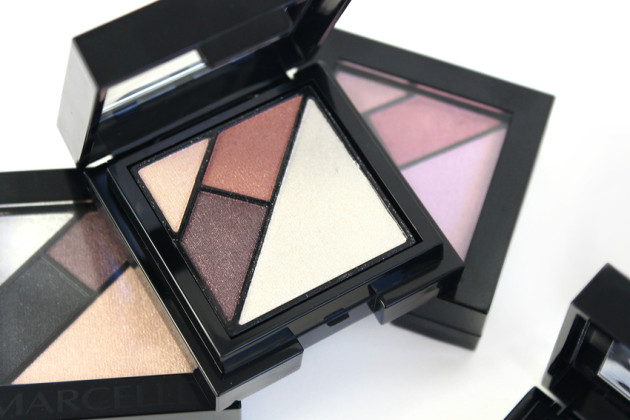 Marcelle Trio+ in Smoky Chestnut
The formula: With their new trio/quads, Marcelle promises intense colour payoff; a creamy, velvety texture; long-lasting colour; and an ultra-glitter accent shade (that's the "+"!)
Unfortunately, while I think these look amazing in terms of layout and colour pairings, I don't agree with a lot of these points. The colour payoff was okay (not super-intense) and the ultra-glitter accent shade was a big hit, but the formula was a little dry — I wouldn't call it creamy, and it had a tendency to create fall-out.
Overall, I think I'd have liked to see a little more butteriness and adhesion out of all four shades, and at least one satin/frost in each palette (preferably the large pan) instead of four shimmers — I think for Marcelle's consumer, this amount of sparkle is kind of overkill.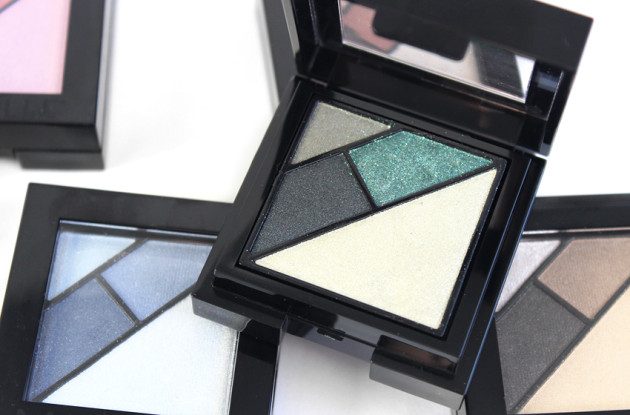 Marcelle Trio + in Emerald Isle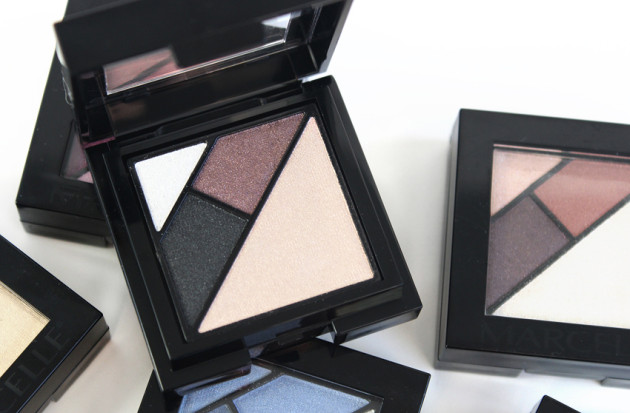 Marcelle Trio+ in Chocolat Vanille
The wear: Marcelle's eyeshadows have always been a little dry and sheer, but the shimmer in these ones just didn't "work" for me. It was too omnipresent and uniform in size, and it felt a little messy in combination with the wear time of these shadows — they creased on me within four hours overtop the best primer I own (and within two hours when worn alone).
In addition, when I wear-tested Chocolat Vanille, I ended up with glitter everywhere by dinnertime. There was a noticeable amount of fallout all the way down past the apples of my cheeks, and that's just — that's crazy, dude.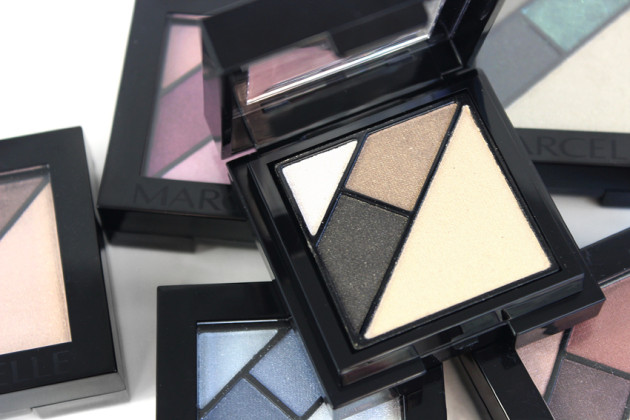 Marcelle Trio+ in Starry Night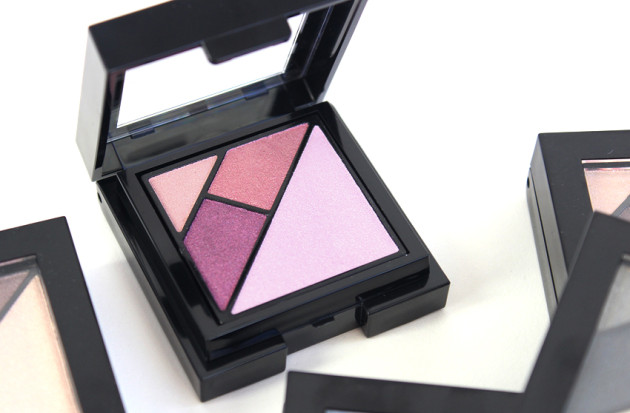 Marcelle Trio+ in Plum Envy
The shades…

Marcelle Trio+ Eyeshadow swatches: Chocolat Vanille, Smoky Chestnut
Chocolat Vanille features a super-shimmery white (small triangle), a warm brown, a cool charcoal, and a sheer base shade (large triangle) that's packed with gold shimmer. Smoky Chestnut features a less-intense peachy small triangle, a medium-sheer rust orange (upper), a well-pigmented taupey brown (lower), and a more-intense shimmery white large triangle.

Marcelle Trio+ Eyeshadow swatches: Starry Night, Emerald Isle
Starry Night may be the best quad out of all of these, and features a super-shimmery white (the yellow tones are negligible) alongside a well-pigmented yellow-olive and a soft black overlaid with olive shimmer. Its large triangle is a pretty light yellow with, again, plenty of shimmer. [Aside: my packaging on this one doesn't snap closed.]
Emerald Isle features a dirty green with an entire universe of multi-coloured sparkle (small triangle), a crappy black with green sparkle (lower trapezoid), and a see-through large triangle of sparse white shimmer. Its upper trapezoid, however, is a dream: an intense, skin-staining jewel green with more gorgeous emerald green shimmer than should even be legal.