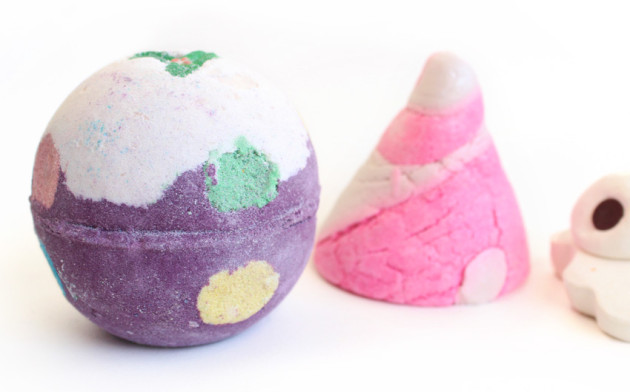 The products: LUSH Luxury Lush Pud Bath Bomb, Candy Mountain Bubble Bar, and Melting Snowman Bath Melt
Like Lush's Snowman Invasion gift set (which contains their Cinders and Snowman Bath Bombs), these three Lush bath treats are cruelty-free, Vegan, and returning favourites from past holiday seasons.
Whether you're picking up a wintery relaxation aid for yourself, or you're topping up a gift or filling up a stocking — here are three Lush products that really caught my eye this season. They're all pretty different from one another, so keep reading to find out which one is best suited to you!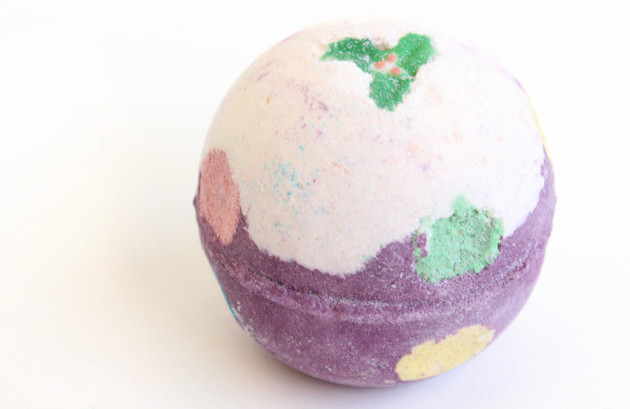 Lush's 2013 Luxury Lush Pud Bath Bomb
Polka-dot pastels: Luxury Lush Pud ($6.95 CAD/200 g)
Okay, okay, okay. I have to start with the Luxury Lush Pud, because — seriously? This thing is so cute.
Designed with a deep purple base, a white "cap," and the most mind-blowingly adorable pastel polka dots scattered on its sides, this year's Lush Pud is infinitely more squee-worthy than the dirty-water coloured, Snowcake-scented Lil Lush Pud of the past. 2013's version is huge–literally; this bath bomb is a massive 200 grams–and is the brand's holiday interpretation of the permanent-range Twilight.
I'm less crazy about the grape-coloured bathwater and lavender-benzoin-tonka fragrance blend of the Luxury Lush Pud than I am of its adorable design, but you win some, you lose some, you know? And lavender lovers will totally win some with this one.
LUSH Luxury LUSH Pud ingredients:
Sodium Bicarbonate, Citric Acid, Cream of Tartar, Lauryl Betaine, Sodium Laureth Sulfate, Lavender Oil, Benzoin Resinoid, Tonka Absolute, Ylang Ylang Oil, Gardenia Extract, Titanium Dioxide, Coumarin, Linalool, Fragrance, Propylene Glycol, FD&C Blue No. 1, D&C Red No. 33, D&C Violet No. 2, D&C Red No. 30 Aluminum Lake, Candy Holly Leaf (Sugar, Water, Hydrolysed Vegetable Protein, Vegetable Gelatin, Riboflavin, FD&C Blue 1).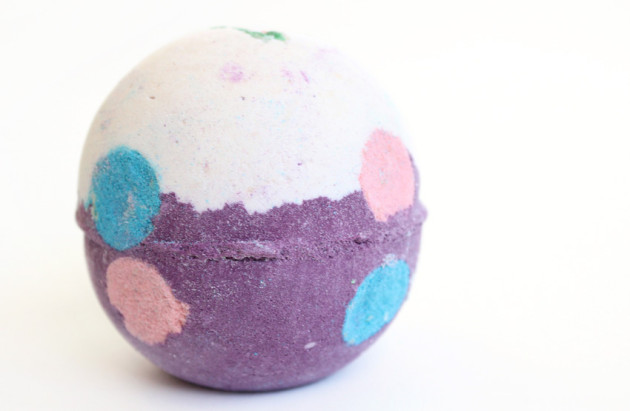 Bright, pink, and glaringly sweet: Candy Mountain ($7.45 CAD/100 g)
Scented with the same cavity-inducing sweetness as Lush's Creamy Candy Bubble Bar and Rock Star soap, Candy Mountain definitely has an audience — it's just not me.
If you love sugary, cotton candy scents and all things pink, then this bubble bar is definitely, absolutely for you. It tints the water a gentle pink, which is why I wanted to give it a go (most Lush bubble bars have a more startling colour), but the scent is just so sweet. I couldn't keep it in my room, much less bathe with it, and ended up having to give it to the boy — and as such, I can confirm that the scent definitely lingers on the skin all day long.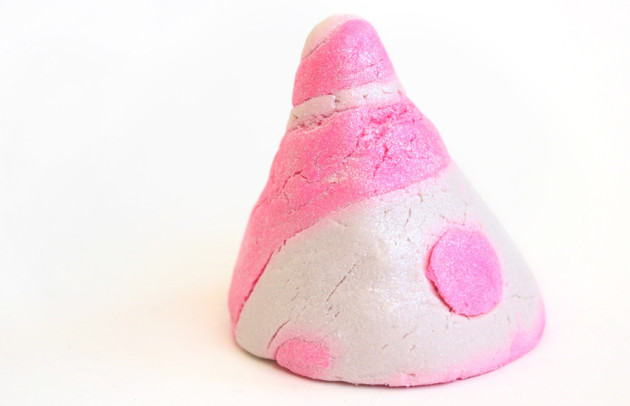 Lush's 2013 Candy Mountain Bubble Bar
The bar doesn't deliver a ton of bubbles, and is definitely a one-bath-per-bar kind of product (unlike, for instance, the Luxury Lush Pud). With a hard shell surrounding a softer centre, the boy found it was hard to get all of Candy Mountain to dissolve under the faucet, and though it was enough for an adorable bubble beard, the bubbles disappeared pretty quickly. That said, the shimmer doesn't linger on the skin after your bath, and rinses just as easily off of the tub, which is definitely a good thing — it was one of my main concerns for this bubble bar.
If you love pink, sweet scents, and shimmer, or you know someone who does, this is the veritable peak of cotton-candy pink products. For most of us, though? I think it's a pass.
LUSH Candy Mountain ingredients:
Sodium Bicarbonate, Cream of Tartar, Sodium Laureth Sulfate, Lauryl Betaine, Citric Acid, Fragrance, Cornflour, Snowflake Lustre (Potassium Silicate & Titanium Dioxide), Fair Trade Vanilla Absolute, Titanium Dioxide, Polyester-3, Methyl Ionone, D&C Red 28, D&C Red No. 21.
A snowman to steal the show: Melting Snowman ($5.95 CAD/60 g)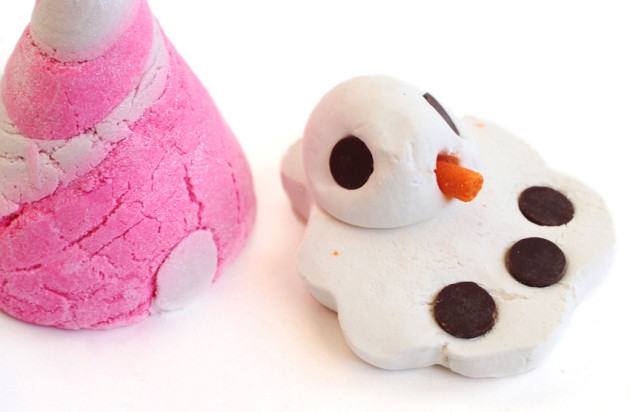 Lush's 2013 Melting Snowman Bath Melt
This bath melt, you guys. This is the highlight of the holidays at Lush. 
Made with cocoa butter, shea butter, and almond oil, the Melting Snowman has the most comforting, festive fragrance. It's so good that I have it lying out on my office dresser, letting it gently scent my room with the perfect cinnamon-clove/orange-lime balance. As lovely as it is, I am loathe to use it, because my office hasn't smelled this good in ever. It is reputed to leave a ring around the tub, so buyers beware, but personally? I'm considering buying a backup, and then pelting LUSH HQ with letters begging them to make a candle or body butter or room spray of the Melting Snowman scent.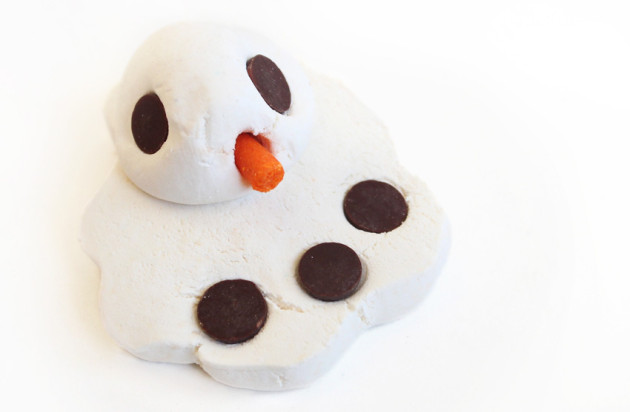 I wish that Snowman and Melting Snowman came in a set together (psst — Lush, are you listening?), because that set would be awesome. I would buy that set for everyone, no fail, every year. Boyfriend's mom? Bam. Snowman set. Secret Santa gift exchange? No problem: Snowman set. Prof who taught the best psych course ever, but constantly seems to be on the verge of a mental breakdown? Snowman set.
LUSH Melting Snowman ingredients:
Sodium Bicarbonate, Icing Sugar, Citric Acid, Cocoa Butter, PEG-6 Caprylic/Capric Glycerides & PEG60 Almond Glycerides , Almond Oil, Titanium Dioxide , Shea Butter, Cinnamon Leaf Oil, Patchouli Oil, Benzoin Resinoid, Sweet Orange Oil, Clove Leaf Oil, Lime Oil, Grapefruit Seed Extract, Cinnamal, Coumarin, Eugenol, Limonene, Linalool, Fragrance, Dairy-Free Chocolate Drops (Sugar, Cocoa Liquor, Cocoa Butter, Vanilla), Ginger Stem.